*LIVE* Profile Review With PowerToFly Career Coach 6/20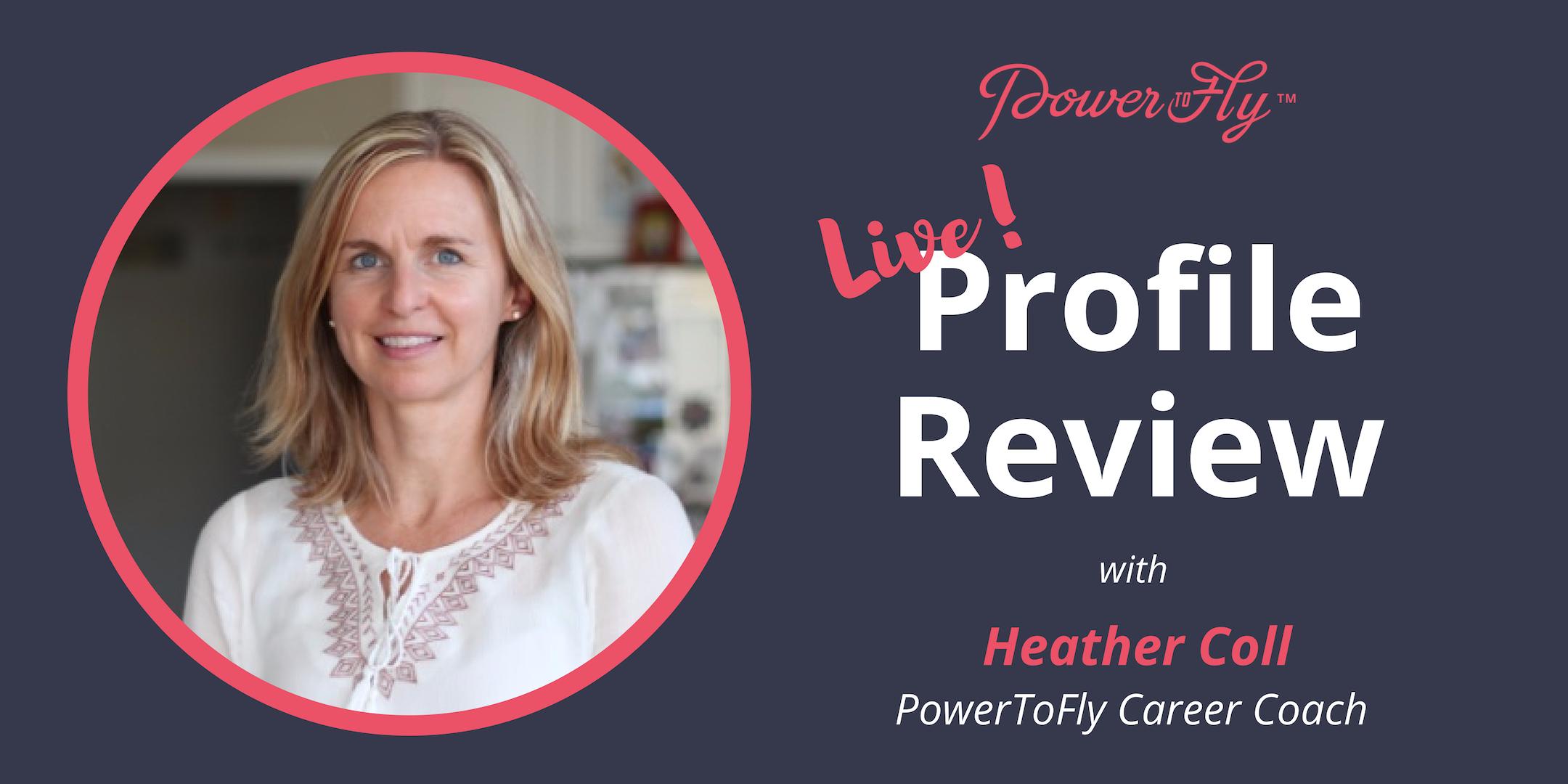 Want access to this video and dozens of other resources?
For quick access to this video only, please enter your email.
Want to get your LinkedIn and PowerToFly profiles reviewed by a career coach… for free? Then join us for this live virtual chat with PowerToFly's Career Coach, Heather Coll, for the chance to get her expert tips on how to make your profiles stand out to recruiters!
How can I get my profile reviewed by Heather, Live?
Register for this chat
Join the call early
Share the link to your profile in the chat
The profile will be selected randomly at 3:01!
Didn't get selected? Don't worry! Sign up for a 1:1 session with Heather here!
Q&A
no, thanks

Question by Seonaid on 2019-06-20

When targeting your resume to a specific position, you often add or omit skills/functions from your resume. What does an employer think when they also go to your LinkedIn profile and see that it doesn't align exactly with your resume? www.linkedin.com/in/cherriebeaty

Question by Cherrie on 2019-06-20

Is it truly appropriate to use the headline section of a profile to alert recruiters that you are actively seeking an opportunity?

Question by Jen on 2019-06-20

I am looking to start working remotely again and am looking for a better starting salary. How do I do that?

Question by Crystal on 2019-06-20

how to compete as a long time professional vs. a young new fresh less expensive talent?

Question by Inna on 2019-06-20

Do I need to adjust my LinkedIn profile with each job application like I do my resume?

Question by Amber on 2019-06-18

Is it better to have your profile targeted at one niche, for example copywriting, as opposed to Photo Retouching AND Copywriting, if that's where my experience is focused?

Question by Agnes on 2019-06-17
Ask a Question
Is there a specific question you have for the speaker? Let us know!