*LIVE* Profile Review With PowerToFly Career Coach 7/18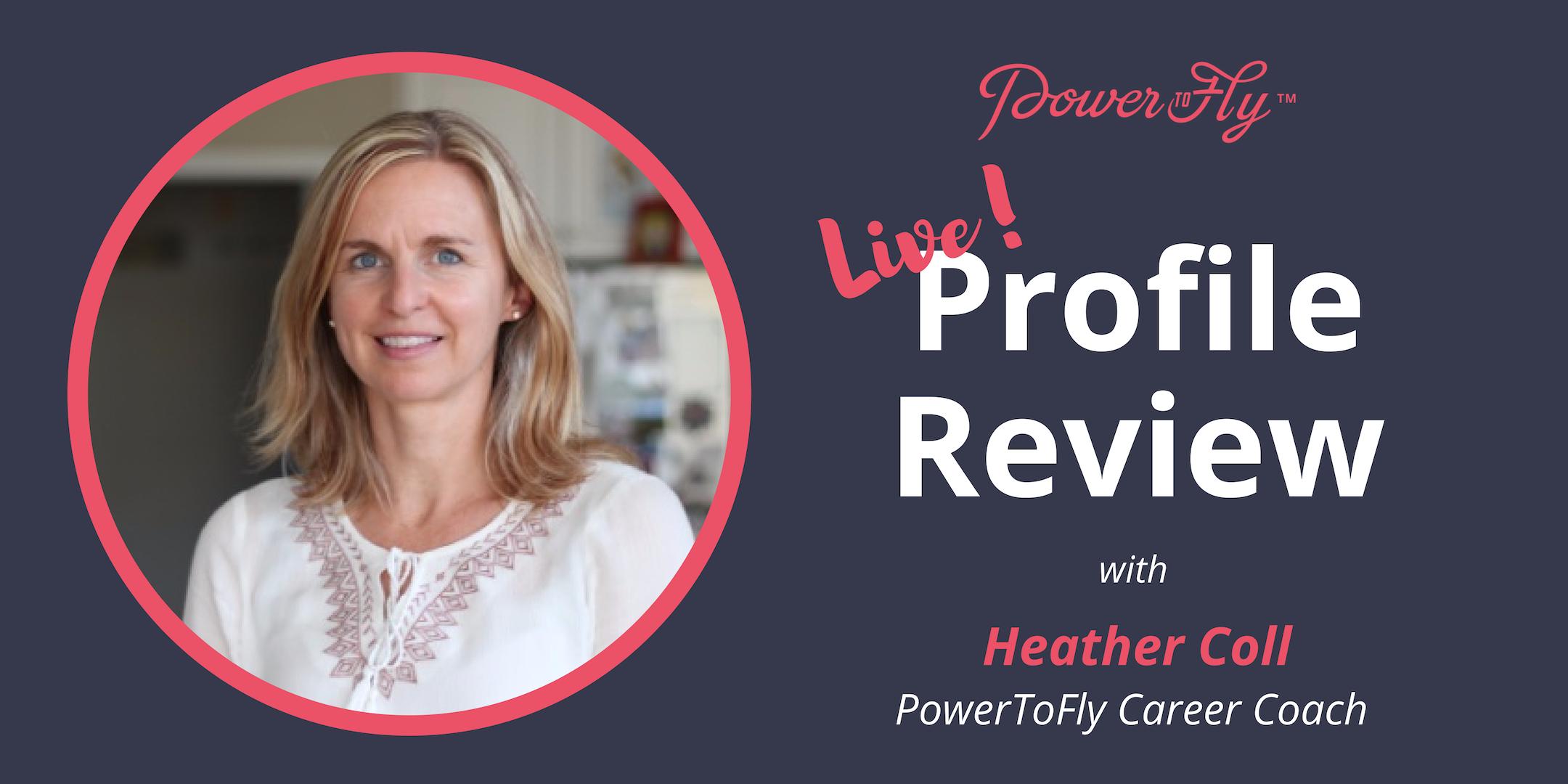 Want access to this video and dozens of other resources?
For quick access to this video only, please enter your email.
Want to get your LinkedIn and PowerToFly profiles reviewed by a career coach… for free? Then join us for this live virtual chat with PowerToFly's Career Coach, Heather Coll, for the chance to get her expert tips on how to make your profiles stand out to recruiters!
How can I get my profile reviewed by Heather, Live?
Register for this chat
Join the call early
Share the link to your profile in the chat
The profile will be selected randomly at 3:01!
Didn't get selected? Don't worry! Sign up for a 1:1 session with Heather here!
Q&A
How do I become a data analyst

Question by Panacea on 2019-07-18

What is the best way to format your profile for career changers?

Question by Melissa on 2019-07-18

How to make one's achievements tangible when the position is not a leading/managerial one and the achievements made are most likely the result of a team effort?

Question by Ana on 2019-07-18

Repositioning after career gaps due to full-time parenting and global relocations for husband's career.

Question by Susan on 2019-07-18

Should you expect to use your own computer to work remotely or a company laptop?

Question by Jennifer on 2019-07-18

I second Marie's question!

Question by Jen on 2019-07-17

No questions at the moment

Question by Debbie on 2019-07-16

Need to review my resume for senior positions.

Question by mamta on 2019-07-16

My career interests and experience are diverse and varied, how do I reflect that in my LinkedIn profile?

Question by Marie on 2019-07-15

How to level up within the company?

Question by Sally on 2019-07-15
Ask a Question
Is there a specific question you have for the speaker? Let us know!