Customized Mentoring To Retain And Elevate Top Women In Your Organization
Companies struggle to retain and promote top female talent. We can help.
Learn More
38%
Is the boost in minority representation at management levels via mentorship.
— Cornell University
6x
Higher rate of promotion for mentors and a 5x higher promotion rate for mentees.
— Gartner Study of Sun Microsystem Employees
5x
Is the rate that mentees are more likely to advance in pay grade at companies providing mentorship.
— Cornell University
How it Works
Customize a plan based on what your talent needs to grow into a leadership role

Match her with the right mentor

Track development through our mentor/mentee platform

Review progress as 30 minute biweekly meetings
Learn More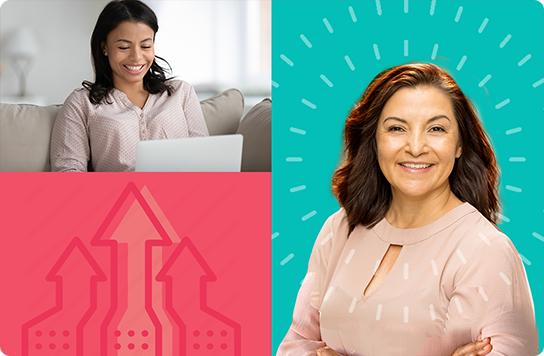 What Mentees Have To Say

Amanda Henderson
Customer Experience - Project Management
I am a mid-30s young professional who has had several career changes mainly due to perseverance. I had started in education and then moved into tech when I was tired of working multiple jobs and struggling to pay my bills. I taught myself some coding and basic software skills and then worked my way up from entry-level tech support to account management to a customer service department manager, and now product design.

I found PowerToFly through several Google searches for places to find a remote job. I had wanted to move from customer service to product design but didn't quite know how to make the leap. I like that PowerToFly was for women in tech specifically, and I found the resources helpful.

I wasn't really looking for a mentor until I read a book from Stacy Abrams, titled "Lead from the Outside," where she discusses the power of mentorship. It was through her discussion of the importance of having support, that made me want to find a mentor.

I've been working with my mentor, Jossie, for the past 6 months, and it has been immensely helpful. I work in a small company and am one of the more senior employees. As such, I do not have anyone above me who can help guide me through difficult decisions or gaps in my knowledge. I am also now at a level professionally where bulldozing my way through is not always the best approach.

When I started with Jossie, I really wanted to learn how to be a better Customer Service manager. Even though I had a desire to be in a new role, I didn't quite know how to navigate there. I asked to work on strategic thinking and negotiating and how to improve myself for my current position. I was still playing small. However, Jossie helped me to slowly step out of that box by helping me build my confidence. Since then, I've negotiated my salary. I've negotiated a new position. I'm learning how to network and really trying to grow in other ways. I've been able to ask her tough questions and learn from her experience as a Senior Leader and as a woman in tech.

It's been amazing for me as I feel supported in my growth. I feel like I have someone in my corner, in a way that doesn't have any strings attached since she's not directly at my company. I also feel that my relationship with my mentor has been successful because I truly try to find opportunities where she can teach me. I really want to learn from her, so I try to prepare for my meetings with her.

I would recommend PowerToFly because the support and communication from the whole team have been amazing. I have only been delighted with how things have gone, and I am happy to sign up for another 6 months. I honestly do not think I'd be where I am currently in my career without Jossie's help this past year.

If someone is considering PowerToFly mentorship I would say; do it if you can focus and put the time into it. As Stacy Abrams mentioned in her book, "Own the relationships. What I learned early on is if someone said I want to help you, believe them. But I understood what they meant is help me help you. Recognize that the person has a number of other holds on their time. Don't wait for them to offer. Ask what you need. Do not worry about reaching out too much. You don't want to be a stalker, but you want to be aggressive in your curiosity. Ask important questions that you need answers to that you can't find anywhere else."

Yael Gutman
Senior Director of Digital Products at ASCAP
My name is Yael Gutman. I've been in the product space for over 20 years, advocating for Product, leading projects, and running user research.

I've been a fan of PowerToFly's mission statement for years, in addition to being a consumer of their content and occasionally checking out job opportunities.

PowerToFly approached me regarding joining their mentorship program about a year ago. The timing could not have been better as I was looking to expand my personal brand. I was soon matched with two mentees.

Being a PowerToFly mentor has proven to be one of the most satisfying and fulfilling experiences in my professional career.

I had expected the topics we would cover to be specifically related to Product Management and User Research. While we did discuss both, we also discussed a wide range of topics related to general challenges in the workplace, from Managing relationships, defining personal & professional goals, and creating a roadmap to managing meetings and optimizing time at work.

Mentoring helped me distill the experiences and information I've gathered throughout the years into concise packages. This has been incredibly empowering and a toolset I use outside of the mentorship program.

I highly recommend other mentors to join this program. Hearing from the mentees how positively impactful this has been for them has been incredibly satisfying and fills up my energy tanks. And all I had to do was share what I've learned!

In addition, this program has provided me with a network of my own. I have had access to incredible other mentors, and they have provided me with support and feedback to other professional endeavors outside of PowerToFly.

Cindy Lam
Programmer L1 at RevSpring
I first heard about the PowerToFly mentorship program through the PowerToFly website. The major reason I would like to join the mentorship program is that I really hope to build the right mindset for myself and to know what to focus on in my early career as a developer.

I have worked with my mentor for three months. I have been able to make a better vision, goals, as well as manage my workload to lower my daily stress levels.

I am more proactive to plan and take actions based on what I have learned from my mentor. Knowing how to manage work and spend time on what I value more is what I gain most from the mentorship. It seems to be pretty simple but it was hard for me to start it at first.

During the mentorship, I enjoyed being able to listen to different stories and experiences shared by the mentor. I was able to learn why she made certain decisions in her life and how she would find her own way.

I have learned so much more than I intended when I first joined the mentorship program. I have learned from changing my mindset, my lifestyle, my physical health, as well as my everyday plans and actions. I did not expect to change so much throughout the mentorship program. I feel more confident in the workplace and know the boundary between work and life that I find more comfortable to be in.

I highly recommend the mentorship to those who are looking for life and professional mentor in their early career or for those who are changing their careers in life.

I think everyone will get something different out of the mentorship, but most importantly, I think it is the connection you can build with the mentor and the experience and knowledge that the mentor can share with you - these are the most valuable things you will get from the mentorship.

Kelly Irish
Head of Product at Mindbody
I have only been a product manager for about 1.5 years; I switched from engineering to product.

I was looking for someone to guide me since I do not have a director of product in my organization, and I was looking for someone to give me guidance, tips, and tricks to get better as a product manager.

My time management got way better after I started working with Yael. She helped me set boundaries and identify what an important meeting is and what is not.

Just talking through some things with Yael was very helpful.

It was nice having somebody outside of my company that was further along in their career, away from its politics.

PowerToFly's mentorship helped have someone who is a champion for you and outside of the org, someone who can give you perspective on what you want out of your career.

It helped me focus on what I wanted out of my job and my career because my mentorship was not so focused on my company but on my career. It was helpful in giving me that clarity.

Emily Hoang
Problem solver @metadata.io
I have been in PowerToFly mentorship program for around 3 months now and I can't tell you enough much I appreciate this opportunity to work with such an amazing mentor like Ronit Bohrer Hillel.

I mostly learned to lead through actual work experiences and countless failures. However, I find it extremely helpful to have a mentor who's "been there, done that" to ask tough questions, to have brutally honest conversations and to guide me through my obstacles at work and at home (one of our topics was on work/life balance)

Through this mentorship, I realized my challenges (imposter syndrome, work/life balance, delegations) were pretty common. Everyone goes through difficulties to achieve great results. I feel more empowered than ever to challenge myself and make better progress for my team.

Thank you Ronit Bohrer Hillel for your guidance

Thank you PowerToFly for its amazing women-led community.

Thank you Limor Bergman to set up such amazing mentorship program.

Thank you Gil Allouche @metadata.io for sponsorship.

Michelle Neuringer
Director of Product @Mindbody
I have a professional background in UX, engineering, and I'm currently leading product teams. I'm both a builder (I love getting things done) and a strategist (I love looking at the big picture). This last year has been one of the most challenging and most exhilarating years in my career. Covid has accelerated tech innovation and also given us time to reflect on what we love and what lights us up, both personally and professionally. It's given us time to work on ourselves and get better. One of the most special highlights of this year has been my participation in the PowerToFly program.

I was volunteered for the program by the most senior female executive at my company, and applied even though I didn't have a clear picture of what I wanted to get out of it! Over the last 6 months, Neysa has helped me find my voice. She gave me the courage to devise a bold new strategy for my company, and the accountability required to share it with our executive team.

I have stepped into my power thanks to PowerToFly!

If you're given the chance to participate in this incredible program, say YES!

It can truly help you take your career to the next level.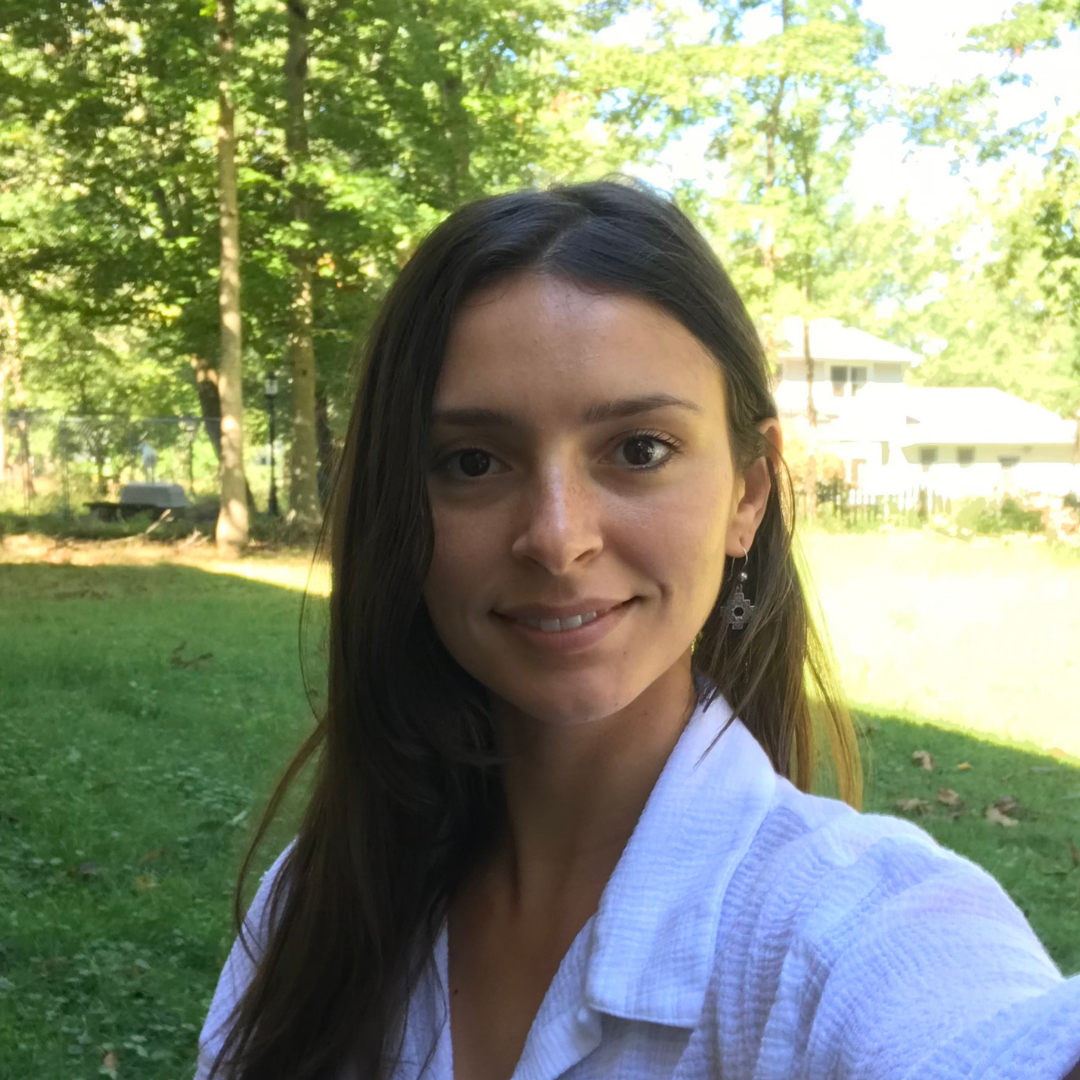 Julissa
DevOps Engineer
My name is Julissa and I am a DevOps engineer. I first heard about PowerToFly in the middle of the pandemic. I had shared my desire to grow in my career and for mentorship/guidance to a loved one who took to the internet to find me just that! It was a very exciting and intriguing discovery.

Although, like everyone, I suffer from the occasional episode of imposter syndrome, I know I have a lot to offer. I am smart, hard-working and eager to do great things! But I didn't know what I could offer, or even what value I did offer. I was hoping a mentor could share their own experience of the challenges I was facing in my career and help me answer those questions. I wanted to join PowerToFly's mentorship program because of the community offered as well as the calibre of mentors available. As a technologist, it was important to me that whoever I was seeking guidance from was familiar with the tech industry, particularly from a woman's perspective.

I've been working with my mentor, Limor, for six months now.I encounter that imposter syndrome far less since starting my mentorship. I feel empowered to share my ideas and be a leader in my company. I'm more valuable to my team because I am more aware of the value I provide – I know what my strengths are. My ability to help my team has also grown tremendously because I've been taught what questions to ask to better understand their needs.

Since starting my mentorship, I was promoted to a leadership position, have organized and presented my ideas to my manager and the tech team at large. I've also made an impact at modernizing DevOps practices across our tech organization.

I benefited most from my mentor's coaching to think bigger. At the start of my mentorship, I did not feel like I had any power to make change. I can see now, how often I think that I can't be the one to do something grand or important and how dead-wrong that idea is.

I didn't know exactly what to expect and I didn't know how to articulate what I wanted when I began this program (other than career growth, of course). Today, my mentor challenges me even outside of my day job, which helps me grow as a person and professional. These sessions go beyond what my title is or what I would like it to be and dig into real growth.

I know I would not have gotten the personalized attention and guidance I've gotten from my mentorship through any other platform. All the inspiring Youtube videos and books on business, tech, leadership or personal development combined, cannot compare to sitting down with someone who's experienced my challenges and guides me through them periodically over time. I am so happy to see PowerToFly growing and expanding. Mentorship should be a part of everyone's career. If you're considering PowerToFly, go for it. You won't regret it. This is what you're looking for.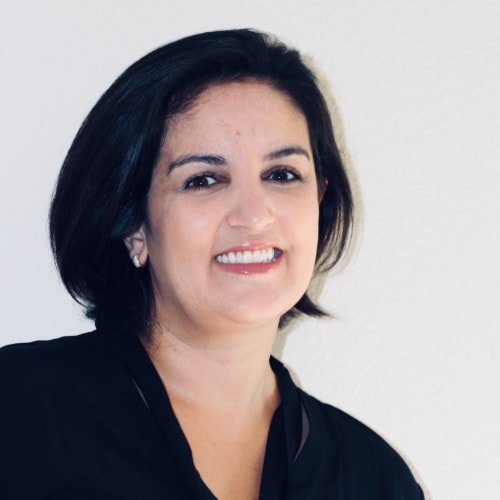 Marcia Lima
I have been working with IT for over 15 years in global companies, and because of some unforeseen life change I ended up moving to the USA and had to enter a different job market.

I was recommended a Diversity Summit by PowerToFly and attended a session on their mentorship program. I was in a job transition at the time and being my first role where I would be involved in people management, I decided to start the program.

From start, my expectations were exceeded. I was matched to an experienced Engineering Manager and she was instrumental during my ramp-up in a new role. My mentor helped me to prioritize the scenarios I needed to focus on, prepare for delivering important feedback to the team, and, most importantly, to plan my goals to achieve success in my career.

This experience was essential to making a smooth transition from a purely technical role into a people management role in a male dominant environment. My mentor helped me through every step of the way, from self-doubt to celebrating wins, negotiating, and leading.

I even got a professional certification during the mentorship and that was a direct result of my discussions with my mentor. Thank you, Cindy! You are awesome!
LEARN MORE
Contact us to learn how we can help reach your company goals
Countless studies show that mentoring builds leaders, especially during crises
Whether you are looking for a mentor, searching for a mentee or hoping to launch a mentorship program at your company, we've got everything you need to get started.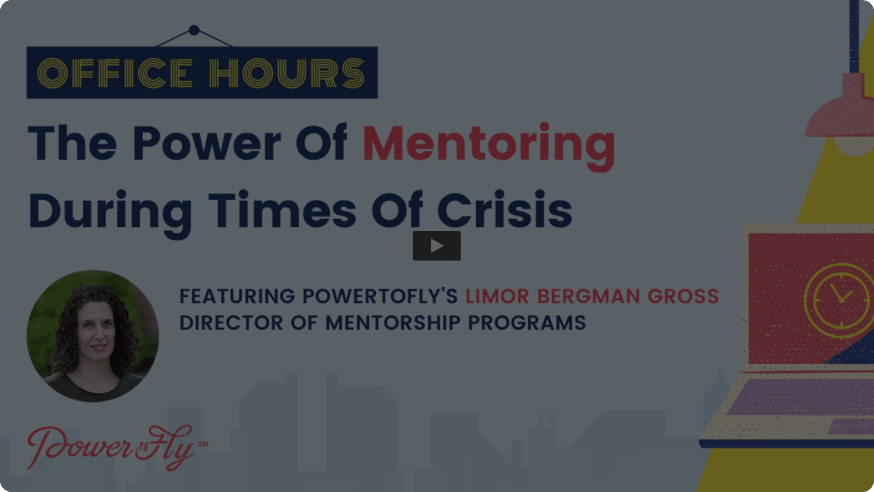 I would like to become a mentor. How do I get started?
Apply on our website. We will review your application and get back to you ASAP.