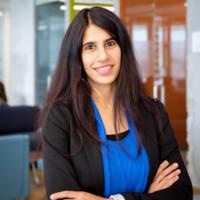 Bindiya Mansharamani
Mentor
Engineering Leadership
Location:
United States
| Time zone: Americas
Refreshingly unique expert in the field known for the ability to visualize the big picture, create technology to achieve the goal, and lead a team to deploy solutions that deliver. Authentical team-oriented leader with a passion for building highly effective teams within a positive, trusting environment where continuous improvement, accountability, and fail fast set the stage for rapid delivery.
Senior engineering leader with a proven history of success in leading software solutions that solve challenges through creative, innovative, and cutting-edge technology. Primarily responsible for the effective and efficient execution of Engineering initiatives. Grew our Product-Engineering culture, sustaining a nimble execution approach while quadrupling the size of the Engineering Team
Work Experience
Director Of Engineering at RigUp
Developed an innovative, tech-savvy marketplace in the energy space. Seamlessly integrated a large network of oil and gas buyers quickly with faster implementation times and low error rates. Coordinated with a wide range of stakeholders to successfully orchestrate and automate processes within a traditionally antiquated technological environment.
• Lead development of mobile app capable of handling 100s of water hauling tasks per day from the buyer.
• Funds flowing in excess of $4M monthly through job sheets payment platforms.
• Built and led high-performing, cohesive, agile teams that embraced continuous delivery, and the production of top- quality work developed efficiently and effectively. Consistent focus on providing business value.
• Continually instilled discipline into all aspects of the team and organization to create a stable foundation for sustainability and scalability. Allocated 20% dev time in technical innovation and handling technical debt.
• Spearheaded cross-organization alignment to optimize, streamline and standardize key contractor onboarding flows.
• Grew company from 19 to 75+ engineers in 1 year; 4X current year growth forecasted.
• Led Engineering Recruitment, Onboarding, Brand Building initiatives.
Senior Engineering Manager at uShip
Oversee strategic initiatives at uShip
Started uShip University: a platform to up level the development organization
Started a feedback and recognition plan for developers that go an extra mile
Started a mentorship program for the Development Department
Revamped our Developer hiring strategy and increased the hires by 24% in 2017
Responsible for leading and coaching 15 developers onsite
Senior Manager, Software Development at uShip
1. Manage 19 Managers and Developers across multiple teams.
2. Handled all the recruitment of the development department.
a. Identified talent and resource gaps. Worked with recruiting team to find the most exceptional candidates. Defined interviewing and skills assessment strategy to identify top talent.
b. Managed candidate backlog
c. Assisted Recruiting staff with interview time/participant coordination
d. Did interviewer orientation and training
e. Made recommendations on recruiting focuses
3. Handled onboarding of all new hires.
a. Created onboarding content, creating videos and plan curriculum for the hire
b. Location, equipment and onboarder coordination
c. Involved in onboarding backlog grooming
4. Created developer/Managers Training & Education material.
a. Identified critical knowledge gaps in the department
b. Enlisted help for courseware development / instruction
c. Purchased books for developer for ongoing development
d. Helped identify conferences for developers to grow and learn new techniques
e. Helped organize talks/meetups to sharing knowledge among the local developers in town
5. Identified improvements within teams and help smooth communication among developers
6. Identified need for incentive's and acknowledging developers to grow confidence and feeling of appreciation.
7. Worked closely with other executives to develop strategies for long-term projects
Software Development Manager at uShip
Developed web applications using the latest Microsoft.Net and open source technologies.
Worked directly with Product Managers, Developers and Quality Assurance to plan, design, build and deliver new products and features.
Modifying existing applications and features to improve performance, code readability etc...
Managed and mentored 6 developers across different project teams.
Sr. Software Developer/Lead Developer at Topaz Technologies
Reported to the COO of the company
Coach and mentor on site and off shore developers.
Manage and lead a team of 5 developer on web application.
Analyze requirements, design and develop software solutions to solve business problems.
Used Silverlight to design and develop controls that enrich user experience.
Program extensively in C# for the backend code.
Wrote automated tests in ruby using RSpec and Watir to ensure system requirements are being met.
Created reports for the Application using ActiveReports for .NET.
Direct software system testing and validating procedures.
Organized weekly lunch and learn and information sharing sessions.