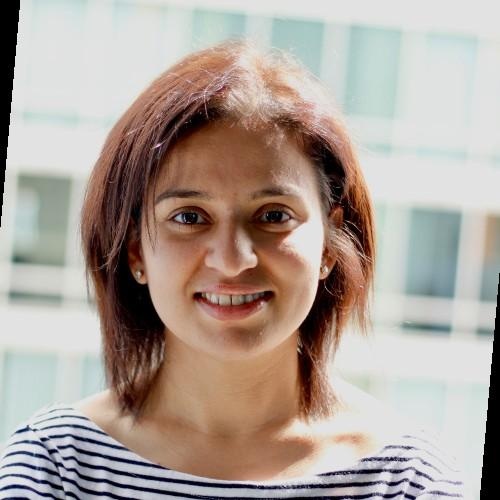 Location:
United States
| Time zone: Americas
High Impact, result-driven team leader with more than 15+ years of software engineering experience.
Proven record of building and managing top performing and highly visible teams of talented engineers.

I truly enjoy the challenge of building a high performance team from the ground up or working with a team who needs to be re-evaluated to set up for success.
I like to build a strategy to grow business revenue and expand the team to potentially its own area. I love to learn and understand how different executives think about business and what they care about the most.
I am very passionate about using technology to help humankind and hence gravitate towards companies which have a mission to help people.
Areas I am very interested in are enterprise, health care , AI driven technology and analytics and data-driven decisions.
I want to be in a company where I can learn and grow. I want to use my skills and ability to raise a team to help business and people around me. I am convinced that innovation is the only way you can keep your employees motivated, help people live a better life and work with a purpose.
I want to give back to the community. Be a mentor.
Work Experience
‣ Manage and lead teams who are responsible to -
a. Enable our enterprise, international and healthcare partners.
b. Building a data platform that allows concrete frameworks and pipelines to better scale and be more data driven
‣ Build strategy to win in prioritized International Markets (Scale by going to market through employers and healthcare providers in UK, AU and DACH).
‣ Increase access to Headspace products through partnerships with leading healthcare organizations
‣ Evangelize Data-driven outcomes and Reduce Churn (enhanced reporting & decision making for our business partners, and facilitate business decision making.)
‣ Expand access to content company-wide
‣ Build Reliable, facile, & self-serve analytics platform to support the enterprise and healthcare decision making.

Engineering Manager at Entelo
Manage and lead team of 5 engineers for recruiting automation. Involved in setting up roadmaps and delegating it intelligently across individuals. Collaborated with product managers, data science, sales and UX in exploring new ideas for revenue growth while maintaining high product quality.
‣ Transformed a product with much needed help, to one of the top-revenue, most useful and loved products.
‣ Improve team efficiency by providing clear priority order and timelines for features.
‣ Formulate 90-day plan for engineers to make them expert in certain areas.
‣ Manage various companywide initiatives collaborating across different pods.
‣ Sourcing and interviewing for new job requisitions.
‣ Lead the architecture and design for many revenue-impacting, mission critical features with technologies like Ruby on rails, GoLang, ReactJS, Javascript, ElasticSearch, Redis, SQL, Kubernetes, Docker, Kafka, RedShift etc.
‣ Lead the growth hacking projects to help sales by designing and developing software tools.
Lead Software Engineer at Springpath (Acquired by Cisco)
Managed weekly sprints and quarter planning, as well as conducted sprint reviews and project/team/quarter retrospective. Designed and developed a cloud based, systems management platform to deliver significant benefit for customers.
‣ Technical architect for Systems management module of SpringPath HXConnect.
‣ Evangelized and prototyped many new technologies like Highcharts, Websockets needed for different features.
‣ Designed and developed many common UI components using ReactJS.
‣ Architected the orchestration layer in GoLang which makes the management module loosely coupled from underlying systems software.
‣ Go-to person for ReactJS and GoLang best practices.
‣ Design and development of REST APIs in Java to provide customer feedback and support.
‣ Mentored junior engineers on the team.
‣ Involved in Hiring process and decisions.
Senior Software Engineer at Oracle
Senior Engineer for Oracle's Health Sciences Applications. Technical Architect for OutcomeLogix which was used for end to end management of a clinical trial and is one of the top-revenue application in Health Sciences BU.
‣ Completely redesigned and developed OutcomeLogix using latest front end and backend technologies like HTML5, CSS3, Javascript and Dot Net framework using Oracle DB.
‣ Designed and developed common JQuery components.
‣ Designed and developed API framework for integration of different applications in Clinical Trial suite.
‣ Performance tuning of OutcomeLogix SQL queries.
‣ Teamed up with UX, Product managers and Sales to come up with engaging UI.
‣ Trusted liaison to Customer support team helping them with solutions to real world customer issues.
‣ Efficient collaboration with local and remote engineering teams for variety of features.
‣ Made application compliant with legacy web browsers with comparable Javascript performance.
Software Developer at Family Dollar
Joined as an intern and continued as Software Engineer (on contract). Became the go-to person for the software that I was working on, in very short time.
‣ Feature development for Identity management, workforce timekeeping and Real Estate management software.
‣ Singlehandedly integrated the applications with Sun Identity Manager.
‣ Design and development of web services to provision new users.
‣ Designed and developed a pipeline to move code seamlessly from development to testing to production.
‣ Design and development of Java applications to implement auditing and compliance.
‣ Developed web services for user authentication.