GET EMAIL UPDATES FROM POWERTOFLY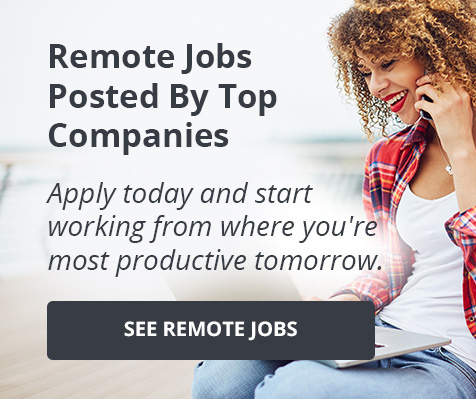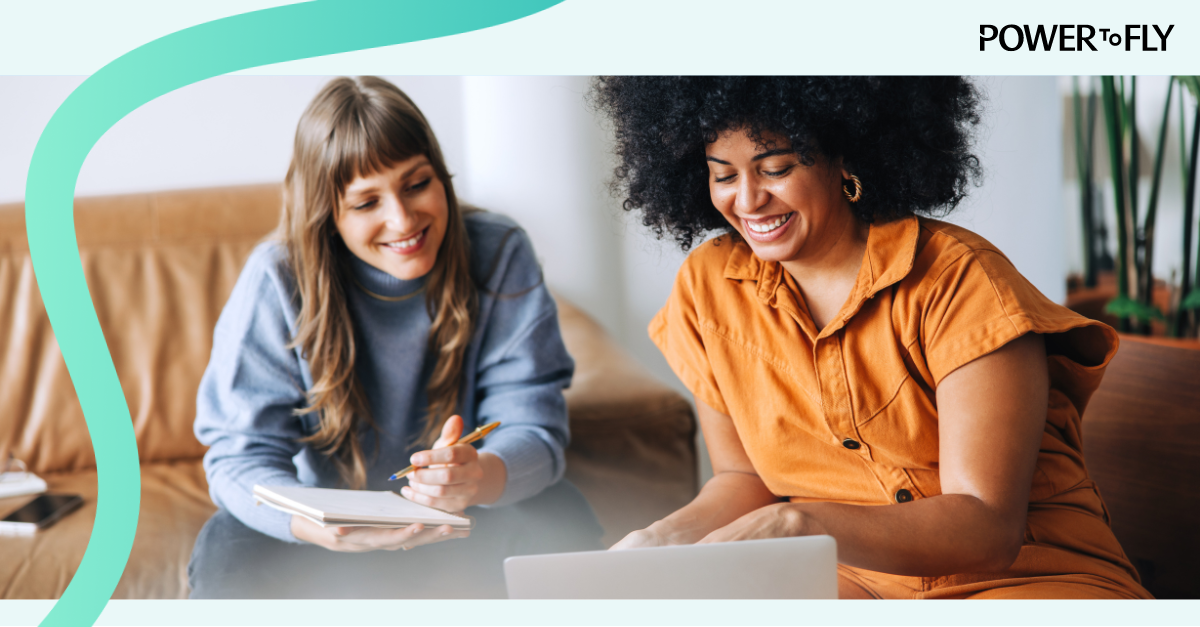 Resources for Employers
Introducing the PowerToFly DEIB Business Suite
Why we launched the first all-in-one DEIB recruiting, retention, & education product suite (and how to use it)
As many as 77% of employers report difficulty filling roles in 2023. That's a 17-year high, according to ManpowerGroup. And it's just not finding talent that's the problem; it's become harder than ever to retain that talent, too. In a February 2023 survey for PowerToFly's annual What Diverse Talent Wants report, 49% of the diverse professionals in our community said they were considering quitting their jobs this year, and another 27% weren't yet sure whether they'd consider it.
That's simply to say: Layoffs, climbing interest rates, and banking crises haven't put a dent in the increased worker power that's become par for the course since the Great Resignation — nor should they. Candidates today are holding out for companies that share their values, which include creating inclusive work environments where people of all backgrounds and identities can thrive.
At the same time, many companies have moved past the awareness-stage days of diversity, equity, inclusion, and belonging. They understand that DEIB isn't just a nice-to-have — it's a business imperative. And they've readtheirshareofstudies spelling out the link between diverse teams, a strong sense of belonging, and the most successful, innovative companies.
But as funding becomes scarcer, leaders are challenged to conserve cash and demonstrate the ROI of every expense. Many fear feeling forced to quietly cut back on DEIB recruitment and retention initiatives, knowing that today's talent is paying attention to these reversals — particularly after 2020's rush of diversity pledges.
After three years of similar truisms, we almost hesitate to say it. But at PowerToFly, we believe this moment represents a true inflection point for talent acquisition, HR, and DEIB teams alike. Leaders today know the value of DEIB. The real question now is whether they can find cost-effective, efficient ways to integrate DEIB throughout their business holistically, all while proving the ROI of their efforts.
We've heard this from corporate partners large and small alike. And we not only listened — we acted on it.
Today, PowerToFly is thrilled to announce the release of our new flagship product: the PowerToFly DEIB Business Suite.
What is the DEIB Business Suite?
The DEIB Business Suite is the first all-in-one diversity recruiting, retention, and education product suite in its space. We've taken what PowerToFly has always done — equipping our clients with the expertise and tools they need to find, hire, upskill, and retain diverse talent — and built a way to do it at scale.
The Suite allows us to help our clients integrate DEIB across every business function, in keeping with what the talent of today demands. As an easy-to-implement, true SaaS solution for end-to-end DEIB, it gives leaders a time- and cost-saving way to accelerate their company's DEIB roadmap and overall HR and talent acquisition strategy at the same time.
Built to adapt to your organization's needs, the industry-leading DEIB Business Suite offers customizable solutions in the form of its two initial products: PowerUp and PowerPro.
What is PowerPro?
PowerPro is a talent acquisition tool that uses DEIB data and insights to help you identify and manage your talent pipeline, from start to end.
Use it to: Analyze your recruitment funnel.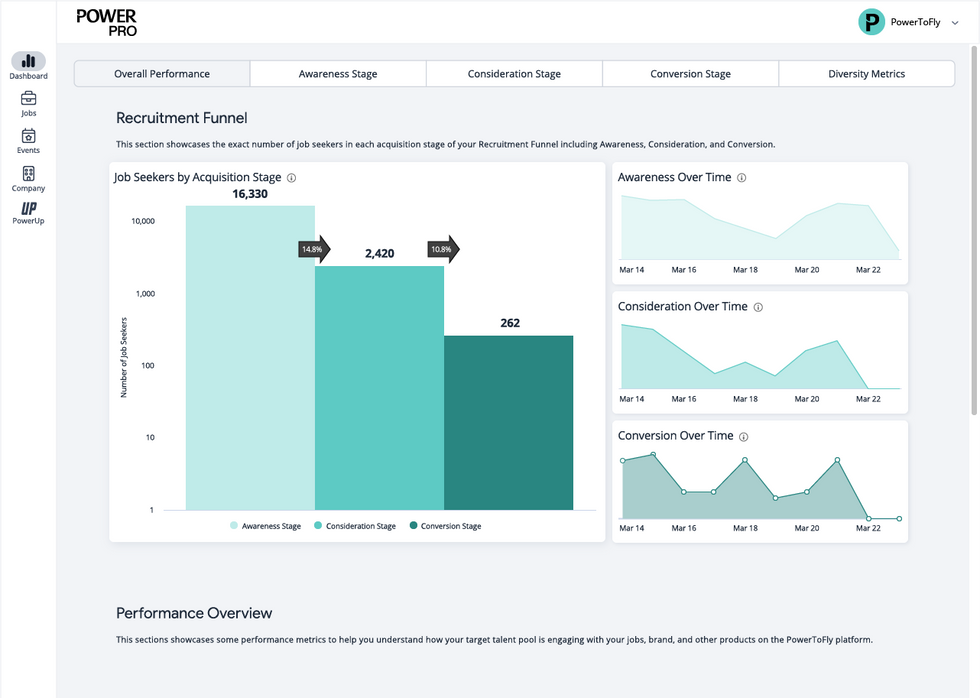 With an Insights Dashboard that gives you instant access to performance metrics along every step of your funnel, you can light up problems that are keeping you from achieving your hiring and DEIB goals. Use the dashboard's Diversity Metrics feature to see who, exactly, your jobs are reaching within PowerToFly's diverse talent pool. Later this year, you'll also be able to use the dashboard for industry-wide DEIB and branding benchmarks, adding another lens to the way you compare and measure your progress.
Use it to: Stay up-to-date on your jobs and events.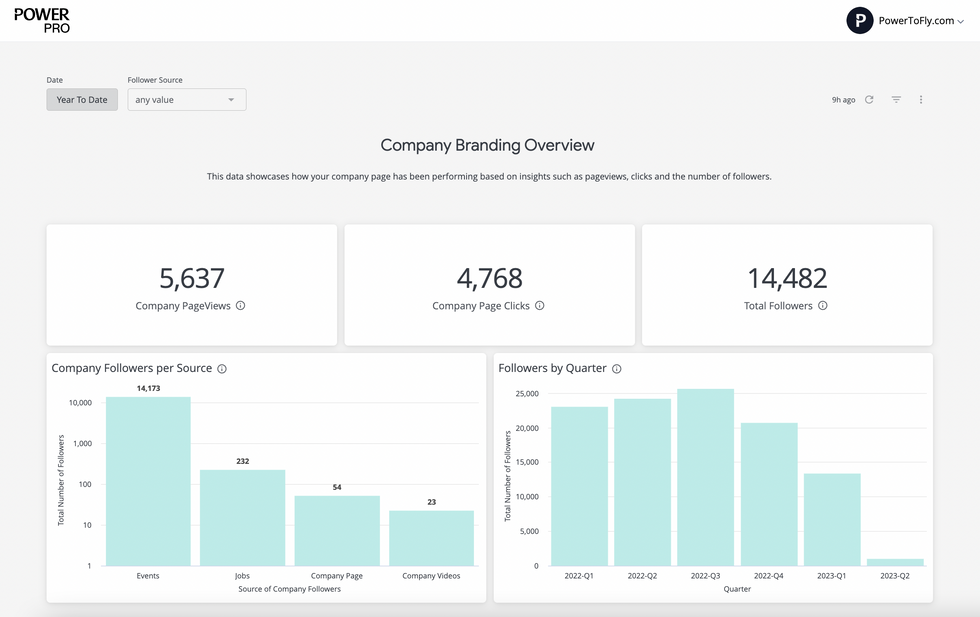 PowerPro's jobs and events pages help you keep track of and engage with a rich talent pool of diverse candidates who've indicated interest in your jobs (post as many as you have open!) and listed events. And with the Jobs Insights feature, you can analyze how your listed jobs are performing in detail.
Use it to: Build your reputation as an employer of choice for diverse talent.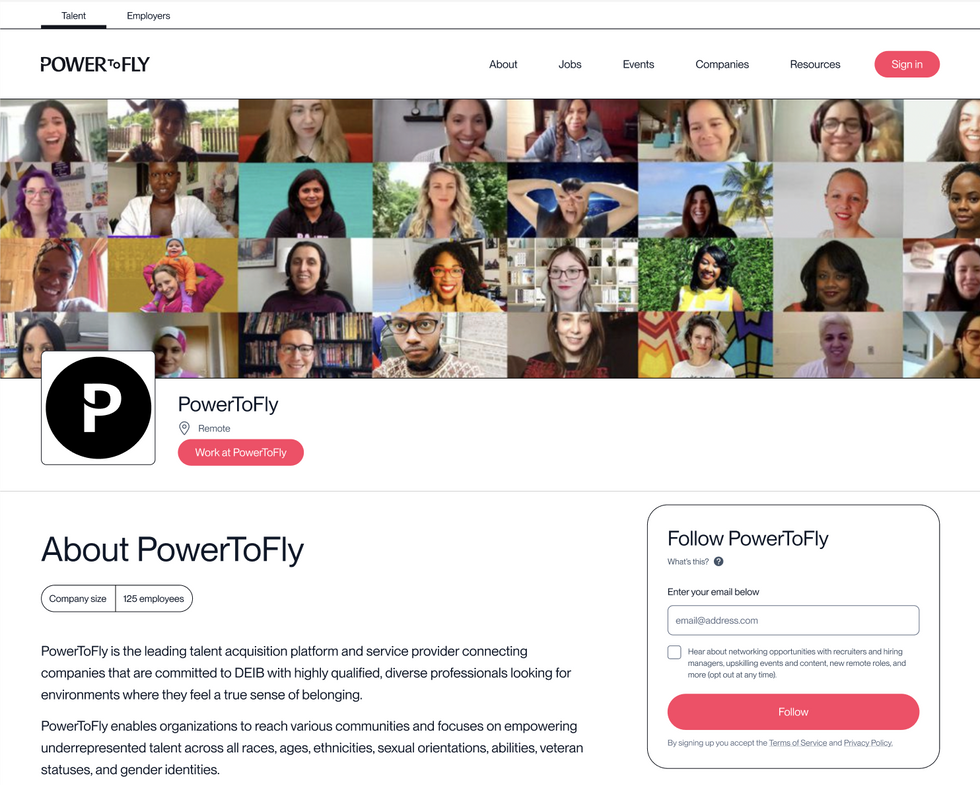 With a customizable company page, you can publish blog posts that feature members of your team, showcase your diversity metrics, share behind-the-scenes videos, and highlight your company's ERGs. To analyze how your company page is performing in more detail, head over to Company Page Insights.
What is PowerUp?
PowerUp is an on-demand DEIB training and upskilling platform. According to our 2023 survey of diverse talent, 66% of people want more learning and development opportunities at work — and would leave their current job for another if it provided them.
As a professional Diversity, Inclusion, Equity, and Belonging training platform, with best-in-class DEIB training, insights, and resources, consider PowerUp your one-stop shop for all things DEIB knowledge expansion.
Use it to: Access on-demand, self-paced DEIB trainings and courses.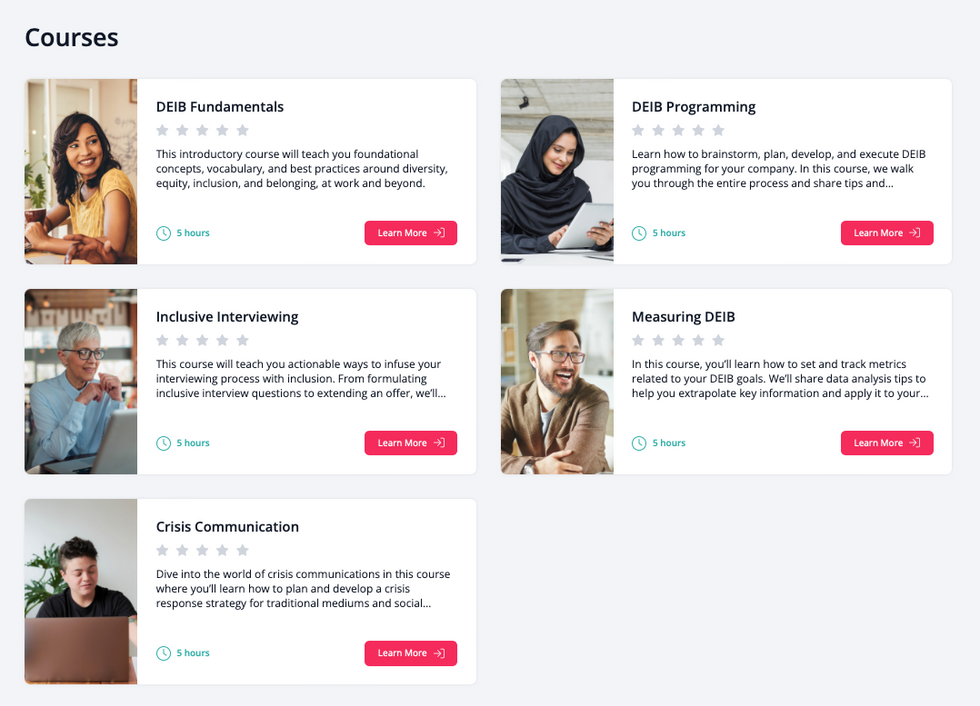 Designed by our in-house team of global DEIB educators and strategists, you can level up the DEIB know-how of your organization with a menu of courses and training pathways that can be started anytime, anywhere.
Use it to: Earn certifications for completed courses.
Each one of our courses and trainings comes with a certification upon completion, in addition to HRCI and SHRM credits for completed courses/trainings. PowerUp courses currently include DEIB Fundamentals, DEIB Programming, and Inclusive Interviewing, with Measuring DEIB and Crisis Communication slated for a May 2023 release.
Use it to: Get DEIB resources, templates, and tools.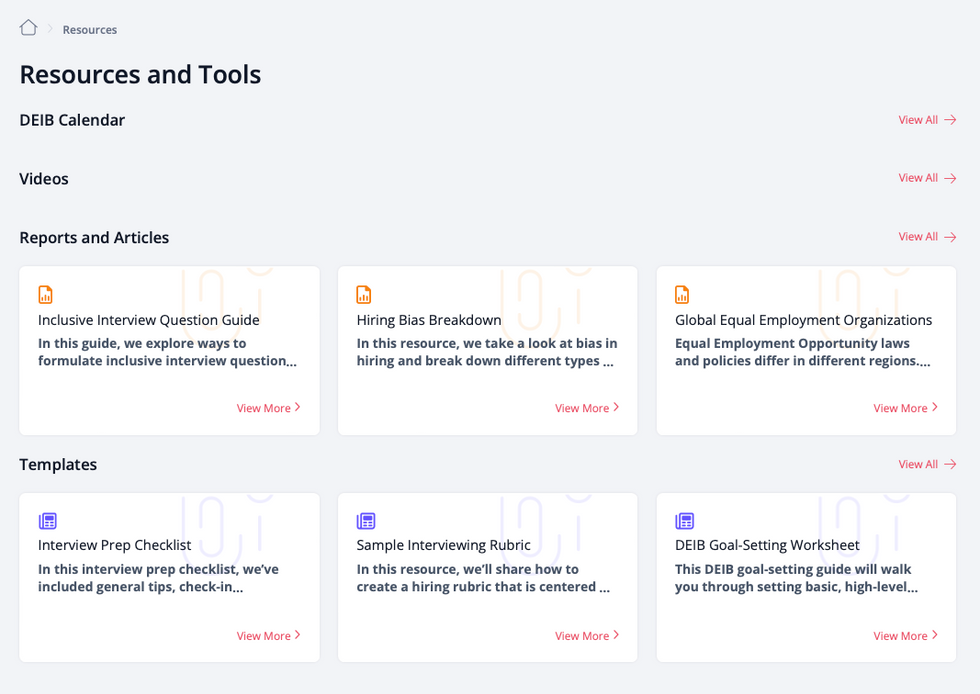 Find customizable reports, a DEIB calendar, and community events that will empower your HR and People Ops leaders to build aligned, impactful DEIB initiatives.
Use it to: Stay current with trending DEIB news and topics.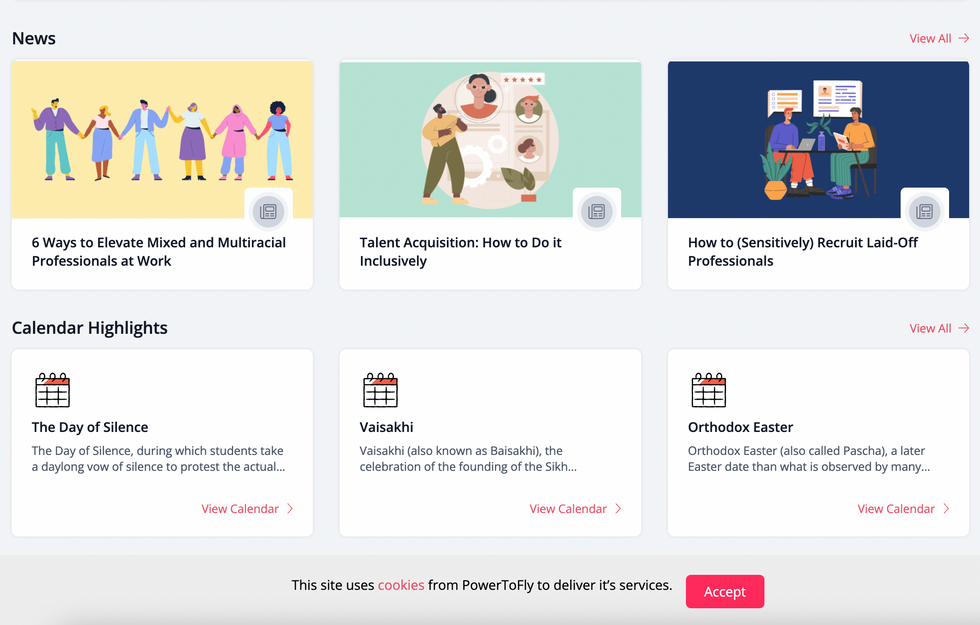 New trainings, courses, and downloadable resources will be added to PowerUp each week, making this a living, evolving learning hub for all things DEIB. Topics currently covered on PowerUp include: Ramadan in the Workplace, Combatting Classism in the Workplace, Understanding the Meaning of Belonging, Tokenism in the Workplace, Inclusive Language, and DEIB Goal-Setting.
"We are so excited to finally launch PowerUp to the world and see the way it impacts employees across the globe, from leaders to individual contributors. Our team has been working diligently on building this platform and creating impactful content to educate, engage, and empower others on topics, from DEIB fundamentals to inclusive interviewing, that will help them build better workforces and a better world. PowerUp is a game-changer for anyone looking to invest in their DEIB knowledge and put it into practice immediately. There's something for everyone here." – Sienna Brown, Senior Director of DEIB at PowerToFly
Why the Suite — and why now?
PowerToFly set its sights on building the DEIB Business Suite after securing $30 million in funding last year. At a time when companies can't afford not to invest fully in DEIB, and also can't afford to do so in a way that doesn't yield measurable, ROI-friendly outcomes, the DEIB Business Suite was designed to be a results-driven, practical bridge between where our partners are today and where they want to go.
With this SaaS product, we hope to help companies adapt to the demands of a new, fast-moving, and cost-conscious market.
As our CEO and co-founder, Milena Berry, put it:
"The DEIB Business Suite is a game-changer, set to transform diversity recruiting for any organization committed to diversity, equity, inclusion and belonging. We're unveiling not only a better experience for the millions of underrepresented professionals visiting PowerToFly every month — we're also making diversity recruiting easy for any company committed to doing better."
For Amy Kim, PowerToFly's President and Chief Revenue Officer, the Suite represents a first-in-its-industry opportunity to advance DEIB recruitment with data and analytics: She said:
"The launch of the DEIB Business Suite provides organizations the ability to not only gain insight into the diverse talent funnel — it also enables them to attract and recruit quality, diverse talent at scale like never before."
As a women-run, 71% BIPOC company, PowerToFly was uniquely positioned to deliver a product that helps more companies ready themselves for the increasingly diverse workforce of the future — a workforce that will include the 48% BIPOC and 1 in 5 queer-identifying folks in Gen Z.
"Each year, the workforce in the U.S. is becoming more diverse in race, ethnicity, and age, and companies that want to build high-performing teams in the future will need to treat DEIB not only as an essential part of their overall strategy, but of each employee's set of soft skills, as well," Milena added. "The DEIB Business Suite will empower companies to do just that."
How, exactly, does the Suite work?
Introducing PowerUp and PowerPro: How PowerToFly is becoming a true SaaS DEIB platformwww.youtube.com
What are our partners saying?
"I love the analytics showcasing how candidates are engaging with our brand. It helps tell our story and identify gaps where we may need to make additional effort." – Jennifer Moulton, Talent Leader for North America at SoftwareOne
"Diversity is our backbone. I would recommend this solution to anyone who is looking to hire for a high volume of open positions while wanting to increase the diversity numbers in their company. We are always looking for content about the technical side of recruitment, so the content direction included in this product is quite helpful for us as a small team, too." – Mayra Massuda, HR Lead at RebelMouse
"It's useful having demographic and funneling information about our candidate pool all readily available in one place." – Tarin Tomilson, NORAM Equity &. Inclusion Program Manager @ SoftwareOne
Want to learn more?
Ready to learn how the DEIB Business Suite can be leveraged to drive your company's DEIB, HR, and talent acquisition goals? Schedule your demo today.