GET EMAIL UPDATES FROM POWERTOFLY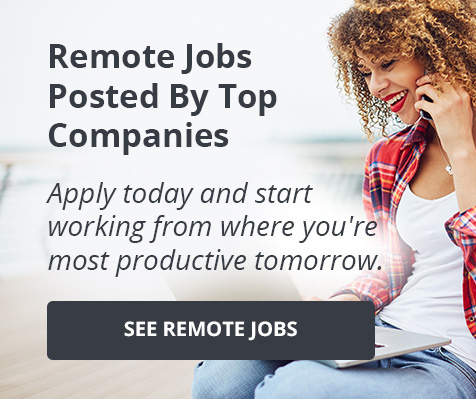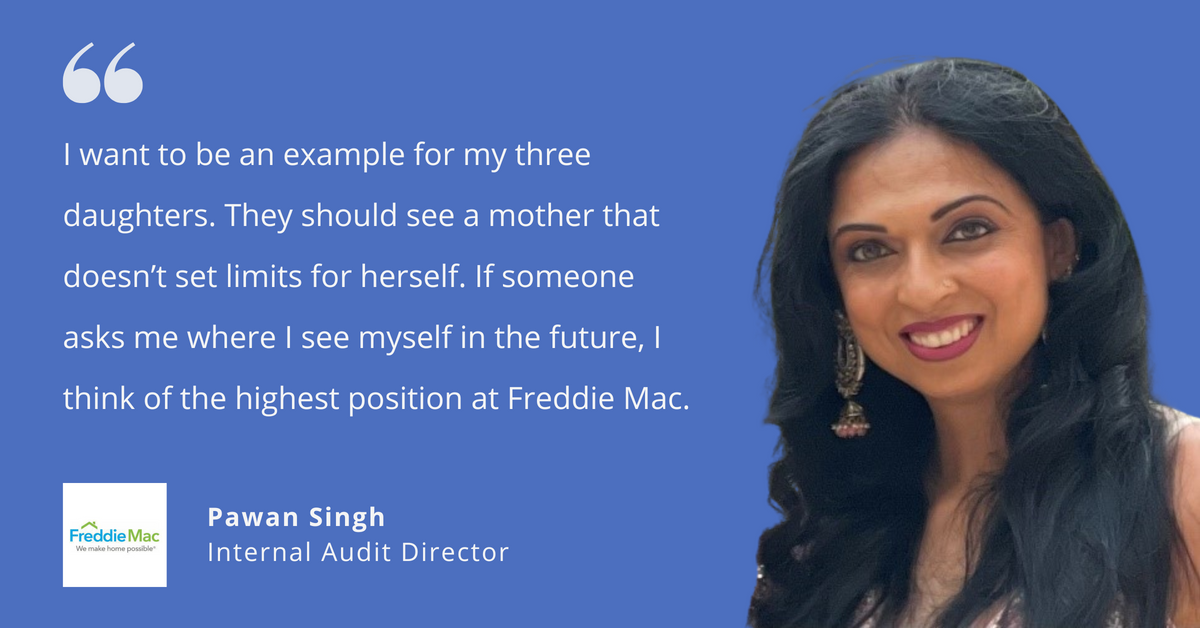 Upskilling and Development
How Pawan Singh Has Grown Her Career for 22 Years (and Counting) at Freddie Mac
At an early age, Pawan Singh learned to take advantage of new opportunities and leap into the unknown. Her road to landing her dream career — Internal Audit Director at Freddie Mac in McLean, Virginia — has been paved with hard work, determination, and strategic risk-taking.
"I want to be an example for my three daughters. They should see a mother that doesn't set limits for herself. If someone asks me where I see myself in the future, I think of the highest position at Freddie Mac. It's a mindset. If you put yourself in a box, you won't take the leap into the scary unknown," Pawan says.
This tenacity has helped Pawan grow from an audit senior to a director all in one company. With English as her second language, Pawan has leaned into her analytical brain, critical thinking skills, and professional development resources to find avenues for growth.
"In my 22 years at Freddie Mac, I have not experienced a shortage of opportunities to challenge myself and progress," she confirms.
We sat down with Pawan to find out how a working mom of three has continued her upward career trajectory for the last 22 years and counting, along with a few tips for pursuing your own growth.
Never Stop Evolving, You'll Miss Something
Pawan was born in India, and at five years old, she and her family moved to Zambia, Africa. Her father was offered a job opportunity in a different country.
"He took a risk and used it as a platform to build our future," shares Pawan. This calculated risk-taking left its mark on her, and Pawan now encourages her coworkers, daughters, and even herself to take chances.
"There is no limit to accomplishing everything and anything," Pawan says.
As a young girl, Pawan's dream was to become a teacher. She loved helping others, ensuring they understood the problem at hand and offering ways to troubleshoot.
Pawan found that this love for helping others could also be utilized in auditing. She started in financial services at 18 years old with a public accounting firm and quickly realized it was a fit.
Pawan describes auditing as being the goalie on a soccer field. "I see the whole field, guide my team (Freddie Mac), and keep the balls out of the goal. All in all, I make sure that the company operates in a safe manner. It's my job to keep us safe," she says. Pawan was also fascinated that analyzing a company's books told a story about its performance and predicted its future.
When she moved to the U.S., Pawan began exploring new career opportunities. "I selected a position with Freddie Mac since I was interested in furthering my career in the financial services industry. I did not think 22 years at Freddie Mac would happen for me in this lifetime," Pawan says with a smile.
While it might have been unexpected, Pawan's tenure at Freddie Mac has been deeply fulfilling.
"Internal Audit has supported my need and desire to grow through training, mentoring, coaching, and exposure to a variety of business processes. Additionally, I'm encouraged to participate in volunteer events, Business Resource Groups, and rotation programs enabling short-term transfers to other divisions within Freddie Mac," she shares.
Growing Inside Freddie Mac
As Pawan moves along in her career, she credits much of her progression to ongoing self-development, frequent training, and listening to the insights of other colleagues. Freddie Mac strongly supports this proactive progression and self-development.
"I am fortunate to work for a company that values diversity, equity, and inclusion and genuinely invests in its people," Pawan continues, highlighting how she's felt empowered as a woman in the company.
Pawan mentions how women often face similar insecurities around balancing work, family, children, and personal life — and it's important to normalize these feelings. "I have a few good friends in Audit, and we support each other by talking about the challenges we're facing," Pawan says.
Since English is her second language, Pawan has found innovative forms of communication to both build connections with her teammates and work more efficiently. This includes using flow charts to show and discuss topics as well as drawing pictures to represent a story. She finds that pictures are a common language for everyone to interpret.
"It is a successful method for speaking the same language and receiving quick alignment," she confirms.
"As my career progressed, my critical thinking skills developed very quickly, too," says Pawan. "These skills and my ability to communicate directly and succinctly, stemming from being an introvert, have helped me advance my career."
3 Pieces of Advice for Women Seeking Leadership Roles
"The biggest lesson that I instill in my three daughters is that there is no limit," Pawan shares. "I tell them to go out there, explore the world, step outside of their comfort zones, and do everything that makes them happy."
The same applies to growing as a leader.
Pawan tells us that by keeping an open mind to opportunities and believing in ourselves, we can work towards our highest career goals. If you're interested in taking on more leadership roles, Pawan recommends that you:
Weigh out your options. "If you feel stuck, look at your options, take the calculated risks you need to take, and make sure you have support along the way."
Be open to feedback. "What's next might be something you may not feel ready for, but you can work towards it if you're willing to put in the effort. And feedback from team members is a great way to continually develop."
Reach out to mentors both inside and outside of your company. "The possibilities are endless if you want them. Sometimes it takes having a mentor outside of your company to get a well-rounded perspective. You may even realize you have the growth potential you're looking for where you are right now."
Pawan says, "Remember, don't put yourself in a box or limit your potential. Because when you do, others will do the same."
Grow your technology career and support an important mission at Freddie Mac. Explore
job opportunities
.
READ MORE AND DISCUSS
Show less