GET EMAIL UPDATES FROM POWERTOFLY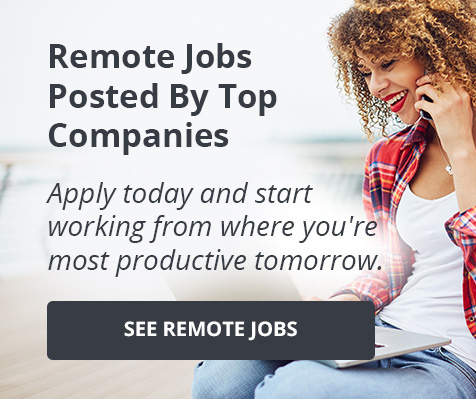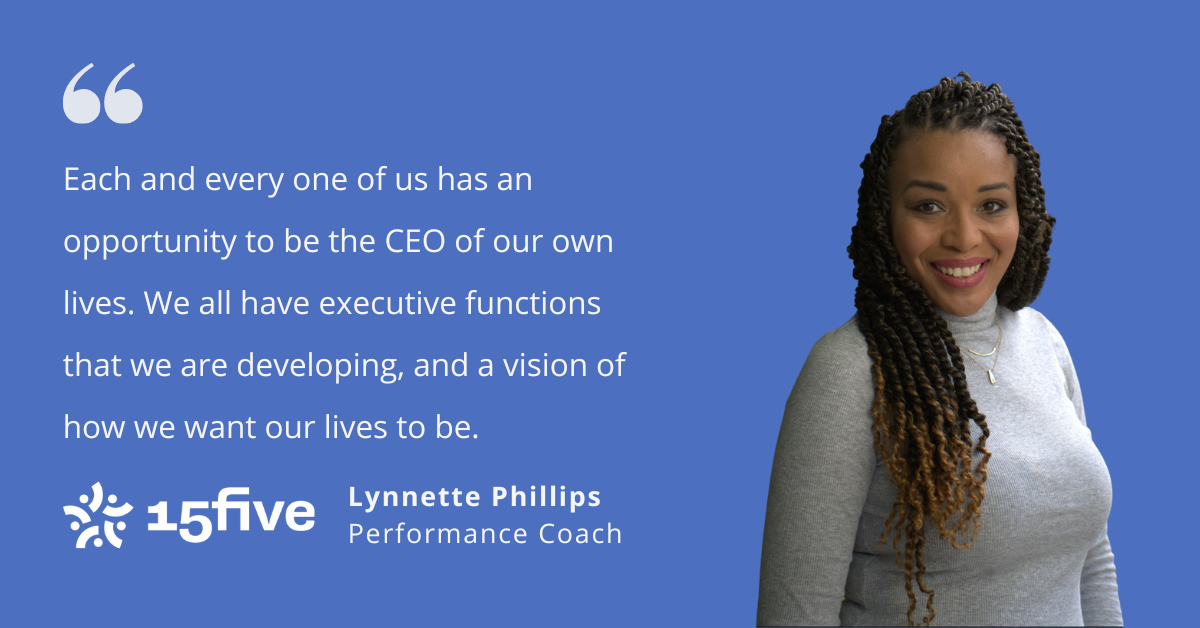 15Five
As a mom running a busy household, channeling her inner CEO is easy for Lynnette Phillips — as is channeling her inner COO, CFO, and any other C-suite role related to parenthood.
"As a parent, I feel like my husband always jokes about me being the CEO, CFO, and COO of our home. I talk a lot about parenting because that's one of the identities I spend the most time in," she says.
Yet Lynnette, a performance coach at 15Five, insists that anyone, whether executive or not, parent or not, can develop their own inner CEO.
"Each and every one of us has an opportunity to be the CEO of our own lives. We all have executive functions that we are developing, and a vision of how we want our lives to be," insists Lynnette.
We sat down with Lynnette to discuss her journey to becoming a coach, what it's like to have the career guidance of other coaches at 15Five, and how we can all harness our inner CEO to start taking control of our lives and careers.
A U-Turn Into Coaching
Lynnette has always loved sports. As she completed a marketing degree, she even thought that she might build a career in professional sports, perhaps as a team owner. She decided that an MBA was the right path towards that goal.
As Lynnette browsed various MBA programs, she found one focused on organizational leadership and executive coaching and realized that, as a person who thrives on enabling others to reach their full potential, what she really wanted was to become an executive and leadership coach.
"Coaching is my favorite function of my job," says Lynnette. "I love helping others access their potential, see some of their blind spots, and go from talking about doing something to actually doing it."
When the pandemic hit and she was furloughed, with her Master's degree in hand, she decided to take a risk and start a coaching business. This turned out to be a great opportunity for Lynnette to define her values as a coach, something that she says is central to developing one's own inner CEO.
"We may think we know what our values are, but we sometimes don't have the language to articulate them. Starting my own business, I really got to distill my values down to a short list. I realized that as CEOs of our own lives, we must know our values in order to make decisions based on them," explains Lynnette.
Later on, a performance platform called 15Five popped up in her LinkedIn suggestions, and as she became acquainted with 15Five and their work, she realized that they were doing much of the same things she was doing as a coach — and she was intrigued.
"I researched them a bit, and I found myself wanting to be a part of their team and mission. I realized that they were doing almost exactly what I did in my own business, except with tech," she recalls.
So Lynnette applied for a performance coach role.
Being Asked the Right Questions
Throughout the recruitment process with 15Five, Lynnette was amazed by 15Five's transparency and how approachable everyone was. She also loved the innovative interviews that allowed her to show off her skills.
"In the first interview I had with one of the VPs, she was just so honest about the journey of where they were going. It didn't even feel like an interview, but a real conversation," says Lynnette. "There was also a creative interview process, including a mock coaching session. This was a great way to display my skills to my future colleagues, one of which is now my manager!"
The elements that solidified Lynnette's decision to accept a role at 15Five were an alignment in values, and that there was a clear space for her in the company's structure and plans.
Lynnette loves working at 15Five because of the exceptional career coaching she receives from her bosses, who are also coaches, as well as the generous professional development budget she has access to in order to continue learning and growing.
"I work amongst coaches, so I have the luxury of being asked the right questions so that I can explore where I need to grow, how I need to develop, and get the support I need to do that. We also have monthly stipends that we can use for professional development, or even wellness," says Lynnette.
How to Develop Your Inner CEO
Lynnette says that developing our inner CEO has to do with taking control of our lives, having a clear vision, and utilizing the tools and resources around us to make that vision a reality. She believes that this is something that anyone can do, not just people in the C-suite. Here's her advice if you'd like to give developing your inner CEO a try:
Ask yourself whom you can go to for quality feedback. An outside perspective is one of the most important tools at our disposal, and the type of feedback, according to Lynnette, matters. "It's not about quantity, but quality, introspective feedback," she says.
Ask yourself if you're willing to give yourself honest, quality feedback. If you are, your questions have to go to some hard places about where you might be falling short, and why. Lynnette says that some of those questions might be: "Have I really reflected on my own interactions with others and on my own quality of work? Do I know myself well enough to understand what causes me to not show up in the best way at times? What are the challenges that I would like to tackle, but I haven't made space for them because I'm on autopilot mode?"
Be transparent with others about the things you're working on, and the growth and/or setbacks you're experiencing. Lynnette says it's important to share with people how we are trying to improve, because we will inevitably make mistakes. "Be transparent with others as you're developing and growing. Because guess what? You will falter. When that impacts others, you can let them know that it's something you're working on."
Don't try to do all the things at once. If you do, you'll get overwhelmed. Instead, start small and build consistency. "It's easy to want to work on many areas that are worthy of your time. But your time and focus are limited! Be honest with yourself about the time and energy you do have, and take things one step at a time," counsels Lynnette.
If you're interested in working at an organization that will support you as you harness your inner CEO, check out 15Five's open roles!
READ MORE AND DISCUSS
Show less