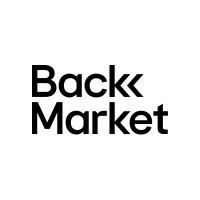 Brooklyn, NY, United States
About
Founded in 2014 in France, Back Market is the world's first online marketplace dedicated exclusively to second-hand devices.

We provide a platform that allows the consumer to enjoy a shopping experience with the associated advantages one has when buying new, but at a cheaper price. It also enables the merchants to market their product in the fastest and most efficient manner by bringing range, transparency and quality standards to the industry.


Our mission is to build trust and desire for renewed devices. Spurred into action by the megatons of e-waste we produce each year thanks to our collective obsession with new tech, Back Market is challenging people to rethink their tech consumption.
And our team continues to grow. We have over 600 people in New York, Prague, Paris, Bordeaux, Berlin, Barcelona and remote. We have a Culture Team ensuring "work" is a fun place to be, and a D&I team ensuring everyone feels included and heard.
💼 650+ Employees
👩 44/56 F/M Gender Split
📅 Average Age: 31
💰 32/68 F/M Women in Leadership
🌍 Operating in 17 Countries Worldwide
📈 85/100 Gender Equality Index 2022
♻️ 5500 Tonnes of E-waste Avoided in 2021



Diversity and Inclusion at Back Market:
Our mission at Back Market is to empower people to save tech through circularity and repair - but this can only be done with a team that has different perspectives and experiences.
Diversity, equity and inclusion are critical to everything we do because these help create the space for all voices to be heard and for new approaches to be embraced as we tackle the questions we're trying to answer as a company. Challenging the status quo both in our industry and within our company can't - and shouldn't - be done alone.
Affinity Groups at Back Market:
Affinity groups show us the way. They leave us stronger and happier, enriching our world as we celebrate individuality together. The relationships guide our approach to recruitment, leadership, and community—promoting stronger allyships across our teams.
Anne Bonny was one of the first woman pirates in recorded history. As a powerful disruptor and rebel, she is an ideal symbol for our Back Market Women's Group.
Our LGBTQIA+ group took their name from one of our values—"one free spirited and loving tribe". Why? Because they see themselves as free to say, do, and be whatever is true.
Our BIPOC and friends group promotes outreach events and diversity in leadership. It also provides opportunities for minority students and supports our activities during observance days and community celebrations.
Parents, we hear you!
Being a parent is one of life's biggest challenges. That's why, at Back Market, we're supportive of parents and soon to be parents, regardless of gender or status.
We give you the space you need for your growing family while still supporting your career. We're proud of our initiatives, which include parental workshops, extended paid eave for second parents, gender pay gap analyses and corrections and an annual parent budget.
Values:
We were born to sabotage the New Device Aristocracy! This is Back Market's purpose and destiny, and embedded in our values:
The 5 principles of the Back Market Saboteur:
🧠 Think Deep. Decide Fast: Be smart, have a plan and think things through, but without becoming lost in our own heads
🦸 This is Sparta: We tackle challenges better when we tackle them collectively
👊 Minimum resources. Maximum Impact: Be frugal with your time, projects & budget
💚 It's not green enough: Always promote a better and greener way of doing things
👩‍❤️‍👨 One loving & free-spirited tribe: Fair rules, fair pay, fair say
As you can see from an All Hands Event earlier in June this year in the South of France —

Employee Benefits (US):
401K Matching - 100% Employer match on the first 3% of contribution per pay period, vested immediately
25 days off (PTO) + Major US holidays
Public transportation reimbursed: Monthly unlimited Metrocard + Citi Bike program
Health insurance 100% paid by Back Market: United Healthcare + vision and dental 100% paid (Guardian)
Meal credit 15$ / day when in the office (Seamless)
Hybrid environment, flexible (you get to choose the days you come to the office, minimum 2/week)
Social events and NYC office outings, one trip to Paris (All Hands) all expenses paid
Parental leave fully paid by Back Market
Awards & Recognitions:
This Page Is No Longer Active
Looking for open roles? Search positions here.
Contact us to re-start this subscription if you are a representative from Back Market.