Def Method – New York, NY
Def Method decided to host this event due to their own struggle as an agile software consultancy to meet their internal goal of a 50:50 ratio. Our cofounder, Milena Berry, joins the panel that will focus on actionable steps tech firms can take to work toward an even balance between female and male prospects and employees.
Hosted by Def Method
Tuesday
March 28, 2017
7:00pm – 8:30pm EST
Knotel – Bryant Location, New York, NY
Working across borders is becoming increasingly important as industries evolve and talent becomes global. This lively panel, moderated by CNN's Sara O'Brien and with our own co-founder and CEO Milena Berry participating, will uncover the best practices for embracing the distributed team model and leveraging diverse perspectives.
Highland Lounge, Austin, TX
Speed Mentoring is a great opportunity to find a mentor, be a mentor, learn something new, and build your network! It's a great way to build relationships quickly and connect with other people in tech. Register today for a Speed Mentoring session at SXSW2017.
Hosted by TechUP and PowerToFly
Highland Lounge, Austin, TX
BBQ, burritos and antacids here were come – PowerToFly is heading to Austin, TX for SXSW! We'll be taking part in the Tech Jobs Tour launch party at 4pm on Saturday, March 11. Hope to see you there to say howdy.
The New School – Hoerle Lecture Hall, New York, NY
Join Ellevate Network on Thursday, March 9 at 6pm to celebrate International Women's Day with a screening of "She Started It", a documentary following five passionate young women who strive to compete in the tech world. An engaging discussion will follow, featuring PowerToFly's very own co-founder and CEO, Milena Berry.
Hosted by Ellevate Network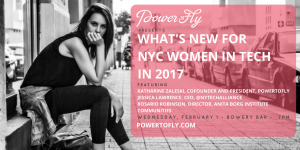 BBar and Grill, New York, NY
Gather with us at BBar and Grill for light food and drinks to discuss opportunities and programs with women who are working to continue changing ratios across New York's tech teams!
Sponsored by Lerer Hippeau Ventures
Wednesday
February 1, 2017
7:00 pm – 9:00 pm EST