Pioneering Remote Work At A Non-Remote Company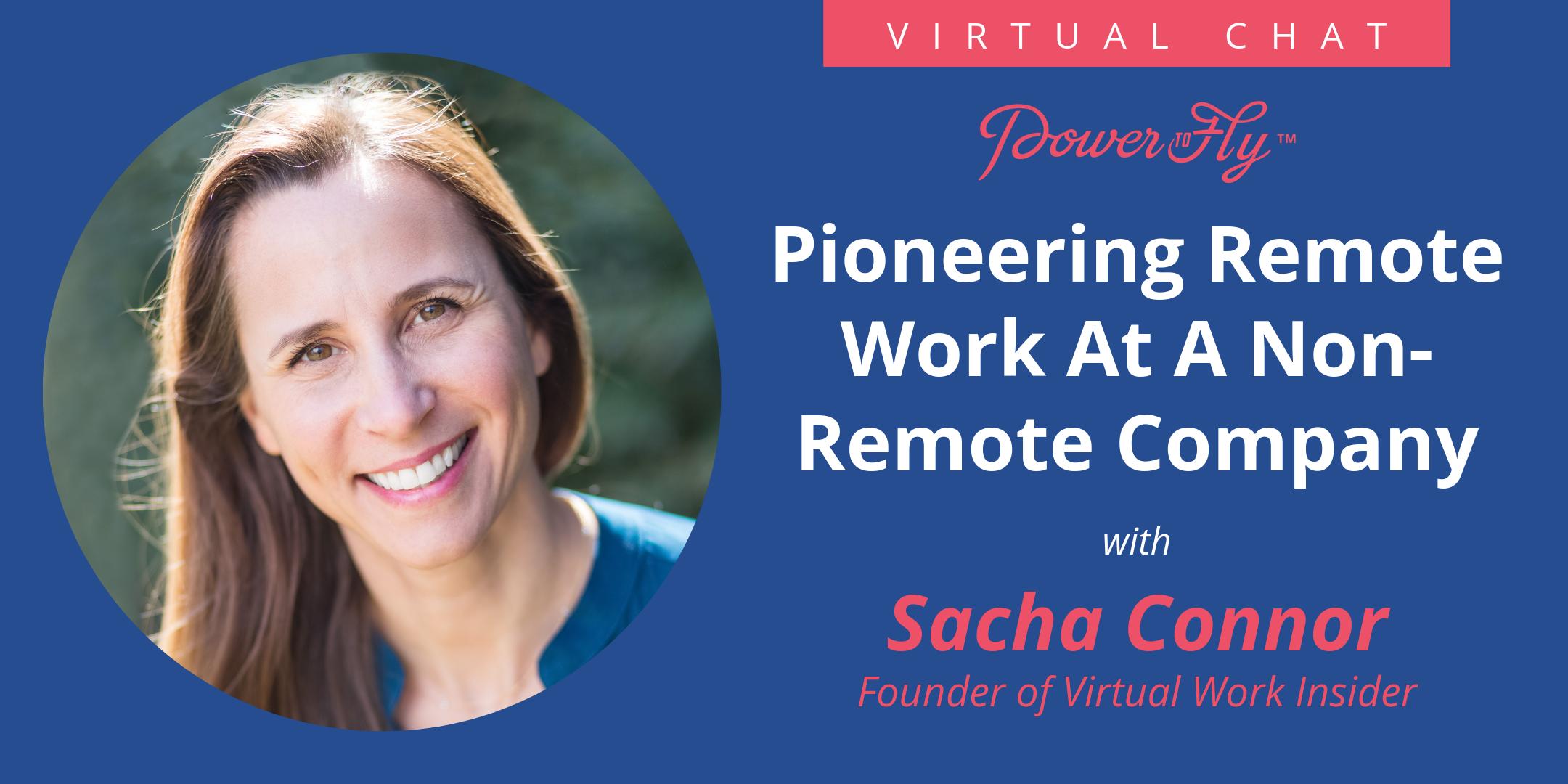 Do you love your current role and employer but wish there were more flexibility? As the workplace shifts to a more widely accepted remote culture, asking your current employer for more flexibility, be it going totally remote, flexible hours, or even specific work-from-home days is easier than you think! Join Sacha Connor, Founder of Virtual Work Insider for a virtual Q&A; on how YOU can pioneer remote work at a non-remote company!
MEET THE SPEAKER:
Sacha Connor is the Founder of Virtual Work Insider, a consultancy that coaches organizations to work seamlessly across any distance – with a specialty in training geographically distributed teams within companies and agencies, and Virtual Workforce ERG creation.
Sacha has 18 years of business leadership experience at a Fortune 500 company and also agency-side, and 8 years of experience leading large, distributed teams fully remotely.
As one of the first remote marketing directors, she led brands worth over $250M and sat on the leadership team for a $1 billion division at The Clorox Company. Sacha founded the first-ever Virtual Workforce Employee Resource Group which enabled inclusion across office sites, taught virtual work skills to over 750 global members, and influenced the C-suite about how to adapt for the future of work.
Q&A
When requesting to work from home in a none remote working environment - how many days a month / how often is a save start to request.

Question by Elzette on 2019-07-19

I've done (still do) remote work for my current company, provide remote support for another office & do not even work in the same city as my line managers but when I requested to do this permanently was told, 'No, the job cannot be done remotely'. Remote working is offered & granted to senior staff but not support staff, like me, who are all women & in the minority demographic. I want to revisit this with the company but not sure how & to whom (Line Management, HR ,Directors)?

Question by Thalie on 2019-07-19

Most of the remote jobs I find are for US citizens only /Remote but based in the US. Why don't most companies work with remote designers from abroad? Is there a way to overcome this or shall I just apply for jobs in Europe, where I am from? Thank you.

Question by Boryana on 2019-07-19

How do I bring up (and offer compelling reasons for) wanting to work remotely as a part of the job interview process at a company that doesn't typically have remote workers?

Question by Kelsey on 2019-07-19

I'm more productive out of the office (we have an open office floor plan). How can I frame the conversation around working remotely around a productivity and efficiency perspective? Especially when it's sporadic and not tied to a particular day of the week or project?

Question by Steve on 2019-07-18

Does working from home affect possibility for promotion and career development?

Question by Sarah on 2019-07-18

Can you deduct expenses for working at home on your taxes? Are there times or occasions when you might need to go into the office?

Question by Tina on 2019-07-18

None at the time. Thank you.

Question by Sandra on 2019-07-18

None at this time.

Question by Kristin on 2019-07-18

Our company is all about in the office 8-5. How can we change this culture to something more flexible?

Question by Sabrina on 2019-07-18

If a position is listed as in your city OR remote, how do you tell the recruiter you want to work from home and not at the office in your city (which is likely going to be an open office, and I'm more productive working from home than in an open office layout).

Question by Vui on 2019-07-18

I am currently in California, but looking to move out of state. My company has let people in the past work remotely out of state for about a year ( they say that due to taxes they can't allow longer) - looking for tips and advice on how best to negotiate this for myself. Thanks!

Question by Jessica on 2019-07-18

None at this time

Question by Zowye on 2019-07-18

My boss has already said no to the idea of me working remotely a few times before. Please address how we can bring up this discussion again without creating real conflict with our bosses. Also, my boss just likes to find us and see us when she needs us - which could be any random time between 10 and 6 Monday - Friday. Do you have recommendations for bosses who love facetime in the office? Thanks.

Question by Samantha on 2019-07-18

How can I introduce a policy like this to my company, not really advocating for myself, but starting a conversation where views on working remotely can start to change and we can all move toward a mentality where working remotely is not the same as "staying in to sleep all day"?

Question by Esther on 2019-07-18

I'm curious about the timing of when to preview asking to work remotely. Ideally I'd like to stay at my same SF based company but work remotely in Colorado (enjoy the quality of life better there). My SF lease will be up at the end of November. When is an appropriate amount of forewarning to have a conversation around potentially moving to Colorado?

Question by Laura on 2019-07-18

How does one create and maintain a genuine team spirit when all members are working in a fully distributed way (on a global scale)?

Question by Ana on 2019-07-18

Advice re: changing company culture (esp. leadership) from "remote-tolerant" to "remote-positive"?

Question by Jennifer on 2019-07-18

Is remote related to flexible work schedule? or just the same 9-5 from home?

Question by MARIA CAROLINA on 2019-07-18

No questions

Question by Mariella on 2019-07-18

I am job searching and want tips on when and how to bring up the possibility of remote working at companies that are solidly non-remote.

Question by Rebecca on 2019-07-18

I recently joined a new team. When would be the best time to ask my new boss if I can work fully remote?

Question by Cynthia on 2019-07-18

Hiw do you find work at home legitimate jobs.

Question by Yvette on 2019-07-18

None at this time

Question by Lori on 2019-07-18

Should you expect to be able to use a work laptop to work remotely, or offer to use your own computer?

Question by Jennifer on 2019-07-18

None at this time

Question by T on 2019-07-18

I see women casually asking for flexibility, not getting it and then assuming in a very large-scale way that flexibility is not possible. Wondering if you agree that success is so much greater when you make a professional pitch for flexibility and what you see as the best elements of that pitch.

Question by Kathryn on 2019-07-18

No specific question.

Question by Jennifer on 2019-07-18

I am currently job hunting and would like to make a case for working remotely at this point of the process, especially to companies that are reluctant. Any tips?

Question by Nicole on 2019-07-18

Being in customer service the top reason I get for why I can't work from home is collaboration. How do I show collaboration can occur from home?

Question by Melissa on 2019-07-18

How can I negotiate a flexible work schedule when I work for an emerging brand? We're a smaller company and I tend to work in the office A LOT of the time, alone.

Question by Elizabeth on 2019-07-18

How do you navigate a workplace that doesn't understand the benefits of working from home, and does not seem to be interested in even having a discussion about it?

Question by Claire on 2019-07-18

suggested first steps to pioneering a work at home situation

Question by Aimee on 2019-07-18

Do you think companies would ever consider or take seriously a staff member sending a remote work request, through another software (like PremoteMe)?

Question by Bentzy on 2019-07-17

none at this time

Question by Jenn on 2019-07-17

How can visibility be maintained when not physically present?

Question by June on 2019-07-17

What is the most common objection you hear from employers?

Question by Claire on 2019-07-17

What is important to include in a remote position contract prior to accepting the position

Question by Sandrine on 2019-07-16

How to be a change agent working against long-ingrained habits?

Question by Rebecca on 2019-07-16

Do you have tips for negotiating remote work when accepting a new position? I was presented with an offer and am hoping to work remote 2 days a week due to extensive commute and any advice would be appreciated!

Question by Kristin on 2019-07-16

How do I approach the opportunity for remote work in a job interview?

Question by Joelle on 2019-07-15

What is the one must have to be a wanted remote PM?

Question by Sally on 2019-07-15

What are the must-have and good to have policies that a company must offer to remote workers?

Question by Fareen on 2019-07-09

How do I negotiate a remote position when offered or in the first few weeks of working a new job?

Question by Chantelle on 2019-07-09

If I'm applying for a job that's not listed as Remote, should I put in my cover letter/initial correspondence with the company, that I'm looking for a remote position?

Question by Jennifer on 2019-07-09

How to start a remote pilot project in traditional company? How to engage people that never considered the remote option?

Question by William on 2019-07-05

What should I focus on when searching for remote work in non-remote companies?

Question by Mara on 2019-07-03

What is the most strategic way to present a remote working proposal? What are metrics to track/share that show the value of remote working?

Question by Maura on 2019-06-28

Key pointers and/or lessons learned on employee engagement of remote team workers?

Question by Salette on 2019-06-27

As I'm searching for my next software job, how do I approach the subject of needing to be remote in a way that doesn't shut the door for companies with little remote experience?

Question by Anna Liisa on 2019-06-27