Why We Can't Overlook Race In The Workplace
We no longer live in a world where it's okay to stay silent. As a leader in your company, it's imperative to take authentic and actionable steps to build a more diverse and inclusive workplace.
Diversity, equity and inclusion across workplaces isn't about checking off a box.
It's about being intentional and willing to put in the work to reshape who you are and what you stand for so that everyone has a chance to thrive.
No matter where you're at in your journey, we're here to help you reach your goals by helping you hire, retain and empower underrepresented talent
Not only that, but it's time to be a leader in your field, making sure your company is a place where everyone feels like they are seen, heard and celebrated. Let's use our power and privilege to make change for those on your team and for those to come. Because after all, allyship is a verb and anti-racism is an everyday practice.
Learn More
DEI Strategy & Consultation
Quite often, when it comes to understanding and adapting to what underrepresented individuals want and need to succeed — leaders don't know what they don't know. That's where we come in.
We're here to provide you with expert insights and best practices to help you build the inclusive workplace you know you need to thrive. We'll work hand-in-hand with your leadership and wider team to understand your current DEI strategies and best practices.
It's time to make meaningful strides towards a culture and company that enables all employees to bring their full selves to work and build a business where everyone feels seen, heard and supported.
Learn More
As our DEI consultant, Sienna Brown feels like a member of our team as we work together on a 3-5 year DEI strategy for our nonprofit that serves survivors of trafficking in New York City. Sienna's expertise, insights, and guidance are invaluable, and everyone on our team looks forward to our weekly meetings. We are grateful for the opportunity to engage in the enduring work of our DEI commitment at Restore with leadership from PowerToFly
- Amanda, Executive Director, Restore NYC
Training
Learning about anti-racism and building an inclusive workplace can sometimes feel like hard conversations but they don't need to be. Our interactive, discussion based training teaches your team how to identify skills and strategies to become more aware and inclusive that have an impact on the bigger vision and day-to-day practices in the workplace.
Learn More
What will your team learn?
Inclusive hiring best practices
Introduction to allyship in the workplace
Managing unconscious and implicit biases
Embodying the six traits of inclusive leadership
The PowerToFly team led a powerful discussion that allowed open space for attendees to ask the uncomfortable questions. For a company focused on hitting metrics they were able to land the powerful notion that it's not about quotas but GOALS. I can confidently say that our leadership team is walking away with a better understanding that our inclusive hiring is all about "how" we reach diverse applicants.
- Tessa, People and Development Manager, Chubbies
Listening Circle Facilitation
Does your team currently feel like they have a safe space to share thoughts and experiences on tough topics and top-of mind issues that are impacting their wellbeing and ability to show up fully in the workplace?
Our listening circles and facilitation are the ideal way to have an impartial subject matter expert come in to host goal oriented conversations based on company needs and provide next steps for your team. It's time to show your team your support and commitment to having their voices be heard and building an inclusive workplace across the board.
Learn More
Meet Your Global DEI Strategist and Trainer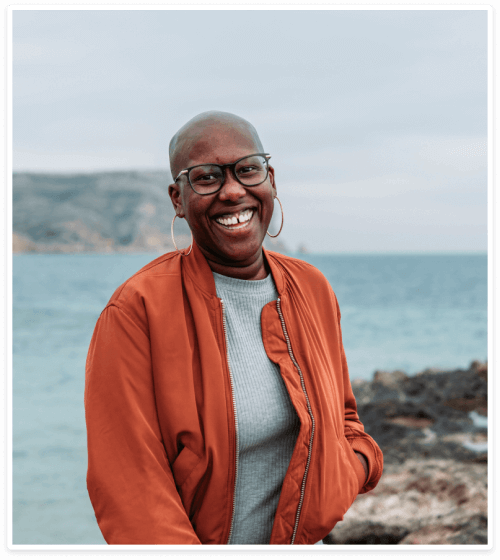 Sienna Brown
Global D&I Strategist, Learning & Development @ PowerToFly
When it comes to sparking change in the workplace, the PowerToFly team is dedicated to creating opportunities and building safe spaces for marginalized communities.
From working with larger corporations to small businesses striving towards growth, we're passionate about teaching those in leadership positions what diverse talent actually wants and needs.
Now we're here to work with your company to build inclusive strategies to hire, retain and empower underrepresented talent as well as train your team on how to be a more inclusive workplace and we can't wait to learn where your company is at and how we can support you here at PowerToFly.
Supporting BIPOC in the Workplace: Getting Started
We know that everyone is at a different place when it comes to their path towards building an anti-racist workplace. While we'd love to advise you on the best resources to invest in based on which stage you're at, we cannot emphasize enough the importance of self-education as you begin this journey.
If you're just starting out, we'd recommend the following resources as a primer on systemic racism, what this looks like in the workplace, and how you can help.
Suggested Reading:
Recommendations & Insights from Diversity Reboot Thought Leaders:
Long-Form Interviews With D&I Experts:
GET IN TOUCH
Let's Chat About How We Can Help You Reach Your DEI Goals
Every PowerToFly customer has their own unique needs. Our team is on hand to prepare a customized package for your company's diversity, equity and inclusion goals