GET EMAIL UPDATES FROM POWERTOFLY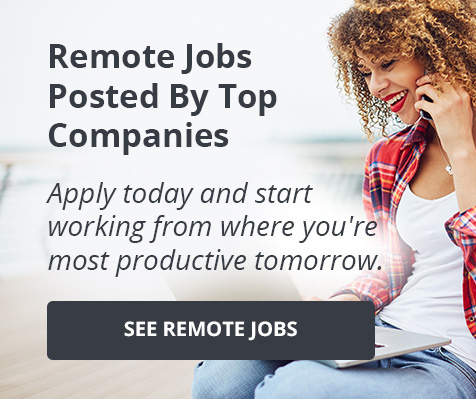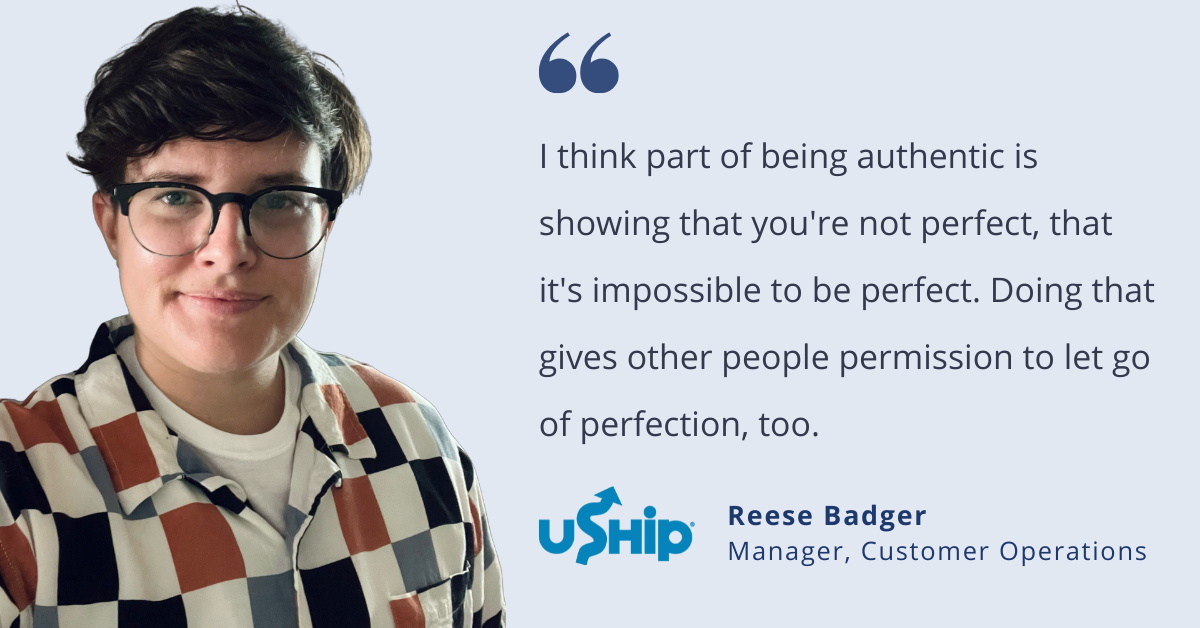 uShip, Inc.
Three weeks ago, Reese Badger crossed a potentially scary threshold: officially coming out as nonbinary and going by their new name at work.
Fortunately, their experience wasn't scary at all thanks to the support, admiration, and affirmation from their colleagues at uShip, the world's first and largest shipping marketplace, where Reese works as a Customer Operations Manager.
"Not everyone has the privilege to be able to show up completely as who they are at work, but I've had lots of support and reassurance, and the space to show up authentically," Reese reports.
Another key factor that led Reese to take this step was the foundation they developed in authentic leadership, something that Reese is passionate about and wants to help other leaders develop.
We chatted with Reese about what drew them to customer service and operations, what it's like working at a company that truly invests in its people, and how other leaders can lead with authenticity, too.
From Music to Management
In their early 20s, Reese was living in Austin, Texas, and working as a drummer in a local band. Reese has always been a creative person, creating visual art and snapping photos, and loved being a part of the arts scene in Austin.
"Austin is a great city for music lovers, and artists in general," they say.
To sustain their work as a musician, Reese wanted to find a flexible job that not only allowed them to continue to rehearse and perform with their band, but also to be themselves at work (at the time, Reese did not yet identify as nonbinary, but did identify as queer). Reese was living next door to a food co-op and found a role there as a cashier.
Reese discovered instantly that they loved helping people solve their problems, and refining processes to better serve the customer. Their enthusiasm led to a quick promotion to hospitality clerk, and not long after, upper management roles became a possibility. Although Reese knew that taking on a senior role would leave less time for music, they decided to remain curious and open to challenging themselves.
"I've always been interested in learning and challenging myself, even when I don't know for sure something's going to work out. Self-actualization is really important to me, so I think it's always worth giving something a try," shares Reese.
Reese became the co-op's Operations Lead, finding great satisfaction in being involved in the big picture of the organization, and being the go-to person when their colleagues needed assistance.
Soon, another opportunity came along for Reese to continue to grow and challenge themselves, this time in tech.
A Different Kind of Tech Culture
It was at a local storytelling event that Reese found out that uShip was hiring. They were skeptical at first, knowing that tech is not always welcoming to queer people, but Reese had a couple of queer friends who were already working there and vouched for the inclusivity of uShip's culture.
"I was worried start-up culture wouldn't be accepting and friendly to queer folks. A couple of my friends assured me that uShip had a welcoming and inclusive culture, and they were right," they say.
During the interview process, Reese could tell that uShip was a different kind of tech company where they would feel comfortable being themselves, and accepted a customer support specialist role.
uShip's culture of supporting employee growth and collaboratively solving business problems as a team allowed Reese to continue to grow, experiencing a series of promotions that led to their current role.
"They bet on me from the very beginning. uShip sees the potential in folks and allows them to apply that to their role. I was able to make an impact on the business even before I became a senior because they were open to my suggestions. It's the kind of place where what you put into the job is reflected in what you get out of it," says Reese.
When Reese recently decided they were ready to use their new name and come out as nonbinary across the entire company, the response was overwhelmingly supportive.
"The HR manager kicked into gear right away to get my name changed on email and all other internal platforms. My boss was incredibly supportive, asking me to let him know what I needed and checking in on me regularly. Our COO reached out to me to let me know how proud she was of me. It was really touching to have that type of validation," Reese says.
4 Tips For Leading Your Team with Authenticity
As Reese has walked a path towards their authentic self, their leadership style has increasingly mirrored that authenticity. In Reese's view, this is necessary to not only be an effective leader but also to enjoy being a leader.
"The interesting thing about management is that in order to be good at it and enjoy it, you have to bring so much of yourself into the experience of managing," Reese explains.
For other leaders who are ready to be more authentic with their teams, but aren't sure where to start, these are Reese's tips:
Explicitly state your values right off the top. Reese advises being upfront with your team from the beginning about what your values are and how you operate at work. "If you don't let folks know where you stand from the start, they may not be sure where you're coming from and how best to interact with you," Reese advises.
Prioritize your mental health. Reese is an advocate for mental health, particularly for those who are responsible for others. "If you are in charge of other people's livelihoods, you should go to therapy. I can't tell you how much it has helped me be a better manager."
Show up as yourself, as fully as you can. To the extent that they are safe to do so, Reese counsels other leaders to show up as themselves — not performatively, but genuinely. "Maybe that doesn't look like coming out to everyone at work or being involved in a blog," laughs Reese. "But maybe that means telling your team about where you're coming from and the type of experiences you've had."
Let go of perfection. Reese knows that perfection is an illusion. They allow themselves to be imperfect, thereby allowing their team to do the same. "I think part of being authentic is showing that you're not perfect, that it's impossible to be perfect. Doing that gives other people permission to let go of perfection, too," reflects Reese.
If you're looking to join a collaborative, welcoming team with opportunities for professional growth,
uShip
is hiring!
READ MORE AND DISCUSS
Show less