GET EMAIL UPDATES FROM POWERTOFLY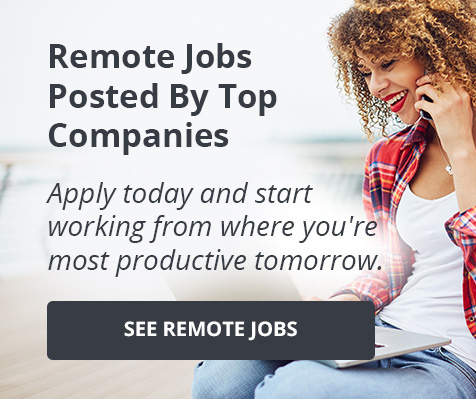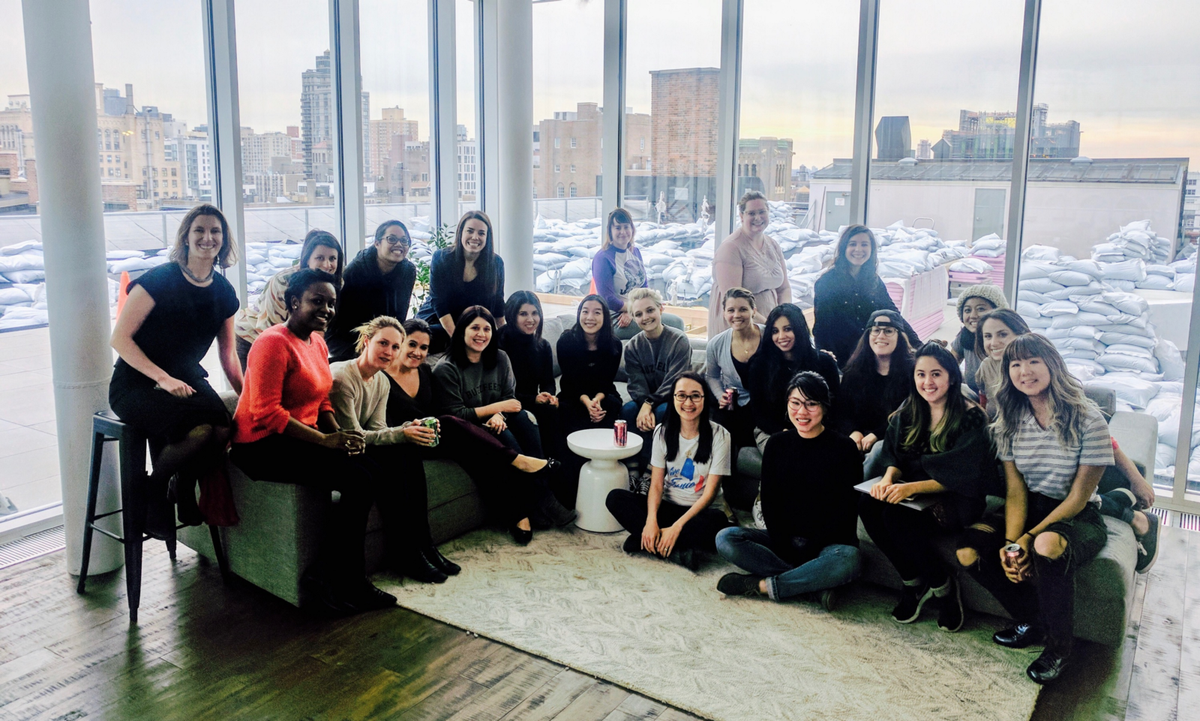 BuzzFeed New York City Women In Tech
Buzzfeed
Below is an article originally written by Angie Ramirez at PowerToFly Partner BuzzFeed, and published on April 26, 2017. Go to BuzzFeed's page on PowerToFly to see their open positions and learn more.
On Thursday March 30th, the Women in Tech group at BuzzFeed hosted a happy hour for women software engineers, product managers, project managers, designers, product support and IT team members, together responsible for maintaining the smooth operation of our internal technology tools, BuzzFeed's website and apps, and social media sites. The event featured bounteous wine, non-alcoholic beverages, and a melange of vegetable, cheese, and hummus plates, but more importantly, the opportunity for the women of BuzzFeed Tech to have a safe, comfortable space to get to know each other, talk about their current work, and develop relationships that are often crucial to the long-term success of women in technology, an underrepresented group in the industry (30% of BuzzFeed Tech identify as women or gender neutral).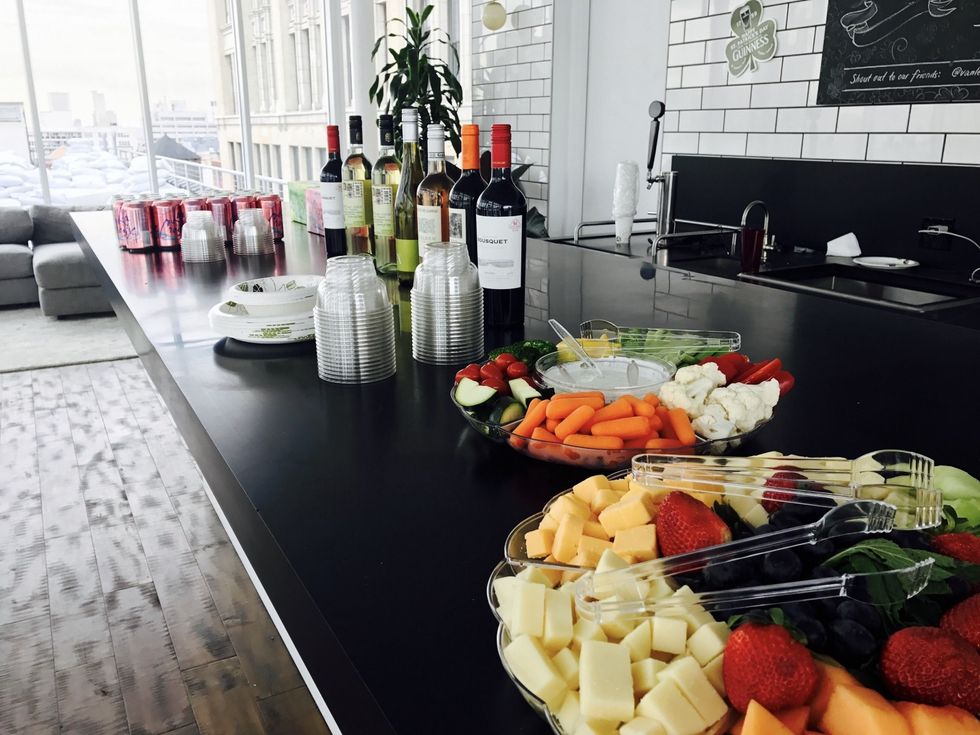 New York City Women In Tech Happy Hour
After half an hour of casual conversation, Adrienne Fishman, a software engineer who has been at BuzzFeed for two years, led the group in a game that helped us get to know one another a bit better. The game involved learning who in the group you shared certain similarities and differences with, and sparked connections amongst the women that might not have been made in our typical day-to-day. As the game went on, laughter reverberated around the room as attendees shared statements ranging from, "I've never dyed my hair," to more personal statements about family, past work experiences ("I've never had a female boss"), and emotional well-being.
Concurrently, BuzzFeed Women in Tech in our Minneapolis office held their own event at the cocktail room of a local craft distillery. Attendees swapped stories about work, life and all that lies in-between; there were plenty of opportunities for both bonding and mentorship over mojitos and mocktails. It was the perfect opportunity to get to know one of Minneapolis's latest women developer hires, Laura Wright, who started in Minnesota last week.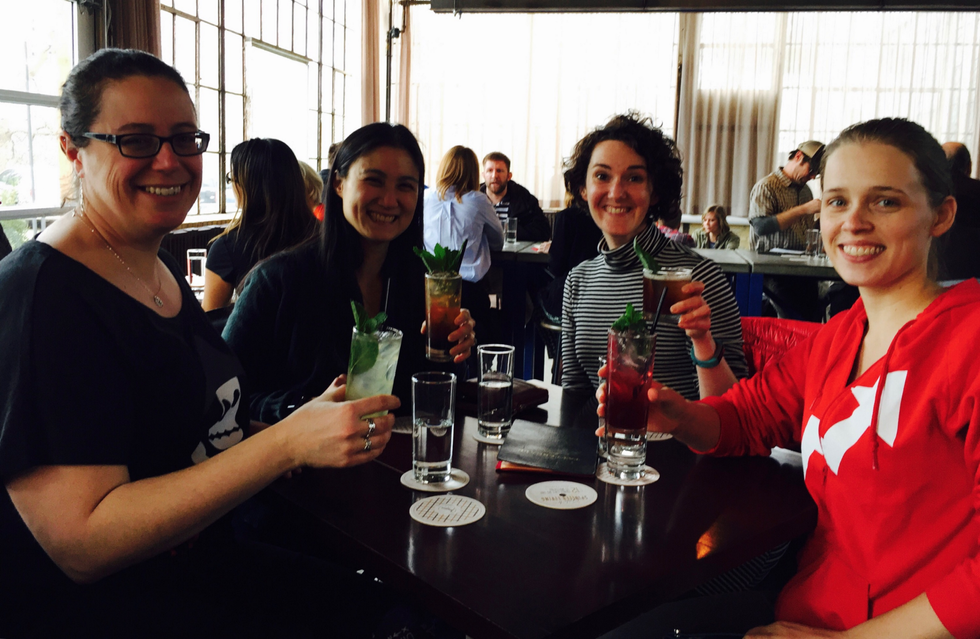 Minneapolis Women In Tech Happy Hour
The event in New York City concluded at 6pm, but many women stayed to enjoy more wine, snacks, and conversation. I personally met several others I'd never spoken to, but had seen often around the office, whom I now feel comfortable coming to for advice, coding help, and friendship. Past and future women-focused tech events have and will include a small-group conversation with Todd Levy, BuzzFeed Chief Technology Officer, a conversation with Gilad Lotan, Vice President of Data Science, various volunteering events, and of course, more happy hours.
For profiles of some of our women in technology, check out "25 Ways To Dress Like A Tech Employee"
The following people helped the author by providing feedback before the story was published: Thanks to Jessie Wu.
READ MORE AND DISCUSS
Show less