GET EMAIL UPDATES FROM POWERTOFLY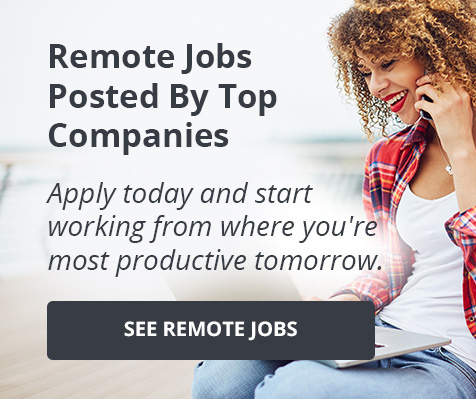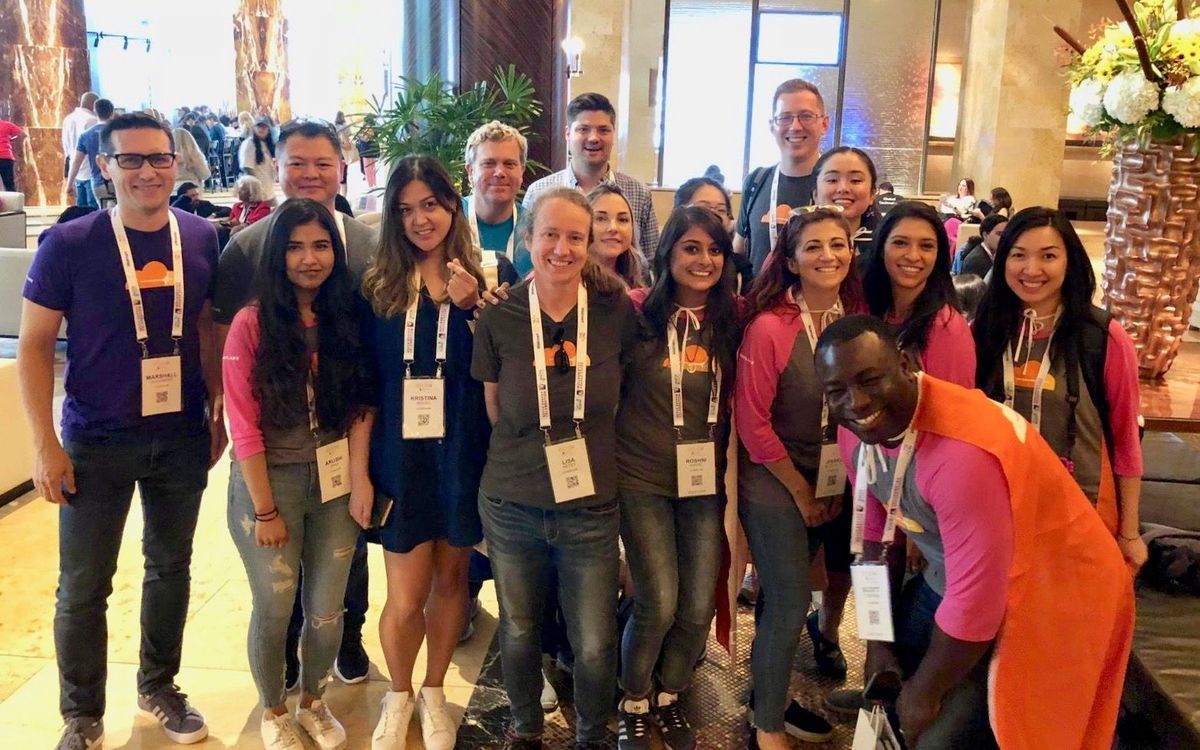 Cloudflare
Below is an article originally written by Lisa Retief, the Director of Engineering at PowerToFly Partner Cloudflare, and published on October 17, 2018. Goto Cloudflare's page on PowerToFly to see their open positions and learn more.
I am 25+ years into my career in technology, and this was the very first time I attended a conference geared towards women.
A couple of weeks ago I went to Grace Hopper Celebration (#GHC18), and I can still feel the exuberant energy from the 22,000 women over the intensive 3 day conference. I attended with our Cloudflare team; our purpose was to connect with women in the greater tech community and recruit new talent to join our team and mission to help build a better Internet.
Cloudflare prioritizes GHC because we recognize that diversity in our company, and particularly in our technical departments, is crucial to our success. We believe that the best companies are diverse companies. This was Cloudflare's second time sponsoring GHC, and I was part of the planning committee. This year I headed to the event with 20 of my colleagues to meet all of the incredible attendees, hold on-site interviews, and even host our own Cloudflare panel and luncheon.
Getting to #GHC18
Early Tuesday morning, the day before the conference, as I joined the Southwest Airlines boarding line at Oakland Airport, my fellow passengers were not the usual contingent of suited men on their way to business meetings. Instead I was surrounded by hundreds of women (and some men) in conversation about what to expect in Houston. The anticipation was palpable, and energy was invigorating.
The flight itself was essentially a Grace Hopper networking event. I sat next to two others who were also attending on behalf of their companies. In my row there was a product manager at a well-known and successful startup, as well as an executive who was heading to Grace Hopper to learn and hire. That was the best professional conversation I ever had on an airplane.The topics ranged from how to scale data pipelines at rapidly growing software companies, to how to find and hire great women engineers. All three of us were using the spotty airplane wifi to communicate last-minute conference plans with our colleagues all heading to the event. One of my seatmates showed me a massive airplane selfie that one of his colleagues had sent him—the whole plane was filled with women from his company, and the pilot had even made a special announcement welcoming them.
Upon arriving in Houston there was more of the same energy—it was just warmer and a bit muggier now that we were in Texas.The area of Houston around the conference centre was overtaken by the 22,000 attendees, most of whom were women at various stages of their studies. Uber drivers were eager to ask us what the hell was going on. Why so many women?
Three Non-Stop Days at #GHC18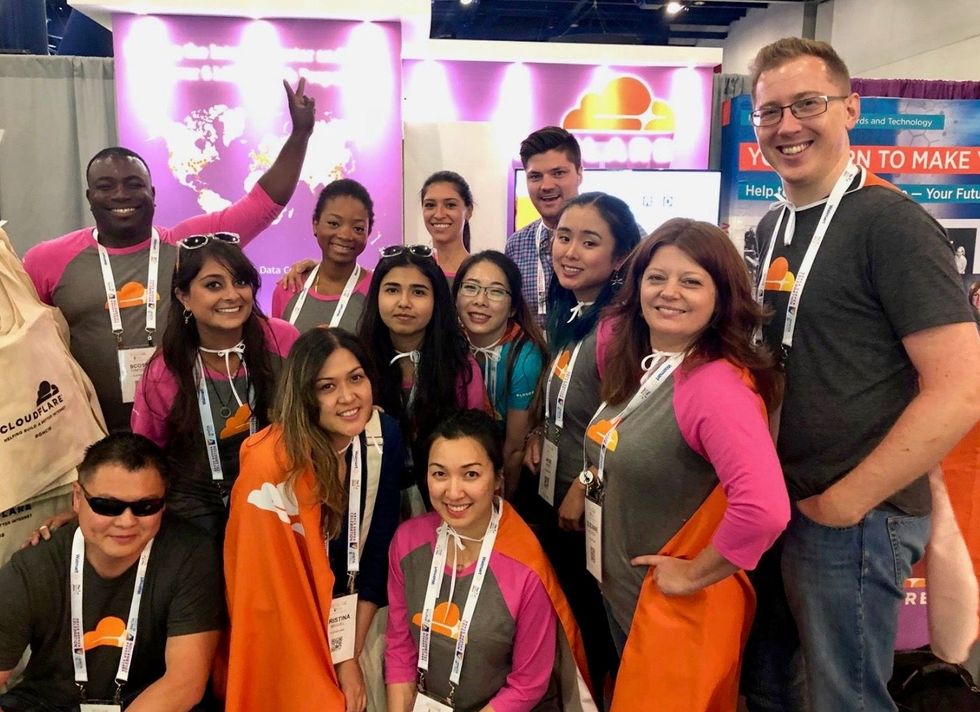 Cloudflare Expo Booth photo
As a member of the Cloudflare GHC contingent I had a few jobs—working the booth on the expo floor, interviewing candidates, and being one of four panelists at our Cloudflare: Women in Leadership Lunch.
Working the booth was a whole lot more fun than I could have imagined. I am an introvert and tend to avoid crowds and interactions with too many strangers. I surprised myself by taking on the role of "traffic control"— walking the expo floors and approaching women to ask if they are looking for a great place to work. Cloudflare is a great place to work so I could authentically express my feelings and also specifically speak to why it's an ideal place to start your career. Cloudflare is a company where you work to solve some of the internet's biggest problems at a scale where it has real impact.
I would then proceed to walk any interested people over to our booth so that myself and my colleagues could further engage them. I got so much from my conversations with these women. It gave me insight into why the celebration is so well attended. Women at various stages of their studies and careers had very specific reasons for being there.
The highlight of my week was the Women in Leadership Luncheon that Cloudflare hosted on the last day of the event. It gave us an opportunity to interact with some of the women we had met throughout the week in a more thoughtful and private way where we could open up about our careers and personal goals.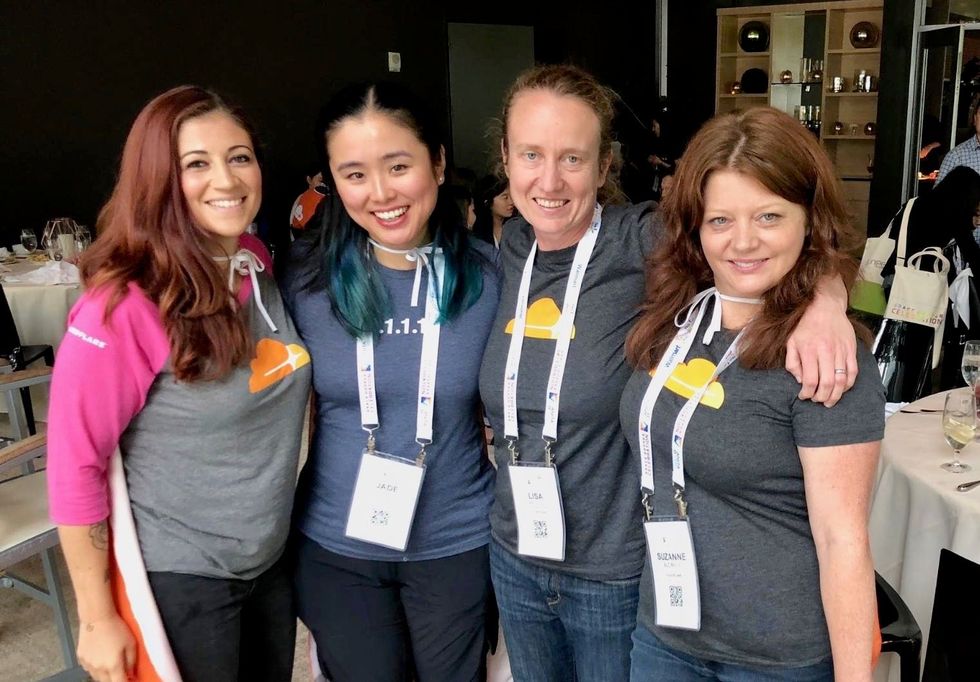 Cloudflare Women in Leadership Luncheon w/ Jessica Rosenberg, Jade Wang, Lisa Retief, and Suzanne Aldrich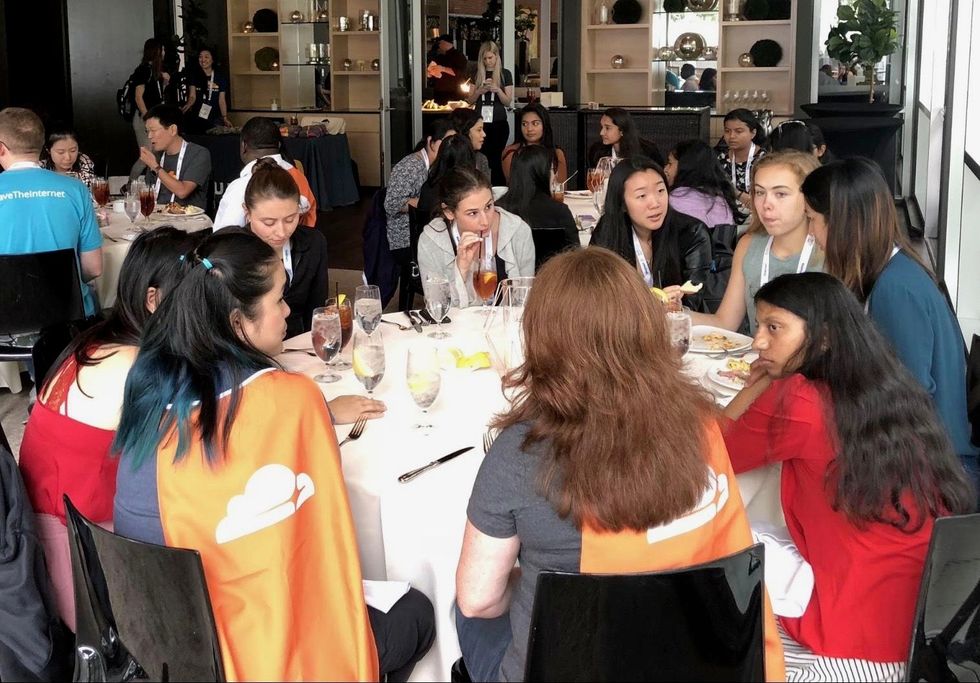 We mingled with women in a relaxed setting, and had conversations about their situations and experiences. I found it very inspiring. As part of the event, I joined a panel with my three colleagues Jade Wang, head of developer relations, Jessica Rosenberg, head of brand design, and Suzanne Aldrich, solutions engineering lead to share some of our experiences and career journeys. All of us have different paths and have landed in different areas of the company, but all play integral roles in Cloudflare's success. I don't think you can underestimate the impact of seeing someone you can relate to in a position you may aspire to. This is an opportunity I wish I had when I was younger, and now am thrilled to share with the next generation of leaders in tech.
Another personal highlight of GHC was getting to really know my colleagues, many of whom I had never directly worked with. We were a team of women and men across different departments and locations who were excited to represent Cloudflare and ready to make some hires. We all had fun doing this and worked well together. While I didn't go out dancing and singing quite as often as some of them, I made friends who I now greet enthusiastically whenever we cross paths at work. Two things we look for in candidates are empathy and curiosity, so it was great to be able to bond with my colleagues and get to see that side and know each of them personally.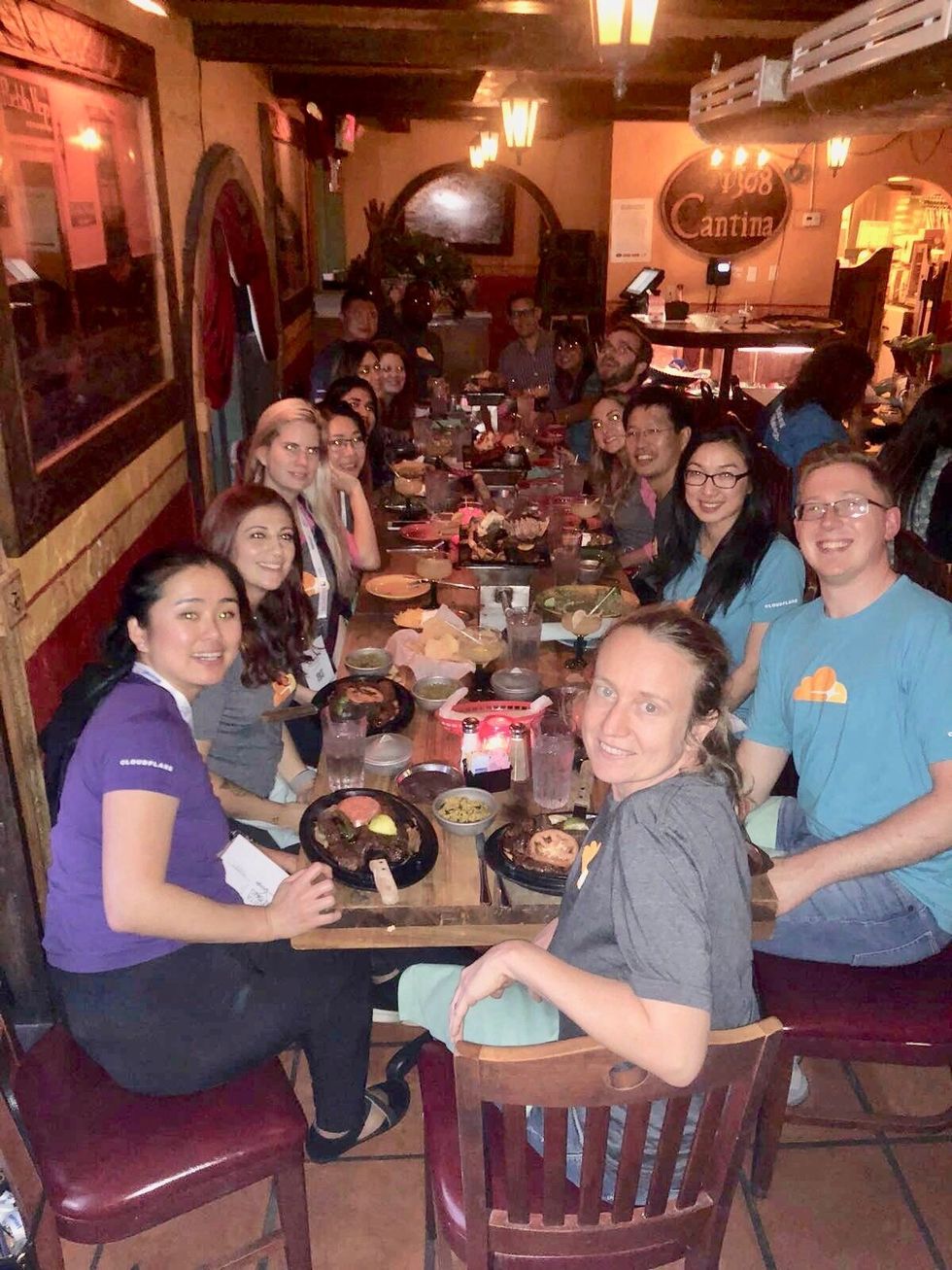 Team dinner @ #GHC18
As I left Houston, I reflected on the contrast between the national headlines and what I had experienced at the conference. The week had coincided with Dr. Christine Blasey Ford giving testimony that was resonant to many of us. It was hard to hear. In spite of this, I saw at the conference a groundswell of potential to transform today's companies into places that can help affect change.
When people ask me about what it's like being a woman in tech, I often joke that I have never had to wait in line for the restroom. And while I'm being funny, it's true. GHC was a very different experience, however. For me, attending GHC was like entering an alternate universe — something like a Margaret Atwood speculative fiction novel, except this was not a dystopian future. It was a future I want to see happen.
I look forward to #GHC19.
READ MORE AND DISCUSS
Show less