GET EMAIL UPDATES FROM POWERTOFLY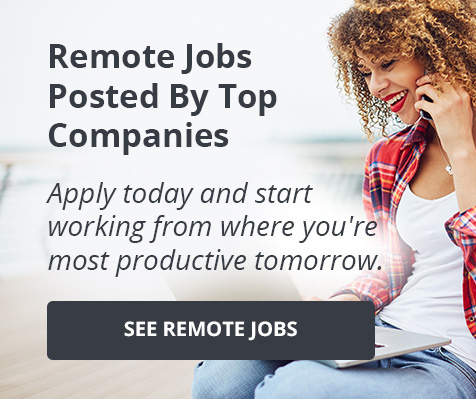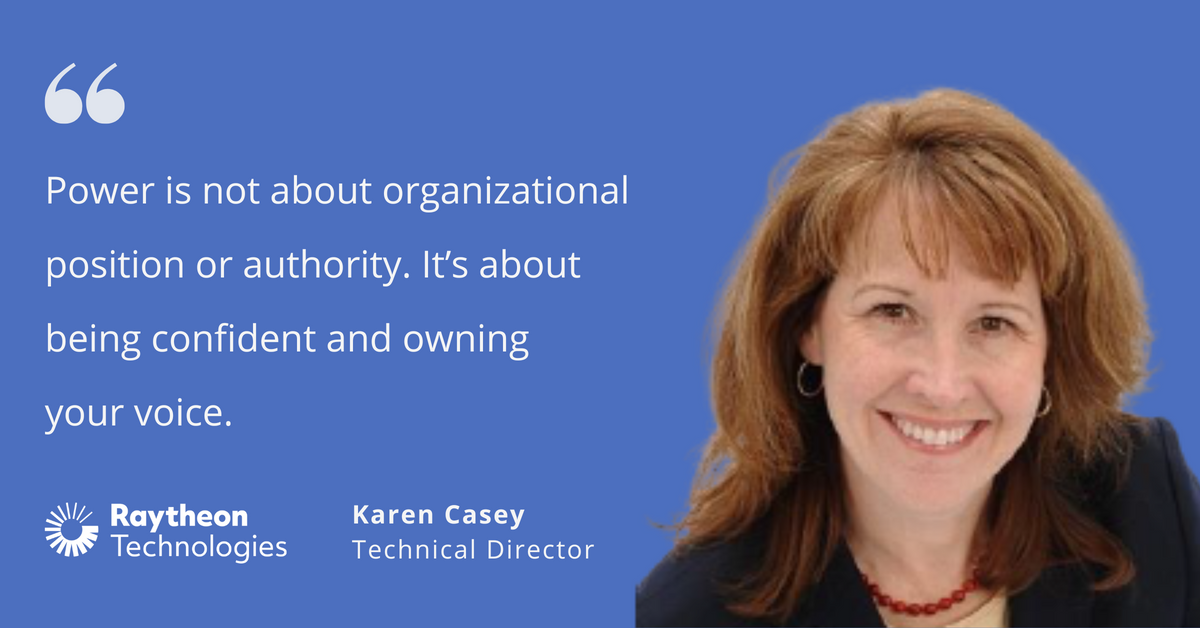 Empowerment
One of Karen Casey's favorite songs is ROAR by Katy Perry.
Between the catchy verses and upbeat melody, there's an empowering message that resonates with her: Find your voice, and don't be afraid to use it.
As a woman in STEM, Karen is no stranger to the barriers women face when growing their careers. She's seen how this can start from a young age, leading to obstacles like imposter syndrome and unconscious bias later in one's career.
Reflecting on her own journey, Karen pinpoints several moments when her voice transformed and she stepped into her power. From her days as a college student fighting for her seat at the table, to her current role as a technical director at Raytheon Intelligence & Space, she's learned that power can be both loud and quiet.
"It's okay sometimes — not every time — to ROAR if needed," Karen says.
We sat down with Karen to learn more about how she's found her voice over the years — and we asked her to share a few key tips for how you can do the same.
Learning to Speak Up
Early in her career, Karen considered leaving STEM.
"When I was in graduate school, I was working on a master's degree in math and computer science. I was studying very complex and abstract concepts. And yes, there were multiple times when I thought, 'this is too difficult,'" she shares.
"One of the ways I overcame this doubt was by seeking out roles where I could help other people," she says. Karen worked as a tutor in a math lab for calculus and algebra students as well as an instructor for a GED program. She found that by explaining abstract concepts to others, she could build her own confidence in the subject.
"Those jobs were very powerful for me because I learned at an early stage of my career how to communicate with people from different backgrounds and lead with empathy," Karen says. Even when she had a hard time speaking up for herself, she was able to speak up for others — and develop her own self-assurance in the process.
Karen also leaned into mentorship, using her voice to reach out for help. By learning from diverse leaders and seeing other women in STEM succeed, she was able to visualize her own future in a technical role.
A Change of Tune
After completing her master's degree, Karen joined Raytheon Technologies as a software engineer. Her responsibilities evolved over time into "connecting the dots" roles where she worked across the organization to connect people and technologies.
Even though she didn't have the command of a senior leader, Karen realized that she could still make a positive impact.
"People would respect my opinion and seek out my input," she shares. "I learned that power is not about organizational position or authority. It's about being confident and owning your voice."
This confidence was tested again when Karen accepted a position at Raytheon within finance and quality assurance — a huge step away from her technical background.
"Sometimes, as engineers, we believe that we have it all figured out. That job rattled all of those preconceptions. I knew nothing about the bottom line of how a company operates," Karen shares. "During that time, I had no voice in the room other than to seek understanding."
Instead of speaking up with an answer, Karen would raise her hand with a question. She was able to successfully pivot her role by seeking the "why" and the "how." It was humbling, and Karen walked away appreciating that the smartest people in the room are often the ones quick to ask questions, not to provide answers.
Power in Silence
As she continued to grow, Karen learned another key lesson about what it means to find your voice as a leader: a direct and loud approach is not always the most effective way to motivate your teams.
"I was very lucky to have mentors within Raytheon that understood me and could coach me," Karen shares, touching on how sometimes the way a message is received is different from the intention. "My style is rarely to whisper," Karen laughs. "But, I learned that sometimes the most powerful message I can send now as a technical director is silence."
Through silence, Karen creates space for her team to reflect, think independently and speak up. Knowing how much her own voice grew early in her career by asking questions, volunteering and accepting opportunities, Karen now seeks to invite her team members to do the same.
"I'm no longer in a position where I'm fighting to get my seat at the table. I have positional authority. Instead of only putting my hand up, I focus on helping my team members grow," she confirms.
4 Tips for Finding & Owning Your Voice
Karen's career path is proof that finding our voice takes time — and even when we find it, our voice never stops evolving. We learn to meet the moment, whether we're speaking up to reach for a promotion or stepping back to elevate our team members instead.
"I've learned that how we use our voice is key. Sometimes, we may have to be a bit louder, more direct, or maybe even quieter to get the message across," Karen confirms.
She shares four pieces of advice for anyone on the journey toward finding their voice:
Don't quit. "I wanted to quit so many times," Karen laughs. "But I didn't. Don't give up, even when you're pushing uphill. Stay in the fight, and eventually, you'll step into your power."
Have fun in the process. "Try to find humor in your daily activities, even when it feels hard. Lighten the situation to find the strength to keep going," Karen shares.
Seek out mentorship. "Find as many diverse mentors as you can inside and outside of school, work, and your community," Karen says, recalling how mentors have helped her to hone her own voice and feel empowered at each step of her career.
Don't be afraid to take chances. Karen brings up the moment Raytheon offered her a position in finance and quality assurance. She could've said no, but she took a leap instead — and it paid off. "Looking back, it was probably one of the most impactful jobs I've ever had."
Use your voice to grow within the aerospace and defense industry!
Check out Raytheon Technologies' job openings here
.
READ MORE AND DISCUSS
Show less