GET EMAIL UPDATES FROM POWERTOFLY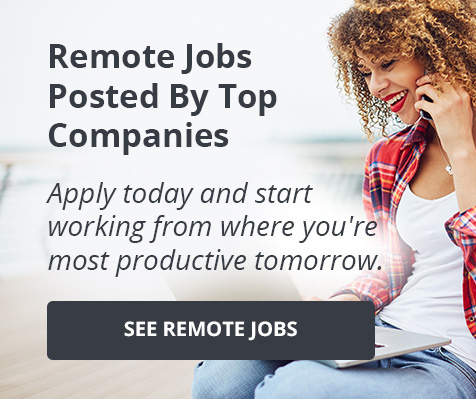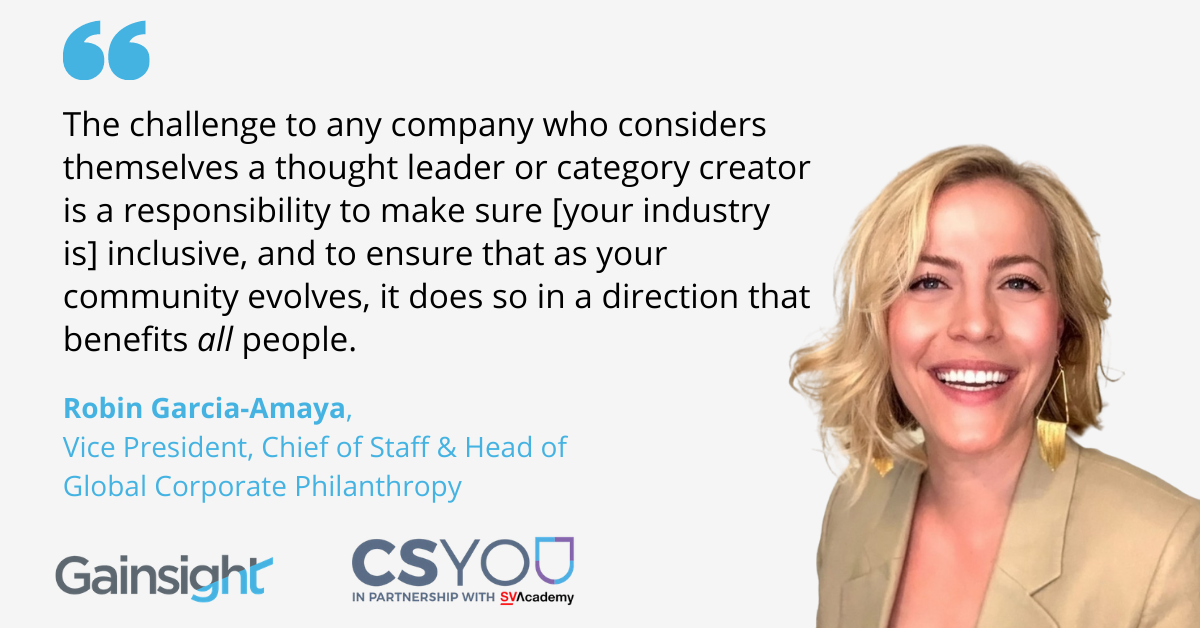 Gainsight, Inc.
Well over a year ago—before the pandemic shuttered their offices and sent everyone into a semi-permanent state of work-from-home—Robin Garcia-Amaya was sitting across from her boss, Gainsight CEO Nick Mehta, in his office, when he asked her what role Gainsight should play in the world of social impact.
"He said, 'Given the inflection point that Gainsight is at as a business, how can we contribute to a better social and economic environment?'" remembers Robin.
As a Vice President and Head of Communications, as well as Nick's Chief of Staff, Robin knew this was her ball to take and run with, and she was excited by the challenge.
"I knew there was a unique opportunity to bring together something I care about, something the business needs, and quite frankly, something that any industry striving to be innovative in the future needs," she says.
Shortly thereafter, "Head of Global Corporate Philanthropy" was added to Robin's title, and a few months after that, Gainsight's CS YOU program was born.
A project co-sponsored by educational technology company SV Academy, the program's mission is to create opportunities for underrepresented minorities in Customer Success, first by training them and then by placing them in CS Associate roles at partner companies.
We sat down with Robin to learn more about how CS YOU works, why now was the right time to launch it, and what responsibility tech companies have to shape the industries they're creating.
Recognizing the potential to transform
Gainsight considers itself to be the Customer Success company. Their mission is "to be living proof that you can win in business while being human first." But Robin and her team recognized that their industry wasn't designed so that everyone can win. Customer Success is overwhelmingly white, with only 1% of CS manager roles held by Black people and 7% by Latinx people. "So we have a long way to go," says Robin.
Unequal representation is an issue in many fields, but an especially problematic one in Customer Success, which seeks to serve customers from all backgrounds. The pandemic made that point especially clear to the Gainsight team.
"We had already begun considering our Philanthropic efforts and how they might parallel with Gainsight's mission when the pandemic hit. As a first step, we offered free Customer Success training via our Pulse+ platform to anyone whose career was impacted by COVID-19. This was a start, but not comprehensive enough to tackle the skills gap many people face when entering a new industry," explains Robin. She, and her team, understood the need to identify, train, place, and mentor entry-level talent. And that this combination would benefit marginalized communities struggling to find entry into a growing field and the companies hiring them. "A more inclusive pool of talent, contributes to a better bottom line - it's the right thing to do, makes for a more innovative industry and is, quite literally, good for business," says Robin.
So Gainsight set out to do just that.
CS YOU is a 15-month program that includes four weeks of training (valued at $10,000), an eight-week paid internship (where interns will make $10,000 and hopefully be offered a full-time placement after successful completion, with an average starting salary of $65,000) with one of Gainsight's 40-plus partner companies, and up to a year of coaching and mentoring after placement.
"CS YOU invests in the entire lifecycle of talent, from identifying, to training and placement, and then offers a full year of mentoring and coaching after full time placement," explains Robin.
The program's goal is to achieve $100 million in wage expansion for underrepresented minorities in the next three years. (If you'd like to apply, you can do so here.)
When the right thing to do is also the smart thing to do
Gainsight has invested significant time and money into CS YOU, but not because they're expecting any kind of fiscal return. "We serve as the connection point between SV Academy and the Customer Success industry to facilitate the partnership for companies looking to bring on diverse entry-level talent. The dollars raised never touch Gainsight and instead end up in the pockets of the beneficiaries—exactly where they should," explains Robin.
That doesn't mean that philanthropy isn't a sound business decision, though. Just the opposite. Per Robin, a company that invests in their community might see better employee retention, higher client satisfaction, and even more positive investor sentiment.
"There's a concept of return on philanthropy. The idea that strategic giving can increase business performance and profits" says Robin. "Investors recognize philanthropic investment as a future performance signal, customers and prospects expect companies to place roughly equal weight on business interest and society, and employees want opportunities to give and a sense of purpose. There's a sense of social reciprocity—where a social norm of responding to a positive action with another positive action is established."
That's especially true lately, notes Robin, as individuals and companies realize just how important it is to speak their values in the face of mounting racism and xenophobia. "The pandemic and the largest civil rights movement we've seen in recent history has shifted the climate," she says.
Gainsight has a particularly good opportunity to respond to the current environment and work to improve the diversity in their industry by investing in creating the training and pathing around entry-level CS roles, but Robin highlights that every company could be—and should be—doing something similar for their community. That's especially important for those companies that are forging new ground and determining what the shape of a new industry will look like.
"The challenge to any company who considers themselves a thought leader or category creator is a responsibility to make sure [your industry is] inclusive, and to ensure that as your community evolves, it does so in a direction that benefits all people," says Robin.
Building and managing CS YOU has allowed Gainsight to combine their DEI mission, company values, and commitment to their community and produce tangible results. They've already raised over one million dollars of sponsorship and launched their first cohort of associates, and are looking forward to continuing to expand their reach.
Robin and her team know that the program's successes are ultimately not for any one company's benefit, including their own, but rather part of driving towards a more inclusive industry. "The DEI equation is so much bigger than Gainsight," says Robin. "The world is incredibly diverse and we know, with the help of our partners, we can make a meaningful contribution to ensuring our industry better represents a place where everyone can win."
If you're interested in working for Gainsight, check out their open roles here. If you'd like to apply to be part of CSYOU, you can do sohere.
READ MORE AND DISCUSS
Show less