GET EMAIL UPDATES FROM POWERTOFLY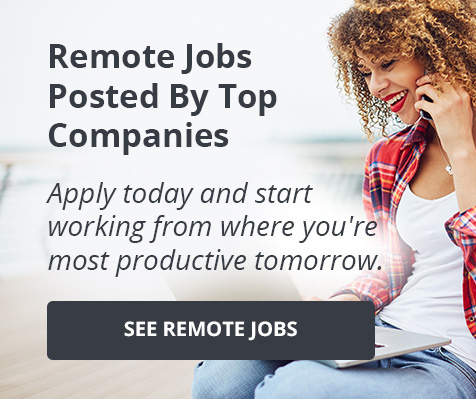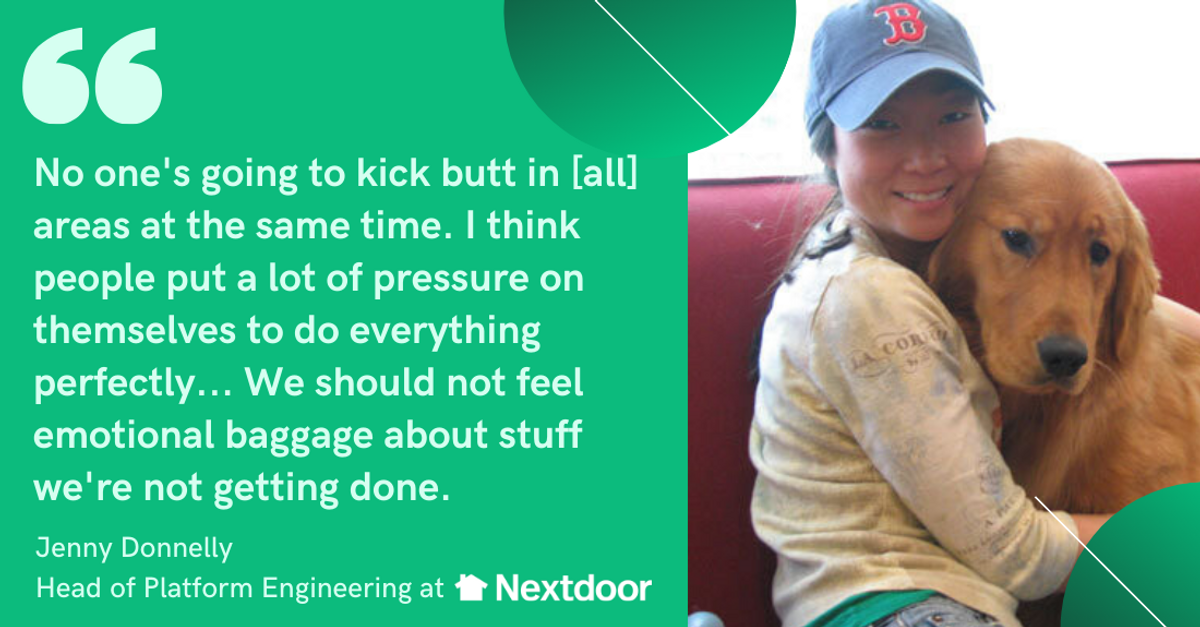 Nextdoor.com, Inc.
Jenny Donnelly, Head of Platform Engineering at Nextdoor, is no novice to the tech world—she came on the scene when most of us were still using dialup. If you were to look at the linear progression on her LinkedIn profile, you might think she'd had her sights set on rising the ranks in Silicon Valley since she was an undergrad.

But as she explains, it was exactly the opposite: "I will admit I fell into tech. I studied sociology in college, to the chagrin of my parents," she jokes. (Not to mention she was looking for something that wouldn't require her to wear a suit.)
After graduating from Northwestern, she interned at a public policy think tank for a year, temping on the side at a tech recruiting firm just to make ends meet. She soon realized that she needed a job that would allow her to live in the Bay Area, so she transitioned into tech full-time at the height of the dot.com boom.
She started working full-time at the tech recruiting firm she'd been temping at and quickly fell in love with coding and solving technical problems. Eventually, she realized she still had a lot to learn, so she left her job as a technologist to work as an engineer at a web-services company.
"I took a big pay cut to do that. I felt like I was starting from scratch, but I decided to go to a place that aligned more with my long-term career goals and where I could learn the skills I needed to learn to advance."
This move set the stage for the rest of her career. "I don't have a CS degree. I always have a lot to learn. And I'm always drawn to teams, companies, and cultures where I feel like I can add value but also learn and be mentored at the same time."
This approach has served her well: in her 20+ year tech career, she's gone from entry-level engineer to the head of platform engineering. She was kind enough to share some advice on how she's advanced her career.
Read on for her tips!
1. Balance Organic and Strategic Career Growth
Although it may not look this way from the outside, Jenny didn't plan every step in her career. Some moves were deliberate, and others...not so much.
Like when she was content working on code at Yahoo, and a management position came her way.
"When my manager was transitioning out of the company, he said 'I would love to groom you [for] this role.' I was really shocked. I did not feel like I wanted to do it or could do it. And reluctantly, I was put in positions where I was clearly owning decisions, with more visibility."
Taking opportunities for growth when they came up, even if they were outside her comfort zone, allowed Jenny's career to develop organically. This gave her more energy to focus on doing her job, rather than obsessively strategizing.
But sometimes, strategy is useful.
Later on in her career at Yahoo, she found herself reporting directly to the Chief Architect with a vacant VP position between them. She wondered if she could be considered eligible for that role...and after consulting with friends and family, she realized that she just needed to ask. "I was very shy and didn't feel like I had the right to ask."
Ultimately, she worked up the courage and asked him, "Why couldn't I do this job? What would it take?"
The result? The Chief Architect explained the areas where she had gaps and helped her get the experience she needed to fill them, which ultimately allowed her to reach the VP level at Nextdoor.
Jenny insists that asking about roles we want doesn't need to be intimidating or negative. It is a conversation about learning and growth. It's either that or not knowing when your next promotion is coming and why.
2. Know that the strongest individual contributor does not always make the best manager.
Initially, Jenny didn't see herself as management material because she was not the strongest engineer on her team. But now, she knows that management has more to do with connecting with others and less to do with coding.
A manager has to be able to help solve technical and non-technical problems.
When asked whether, from a management perspective, putting in hours or turning out results is more important, she says that although results are important to the business, being mindful of team dynamic is crucial to getting those results. "It's not just about what you and your team get done. It becomes more about how everyone feels on that journey of getting stuff done."
3. Perfection is an Illusion.
Jenny is here to report that the "do it all, have it all" narrative is a myth. When she excels at work, there may be slack at home; when things at home are great, she may be dropping the ball at work. She thinks that acknowledging and accepting this is important for our sanity and self worth.
"No one's going to kick butt in a lot of areas at the same time. I think people put a lot of pressure on themselves to do everything perfectly at all times. When they fall short, they feel there's something wrong with them...we should not feel emotional baggage about stuff we're not getting done."
4. Practice prioritizing.
Jenny ditched the illusion of perfection after one of her maternity leaves. "I was sleep deprived. I was very stressed out. Something had to give."
The first thing she did was declare bankruptcy on her inbox. "That allowed me to ask, what's most important? What's impactful? And start there. I was doing a lot prior to that that was not that important or impactful."
She knows it takes experience to prioritize, and confidence to draw the line somewhere. If you're neither experienced nor feeling confident, she suggests talking with managers, mentors, or experienced colleagues for advice.
5. It's okay to have a personal life.
One of Jenny's mentors showed her that it's acceptable to openly choose your personal life in the workplace. "She always made it a point to say, 'I'm leaving early to pick up my kids,' with confidence and authority. She was very transparent about that. I took that as a model."
She sees that it's possible to bring our whole selves to work—dentist appointments, school runs and all—instead of suppressing or relegating our personal life, which causes burnout and resentment.
Sometimes our personal lives hit low points, and sometimes it affects our work. But Jenny sees personal challenges as an opportunity for sharing, for two reasons: (1) your employer should know if you need more leeway in times like these, and (2) judicious sharing can lead to relationship building.
As a leader, she finds it helpful when employees let her know what's going on. "If anyone wants to share anything with me, I think that's great. I think these are seeds for connection. You should share as much as you feel comfortable with to get the support you need."
6. Take stock of your life before agreeing to tackle a new project/role.
Before taking on new projects, Jenny asks herself what she'll have to sacrifice. She then puts safety nets in place to make sure that things function while her attention is elsewhere.
"I recently had a project that was incredibly demanding. It was a conscious decision that I knew would require sacrifices from my family. I tried to set those guard rails: I warned my family. I got additional help on the nanny front. I just stockpiled my support at home to allow me to go into this more demanding project."
7. Love your job and know yourself.
Above all, Jenny says that the key to any kind of work-life integration is to love your job. "If that's not there, then everything feels like a sacrifice." She explains that one part of loving your job is being engaged by the content of your work, and another part is feeling that you are not only adding value, but being valued.
In order to love our jobs, we have to know ourselves in order to choose the right one. What gets us up in the morning? Is it money? Making the world a better place? Connecting with others? "Find out what makes you tick and optimize for that," Jenny advises.
Bonus tip: When possible, work with a community of people you like.
Jenny muses, "It's kind of interesting how someone's journey can seem like it's going all the way around, but sometimes comes back full circle." She studied sociology because she was interested in people, and now she works at a company that, although firmly in the tech industry, is approaching work from a very human perspective.
Nextdoor uses technology to help people build strong communities, and "that's exactly what they've done at the company as well." It's a place where she can be herself and model healthy work-life integration (for example, marking dentist appointments, etc., on her public calendar) for her employees the same way her boss once did for her.
----
If you're interested in learning more about the community at Nextdoor, click here. And if you have more questions for Jenny about how to handle competing priorities, let her know in the comments!
READ MORE AND DISCUSS
Show less