GET EMAIL UPDATES FROM POWERTOFLY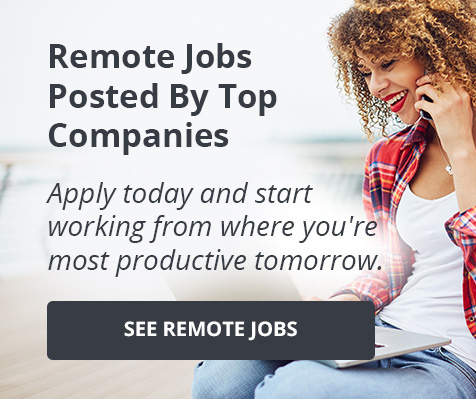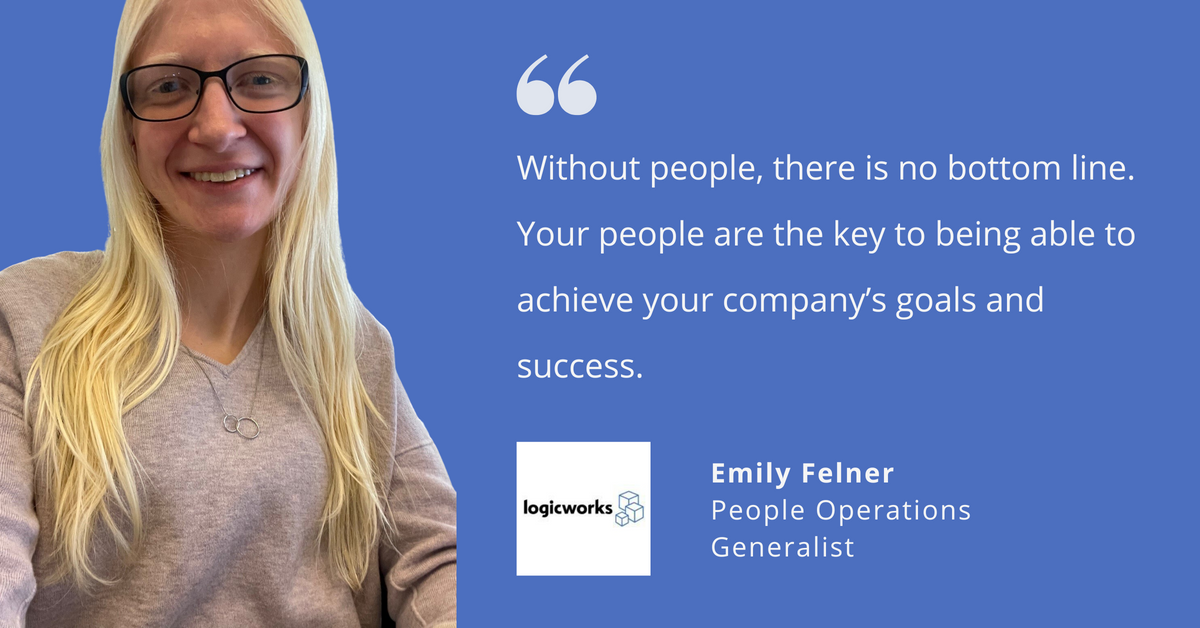 Thriving within Your Role
(And How to Tell if You're Interviewing at One)
Emily Felner is committed to ensuring her teammates feel valued.
"Without people, there is no bottom line. Your people are the key to being able to achieve your company's goals and success," Emily shares.
As a People Operations Generalist at Logicworks, Emily leans into her passion for supporting others regularly. On a typical workday, chances are you'll find her supporting managers in everything from coaching and performance management to learning and development initiatives.
"I definitely find my job rewarding," Emily mentions, smiling.
If Emily's demeanor is any indicator, a focus on putting your employees' well-being first creates a win-win situation for both the company and its people.
We caught up with Emily to hear more on why she appreciates Logicworks' people-first workplace, including what first drew her to the culture and how she now contributes as an HR generalist.
The Interview That Spoke Volumes
Emily could tell that Logicworks values its people from the very first interview.
"My interview experience was one of the many reasons I decided to join the team," Emily confirms. "Everyone was so kind and communicative throughout the entire process."
As an HR generalist herself, it was important to Emily that she resonated with the company culture and felt inspired to contribute to their people initiatives. She was searching for a place where she could build "a welcoming, helpful, transparent, and kind team," in her words.
However, this wasn't always Emily's plan.
Rewind a few years, and Emily was on the path to becoming a teacher. She recognized that education wasn't the right fit after a couple of years into her college program but still felt compelled to help others.
"I started researching other career paths and was able to connect with HR professionals to learn more. I also was able to intern in the HR department at Poughkeepsie Family Services. Through these opportunities, my knowledge of and passion for human resources grew, and I knew that this was the path for me," Emily shares.
After graduating, she joined CTM Media Group as an HR associate, where she gained invaluable experience and knowledge across all areas of HR.
Within a couple of years, Emily was ready for the next step — and her Logicworks interview made it an easy decision.
"People were wishing me 'good luck' before speaking with interview panels, providing timely responses to my questions, and sharing a laundry list of benefits and perks that has only grown over my years here. All of this made it evident that people are valued at Logicworks, and that the 'People First' core value isn't just for show," Emily says.
She's now in full swing as a People Operations Generalist and hasn't looked back.
"At Logicworks, I am a problem solver," she explains. "When employees need assistance, I am able to help. Whether it's providing accommodations, a leave of absence to bond with a new baby or recover from an injury, or support in performance improvement, my team takes the time to sync with employees to provide information, answer questions, share guidance, and make the overall process as easy as it can be for them. I truly enjoy this role."
Building a People-First Culture
Emily is about to celebrate her third year (and counting) with Logicworks, and during this time, she's narrowed in on what it means to take care of team members.
"A people-first company is one that values its employees, makes sure they feel supported, heard, and recognized, and ensures they have the resources they need to do their jobs," she says.
So, how does she put these people-first words into action?
Emily shares a behind-the-scenes look at what her team is doing — and what yours could, too.
Innovative recognition
As remote work became more common, Emily's team identified the need for innovative employee recognition. To that end, Emily worked to develop an opportunity called Bonusly.
Bonusly is a Slack integration that provides all employees and managers the chance to give "applause" to others who are embodying a Logicworks core value. That means lending a helping hand, successfully handling a client or project, and more. Applause is also given for birthdays and service anniversaries. In the #applause-board Slack channel, everyone on staff can see the recognition others are receiving and even add on to it! Applause points can be redeemed for things like gift cards and charitable donations.
Opportunities for growth
Another core Logicworks value is "Grow or Die."
"While that may sound harsh, growth is critical to personal and professional success, especially in the tech industry," says Emily.
To upskill and educate, Logicworks encourages employees to tap into Logicworks Learning, a library of over 4,000 courses on a variety of topics, soft skills, and technical skills related to AWS and Azure. Outside technical certifications get reimbursed as well, including the cost of study materials and test registration.
Feedback and connection
"Employees want and deserve to be heard, so Logicworks ensures we have the tools to support this," Emily says.
Some of Emily's favorite initiatives include Donut, a Slack integration that creates 12 pairs of employees every two weeks that connect either virtually or in person. Logicworks will even reimburse employees for coffee or lunch during this connection time.
Then, there's Officevibe. The tool sends employees quick surveys to complete every two weeks via Slack. "This allows all employees to share anonymous feedback in a variety of areas, including workload, work-life balance, collaboration with managers and peers, and the tools available to do their job," she explains.
Plus, Emily mentions those awesome benefits and perks that attracted her to Logicworks in the first place. Flexible work hours, remote work arrangements, reimbursement for cell phone and WiFi expenses, generous parental leave, life insurance, and disability coverage are just a few of the standouts.
"We show that our 'people-first' commitment is top-of-mind in every decision-making process, enhancement, and benefit," she adds.
3 Ways to Tell If a Company Is People-First
The benefits of working for a people-first employer are clear — both for the people and the business.
"If we feel valued, supported, and engaged, we'll stay at an organization," Emily says. "The time and money spent on employee retention is much less than what it takes to replace people."
But how can you tell when a prospective employer (or even current employer) truly values their people, and when it's just lip service?
Emily recommends you follow these three steps:
Look at their values and goals. "Are they all bottom-line focused? Or are some based on the growth and success of employees?"
Check out their benefits and perks. "Are they doing the bare minimum? Or are they providing many different opportunities for savings, accessible resources, and platforms geared toward recognition and support?"
Ask how they gather feedback and how they have used it. "Concrete opportunities for sharing feedback and being heard should be present, and there should be multiple examples of how that feedback was utilized to make positive changes within the organization. In summary, the company should prove that feedback is valued."
Interested in joining a people-first company?
Check out Logicworks' open roles here!
READ MORE AND DISCUSS
Show less