GET EMAIL UPDATES FROM POWERTOFLY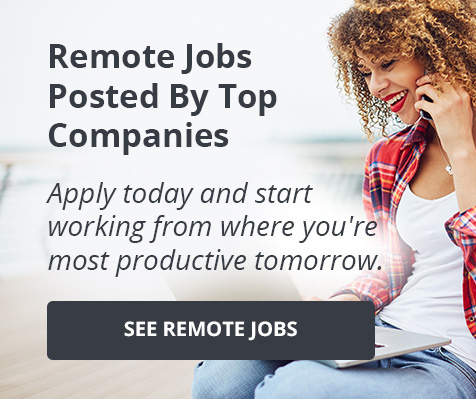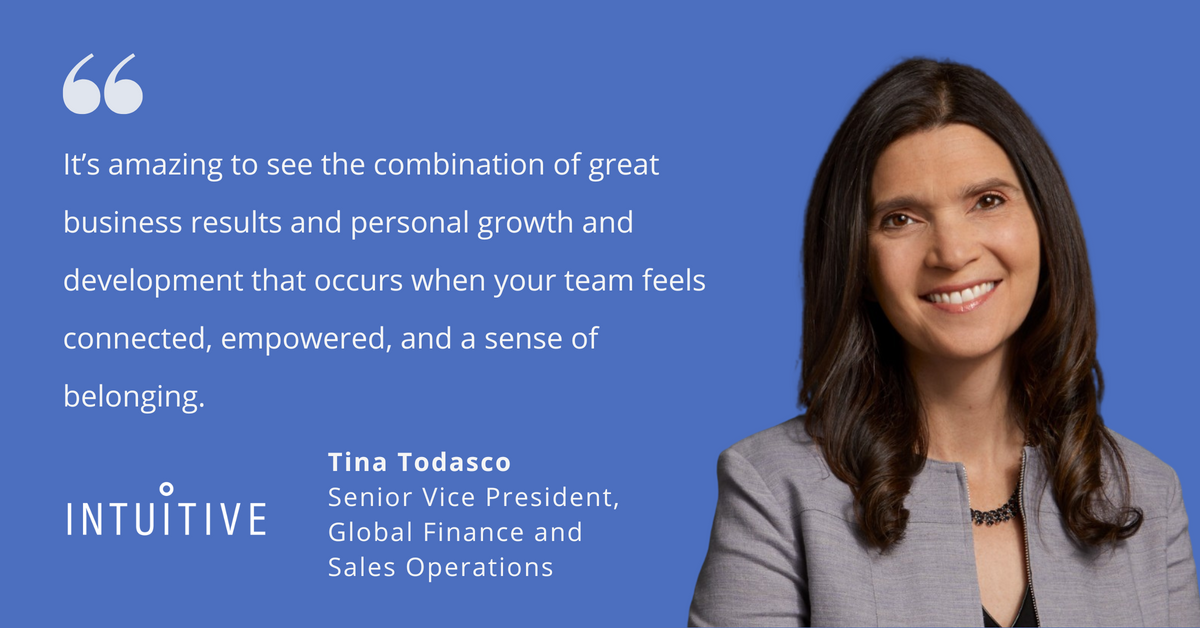 Upskilling and Development
When Tina Todasco isn't working, you'll likely find her rooting for her daughter's volleyball team.
"I didn't realize that I was going to be that parent, cheering hard from the sidelines, but well, here we are," Tina laughs.
While it may come as a surprise to Tina, upon meeting her, it's clear that she's a full-fledged cheerleader for those around her — both on and off the court. In fact, the energy that she brings to her kids' sporting games matches her leadership style in the workplace.
"When I think about what has made me the happiest, it's when I see people in my organization feel fulfilled in what they're doing and connected to our mission — they set big goals and they're achieving them. There is nothing better than that," shares Tina.
This passion for investing in people led Tina to Intuitive, a pioneer in robotics-assisted surgery. As senior vice president of global finance and sales operations, she not only changes patients' lives but also empowers her team to reach their full potential.
We sat down with Tina to learn more about her path to people management, how she practices empathetic leadership, and her top recommendations for investing in your own team.
Giving Back to Patients (And Teams)
Tina realized the importance of training and mentorship right out of college.
She kick-started her career at General Electric as a participant in their two-year Financial Management Program.
"I have a great appreciation for all the learning and growth that happens while you're in a development program. You typically start right after graduating when everything is new and you're learning rapidly. I thought I had learned everything I would need to know in college and realized quickly that wasn't the case!" laughed Tina.
The program was a stepping stone to her next role at Johnson & Johnson as a senior financial analyst. Here, Tina started to connect the dots around her desire to contribute to something bigger than herself.
"Working in the medical device space is when I fell in love with the feeling that, even though I work in finance and may not directly interact with customers, patients, or surgeons, I can make an impact. It's like dominos. I knew that the domino that I owned and pushed eventually touched the life of a customer," recalls Tina.
But beyond the customer, Tina also wanted to change the lives of her employees.
"I recognized this early on when I started managing people. I wanted to help my team achieve their goals and aspirations and to encourage them to dream really big. I also wanted to use my own experiences to help them work through challenges. Being able to share that I, too, had a similar challenge, and this is how I tried to resolve it, can help the other person feel not so alone," she shares.
By leading with empathy, Tina was able to connect with many types of people and inspire her teams to achieve great results. She worked her way up across various leadership positions and eventually accepted a position with an e-commerce company where she oversaw a global team of 60 employees.
That is, until she got a call from Intuitive.
"I realized in that moment that my heart had never left medical devices. After I met the leadership team and experienced the patient-first, mission-driven culture, it was a really easy decision. This is a very special place to work," confirms Tina.
Now, at Intuitive, Tina is leaning into her ability to positively impact the lives of both patients and her team members. And to this day, she continues to model her leadership style on one foundational mentor: Juan.
The Leader That Set the Precedent
In 2001, three days into starting her first role as a senior financial analyst at Ethicon Endo-Surgery, Tina received a calendar invite from Juan Simpson, the Chief Financial Officer.
"I remember feeling so nervous," recalls Tina. "He's the CFO of a large, global division within J&J. He's probably got a lot going on. Why would he want to meet with me?"
A 30-minute conversation turned into an hour as Juan asked about Tina's career goals, what had led her to the company, and if she'd received enough vacation days to feel rested from her work.
Over time, Tina started to present projects to Juan and was equally inspired by the way he offered feedback. "He had this unbelievable ability to tell you, 'hey, this didn't hit the mark,' but in a way that actually built you up. You left his office and felt like 'I can do this.'"
Eventually, Tina realized that not all leaders motivate their teams in the same way — if at all. "It was after working for many other leaders that I realized how unique Juan's style was and that it takes a special leader to care about each person on the team and invest in their development," Tina admits.
Since meeting Juan, Tina has aspired to be that "special leader," motivating others in the same way that Juan uplifted her. This includes being able to walk the halls of her office and know something personal about each member of her team, expressing her excitement when a colleague delivers an excellent presentation, and sending a thoughtful message to recognize someone's accomplishments.
"It's amazing to see the combination of great business results and personal growth and development that occurs when your team feels connected, empowered, and a sense of belonging," she shares.
The Finance team at Intuitive also presents quarterly awards to their high-achieving team members, such as the individual who delivered the biggest business impact or showcased the best process improvement. Tina enjoys getting to know each story behind the accomplishment.
"I love seeing when people are incredible at what they do and the pride they have in their work. It's so inspiring to me to see all the challenges they overcame to get a great result. I appreciate how our team takes the time to celebrate those wins," Tina shares.
5 Practices to Invest in Your Team's Growth
Tina will be the first to tell you that leading with empathy and regularly investing in your team's development isn't easy.
"This takes work," she laughs. "It's important to be intentional and authentic."
Fortunately, Tina has five suggestions on practices you can adopt to help your team members grow:
Be honest. "Share with your team both what they're doing well and where they could develop and grow," she shares. "I think there are times when a leader, in an effort to preserve someone's feelings or the relationship, is not honest with the other person. But that's often what they need to hear the most to achieve their goals and aspirations."
Be intentional and creative. "After identifying what areas or skills need further development, be intentional about creating the right learning opportunities to work on them. It's important that your team member can see the connection between the project they're working on and the skill they are developing. Don't be afraid to identify a project or deliverable outside of their day-to-day area if that's the best learning opportunity." In Tina's work at Intuitive, she's seen how this intentionality builds confidence and develops new skill sets.
Ask for help. Whether it's from your colleague or your boss, don't shy away from getting other opinions on how to invest in someone's growth. "I know I don't have sole possession of great ideas," Tina laughs. "Plus, the other benefit is that now I'm not the only one who's aware of this person's potential. Other people become invested." This has not only helped Tina to empower others' growth at Intuitive, but it's also expanded her own leadership toolbox.
Listen to what that person desires. "In the past, I've had people working for me who didn't aspire to be a senior leader, and I felt this urge to push them because I felt they were capable. But sometimes, that's just not what they want. And that's okay — it's important not to ascribe your own career goals to someone else," she shares.
Help the person to see their potential. Tina recognizes that, at the end of the day, each individual has to own their career journey — and a strong leader builds the confidence needed to take charge of that growth. "At many points in my career, I had leaders who believed in me more than I believed in myself. They saw something in me that I didn't see. I am incredibly grateful for the confidence that instilled in me and hope to do the same for my teams at Intuitive as well."

Does building a career at Intuitive sound like the right move for you? Check out their open roles.
READ MORE AND DISCUSS
Show less