GET EMAIL UPDATES FROM POWERTOFLY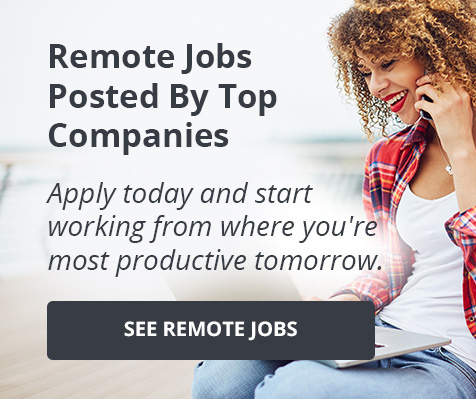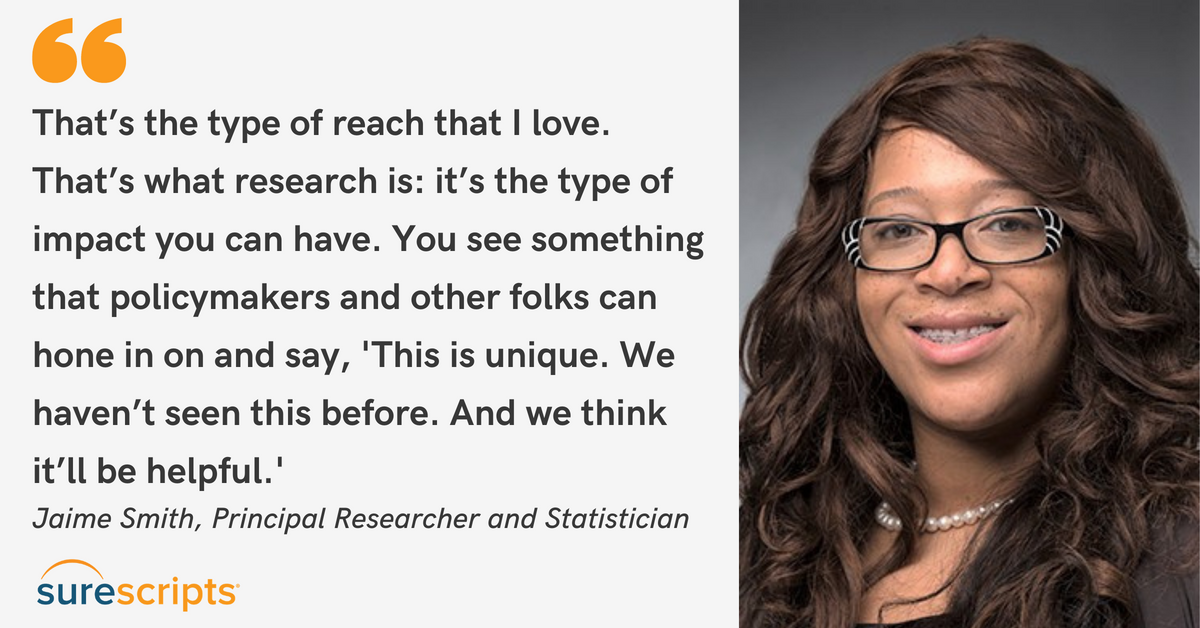 Surescripts LLC
Dr. Jaime Smith is always looking ahead at "what's next."
"Right now, I'm looking to expand my footprint in healthcare," says Jaime, who recently completed her PhD in Health Services Research with a focus in health informatics and data mining. She completed the program while working full time at the nation's leading health information network, Surescripts.
For that next program, Jaime, who is a Surescripts Principal Researcher and Statistician, is thinking about focusing on strategic leadership. Whatever she ends up studying, she will find a way to do meaningful research that makes an impact: "I've always aimed to conduct research that is high-impact, well-read, innovative, thought-provoking, and a springboard for future work."
We sat down with Jaime to learn more about what research topics most interest her, how she balances a full-time job with her research passion, and how Surescripts supports her work.
Why healthcare
"We're all going to encounter the healthcare system at some point," says Jaime. She explains a moment that most Surescripts employees have experienced: "A person goes to the doctor and the provider is in their EHR [electronic health records], the provider sends an e-prescription to the patient's pharmacy of choice, and the mechanism that allows that transaction to happen is Surescripts.'"
Seeing her company's products come to life is exciting for Jaime, but it's also vital. Part of why she's so inspired to work and study in the healthcare field is because she knows how impactful empowering people about their own health can really be.
"When you think about the social determinants of health or chronic conditions, these factors can add complexity to understand what's going on with your health, and to be knowledgeable and educated about your personal healthcare becomes critical," she says.
As a Principal Researcher and Statistician, Jaime's job at Surescripts is to lead the statistical research that the company does. She also presents that research at conferences and educates key stakeholders such as policymakers and the broader healthcare community at large.
"[We need] everyone involved to understand what research is available and how it's useful," explains Jaime.
Research projects of Jaime's have included value studies (where she looks at ways to quantify the value of Surescripts' products for stakeholders like pharmacy benefit managers), internal number-crunching (where she designs executive dashboards for her C-suite), and other investigative pieces that use Surescripts data to explore broader issues that impact the public.
Expanding her impact
When Jaime was completing her undergraduate degree in economics, she wanted to add another discipline to her studies to get a broader perspective."I needed something to enrich econ, something to complement it," she says.
She found that enrichment by picking up a second major in American Studies, which felt "real world" and gave her a lens that grounded economic concepts in practical ways.
On the job, Jaime applies that same interdisciplinary approach. "I have the ability to carve out things that are interesting to me, and that I can make an impact with," she says.
For example, Jaime recently wrote a paper in her "off time"—"It wasn't originally a part of my [work] portfolio, but I love the idea of being innovative in the way that I think about using our data to make an impact," she explains. The paper investigated the impact of hurricanes Harvey, Irma, and Maria on various healthcare systems in the U.S. including how weather-related infrastructure problems influence public health, especially for patients in vulnerable areas.
That paper was so well-received that policymakers reached out to Jaime to ask her to help them come up with a plan to better address those risks.
"That's the type of reach that I love. That's what research is: it's the significant impact you can have. You see something that policymakers and other influencers can hone in on and say, 'This is unique. We haven't seen this before. And we think it'll be helpful,'" says Jaime.
Jaime's peers and colleagues have also taken note of the impact of her research: she was recently recognized for the unique research that she conducted for her doctoral program, receiving the "2021 Graduate Award for Excellence in Health Systems Research" from the College of Health and Human Services at George Mason University. The faculty in her department noted that Jaime has uniquely "bridged the gap between health informatics and health policy" by designing "high-impact research" that truly exemplifies the health services research field.
Currently, Jaime is working on analyzing COVID data across different groups, as well as continuing her ongoing research on the opioid epidemic, which was part of her dissertation. While at Surescripts, Jaime has visited the Centers for Medicare & Medicaid Services and other government agencies to talk about the importance of legislation around electronic prescriptions for controlled substances.
"I personally gave them my research, and they used it for impactful legislation," she says. "I'm super excited about that."
Growing with Surescripts
Before she joined Surescripts, Jaime was accustomed to balancing various priorities: she worked while in school, then had a family while working and while in school.
"You just balance all of the priorities that you have to juggle," says Jaime. "Part of it is my own self-management. And the other part is being able to really understand the landscape of where I am and connecting the dots."
The Surescripts landscape has been especially conducive to Jaime pursuing impactful work both on and off the job. She has her own vision in terms of the types of research she wants to do, then she looks for signals and opportunities to pursue that vision in ways that align with Surescripts' mission.
Additionally, she credits her relationship-building at Surescripts—with everyone from mentors to peers to her boss— to support her in balancing it all.
"My boss is very, very interested in employee development," she says. "When you have that, you're able to accomplish more."
Jaime has also found an alignment in her interests and Surescripts business needs which has been very rewarding. For example, what she learned in her dissertation was helpful when writing up data briefs for executive leaders and policymakers.
"Whether it's predicting outcomes for the business, or improving client relations and understanding what needs to be addressed, I think of research as being used in every sector of our lives. Whenever we're asking the questions of what, why, and how, research is the key to the answers that lead to quality, improvements, and learnings,'" says Jaime. "I look forward to adding more value and continuing to be engaged in this important work."
If Surescripts' mission and culture sound interesting to you, check out their open roles!
READ MORE AND DISCUSS
Show less