GET EMAIL UPDATES FROM POWERTOFLY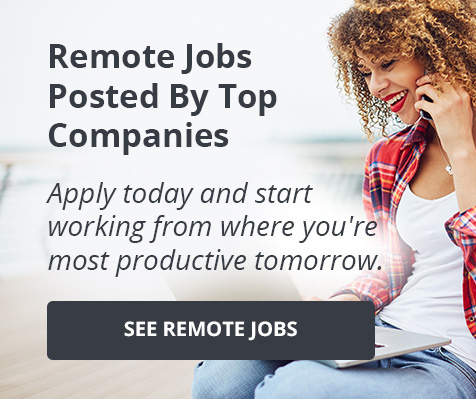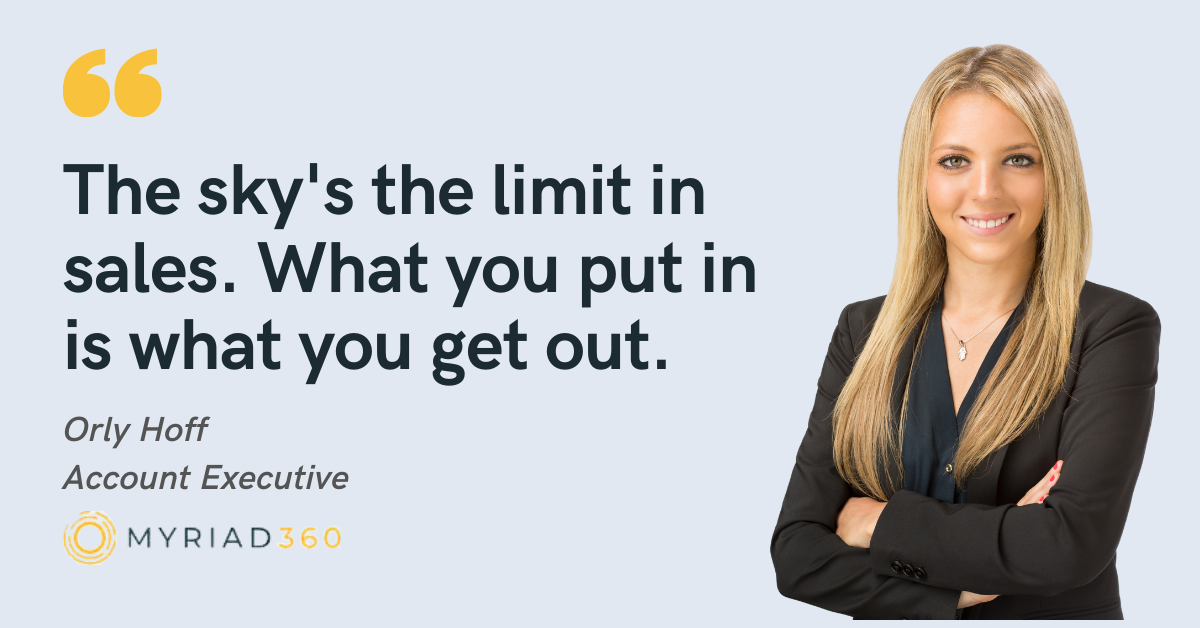 Myriad360
Orly Hoff studied communications in college, fully expecting to make a career in marketing or PR.
But within a year of graduation, she realized that she was much better suited to sales than marketing.
"I didn't like being heads down at my desk all day," explains the now Account Executive at cybersecurity consultancy Myriad360. "If you're meeting new people, every day is different."
We sat down with the native New Yorker and self-described people person to learn more about her pivot to sales (including why she joined—and then rejoined—Myriad360), and to get her advice for others looking to succeed in the field.
On Joining—And Rejoining—Myriad360
Orly first joined Myriad360, then Myriad Supply, in 2013. She discovered a knack for sales and quickly learned about the importance of "being persistent and handling rejection" (in the way only cold calling can teach you).
After a year honing her skills, she felt ready for a new kind of sales challenge. "I wanted to pursue real estate," she explains. "I thought, 'what better opportunity than meeting new people and supporting them through one of the biggest, most emotional experiences in their lives?'" she explains.
And she did enjoy meeting new people. "What I didn't enjoy," she says, laughing, "was working in a field where you are on your feet seven days a week, running around the city of Manhattan and all the boroughs, trying to find a place that doesn't exist because everyone has crazy expectations!"
After four years in real estate, Orly was ready to find a job with more sustainable demands, but knew she didn't want to give up the excitement of working with and helping people.
So, she started looking for other opportunities and reached out to her former boss and Myriad360's current Executive Vice President of Revenue, Mike Sloan, for a reference.
"I've always had a great relationship with Mike. He suggested we get coffee," she explains. "I should have known then he was selling me," she adds, with a laugh.
They met for coffee, and Mike filled her in on the growth that had happened at Myriad360 since she left. He explained the sales function had become more strategic and if she returned, her role as an account executive would be helping clients make the best possible decision for their business (less cold calling, and more advising!).
This appealed to Orly's relationship-driven approach to business, and she left their meeting with a job instead of a reference.
Putting People First
When Orly rejoined Myriad360, her work became more about building relationships than pushing products. "This is a people-to-people business, you are selling the idea of making their life easier," Orly explains.
Myriad360 sells millions of tech products but working in tech sales doesn't mean you have to be a tech expert. "What I like about Myriad360 is that we focus on the business outcomes," explains Orly. "At the end of the day, the technology that we're selling is there to impact our client's business—to give them a competitive edge, to save money, to be more efficient."
Through her experience, she's learned that what's most important is understanding how to identify her clients' pain points so that she can work with the engineers on her team to help solve them.
Providing solutions to her clients is what keeps Orly feeling fulfilled, even when the job itself gets stressful. "I've truly become friends with a lot of my clients," she elaborates. "It's very rewarding knowing you're actually making an impact for them personally and professionally."
Five Tips for Success in Sales
The world of tech sales creates countless opportunities for personal and professional growth. Here's Orly's advice for making the most of them:
Be a people person: "Being genuine and focusing on how to help a client will always move you further along the sales call. The best [sales people] here at Myriad360 know the most about people and how to interact and ask the right questions," shares Orly.
No corporate jargon: "Talk like a human," Orly advises. "Because they're all human too." Communicating to clients as if they are friends or family members will help earn their respect and trust.
Tell stories: "I wasn't doing that pre-Myriad360," confesses Orly. "It resonates with clients. They remember stories, they don't remember facts."
Take time to recharge: "Sales can be stressful, so it's important to make time for yourself to disconnect," she explains. For Orly, this means working out regularly to blow off steam and taking advantage of the culture at Myriad360. "There's no strict PTO, it's unlimited. They encourage you to take time off and turn off your phone and check out."
Ultimately, it's up to you to make the most of your sales career, says Orly. "The sky's the limit in sales. What you put in is what you get out."
Want to maximize your potential?
Check out Myriad's open roles.
READ MORE AND DISCUSS
Show less