GET EMAIL UPDATES FROM POWERTOFLY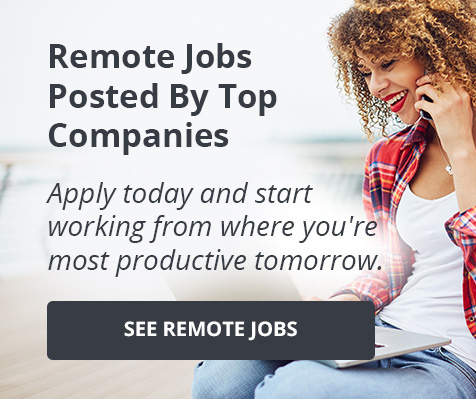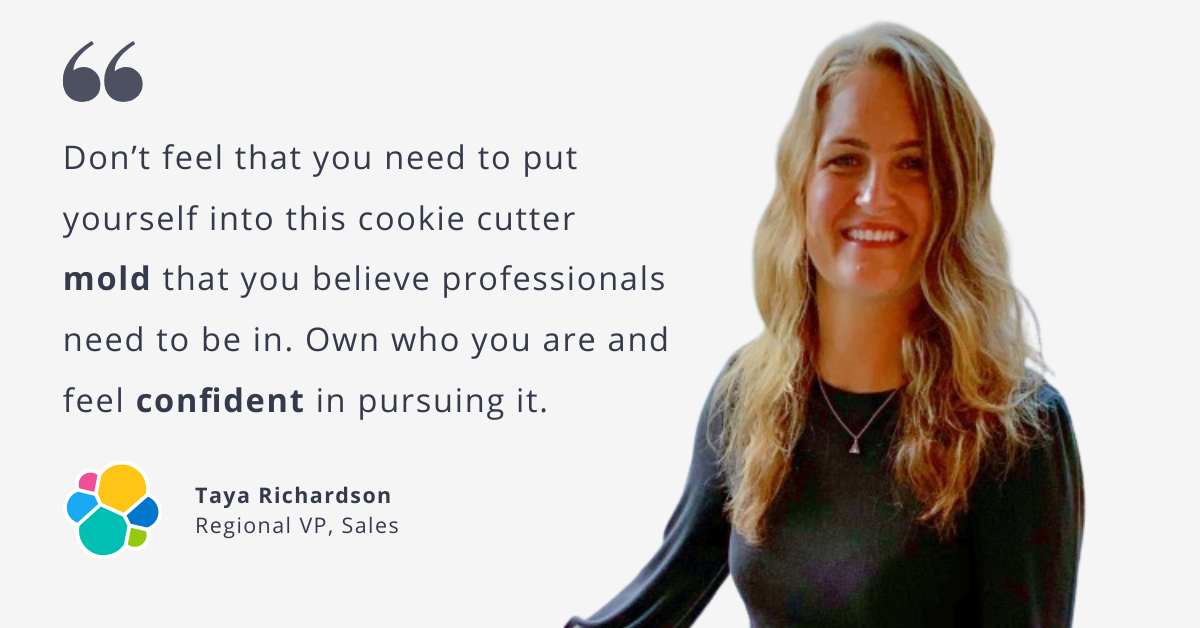 Elastic
Even if you hadn't seen the longboard that Taya Richardson has in her house, you wouldn't be surprised, upon meeting her, that she loves to surf.
She has a surfer's energy about her: equal parts poised and laid back.
The San Diego transplant recognizes it in herself, too, and not just when she's waiting for a wave. Taya says that her personality plays a big part in her approach to sales leadership for search-powered solutions company Elastic, where she is currently a Regional VP.
"I'm not somebody who's going to come in with heavy energy right off the cuff. But ultimately I have this desire and innate drive to solve problems," she says. You can imagine her applying that focus to a lineup or waves — or to a sales rep who's struggling to close a big deal. "Part of my leadership style is about being able to stay composed, logically look at the problem, assess it, and drive towards a solution."
Taya has been able to figure out her leadership style, hone it, and apply it to her team thanks to two things: first, transparently sharing her goal to become a sales leader with her mentors and managers; and second, the focus of those mentors and managers on helping Taya reach that goal.
We sat down with Taya to hear more about how she's purposefully built a leadership path that fits her unique strengths and interests — as well as how Elastic's people-first culture made that possible.
A Love for Solving Problems
Taya didn't know she wanted to be in sales until an HR internship at a cybersecurity company in college failed to capture her attention. She'd studied international business and marketing in college, enjoying exposure to other cultures and perspectives.
"Learning about people and understanding how they make decisions was something I loved," reflects Taya of study abroad experiences in Martinique and Costa Rica.
But during her HR internship, Taya had met sales executives at the company and realized that she loved the energy around sales. "I enjoyed the concept of solving problems for customers and could relate it back to that international business interest," says Taya, who says she was also interested in the growing cybersecurity field.
She took a job in that company's sales department, where she confirmed her hypothesis that solving customer problems with innovative, effective technology was something she was passionate about.
"I get a lot of intrinsic value from relationship selling and working with my customers. Ultimately, if you have a fantastic technology, and you're solving a customer challenge and can build a relationship with those individuals along the way, it's a great experience," she says.
Experiencing a People-First Culture
Taya was working for software company Endgame when it was acquired by Elastic. She'd joined the company because she loved its culture and mission, and was worried she wouldn't feel the same way after the acquisition — but quickly saw that her worry was unfounded when 90% of her original team was kept on post-acquisition.
"I felt the exact same energy at Elastic," says Taya. "I had the ability not only to sell products that were solving risk-based problems for businesses, but also had this new challenge of solving revenue-generating problems on the search and observability side."
She liked Elastic's Source Code, a set of ideas that guides the business, and felt like they were taken seriously. Taya found out just how seriously Elastic took these ideas when she told her superiors that she wanted to grow from an individual contributor into a sales leader.
"They heard that, acknowledged it, mentored me, and helped develop me to the point where they felt I would be a successful leader," says Taya, who is now responsible for several sales reps' books of business across her region.
With the help of her mentors, Taya started by taking on projects that would allow her to stretch her management muscles. She created a program for five sales reps on the east coast to help them build their book of business, learned how to do strategic deal reviews, and how to work with different personalities.
"It takes a very special leadership organization to look at developing and retaining internal talent," she says. "There are always two options: you can pull externally, or you can hire and develop internally. We've really taken on the latter as a company and it's been a great experience."
Taya's seen that people-first focus play out not just in development conversations, but also in how work-life balance is managed.
"When COVID got to the point where it was a long-term challenge, leadership gave us 'shut it down days,' which are a couple of days off each month to handle any personal stressors that we had," she says. "To have the acknowledgement from leadership that it's been a challenging time has been incredible."
4 Key Factors to Making it to Leadership
Taya credits much of her success to the culture and the leaders at Elastic. "We're a mission-driven organization building very innovative technology with a group of high energy, fast-paced, driven, hardworking individuals," she says.
That's especially true of the women in sales who have become Taya's mentors, she notes, shouting out Katie FitzGerald, Elastic's Vice President, Americas.
But no matter where you work, Taya has a four-part framework to help you drive towards your own goals:
Transparency. Taya was clear that she wanted to go from IC to leadership, and counts that as a key part of her being able to do it. "Open and honest conversations lead you in two directions: either they hear you and want to develop you, or they don't, and you go find a company that does," she says.
Resiliency. "Be relentless in pursuit of your goal, and resilient throughout the process," says Taya, noting that there will be roadblocks along the way.
Mentorship. "Both internal and external mentors are so important," she says. Learn from the styles, strengths, and advice of each.
Embrace your own style. Last but not least, Taya gives one key piece of advice about figuring out what kind of leader you'll be: come as you are. "If you have a different style, you'll have a different perspective, and that's healthy and necessary in order to achieve your company's goals," she says. "Don't feel that you need to put yourself into this cookie cutter mold that you believe professionals need to be in. Own who you are and feel confident in pursuing it."
If you want to pursue a career path at Elastic, check out their open roles!
READ MORE AND DISCUSS
Show less