GET EMAIL UPDATES FROM POWERTOFLY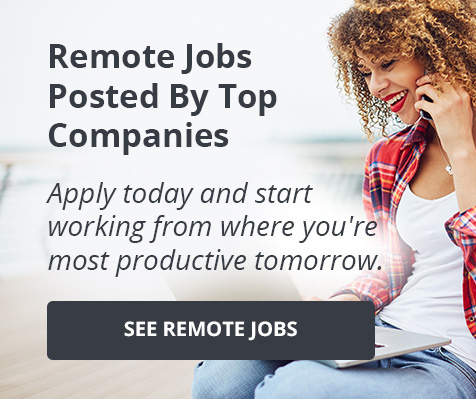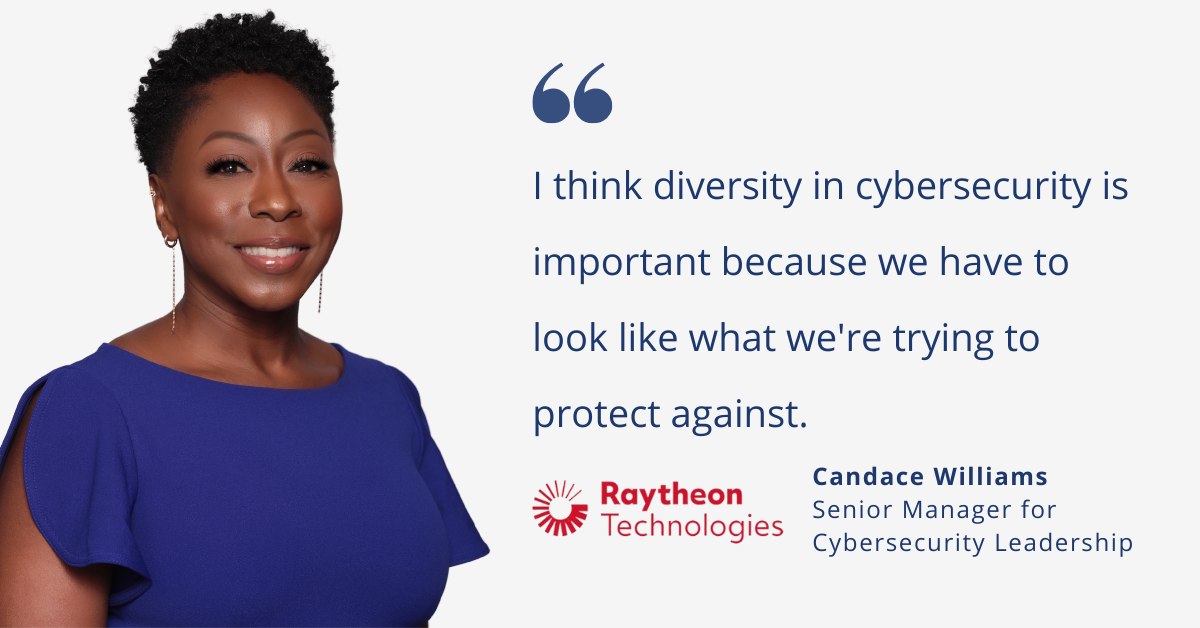 Raytheon Technologies
When Candace first transitioned into the civilian sector after 6 years in the Air Force, she didn't see many other women that looked like her leading in cybersecurity, which made it difficult for her to envision herself in higher positions.
"It's hard to see yourself in a position where you don't see someone who looks like you. When I started my journey, I didn't know what I was doing, who to look to, or where I wanted to go. I would seek out women and women of color in leadership positions who were doing something similar, even if it was a woman director or VP in a different department, I would find them and that would inspire and encourage me."
Along her path from military service member to Senior Manager, Cybersecurity Leadership at Raytheon Intelligence & Space a business segment of Raytheon Technologies, an aerospace and defense company, Candace has learned the importance of diversity and representation at work. She's now determined to use her position to advocate for both within her cybersecurity team and in the field at large.
We sat down with Candace to hear about her road to cybersecurity and her top tips for building a diverse team.
Trying Something New Will Open Doors
Candace recalls an initial conversation with an Air Force recruiter about possible placements. She didn't have much direction at the time, but she told the recruiter she wanted to work with computers.
"I had no real idea what I was saying, but I knew I liked computers. I always had an affinity for technology and computers as a kid."
After scoring well on her military aptitude test, she was placed in the Computer-Communications Systems Operations career field where she was first assigned to the help desk as a technician and eventually transitioned to Information Assurance. This marked the start of a career in maintaining the confidentiality, integrity, and availability of electronic data—in other words, cybersecurity.
During this time, Candace enrolled in a community college where she took classes in computer science and completed a bachelor's in Management of Information Systems. While she studied and worked in the Air Force, she was stationed in England, South Korea, and Arizona and deployed to Iraq.
Reminiscing on her experiences abroad, she says, "In our free time, we would travel around, explore the city, and go to the movies. I definitely got immersed in the culture. I would go to various grocery stores around my neighborhood to grab different snacks and send them to my family."
After the Air Force, Candace completed her MBA and continued her professional track in cybersecurity. Floored by the different cultures and mindsets she experienced around the world, and taking into account her professional wheelhouse, she began to recognize the importance of having diverse teams in her field.
Diversity in Cybersecurity is Essential
In her current role at Raytheon Technologies, Candace pulls from her extensive experience in the field to lead teams across the United States. Thanks to her expertise, she knows the importance of curating a diverse team.
"The cybersecurity team and defenders shouldn't look homogenous. We have to look like what the landscape looks like. Otherwise, you're going to miss something critical. I think diversity in cybersecurity is important because we have to look like what we're trying to protect against."
For Candace, diversity can refer to skin color, geographical or cultural background, and professional experiences.
"We've interviewed people with skillsets from the military or commercial fields that I felt could add value to the team. I do consciously think about if they're from a different place or if they've done a different thing that can add a component to the team. I do consider it when I'm interviewing and hiring."
Candace is a firm believer that the more diversity a team has, the more successful it will be. Furthermore, it is the base for developing a healthy work community that encourages all people to grow and achieve their goals.
Advocating Diversity in Cybersecurity
Candace wants to see more women of color and diversity in cybersecurity. Part of her work, she feels, is to think and strategize about what needs to happen and what she and other leaders can be doing to fill this gap. Now, she views advocacy as an essential part of her profession.
"We need more people in cyber because the skill gap goes beyond a company. I think that diversity and wanting to advocate goes beyond my job."
In addition to offering herself as a mentor to future cybersecurity professionals, she also volunteers her time as a director at Empower Cybersecurity, a non-profit organization dedicated to creating a safe space for women of color wanting to enter the field. Additionally, she is a board member for the Women in Cybersecurity (WiCYS) Florida Affiliate, a non-profit organization dedicated to developing a robust cybersecurity workforce with gender equality, and is a mentor with Cybersafe Foundation, one of Africa's leading NGOs with the mission to provide safe internet access across the continent.
Building Your Diverse Team
Candace is committed to using her platform to promote diversity in cybersecurity and create spaces for women interested in the field to come together through her Cyb(H)er Brunch initiative. Based on her experiences, she shares with us three main tips to build diversity in cybersecurity:
Prioritize the use of diverse sourcing channels. "Use different channels to find talent. There's a myriad of non-profits who are out there, building up new entry-level or mid-level professionals. Some non-profits support women of color or underrepresented groups. Use them and try to create some sort of direct pipeline to that organization."
Be transparent when hiring and promoting. "It is great to get people into cyber, but there's also a piece of cyber where we're losing people because of stress and attrition. Many underrepresented individuals are not being promoted. It's important to create a workplace where all people can grow and where there's transparency in promotion and hiring processes so we can see more of us at the different levels of an organization."
Vary your perspectives. "When it comes to cybersecurity, we have to think like our adversary, and we do that by having different perspectives and ways of thinking and strategizing. That's what's going to allow us to actually have a chance."
Do you want to know more about working in cybersecurity? Raytheon Technologies is
hiring
!
READ MORE AND DISCUSS
Show less