GET EMAIL UPDATES FROM POWERTOFLY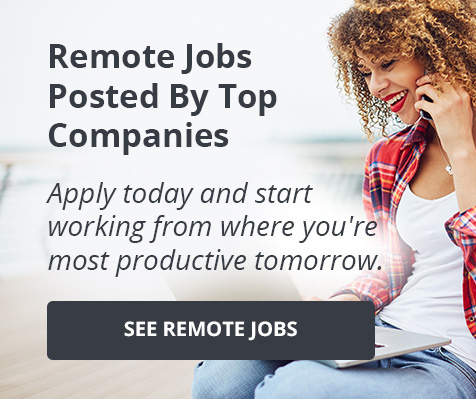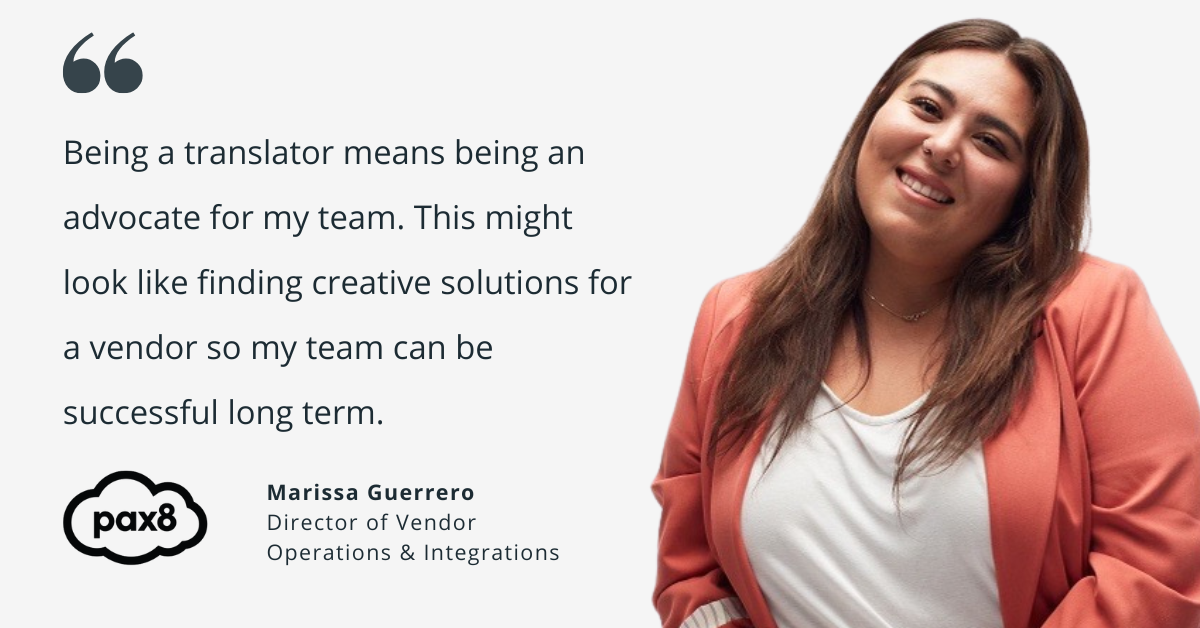 Pax8
Pax8's Marissa Guerrero, Director of Vendor Operations & Integrations, believes that anyone can work in tech regardless of their background.
"People think if they don't code then they can't work in tech, yet there is every position possible," she encourages.
In fact, Marissa is living proof. Formally an event planner, she now works as a director of vendor operations and integrations for Pax8, an online marketplace for buying and selling cloud products.
"A lot of the skills I gained for this role came from my event planning background," she says. "We were doing around 20,000 events a year and had to collect requirements as you would for a development team in tech. I learned to juggle a lot of people, complex ideas, and moving parts."
Marissa is an example of the endless possibilities that exist in tech. We sat down with her to learn how she has blended the business and tech worlds throughout her career and hear advice for mediating between the tech and business worlds.
Exploring the World of Project Management
Marissa first got her feet wet in the tech industry while completing her MBA in London at a travel tech startup. There, she enjoyed collaborating with the development team and learning new skills.
"I was an operations person and I worked with the development team to help build out our website. I got to put my hands in a lot of different buckets," she recalls.
Maintaining a curious mindset, she asked a friend who worked as a project manager at a well-known tech company for an informational interview. Her friend brought her to the offices and gave her an inside look into the day-to-day. From that moment, she knew that project management was the place for her.
"I thought, 'this is exactly what I want to do'," she exclaims. "It sits right between the business side and the technical side. I'd get to work with engineering teams and learn to speak their language while being a strategic visionary to push a business forward."
With this new direction, Marissa searched high and low for a project management job until she landed at Pax8.
Starting a New Career with Pax8
A contact at Pax8 informed Marissa of a product opening and, though she lacked a strong technical background, she applied anyway and got her foot in the door.
Pax8 centralizes the buying, selling, and management of cloud solutions and is one of the largest cloud distribution companies out there.
"We're the grocery store for cloud software," she explains. "We're working with the Microsoft's of the world or SentinelOne's of the world to integrate them into Pax8's storefront."
Initially starting as a product launch analyst, Marissa has grown a lot over her nearly four years at Pax8 and perfectly embodies the room for growth that they offer their employees. She highlights that other titles she's held are vendor launch analyst, strategic program manager, vendor product development director, and now director of operations and integrations.
In her current role, she often finds herself mediating between vendors and the Pax8 team.
"We're making sure Pax8 can create a consistent experience no matter who the vendor is," she says. "As a technical project manager, I sit in the middle of that. I'm in a lot of my meetings with vendors or internal teams to see what we need to be successful. I'm there to clear roadblocks, create processes, or connect the people who need to be connected."
Being that Marissa plays the middle person, she has learned to speak two languages: the language of the tech world and that of the business world.
Translating between Business and Tech
Marissa is proud of the skills she has developed translating between business and tech.
"Being a translator means being an advocate for my team," she explains. "This might look like finding creative solutions for a vendor so my team can be successful long term. But I'm also advocating for the vendor and seeing how we at Pax8 might be able to adapt our mindset so we can both grow together."
Ultimately being able to navigate the needs of two different groups of people comes down to clear communication.
"I make sure we're all speaking the same languages," she says. "I want us to all be aligned with what we're doing here at Pax8. It's not about directly managing people, but being able to manage expectations, being able to share a vision."
Another aspect of this kind of translation Marissa enjoys is the code-switching that goes along with communication and advocacy.
"I love getting on a technical call and being able to speak as a female leader to how our API integrations are going to work and find creative solutions," she laughs.
Advice for Mediating Between Business and Tech
Navigating the worlds of tech and business can seem like a balancing act, but Marissa has found satisfaction in her ability to combine the two. For those interested in working in similar roles, Marissa offers this advice:
Ask for informational interviews. "When I started, I didn't know anything about product management. I could Google it all day but I wouldn't know what it's really like to be in that role." Marissa shares that scheduling informational interviews can help you get a clear picture of what skills you may need for a certain position and what it's like working in a male-dominated field.
Build your network. Marissa recommends using those informational interviews as networking opportunities. "That's one of the biggest places to start building your network so they can help you move up and get your foot in the door."
Identify your transferable skills. "Someone might read your resume and say you don't have direct technical experience. When met with that opposition try sharing what you can do with the skillset. Give examples of how your skills can be applied to the role requirements they are looking for."
Don't sell yourself short. "I had to check myself a lot when I was putting out my applications. I would wonder if I was really qualified for a particular role." Marissa ultimately had to push herself and decide that regardless of her experience, she was the right person for the job.
If you're interested in working with awesome people like Marissa, check out
these opportunities at Pax8
.
READ MORE AND DISCUSS
Show less