GET EMAIL UPDATES FROM POWERTOFLY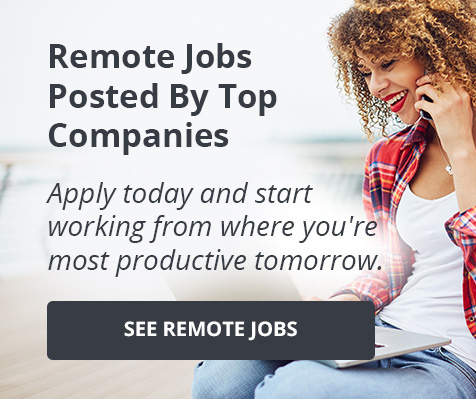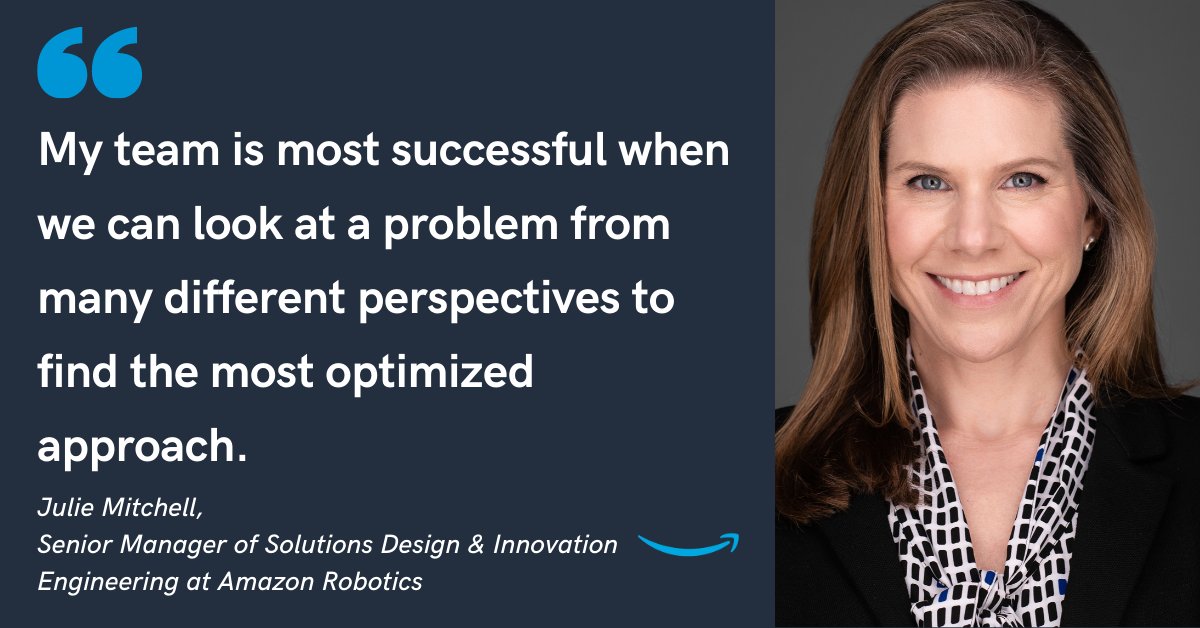 Amazon
Amazon is well-known for being customer-obsessed. From next-day delivery to "just walk out" shopping, the tech giant has long focused on meeting—and exceeding—customers' expectations.
It stands to reason, then, that in order to understand all of the different people who use Amazon and create products and experiences that delight them, Amazon's team should be as diverse as possible to reflect the diversity of their customers.
That's exactly how Julie Mitchell, Senior Manager of Solutions Design & Innovation Engineering at Amazon Robotics, explained it: "Amazon's culture of customer obsession, ownership, and 'insist on the highest standards' helps drive the need for diverse thinking and knowledge sharing. To innovate on behalf of our customers and provide truly useful solutions requires a broad understanding of requirements and deep knowledge of technical systems. This breadth and depth can only be achieved by learning from one another—and being insatiably curious."
We asked Julie, who will be featured on the "Get Inspired: Women Are Powerhouses Amazon Leadership Panel" at our upcoming Diversity Reboot conference (register now! It's free), to give us a sneak peek into how Amazon creates a culture that celebrates difference and uplifts diversity, while still driving hard towards business goals.
Setting the tone: creating space for ideas
As part of her role, Julie regularly attends design reviews. These meetings are focused on evaluating designs against their stated goals, identifying issues, and solidifying a go-forward plan.
At her first design review at Amazon, Julie went in confident that she had it all figured out. "I was sure I had considered all the data and presented the best proposal," she says.
Alas, she did not.
"Someone had a much different view of the same data than I had," remembers Julie. "[They] explained their perspective, which opened up a completely new way of thinking about the problem. After the design review, we came up with a much better solution that performed better than what I originally thought was possible."
Julie and her teammate ended up coming up with an answer that was better for everyone involved, but it required checking their egos at the door and creating a culture of open-mindedness that allows each individual to feel comfortable sharing their best work.
And only their best work is good enough for Amazon's customers, says Julie. "My team is responsible for developing robotic solutions that help simplify our operations," she explains. "To be good at this, we need to listen to our internal customers' needs, and innovate on technology to deliver value in a safe, scalable and reusable architecture. We can only be successful if we consider a diverse view of needs, and iterate on ideas until we find the best solution."
That kind of iteration happens all the time at Amazon—"daily!", per Julie—and it's what she credits with her team's success.
"Most technical decisions my team makes are a trade-off of priorities and competing requirements, so my team is most successful when we can look at a problem from many different perspectives to find the most optimized approach," she says. "Having a diverse team helps us to challenge each other's solution bias and enables objective design reviews of technical solutions to customer problems."
Managing towards inclusion
A culture of open-minded consideration of everyone's ideas, and moreover, a culture where everyone feels comfortable sharing those ideas, doesn't happen accidentally. It requires a commitment from team leaders and team participants alike.
It was the chance to be that kind of leader that first drew Julie to Amazon. She had worked in tech throughout her career, and was excited for the chance to really decide the future of what product development in her area could look like. "I was excited about the possibilities to use my engineering and leadership skills to build an innovative solutions design team," she says. "I love the Amazon culture with leadership that is not afraid to think big and take risks, all for the benefit of our customers."
Having a diverse team means working with people from different backgrounds, different walks of life, and who have different preferred ways of engaging at work, communicating with peers, or delivering feedback. "It's important to build diverse teams with folks from different backgrounds, subject matter expertise, genders, and experience to get unique perspectives on the work. Then, it's imperative to recognize and reward knowledge sharing and collaboration so folks feel empowered and supported in engaging in work that is outside their direct ownership," says Julie.
In order to facilitate that collaboration and sense of empowerment, Julie uses a variety of channels for sharing ideas and brainstorming, including:
Weekly design reviews. "[These are] where each design lead gets a chance to present their work to the design community and receive feedback on their work," explains Julie.
A shared repository of "lessons learned." "Track[ing these] drive[s] knowledge sharing and best practices in our design," says Julie.
Bi-weekly training sessions. "[These] cover core technical skills needed to be successful Solutions design engineers so everyone has access to the same knowledge and we can share unique skills across the team," per Julie.
Onboarding buddies. When someone new joins Julie's team, they're paired with a buddy to help them navigate the different people and processes required to be successful in their role and to help answer any questions in a low-stakes, one-on-one setting.
Regardless of how they're engaging with each other, Julie appreciates the chance to work on solutions with a diverse team. "It's directly led to producing highly innovative solutions," she says. "We thrive on learning from each other's unique perspectives and building upon each other's ideas for an outcome that is better than it would have been if only a single individual developed it. I consider diversity to be my team's superpower in tackling our broad scope of design work across the Amazon team."
If you're interested in learning more about open roles at Amazon, visit their PowerToFly profile here. To register for Julie's panel, which is taking place Thursday, February 4 from 2-3 p.m. EST, sign up for the Diversity Reboot conference!
READ MORE AND DISCUSS
Show less