GET EMAIL UPDATES FROM POWERTOFLY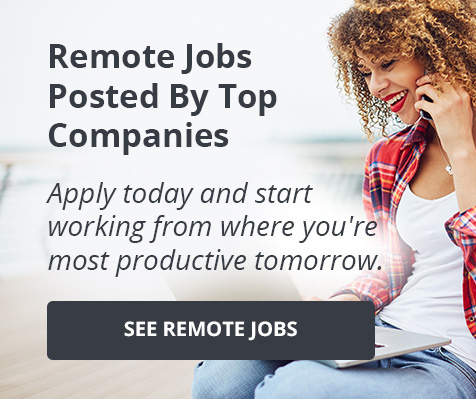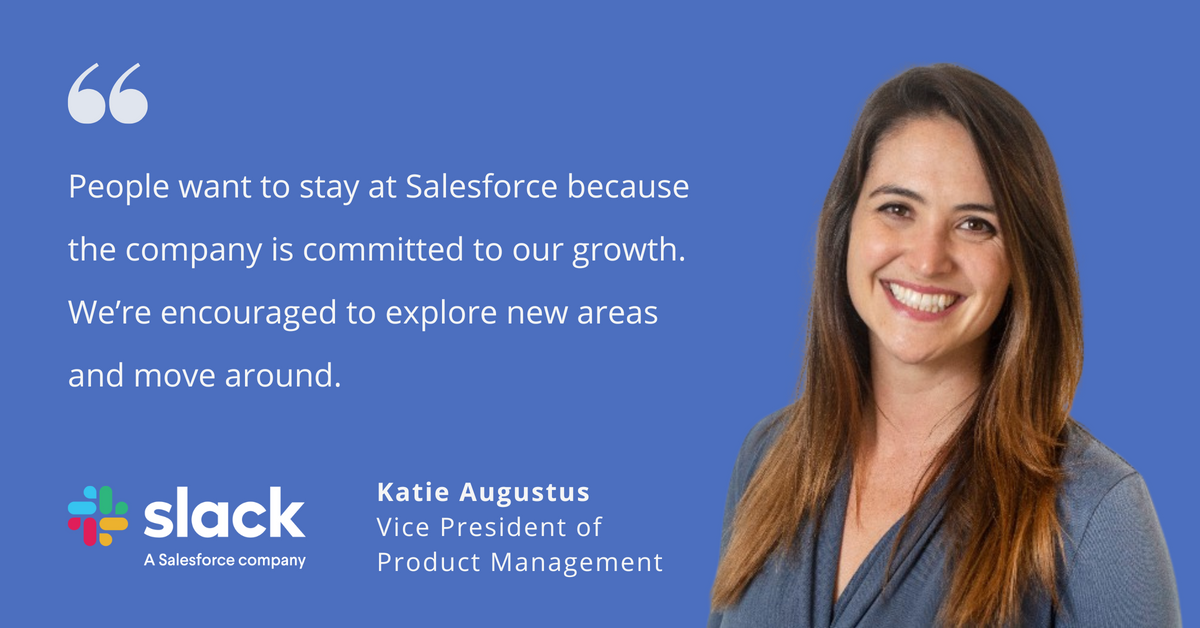 Upskilling and Development
How Slack's VP of product management is evolving with her company
Katie Augustus isn't afraid to reimagine her potential.
"When I used to look for jobs, I would use a set of search criteria based on roles that I knew existed and the skills I thought I had," she shares. "I now understand that our potential extends far beyond what we presently know. So when new opportunities arise, we shouldn't be afraid to take the leap."
From a graduate school intern to the vice president of product management at Slack, Katie credits her growth inside the Salesforce family to this go-getter mindset and the opportunities within Salesforce's large, fast-growing environment that champions internal mobility.
We caught up with Katie to hear how she's riding the wave of Salesforce's unique trajectory and growing her skills along the way. She also shared some tips for how you can evolve with your company, too.
Finding her niche in product
Rewind to 2009, and Katie couldn't believe she was unemployed and moving back into her parent's home at 22 years old. She was set on putting her fresh economics degree to use in an analyst role but instead found a bleak job market.
To start making moves, she knew she needed to set aside outdated career notions. Katie took the leap when a friend reached out about an internship with a communications agency. "I spent my college years thinking that I was going to be making graphs, tables, and spreadsheets in a basement, and then all of a sudden, I was in a job where I got to talk with people," she recalls.
After a couple of years, another friend reached out to Katie about heading up marketing and communications at his ed-tech start-up.
"I thought if he's willing to hire me with just a few years of professional experience, then I'm game for joining a 10-person startup and seeing what we can do," she says, laughing. This open-mindedness paid off the moment Katie started dabbling in product marketing. "I helped the company to reconcile their product strategy and roadmap with the vision we were presenting externally — and I loved it."
After getting her Master of Business Administration, Katie landed an internship with Salesforce in product marketing. She started to realize that the parts of her role closest to product, including release marketing and training workshops, were the most energizing. And when a product manager role opened up, she jumped at the opportunity.
"In college, I didn't appreciate that many of us follow paths that are winding, and much of our career can be opportunistic. Since I didn't have a clear path coming out of school, I had to figure out how to be available for opportunities and be willing to try new things," she shares. This same mindset has helped her to grow her career for eight-plus years in Salesforce.
Keeping it in the family
From an intern to vice president of product management, Katie has grown across two functions and three different product areas during her time at Salesforce. While she credits much of her career advancement to saying "yes," she also emphasizes the importance of positioning herself for growth.
In other words, taking advantage of opportunities is only as effective as the opportunities that present themselves.
To lay the groundwork, Katie took on tasks and immersed herself in projects related to her interests. "When I started in Salesforce, I was very intentional about keeping my product marketing role close to Salesforce's analytics product," she shares. "I sought out conversations with people working with the product to get more exposure."
Katie knew that by building her network and reputation as a collaborator and innovative thinker with product managers, she'd both develop her skill set and put herself on the radar for new opportunities. On top of intentional networking, her role as a product marketer also allowed her to connect and work with people across the company — from working on Salesforce events to cross-functional collaboration with both the product and marketing teams.
"That constant presence combined with my work ethic and knowledge of the product portfolio helped me to be available and known when opportunities arose," Katie shares. She recalls how after Salesforce acquired Quip, her mentor encouraged her to apply for a new product management opportunity thanks to the relationship they'd built. Katie was then able to pivot to leading Quip for Sales products.
Each time she's felt restless in her role, Katie has felt grateful for finding ways to stretch and grow her skills in a new area of the business. "When I've felt eager for change, there have been tectonic shifts underneath me, and I've found exciting new opportunities at Salesforce," she confirms. And while she still doesn't know where her career will ultimately lead her, Salesforce has provided a safe space to learn, experiment, and explore her potential.
"It's exciting to join a new subsidiary in Salesforce while also retaining my network and my mentors. I hold on to my community, but my job and environment change, as if I did join a totally new company," Katie says with a smile. "People want to stay here because the company is committed to our growth. We're encouraged to explore new areas and move around — one of the benefits that drew me to Salesforce in the first place."
3 strategies for growing with your company
Katie's story, from her parent's home to the Salesforce family, is a testament to the power of positioning oneself for growth and seizing opportunities.
"Early in my product career, I was on a journey to figure out how I could apply my current knowledge to openings that presented themselves. Even to this day, I look for ways to expand, stretch, and grow in Salesforce," she says.
We asked Katie to share her top strategies for how others can evolve with their company, and here's what she said:
Be curious and open to opportunities. Katie reflects on receiving the offer to transition to Quip, a place she'd never considered working. "Back then, I didn't realize how much I would enjoy the change. We don't know what we don't know, which makes it even more important not to be afraid of the new," she shares. "I stay open and available to what the universe presents."
Build relationships inside your company. As a self-proclaimed "social animal," Katie enjoys meeting new people at events, asking for introductions, and expanding her social net outside of her current team. "Opportunities come to you when you put yourself out there. People have to know you in order to think of you when a new position arises," she confirms.
Seek out mentorship. Katie stresses that it can be hard to navigate your career without a guide. "I've had the privilege of working with some incredible mentors during my time at Salesforce. These women have been absolutely instrumental in helping me to think through the next steps in my career, taking my shoulders and pointing me in the right direction," Katie shares.
Katie laughs when she says, "I still don't know what I want to be when I grow up." While she may not have all the answers now, she's open to whatever comes her way — and encourages others to do the same. "If my story can make just one other person feel more confident in their journey, then I'm happy I shared it."
Join the Salesforce Talent Community!
Sign up
to stay in the know about upcoming roles, get tips on improving your career, gain exclusive access to future events happening near you, and much more!