GET EMAIL UPDATES FROM POWERTOFLY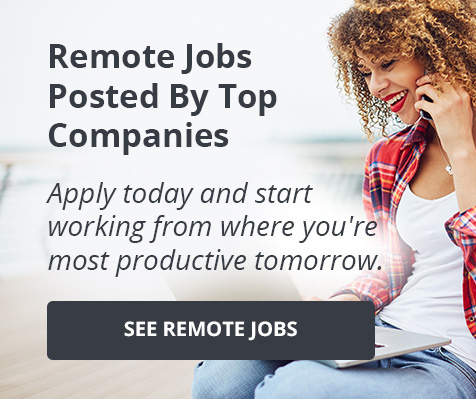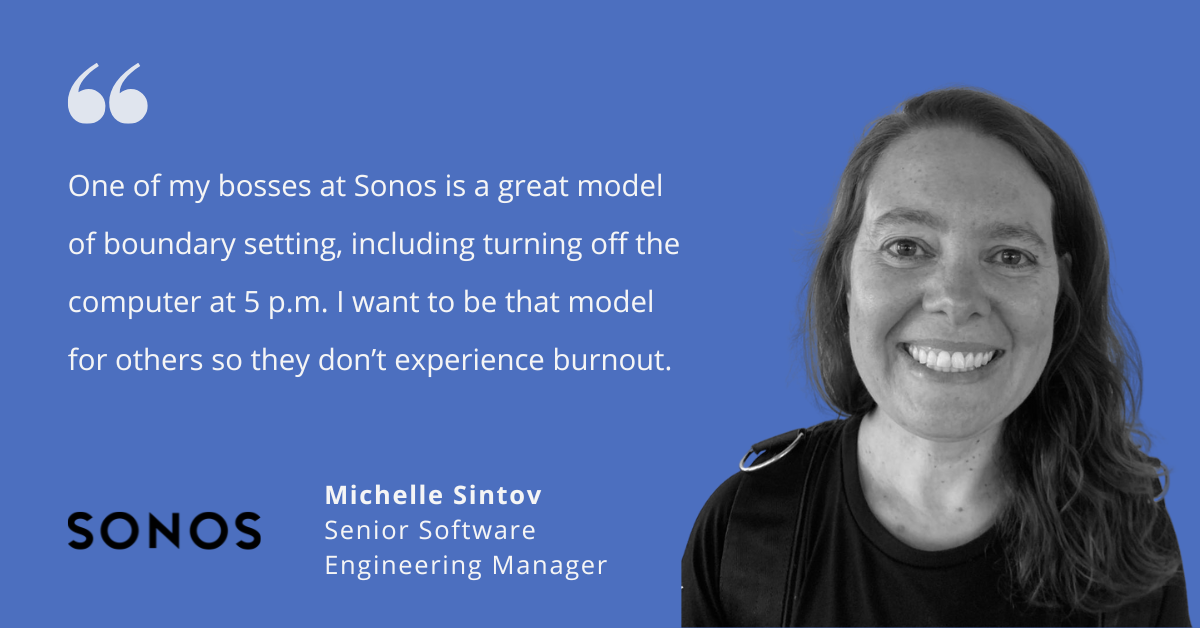 Upskilling and Development
Balance Your Career With Your Passions
5 Tips From Sonos' Michelle Sintov
Michelle Sintov's perfect day starts with a bike ride in the Marin Headlands.
"There are some world-class biking trails a few miles from my house across the Golden Gate Bridge. One has a crazy 18 percent grade downhill where it looks like you're going to fly off into the Pacific Ocean," she says as her eyes light up.
Michelle finds that starting her day with movement gets her in the right headspace for work. As a senior software engineering manager at Sonos, Michelle focuses on coaching developers and ensuring her team is set up for success. She's established an equilibrium between her career and her passions outside of the workplace, allowing each to complement the other.
"Getting that exercise in on weekday mornings makes my body ready for a full day of concentration and critical thinking in meetings or independent work," Michelle confirms.
Was it always this easy? "Absolutely not," Michelle says with a laugh, admitting that starting a family, volunteering, and pursuing further education all threw off her flow.
We caught up with Michelle to hear more about how she maintains the right balance between her career and passions, along with a few tried-and-true strategies for how you can do the same.
A Calling for Coding
It didn't take Michelle long to realize that her degree in economics was not the right fit for her.
"My first two jobs were in finance, and I knew it wasn't a match," she shares. "However, I discovered something that made the time fly in those roles: coding."
During the dot-com boom, Michelle made a lateral transition into tech.
She hasn't looked back since.
Michelle reveled in any opportunity to upskill and enhance her coding skills, including attending the Stanford Center for Professional Development where she took computer science courses with undergraduate students.
Her passion didn't end in the workplace, and Michelle leaned into hobbies like running, biking, volunteering, and ceramics. She had her foot on the pedal, and eventually, started running out of gas.
"Thinking back, I didn't have the right balance when I took on weekday night time commitments like volunteering or taking classes. My sense of balance truly derailed when my second child was one year old. I was breastfeeding, working three days a week, and also taking a computer science class that demanded 20 hours of homework a week," Michelle recalls.
Fortunately, a door opened up in her career that would encourage her to re-establish balance.
Michelle received an offer to join Sonos as a senior software engineering manager in their product development organization. At that point, her only exposure to Sonos had been "a very cool looking subwoofer at an Airbnb" as she describes it, but she was drawn to the technology and culture.
Re-establishing Balance
Michelle explains a cornerstone of Sonos' work culture: intentional flexibility. Sonos recognizes that their employees have varying needs and preferences with continually changing circumstances, so employees are given autonomy to control their work schedules.
"While this means that I need to get my work done, Sonos recognizes that I will take care of my own well-being in the process," Michelle says. Enter the morning bike rides and jogs around her neighborhood.
Of course, being a mother brings an extra layer of complexity. "One helpful piece of advice that another mother shared with me is that family comes first. When a special family event conflicts with work, choose family," Michelle shares. Moments with her children only happen once in a lifetime while work projects are always there — so she makes time to go to the first-grade choir performance or watch the school track meet.
"One of my bosses at Sonos is a great model of boundary setting, including turning off the computer at 5 p.m. I want to be that model for others so they don't experience burnout," Michelle shares. As a people manager at Sonos, she strives to set an example for the developers on her team, from taking mental health breaks during the day to implementing flexible hours that accommodate her family's schedule.
In the process, Michelle is finding that her passions outside of work complement those in the workplace.
"One reason I love ceramics is that it's a creative outlet. During the week, I'm able to brainstorm the next form I want to create or glaze I want to try. Since I'm no longer a maker (or individual contributor) at work, building with clay is my outlet," she shares.
Her hobbies outside of the workplace also keep her away from a computer screen, helping her to feel re-energized when she logs on in the morning.
And her most surprising outlet? Her morning runs. "Spending time exercising enables me to have my 'standing in the shower' moments where I realize improvements that can be made or things that are about to be dropped on the floor at work," she says.
5 Tips for Balancing Your Career With Your Passions
Michelle's story reminds us that we shouldn't sacrifice hobbies that bring us joy, as they give us the energy to excel in other areas of our life.
To help us all strike the right balance, Michelle offers these tips:
Set boundaries. "There will always be more work," Michelle says, so don't spend your time chasing an endpoint that doesn't exist. By setting boundaries, you'll find that your work is more effective and efficient, leaving time for the activities that re-energize you.
Find a workplace that honors all sides of you. Michelle tells us, "Choose a place where you're celebrated for who you are," including both your career and extracurricular interests. She points us to Frances Frei's Inclusion Dial stages for more insight into how companies can celebrate their employees' uniqueness.
Set your intentions first. "Set your intentions for the day early and focus on getting through that list rather than getting derailed by other conversations and questions. Turn off your notifications and focus during the workday," Michelle says. This in turn frees up time for your passions.
Use the Eisenhower Matrix to prioritize your work. The Eisenhower Matrix helps you to prioritize tasks by urgency and importance. "Delegate as much as possible. Delegating also helps your team members grow, and they likely want to help," says Michelle.
"Rise above your work." Michelle finishes by quoting the author Patty Azzarello in her book "Rise," a story on how to advance your career while having a life. "Instead of getting pulled into an endless to-do list and jumping from fire to fire, figure out how to work smarter," says Michelle.
Balance your careers with your passions at Sonos! Check out their open roles.