GET EMAIL UPDATES FROM POWERTOFLY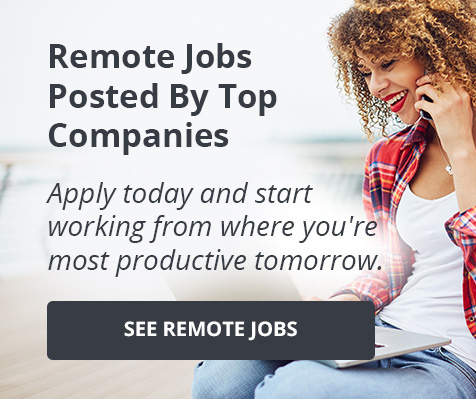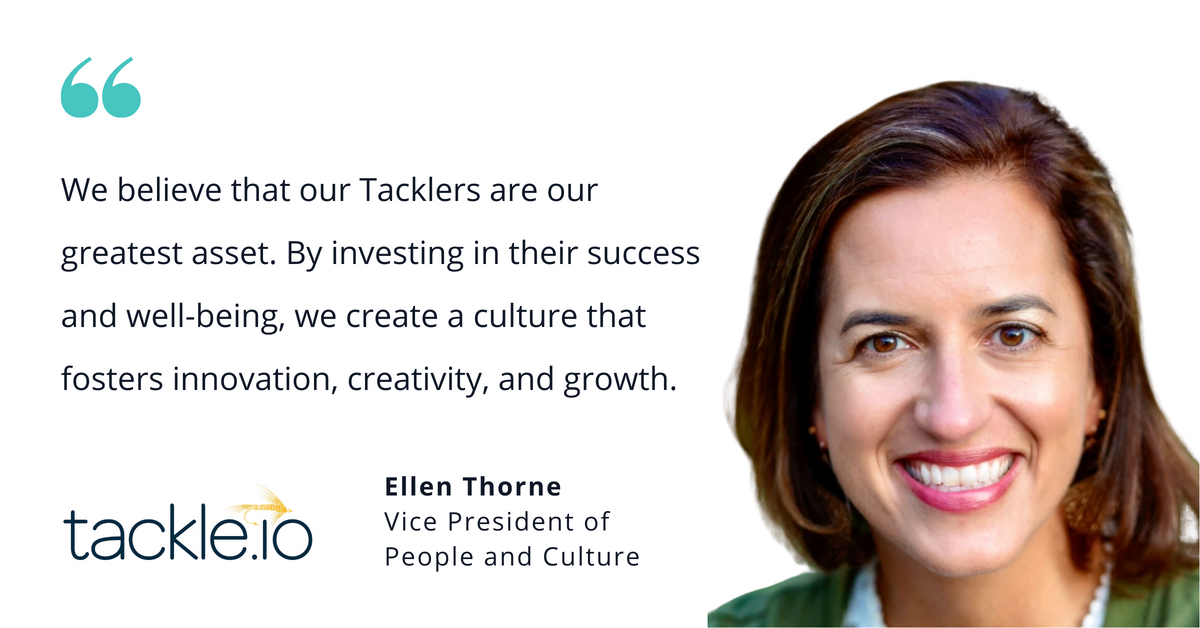 Tackle.io
4 ways to enrich company culture
An inside look at Tackle's Culture Working Groups
When Tackle.io's leadership team sat down to create their company values, they sought more than a pen-and-paper exercise. They knew the right strategy could help activate the values in their team members' day-to-day remote lives.
Enter Culture Working Groups (CWGs), a space for Tacklers to create intentional programs and initiatives that cultivate commitment and shared purpose among employees.
"We wanted to make sure our values weren't a People Team run program. Our Tacklers live and breathe our culture daily," says Ellen Thorne, vice president of people and culture.
We sat down with Ellen to hear how Tackle's Culture Working Groups are enriching their workplace, along with her best tips for how other companies can both define and build an authentic culture strategy.
Workplace culture as a component of success
Tackle's Culture Working Groups started with the belief that workplace culture is not a nice-to-have — it's an essential component of success. Tackle's technology — the leading solution built to help software companies generate revenue through a data-driven Cloud go-to-market — can only be as powerful as its people.
"We recognized that a strong and positive culture leads to greater productivity, employee engagement, and retention. We knew that achieving this required a company-wide effort, not just top-down directives from our senior leadership," says Ellen.
The Culture Working Groups were born to create champions across the organization, bringing together employees across departments and levels to brainstorm, develop, and implement culture initiatives.
"These are an integral part of our strategy for employee engagement and retention," clarifies Ellen. "We believe that our Tacklers are our greatest asset. By investing in their success and well-being, we create a culture that fosters innovation, creativity, and growth. And with the help of our Culture Working Groups, we're able to do just that — one conversation, one connection, and one champion at a time."
Employee engagement in action
The impact is already clear.
"These groups have helped to foster a more inclusive and supportive work environment for all employees," says Ellen. As Tackle is a fully remote organization, she calls out the Community Pods, which support local and regional Tacklers in building a stronger sense of community both in-person and virtually. "Thanks to their efforts, Tackle's recent end-of-year party and all-company meetings have become instrumental pillars in bringing people together in a fun and meaningful way."
Ellen also recalls how Tackle's CWG-DEIB, the working group that reduces unconscious biases and barriers to inclusion, supported the People team in redefining the PTO holiday schedule for the calendar year, including incorporating holidays across both Canada and the U.S.
Meanwhile, CWG-ERG, the working group that celebrates the uniqueness of diverse groups within Tackle, put together the building blocks for what an ERG should be at Tackle. "They'll be piloting our She+Tackles ERG with the company this year," Ellen says with a smile.
While participation in the Culture Working Groups is voluntary, the incentive is substantial. "Every member is passionate about maintaining a culture that was intentionally designed so that Tacklers want to be part of it every day," says Ellen. By participating, team members have control over cultivating the values and behaviors that contribute to their everyday environment.
4 tips for enriching your company culture
"Being able to articulate what culture you want to have as a company, with buy-in and a champion mindset with all key leaders, is key," says Ellen. "Defining a culture strategy from that point will be so much easier to build on."
As you build your own strategy, Ellen offers these four tips:
Invest time to define your core values. Ellen believes that aligning your core values to your culture strategy is crucial. "Involving others in the organization, including a bottoms-up approach, means there is an accurate representation from the organization as a whole," she says.
Identify champions in the organization. These team members can be mouthpieces and advocates for your programs. "A lot of times, People/HR is owning and driving programs, but culture is broader than a People function," shares Ellen. "Creating more ownership and opportunities for others will help any culture program or initiative be sustainable and relevant over time."
Be intentional about communications and decision-making. And in the process, keep your culture and core values at the forefront. Ellen says, "For example, if one of your key core values is transparency, that attribute should be felt in all facets of the employee experience, from the first interview and company meetings to emails and Slack threads."
Be edgy. "Think creatively! You can create your own culture strategy, and the more unique it is to you, the more it will drive adoption and the stickier it will be," says Ellen.
Curious about joining a Culture Working Group? Tackle is hiring! Check out their openings here.