GET EMAIL UPDATES FROM POWERTOFLY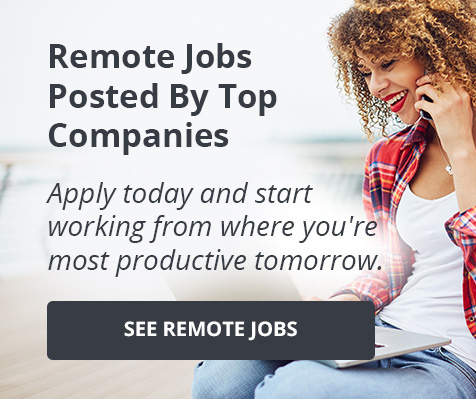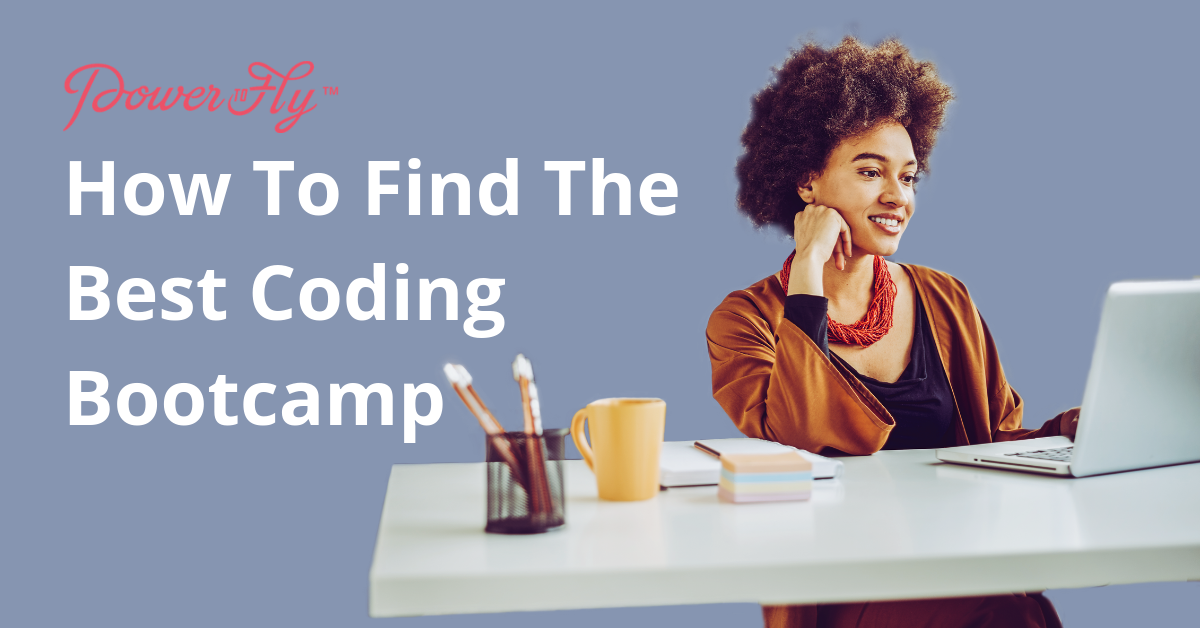 popular
How to Find the Best Coding Bootcamp for You in 2023 — We Asked Experts
So you're thinking of signing up for a coding bootcamp...but where do you begin? To get some answers, we hosted two coding bootcamp experts - Mary and Erica - from Switchup, "The best resource for tech bootcamps", at a PowerToFly Lunch and Learn. Mary and Erica gave us six tips (plus, a few solid resources) on how to navigate the land of coding bootcamps.
If you simply want to know if bootcamps for beginners even exist, then check out our friends at Skillcrush (they really cater to women - we love them - and they hire candidates through PowerToFly). General Assembly (also a hiring partner on PowerToFly, Thinkful, Bloc and Flatiron School, have intro courses that you can take online.

Otherwise, keep reading to learn the following:
How to get a job after a coding bootcamp is finished
How to find a flexible or online bootcamp and organize your search
How to pay for coding bootcamp - scholarships, deferred payments, ISAs...
What basic knowledge do you need before entering a coding bootcamp
How to analyze coding camp reviews
When to apply
Finally... a list of the best bootcamps for 2019 from Erica and Mary at Switchup.org
Will I get a job after I've spent all this time and money on a coding bootcamp? (I talk about scholarships and funding plans in the next item)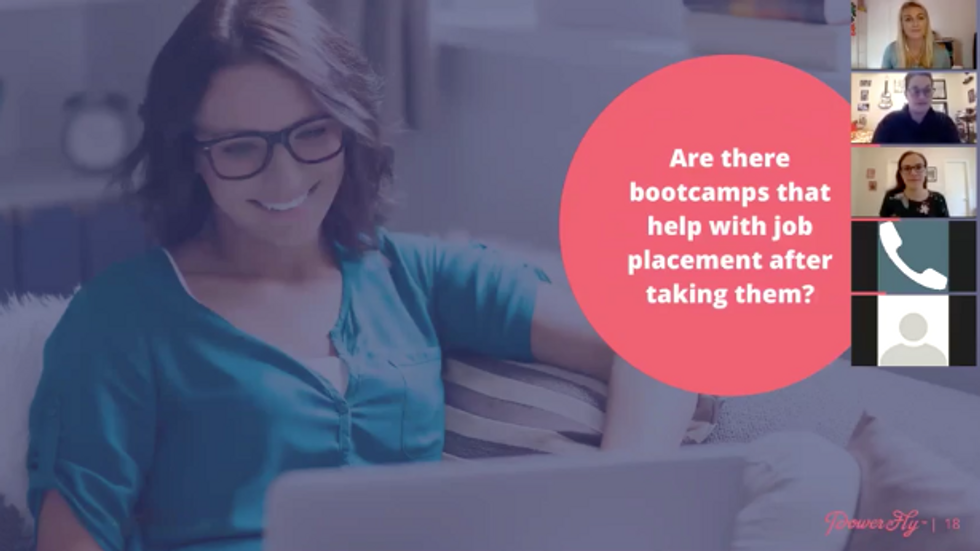 The bootcamp space is so competitive (and some programs are so confident that their curriculum matches what employers need) that they work to find you jobs after you've "graduated". Flatiron School, Career Foundry (they'll refund you if you don't get a job!) and Block (they claim a 97% hiring rate) are three coding bootcamps Erica and Mary pointed out as being supremely confident when it comes to students' career outcomes.
Erica and Mary did advise us to keep a close eye on the fine print around each programs. Some programs (like Career Foundry) guarantee placement within six months of graduating the program. Sometimes it's over a longer period, or even, a shorter one. It really depends. Some bootcamps even offer a full or partial refund if you don't get a job. Be aware that other bootcamps don't guarantee jobs, but they offer mentorship or extra career support to help you in your search.
The overall advice is to sign up for a bootcamp that does have somewhat of a guarantee for students to find a job. With a guarantee in place, you'll find that the entire curriculum is programmed and aligned with the results you need.
And of course, sign up for free on PowerToFly. We have over 18,000 jobs on our platform and a lot of them are super bootcamp grad friendly as well as remote, flexible, work-from-home opportunities.
How can I find a coding bootcamp that matches your needs: flexible schedule? Online courses? [There's a list below for you to search through]

Not everyone can throw themselves into a three-month immersive camp. Jobs, kids, long commutes might keep you from sitting down in an actual classroom. That's ok - there are a ton of flexible options on this list of Best Coding Bootcamps for 2019 that allows you to sort by flexibility and whether you can take courses remotely.
To keep yourself organized, build a spreadsheet to break down what you're looking for. Break it down by what's most important to you:
Price
Experience level needed (if you're a beginner then don't apply to intermediate courses!)
Cost
Time commitment
Will the bootcamp help you get a job? (see above).
Do they provide scholarships, deferred funding, ISAs (keep reading to learn about ISAs)?
How do I pay for coding bootcamp? Scholarship opportunities, deferred and ISA payments
Coding bootcamps can cost anywhere from $0 to $17,000 for a six month program. If you're looking to fund the later part of the cost scale, there are a ton of scholarship options out there, or you could enter a deferred payment plan with a coding bootcamp that's called an ISA (Income Share Agreement) where you pay back a portion of your income after you've gotten a job.
Scholarships: The first step is figuring out what kind of scholarship you could apply for since they range from merit scholarships to ones that are focused on LGBTQ candidates. There are also scholarships specific to the women in tech community that are listed here. Grace Hopper funds a number of scholarships too (btw, we wrote a guide to the Grace Hopper Conference, in case you're attending this year).
ISAs: According to Erica, "App Academy, for instance, has an ISA program where after you graduate from their program and you land a job that is $60,000 or more a year, you pay back 17% of your salary for two years."
How do I know if a coding bootcamp is any good? Read the reviews and job outcome reports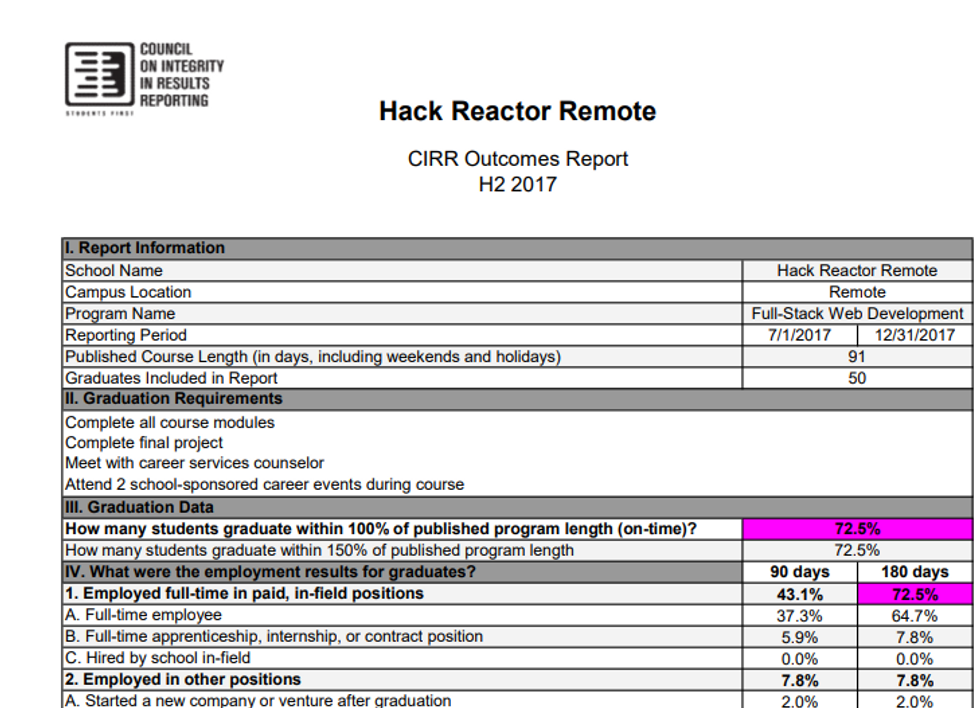 A report from CIRR, Council on Integrity in Results Reporting, that Switch.org uses to evaluate bootcamps.
The advice from Maria and Erica on this is pretty simple - check out their list that has reviews for the Best Coding Bootcamps for 2019.
You can also...
1. Ask bootcamps if they have a third party outcomes report to share with you. If they can't report on their success metrics then move on to the next bootcamp.
2. Look at the CIRR website to get a larger collection on bootcamp hiring data.
3. Ask for reviews by posting the question on social platforms like - LinkedIn, Quora, Facebook.
What basic knowledge do I need to join a coding camp [+ tips on where to fill in the gaps]?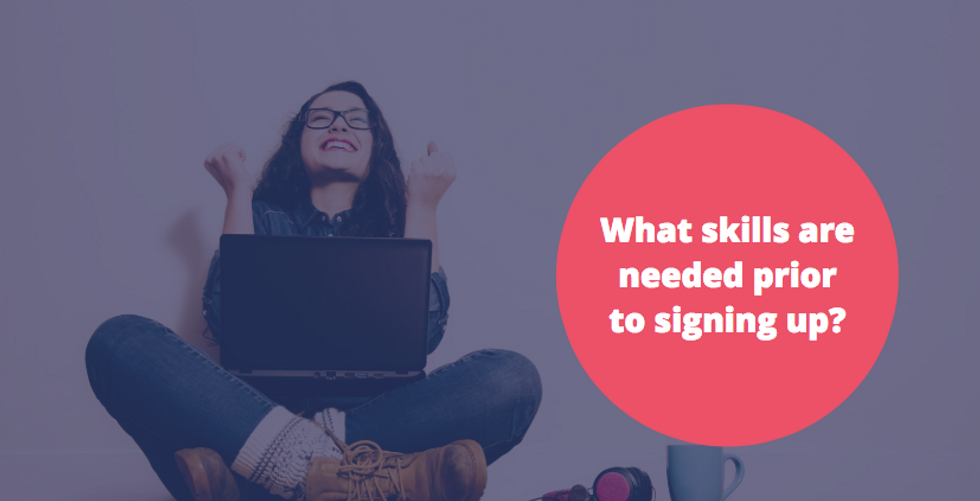 Not all coding camps start from the ground up. There are a number of camps out there that require you to have a certain level of understanding when it comes to coding. Not a problem! Mary and Erica suggest checking out intro to bootcamp programs like Flatiron School's free prep course. You can also brush up on your skills by taking single courses on sites like Coursera.
And some camps, like we mentioned at the beginning of this post, are made for people who are just starting out. Check out our friends at Skillcrush (they really cater to women - we love them - and they hire candidates through PowerToFly). General Assembly (also a hiring partner on PowerToFly, Thinkful and Bloc have intro courses that you can take online.
Is there a best time to apply to a coding bootcamp and its funding opportunities?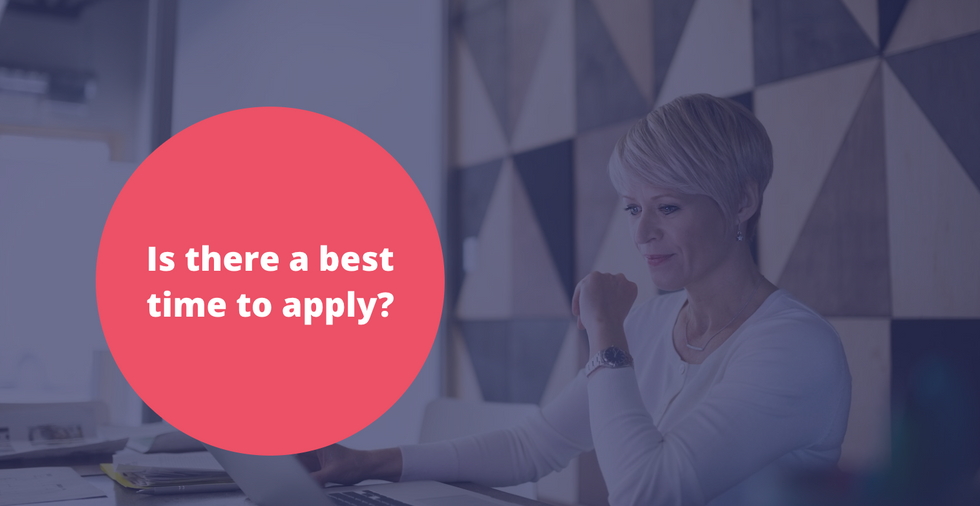 Yes, make sure you pay attention to whether the scholarship deadline is different than the general application deadline. More importantly, be sure that you can commit to the coding camp once it begins. Unlike applying to a university, coding bootcamps start very quickly after applications are accepted. So the best advice we have is to take the time before you apply to ensure you're going to be able to carve out the time needed to do well in your bootcamp of choice.
And... finally, the ultimate lists for the best Online Bootcamps for 2019