GET EMAIL UPDATES FROM POWERTOFLY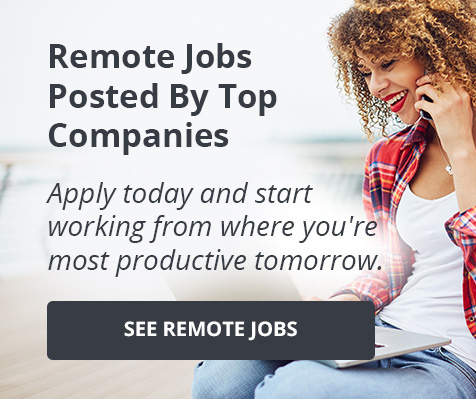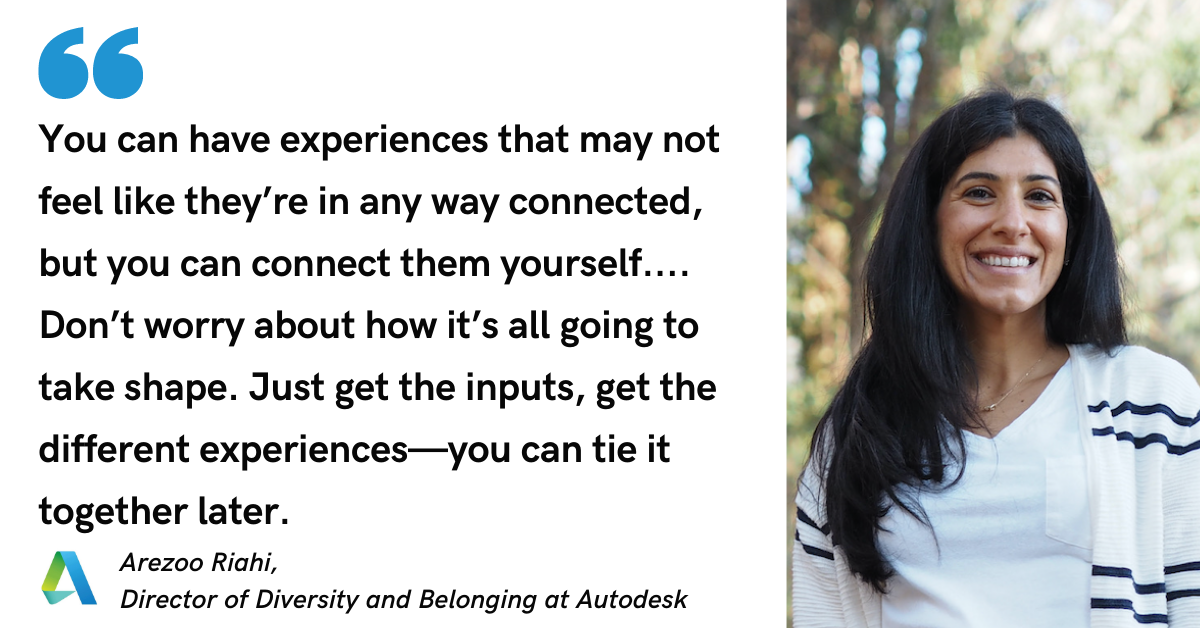 Autodesk
How Embracing What She Doesn't Know Led Autodesk's Arezoo Riahi to a Fulfilling Career in DEI
Arezoo Riahi isn't a big fan of the "fake it till you make it" approach. She'd rather ask for the help she needs and learn from it.
Autodesk's Director of Diversity and Belonging joined the design software company from the nonprofit world after a long career in connecting people from different cultures. While her work had been deeply rooted in DEI values, there were certain parts of the strategy-building aspects to her new role that she wasn't sure about.
"If you know it, show up like you know it. If you don't know it, you shouldn't fake it. And Autodesk didn't shame me for not knowing everything. They helped me, and the entire team, by providing the resources that we needed, bringing in outside expertise to help teach us when we were in new territory," says Arezoo, who has been at Autodesk for three years now, during which she's been promoted twice into her current role.
We sat down with Arezoo to hear more about her path into DEI work, what she thinks the future of that work must include, and what advice she has for women looking to build fulfilling careers, from knowing what you don't know and beyond.
---
Inspired to bring people together
Mocorro, France, Switzerland—though Arezoo grew up in the Chicago area, she didn't stick to just the U.S. when it came time to pursue her education. International internships and study opportunities confirmed the perspective she had growing up: people are more alike than they are different.
"My parents are immigrants from Iran, and I was born in the United States. I saw the benefit of having exposure to a different culture, a different language, different food and rituals, and I was fascinated by that," says Arezoo. It was spending a summer in Mocorro that really sparked her passion for equity, she adds. "I realized for the first time that while we have so many different experiences as individuals, our commonalities are actually much more prevalent."
Arezoo took that focus on bringing people together to the Institute of International Education, where she led the TechWomen program, partnering with different companies to bring 100 women from 23 countries to Silicon Valley for mentorship.
One of those companies was Autodesk. Long before they reached out to offer her a role to join their DEI team, Arezoo got an up-close look at how the company worked, and she was impressed. "I realized that there was a real magic about the people at [Autodesk]," she says. When she was offered the role, it was the people that made Arezoo excited to take it: "I felt like the work I was hoping to drive would stick."
Pursuing positive impact
In moving from the nonprofit to the corporate world to pursue a career in DEI, Arezoo was driven by a conviction that she could make just as big—if not even bigger—of an impact on equity and belonging in that setting.
"I knew that the impact corporations can make on their people and outside of their walls is significant," she says. "And the beauty of working in a corporate setting is that because we are revenue-generating, we're not relying on outside funding to make that impact. There's more agency in designing what that impact looks like."
Arezoo has made that impact across different DEI verticals, from mentorship to employee resource groups to analytics to communications. Along the way, she's picked up new skillsets and strengthened her capabilities as a leader in this space.
Right now, as Director, Arezoo's focus has come full circle, expanding Autodesk's DEI efforts on a global scale. "We're taking a closer look at all the countries we are located in," she says. "The word 'diversity' doesn't mean the same thing wherever you are, and we are looking towards an expanded global approach which would diversify representation and ensure a strong sense of belonging both within and outside the United States."
4 tips for building your career
Arezoo is excited about where she is in her career and what she's working on. She has a few pieces of advice for readers looking to find similar fulfillment:
1. Know what you don't know. As referenced earlier, Arezoo is comfortable admitting when she needs a bit of help. Instead of bluffing your way through, says Arezoo, asking for help can show that you're self-aware and ready to learn.
"You have to be willing to go where you might not know," she says. "In some companies it's like, well, you've got to know everything before you walk into that position. Not at Autodesk. They saw my skills, they saw my potential, and they continue to invest in me despite the fact that I haven't necessarily spent my entire career in the DEI space. That is really powerful when you're trying to grow your career."
2. Embrace a growth mindset. This means believing that you can change, and putting in the work to do so.
Arezoo uses the example of a failed relationship to explain what she means: "You can walk away from it and be like, 'Everything was that person's fault, and I couldn't handle it anymore, and I walked away.' But for me, it's also been about, 'What did I do wrong? What did I do to contribute to this relationship that didn't work?'"

In her personal life, when friends told Arezoo that people can't change and that that's why relationships end, she pushed back. "I refused to believe that. I think I can be better. In order to not have a failed relationship, there are things about me that I can do better or differently," she says.

The same goes for work: failure happens, and with that comes an opportunity to learn. "If you don't have a growth mindset, you will never do your best work. You will always be limited by yourself," she says.
3. Take control of your own progress. "A lot of times, people wait for things to fall in their lap," says Arezoo. "It's not worth it. Start thinking about where you want to be in five years, and recognize whether or not the path you're currently on is going to get you there."
In her own life, for example, that's meant speaking up when team changes would've left Arezoo with a job she wasn't excited by. By taking control and sharing what she wanted, Arezoo was able to land on a happy medium that worked for everyone. "You have to see yourself as a collaborator, particularly in things that are going to impact your own career," she says. She also suggests saying yes when you can - which will be even more challenging as we experience the social stressors of navigating a post-pandemic world - and being willing to try lots of new experiences.
4. Tell your own story in a way that serves you. Ready for a meta reflection? The way this profile is structured—focusing on Arezoo's background seeing value in diversity, following her as she realized she could make an even bigger impact in that space in the corporate world, and including advice for other people to find their own paths to fulfillment—comes from the way that Arezoo has learned to tie together her background into a cohesive story that resonates with employers.
"You can have experiences that may not feel like they're in any way connected, but you can connect them yourself," she says. "I started my career in international development. Then I started doing outreach and recruitment. Then I did information sessions, then selection panels. How are those things connected? Well, what I learned in international diplomacy about building mutual understanding is the foundation of my own philosophy related to diversity and belonging."
"You can have a defined path for a while," adds Arezoo, "but the rest of it is ambiguous. Don't worry about how it's all going to take shape. Just get the inputs, get the different experiences—you can tie it together later."
If you think your story would fit in well at Autodesk, check out their 500+ open roles and apply!


Related Articles Around the Web