GET EMAIL UPDATES FROM POWERTOFLY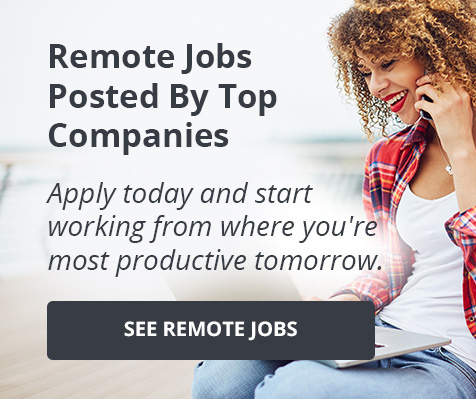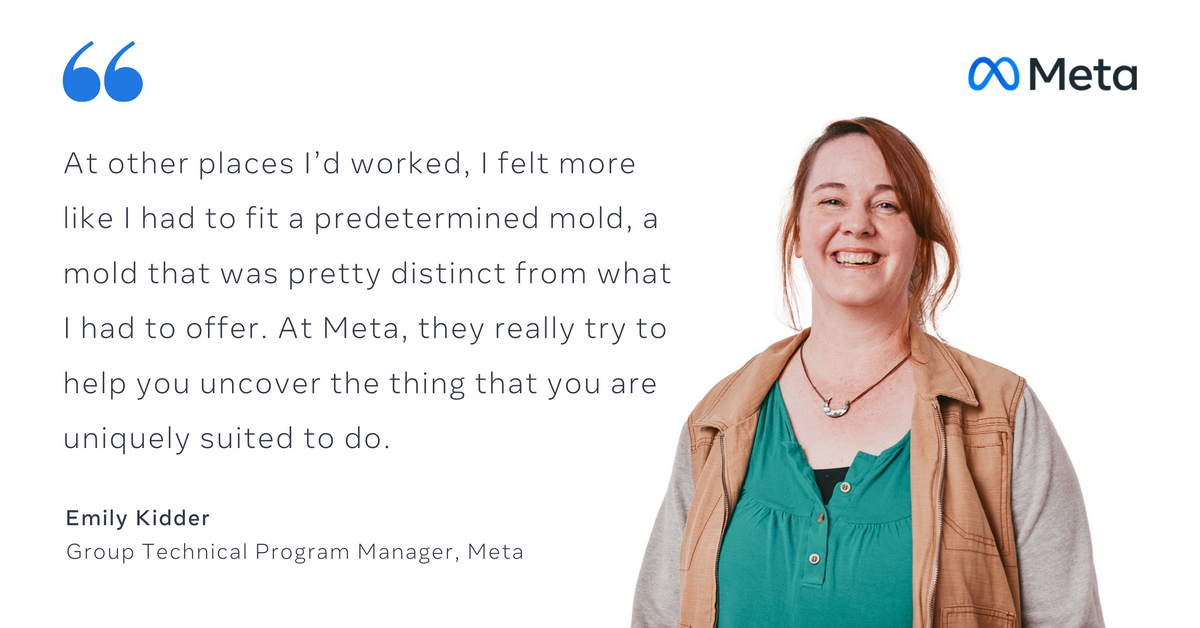 Meta
From Academia to Tech: How Emily Kidder Found Her Home as a TPM at Meta
When Emily Kidder signed up to give a just-for-fun presentation on Linguistics 101 during a work summit, she had no idea it would change her career — and the way she felt about whether she belonged in it.
She'd transitioned into the tech industry after five years of graduate studies in Linguistics and Anthropology, and worked as a knowledge engineer for the five additional years it took her to write her PhD dissertation while working full-time. She stayed in tech after getting her PhD, working as various versions of a product manager for a few different companies, but it wasn't until her first few months working as a technical program manager at Meta when she gave that presentation that Emily really felt like her background was valued by her company.
"As someone who had come into tech from a non-traditional background, I always struggled with imposter syndrome. Even though I'd spent 10 years working with engineering teams and picking up a lot of knowledge along the way, in the back of my mind I would think, 'I'm not an engineer, I'm not really supposed to be here, I just got lucky,'" says Emily.
But her manager loved her talk and asked her to give it to several other teams around the company. In doing so, Emily ended up getting a lot of people excited to work on her then-focus area — improving Meta's international search capabilities in non-English languages — and even secured more funding to expand the team.
"At other places I'd worked, I felt more like I had to fit a predetermined mold, a mold that was pretty distinct from what I had to offer. At Meta, they really try to help you uncover the thing that you are uniquely suited to do," she says. "When I had always struggled with viewing myself as 'technical enough,' to have this experience flipped on its head and be told I have a technical skill that very few people have, and that it could be considered deep subject matter expertise, it unlocked a lot of my confidence. I found my home here after that."
Her home as a technical program manager (TPM) has included stints working across several different teams, but in all of them, Emily has found a shared focus on unlocking people's superpowers. We sat down with Emily to hear more about how that works — and about what sets the TPM role apart from product management roles.
Finding Her Superpower
Emily studied linguistics because she was fascinated by how people communicate. She did field work in the Yucatec Mayan language, both via trips to Mexico and via weekend interviews with a group of diaspora speakers living in the Mission district of San Francisco, where she and her husband had moved back to after she finished her studies.
She considered entering the academic job market, but she knew that to get a tenure-track job, she'd need to be ready to move herself and her family to wherever she was offered a position. Being a Bay Area native, Emily decided to commit to a career in tech — and came to love the ability to launch products that were useful to people.
But it didn't fully utilize her background.
After working on natural language processing projects for Ask.com, Emily leaned on the statistical knowledge she'd gained during her PhD and became a data specialist for the same company. With years of experience gaining product knowledge and working with engineering teams, it was a smooth transition into product management, and then to technical program management at Amazon. But the problems she was solving were primarily focused on the English language, so when a recruiter at Meta let her know there was an opening for a TPM on their international search team, Emily went for it.
This project allowed her to utilize her linguistics background from the start. "A lot of software products are built for English speakers, and systems are modified or rolled out globally after the fact. A lot of assumptions are made that may not hold up if you switch from English to something like Japanese, because those two languages are super, super different," she says. "So I looked into our backend systems to understand how we were processing language — and misprocessing it, in non-English languages."
For the first time, Emily felt like she could bring all of her years of experience — not just her tech years — to bear at work. "For example, at previous companies, my background and my PhD were interesting, but never treated as a superpower. It was more, 'Okay, that's great' than 'How can we apply that in what you do day-to-day?'" she says. "At Meta, I've been really grateful for the management culture, because they really do incentivize managers to find those superpowers."
The 3 Core Elements of Being a TPM
A technical program manager isn't that different from a product manager, says Emily. "Both roles are looking to solve user problems," she explains. "It's just that TPMs tend to solve problems that are more technical in nature."
For example, on that first project of hers, Emily was looking at Meta's backend systems herself, whereas the PM on the project was looking at what users in different markets wanted to see and experience. She collaborated more with the engineering and data science teams, whereas her PM partner worked more with the design and user research teams. "Together, we could be a superhero team by playing to our unique strengths. That's the best case scenario, when TPMs and PMs clearly define what each is trying to do and each is solving distinct pieces of the puzzle," she says.
All TPMs, no matter where they are in the company, have the same three main responsibilities, explains Emily:
Technical depth. "We all spend a lot of time working with our engineering partners, really digging into how our systems work, becoming subject matter experts, understanding the ins and outs of how our systems are built, and being thought leaders in that area. This is about being strong partners with engineers."
Execution. "This is about getting stuff done and bringing visions to reality. There are a lot of amazing visions that the company wants to make real, and TPMs are superpowered at doing that. We connect all the dots. We bring the pieces together. We get the people in the room who need to be in the room to align on what we should be doing."
Leadership, vision, and strategy. "We're not just there to help execute and get things out of the door. We're also there to be thought leaders and to figure out how to make things work better for our users, from the technical systems to the front end."
Managing Others Towards Their Strengths
When the pandemic began, Emily volunteered to join an internal Meta project called the COVID information center. Her team was working to pull in high-quality, verifiable information to help keep people aware of what was going on in their country. She then worked on the Lift Black Voices experience, which Meta rolled out for Juneteenth in 2020, and then similar information centers for climate science, voting, and vaccine information.
Now Emily works with Meta's integrity team, where she's building out a team of technical program managers to help support Meta's goals around preventing harm within the Facebook App.
"Social media can allow people to do amazing things, but keeping people safe and preventing bad experiences is extremely important. We work really hard to make sure that people's experiences are safe," she explains.
And now, as a manager of other TPMs on that team, Emily is able to help them find their own superpowers — and the right roles to let them shine.
"In a company of Meta's scale, there are so many opportunities. If you decide there's something new and interesting you want to try, it's possible here," says Emily.
2 Tips for Becoming a TPM at Meta
If the TPM role sounds interesting to you, check out Meta's open TPM roles!
"If you like helping to solve really complex, interesting problems — if you're the type of person who enjoys helping a vision come to life, creating valuable products for people and seeing things get better and better over time — it's a really great role," says Emily, who shares her two top tips for applicants:
Figure out what kind of technical problems you're excited about. "Some people will be really, really excited about understanding data and how data works. Some people will be really into AI or machine learning and all the cutting edge stuff that it can do. Find the puzzle you are interested in solving and learn as much as you can, you don't have to be an engineer and know how to code to be a TPM."
Don't assume you need to fit a mold, go ahead and apply. "If you have a passion for solving technical problems but you come from a non-traditional background, and if you're like I was and think you may not be technical enough for a role that has 'technical' in the title, don't let that stop you. Just go for it!" says Emily with a smile.
Interested in working at Meta? Check out their other open roles here!