GET EMAIL UPDATES FROM POWERTOFLY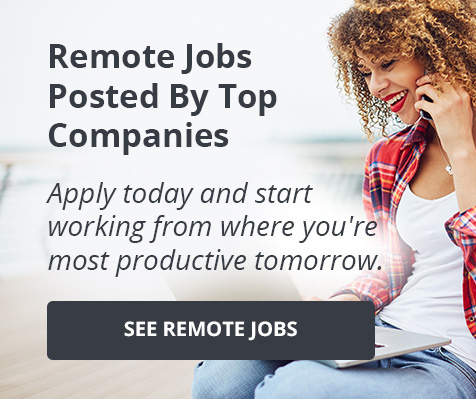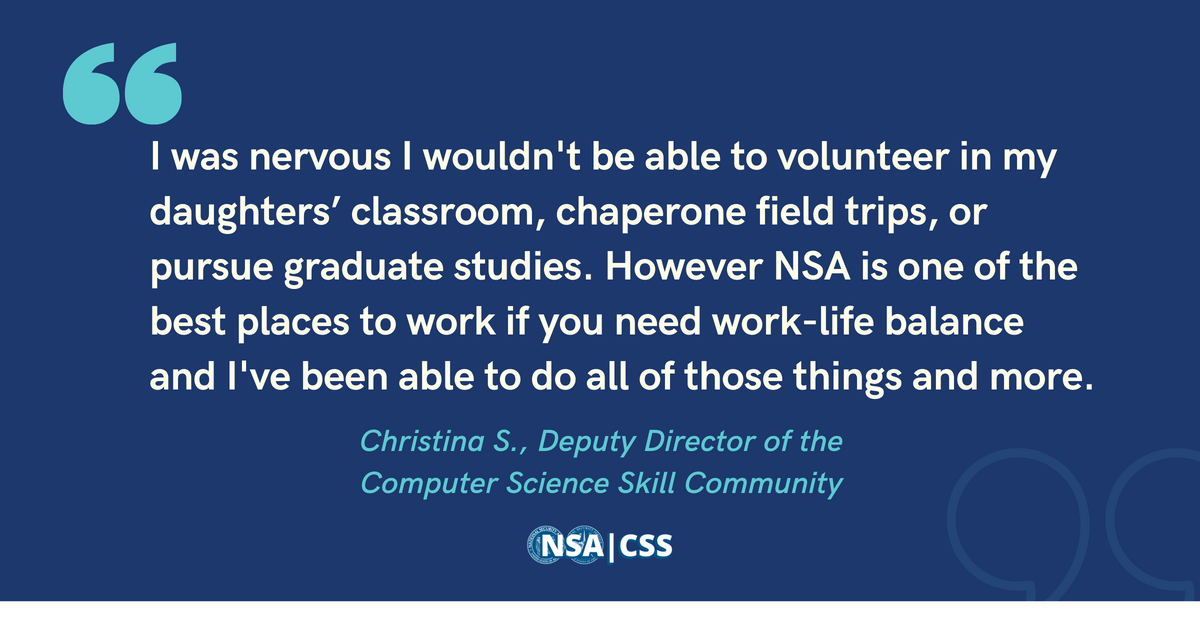 National Security Agency (NSA)
How This Former Teacher Keeps Learning at NSA — And Helps Others Do the Same
Christina S., Deputy Director of the Computer Science Skill Community at the National Security Agency, is a computer scientist by trade and an educator at heart.
Whether she's volunteering, providing mentorship, or spending time with her husband and two daughters, Christina finds ways to infuse learning in every encounter.
We sat down with Christina to hear how she uses her love of education to help others grow in their careers through professional development opportunities and mentorship.
Before NSA
Coming from a long line of educators, it was only natural for Christina to start her career as a high school teacher. After graduating from NC State University, she began teaching math and computer science at a public high school. "I have had the pleasure of teaching a variety of learners," Christina explains. "I taught students that were previously incarcerated, special needs students, and learning disabled."
Her time teaching at the high school level gave her a strong foundation for her current role as Deputy Director of the Computer Science Skill Community at NSA. "My teaching experiences helped me understand that acknowledging and emphasizing each student's unique ideas, thoughts, and talents is critical," she elaborates. "Every student's unique point of view and perspective matters."
Helping Others Through Education
Christina joined NSA through a development education program and, nearly 20 years later, she's the one providing professional development opportunities to other computer scientists that join the agency. In her role in the Computer Science Skill Community, she offers coaching, mentorship, and support to computer scientists who want to improve their knowledge and skills to prepare for their next position.
When a computer scientist joins the community, Christina typically starts their development process by asking them to answer a series of reflection questions. "I ask them to describe their dream job. Then I ask them what they are most passionate about. Lastly, I ask what is stopping them from pursuing their dream job." She then creates a personalized action plan for the student so they can overcome the roadblocks that prevent them from reaching their professional goals. "We go down a path of identifying obstacles and come up with ways to get around each one until we arrive at a solution," she explains. She encourages the participants in the community to take advantage of NSA's tuition assistance and training programs. "NSA has excellent tuition assistance programs that even offer time off to attend class and study, and their National Cryptologic School offers hundreds of courses in various skill fields."
In fact, NSA offers a number of development programs to help employees "enhance their skills, improve their understanding of a specific discipline, and even cross-train into a new career field."
Giving Back to the Community
Apart from technical education and development through the Skills Community at the agency, Christina is passionate about furthering diversity, equity, and inclusion (DEI) in the STEM community. "Some of the ways I do that is by visiting Historically Black Colleges and Universities and conferences such as the National Society of Black Engineers (NSBE) to recruit, give tech talks, and conduct resume reviews and interviews," she explains.
NSA offers numerous unique opportunities for employees to work toward furthering DEI efforts. "I volunteer through NSA's K-12 Mathematics Education Partnership Program (MEPP) and Partners in Education (PIE) programs to give STEM talks, judge science fairs, and tutor at schools in underserved communities."
She's also served on NSA's Graduate Fellowship for STEM Diversity (GFSD) Computer Science committee; she recently became the committee chair where she "emphasized recruitment of a diverse applicant pool." She is also an active member of the African American and Women's Employee Resource Groups at NSA where she is able to give back to the community in other ways. "I participate in events and activities for professional development, community involvement, and improving overall work life," says Christina.
Finding Work-Life Balance at NSA
When Christina first started at the agency 20 years ago, she never imagined she'd have the chance to get involved with all of these extracurricular programs. Switching careers and moving to a new location, she didn't know if she'd be able to balance her new job and take part in the community and professional development activities she always loved. "I was nervous I wouldn't be able to volunteer in my daughters' classroom, chaperone field trips, or pursue graduate studies," explains Christina. "However NSA is one of the best places to work if you need work-life balance and I've been able to do all of those things and more."
Her best advice for newcomers to the agency is to "not be afraid to bring your true authentic self to the office and offer your unique perspective and ideas to solving problems. Whether you have been working at the agency for 30 days or 30 years, you are an asset to your office and you have great ideas, solutions, and insight."
Would you like to take advantage of the NSA's professional development programs alongside Christina? Click here to check out their open roles!