GET EMAIL UPDATES FROM POWERTOFLY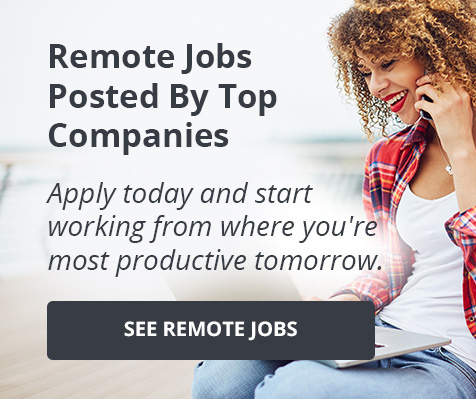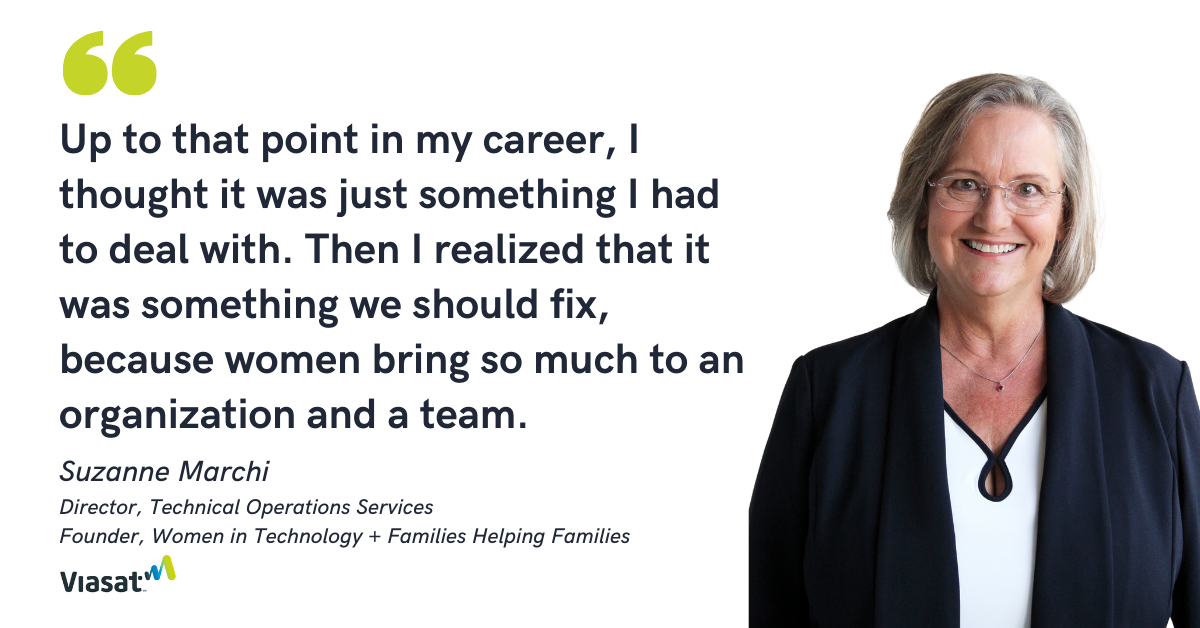 Viasat
Finding Community at Work: How Viasat's Suzanne Marchi Leans In and Lifts Up Women and Families
About a decade ago, Suzanne Marchi sent an email out to all of the managers on her floor. She was a technical operations manager at global communications and satellite internet company,
Viasat
, and reaching out to managers to garner support for the participation of women on their teams to connect with other women in similar positions to build a community.
---
Unfortunately, not a single woman received her email. That's because ten years ago, all of the other technical ops managers at Viasat were men.

That's no longer the case, thanks to Suzanne's organizing and Viasat's commitment to diversify their workforce and foster an inclusive environment for all.
Now, as Viasat's Director of Technical Service Operations, as well as the founder of the Denver branch of Viasat's Women in Technology employee resource group (ERG), Suzanne's emails regularly get read by hundreds of women interested in supporting each other at work. She's also the founder of Viasat's Families Helping Families ERG, through which she organizes information sessions, bonding opportunities, and mutual support for parents and families.
We reached out to Suzanne, who took our call from her beautiful Denver garden (complete with birds chirping and chickens pecking at the ground!), to discuss how she found and fostered community at work, how her career has developed over 13 years at Viasat, and how her management style has adapted to the challenges of the coronavirus crisis.
Creating the community she wanted to see—with support
As you may have guessed from Suzanne's title, her role requires significant technological know-how. She manages Viasat's Network Operations Center, which is responsible for identifying and resolving systems issues. She works with a team of engineers and oversees everything from training and documentation to incident management and capacity planning.
Suzanne remembers two specific "lean in" moments in her career. The first was the event that prompted her to send the email mentioned above. She was in a meeting with 20 people and realized she was the only woman in the room, and not for the first time. "Up to that point in my career, I thought it was just something I had to deal with. Then I realized that it was something we should fix, because women bring so much to an organization and a team," she remembers.
Suzanne started with the women on her floor, and then partnered with Viasat's People & Culture team to identify women across the company, in management, technical and support roles, to set up introductory meetings.
"In that first meeting, the group of attendees was inspired, engaged and it ultimately grew into the ERG it is today, with the goal of educating, empowering, mentoring, and increasing the presence and influence of women at Viasat," says Suzanne. They accomplish that goal by hosting classes, informal get togethers, speaker series, movie nights, webinars, and a book club.
It was when her Women in Technology group was reading Lean In together that Suzanne had her second personal "lean in" epiphany. "I started to look around the room [in meetings] and see that we had those side chairs and that a lot of women were sitting on the edge," says Suzanne. "That gave me an opportunity to coach them and bring them to the table and help them realize that they needed to be there."
Suzanne credits the Women in Technology ERG's success to having the full support of the larger Viasat team and its culture of prioritizing community and learning. The ERG's partnership with the People & Culture team has helped make candidates and new hires feel welcome to Viasat from day one.
What "family" really means at work
Suzanne's success in building communities didn't stop with her work with the Women in Tech ERG. While at a baby shower for a coworker, she realized that there were ways to actively and systematically support parents-to-be that would give working women the best chance of successfully coming back to work, if that's what they wanted. "It makes it so much more pleasant and attractive to stay at Viasat when you have support and a community," says Suzanne, who has been a working mother herself for all of her career.
With this in mind, she started another ERG, this one called Families Helping Families, with the goal of providing a supportive environment, resources, and respect for parents, future parents, and families. It's now spread to several other Viasat offices as well.
Families Helping Families hosts learning sessions, where they explain Viasat benefits and resources like the company's parental leave policy and the nursing rooms available in-office. They organize gifts and assistance for new parents—everything from baby blankets to prepared meals—and give people space to share advice, problems, and stories. "People are able to realize they're not alone, and that their challenges are exciting and taxing all together," she says.
Celebrating life is a big part of what the group does, but Suzanne notes that their goal is to "support families in all seasons of life." Personally, she struggled last year with the stillborn birth of her grandchild. She organized a candle lighting ceremony and support circle last October 15th, during infant pregnancy and loss month, to connect with other parents and grandparents who had experienced similar losses. "One of the people who came to the event in Denver said it was the first time he'd ever told anybody about his loss," Suzanne recalls.
The Families Helping Families ERG has grown organically within Viasat that employees now sometimes go to Suzanne to help them find support within the group. Recently, after a coworker reached out to her, Suzanne organized a private Slack channel for couples who had to pause or give up on their IVF cycles during the current pandemic, as the treatments weren't deemed essential.
Always evolving: managing through COVID and beyond
Suzanne has now been at Viasat for 13 years, and in that time, she's seen a lot of change. "Being an engineering company, innovation is our focus," she says. Throughout her path into different management roles, Suzanne says her inspiration has always been to "take a team, make it better, and move to the next thing," which she says helped her develop "as well as serve the company."
None of that change quite prepared her to manage during a pandemic, though. Luckily, Viasat's been there to support Suzanne and her peers, offering seminars on how to manage remote teams, flexible scheduling options for employees, and upgraded screen-sharing and video conferencing software.
With her own team, Suzanne has increased their team meetings from weekly to multiple times a week to check in on how everyone's holding up. One of the team meetings has no agenda aside from bonding and stress relief—they've even done show-and-tell sessions and remote scavenger hunts.
Through the Families Helping Families ERG, Viasat and Suzanne are offering virtual panels on how to juggle work, parenting, and teaching, as well as increased resource-sharing and support. "It's helping us not feel so isolated and fearful and desperate," she says. "I think that connection to the outside world and to work is really a lifeline to a lot of people."
If Viasat's commitment to their employees sounds appealing, check out their open roleshere.