GET EMAIL UPDATES FROM POWERTOFLY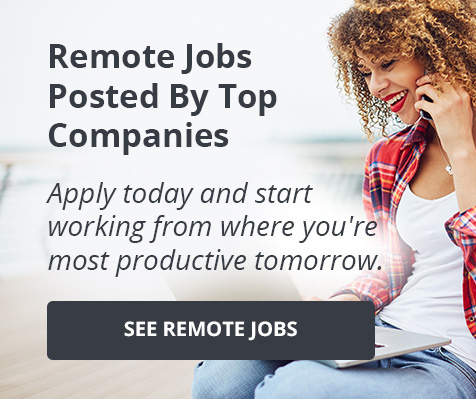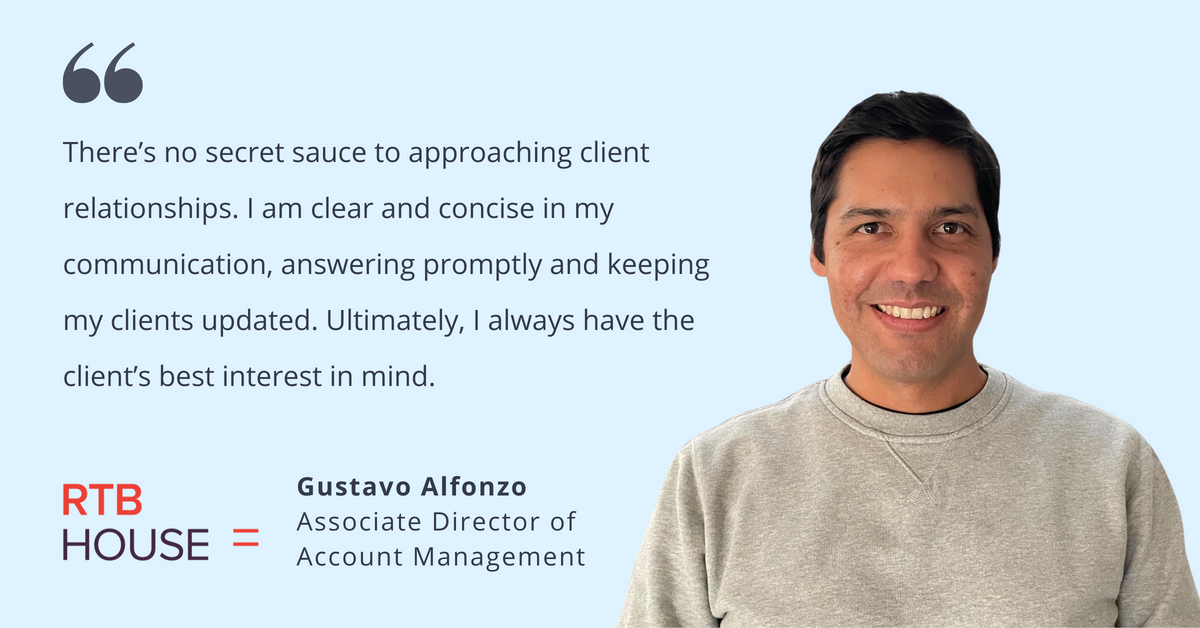 Upskilling and Development
3 Strategies for Building Strong Client Relationships
Insight From RTB House's Gustavo Alfonzo
Growing up in Puerto Rico, Gustavo Alfonzo often spent his afternoons lacing up his soccer cleats, rounding up his friends, and working in sync with his teammates to try and score a goal.
He couldn't have predicted then just how much his time on the field would impact his career.
Soccer, like any team sport, requires coordination, communication, and a deep understanding of one's teammates' strengths and weaknesses. It's these same skills that help Gustavo navigate the complex world of client management.
"Growing up playing a team sport like soccer has influenced how I now approach my relationships," confirms Gustavo. "There are so many moving parts and different personalities, skill sets, and knowledge that all need to be in sync for a team to be successful."
As an associate director of account management at RTB House, the global company providing state-of-the-art marketing technologies for top brands and agencies, Gustavo continues to lean on teamwork and communication to achieve success.
We sat down with Gustavo to learn more about how he's developed his client management skills, including some tips for how you can do the same.
From Marketing to Client Relationships
Gustavo credits his career in client relationship management to his interest in marketing strategy.
For some, the thrill of crafting a compelling campaign ends as soon as the content is published. But for Gustavo, there's something deeply rewarding about seeing a client's goals realized.
"My interest in building strong client relationships comes from wanting to be part of the client's marketing strategy so I can then guide them through the best uses of our RTB House solutions, and ultimately help them achieve their goals," shares Gustavo.
His first exposure to marketing was during college and then again at his first job which was with a large advertising agency. The role was a launching pad for a successful career in the digital advertising industry in which he held various positions including account manager for an Interactive Media division of a free-to-air television network and account strategist with a commerce media platform.
"From my time in digital advertising, I knew people that worked at RTB House, and I knew that RTB House's Deep Learning technology was very strong. So when I saw an opportunity open up on their U.S. team, I reached out," shares Gustavo.
He hit the ground running as an RTB House senior account manager and, in under two years, was promoted to associate director.
You could say Gustavo is thriving in his role — and RTB House's marketing strategy may have something to do with it.
"Leveraging Deep Learning algorithms to drive conversions is a game changer," Gustavo shares, smiling. "RTB House's technology can predict intent signals from our advertisers' website traffic and then target users that are more likely to spend more or purchase more often. It can also engage users that might have shown interest in the past but never completed a transaction."
Demonstrating impact to clients is just one reason Gustavo enjoys his role. "Our campaigns outperform other performance channels constantly, and we're able to confirm this with our clients using Deep Learning technology that drives proven incrementality."
Then, there's the fact that he's building client trust and camaraderie — skills he's been honing since the start of his career.
Tapping Into the Basics (and a Bookshelf)
Gustavo believes there is no magical formula that helps him build trust and rapport with clients.
"There's no secret sauce to approaching relationships. I am clear and concise in my communication, answering promptly and keeping my clients updated. Ultimately, I always have the client's best interest in mind," he shares.
This starts from the moment he jumps on a call with clients. Gustavo seeks to find common ground and create a more relaxed environment.
For conversation inspiration, he turns to his bookshelf. Gustavo aims to read one book a month, whether it's fiction, autobiography, business, travel, or even photography. His interest in reading helps him connect with people on a broad range of topics.
"I prefer having stimulating conversations over the superficiality of small talk. It helps build trust and creates an open dialogue," he shares.
Gustavo also emphasizes the importance of proving impact to clients to instill confidence and establish transparency. At RTB House, this means demonstrating how campaigns convert users and sharing key insights into the company's strategies.
"Account Management is not only client facing. You work with a lot of internal stakeholders, so having good relationships with all team members and keeping them informed of everything going on with the client is key to success," he confirms.
3 Tips for Building Strong Client Relationships
Through his dedication to his clients, Gustavo demonstrates that fostering strong relationships is not just about closing deals, but about establishing long-lasting connections based on mutual respect and trust.
We asked him to share three techniques that anyone can use to build strong client relationships, and here's what he said:
Always offer insights. "In the digital advertising industry, there's a wealth of data readily available. By offering data-driven insights or suggestions to your clients, you can build trust and strengthen your relationships," shares Gustavo. The same can also be said for industries outside of advertising.
Overshare. "Keeping the client informed of all progress is key. They'll never know if you're working on something behind the scenes," Gustavo shares.
Respect your client's time. "Time is the most valuable thing for professionals," confirms Gustavo. "Your clients will appreciate your flexibility with meeting times, designing meetings that are purposeful and concise, and crafting clear communication to avoid back-and-forth messages."
Interested in working for a global leader in online ad campaigns?
Check out RTB House's openings here
.