GET EMAIL UPDATES FROM POWERTOFLY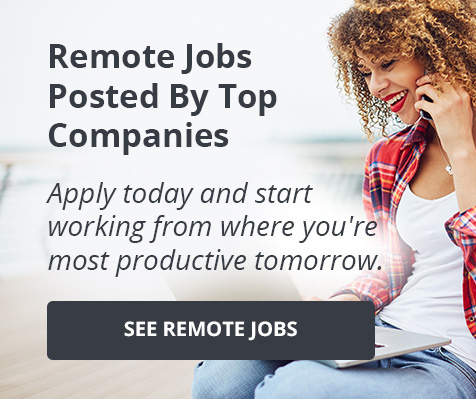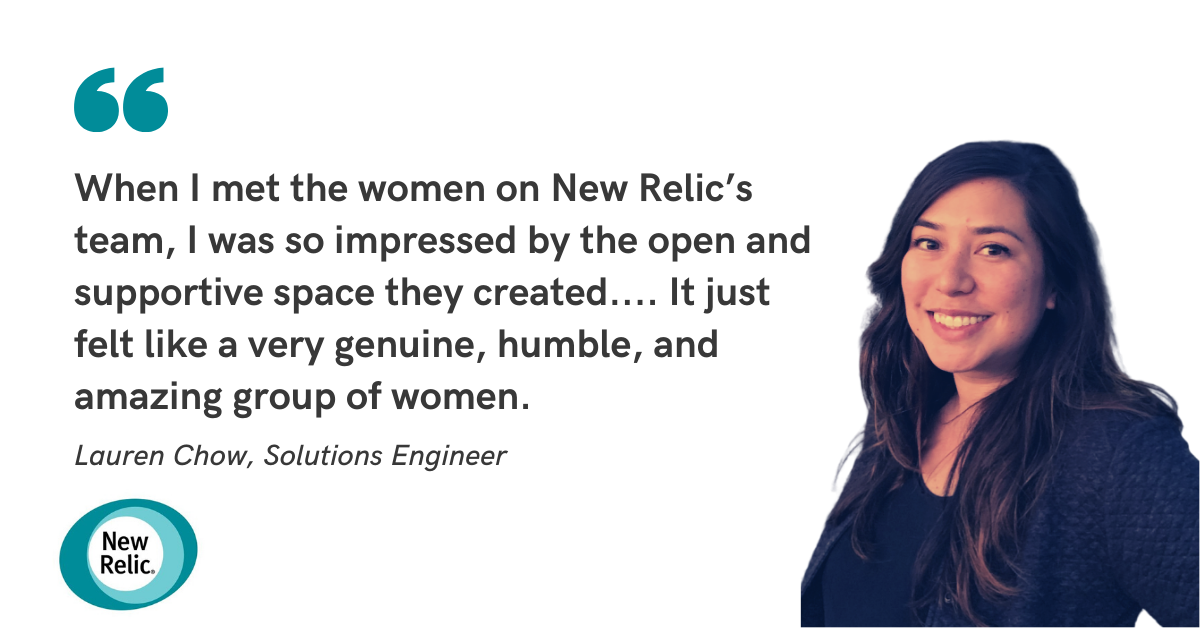 New Relic
Starting a New Job During a Pandemic: How Solutions Engineer Lauren Chow Has Found Her Place at New Relic
Last December, Lauren Chow attended our networking event with cloud-based observability platform New Relic. And in late February, she joined New Relic's team as a Solutions Engineer — a mere three weeks before the company asked its employees to work from home because of COVID-19.
---
Under these uniquely stressful circumstances, it wouldn't have surprised me if Lauren's time at New Relic had started with her feeling overwhelmed and disconnected.
Instead, however, the same things that attracted Lauren to New Relic when she attended their in-person event proved to hold true even when working from home.
"When I met the women on New Relic's team in December, I was so impressed by the open and supportive space they created within that hour. It just felt like a very genuine, humble, and amazing group of women."
This sense of openness and support has carried over to New Relic's response to COVID-19. "There's a lot of kindness, resilience, humility, and compassion across all levels of the organization right now," Lauren explains.
We sat down with Lauren (virtually, of course) to better understand what led her to join the New Relic team and what sparked her interest in pre-sales.
-----
From English to Engineering: Lauren's Career Trajectory
Lauren's career hasn't exactly been linear, but in spite of the apparent jump she made from English major to engineer, there is a common thread that has anchored her trajectory.
"I would argue that coding and writing are both strategic ways to use language," she says.
This interest in language led her to sample both computer science and poetry in college, before ultimately graduating with a degree in English in 2008.
Unfortunately, timing wasn't on her side. "I graduated into a recession with a degree in poetry," she explains, so she ended up in tech after graduation not by choice but by necessity.
"My first job in tech was the first job I could get. I worked as an Executive Assistant at a startup. It was a Jill-of-all-trades kind of role. I got to try on a lot of different hats supporting the non-technical side of the business in PR, events planning, account management, and business development."
While there, she started teaching herself SQL and Python and realized she wanted more technical challenges. "That prompted me to join another startup, where I ran global partnerships and business development — I ran all of our reports and user research using SQL."
This experience made her realize just how passionate she was about technical problem-solving, so she decided to do Hackbright to sharpen her skills and pivot fully to engineering.
Why Pre-Sales? How Lauren Became a Solutions Engineer at New Relic
After Hackbright, Lauren worked at a couple startups, one of which placed her in a post-sales role.
"I noticed that in post-sales, problems are more narrowly defined because customers are already onboard and excited about the product. In pre-sales, you encounter more dynamic sets of problems to solve," she explains.
Having run business development at two startups prior to attending Hackbright, she missed the strategic challenge of helping drive customers' success. "There are unique challenges that come up when you're finding ways to help a new customer, and I really enjoy that."
Her new role as a Solutions Engineer at New Relic lets her solve those challenges. In a sense, she's come full circle, leveraging her language skills to both deploy technical solutions and communicate with customers.
"I am a partner with both prospective customers and existing customers, helping them solve technical and business problems. My day-to-day involves meeting with customers to walk them through details and implementation of various New Relic products," she says.
On Overcoming Imposter Syndrome & Being Part of a Team
Although Lauren has been able to capitalize on her diverse set of skills and experiences to excel as an engineer, the transition wasn't without its challenges.
"Imposter syndrome is very real because it's not just generated from inside – it's also a logical response to larger structures. I had to learn to tune out the noise, both from within myself and from outside."
Ultimately, her success in overcoming imposter syndrome has come down to surrounding herself with good people. "Hackbright was a very supportive community, and I met people there that helped me understand I wasn't alone in how I was feeling. And it was actually when I was at Hackbright that I learned about New Relic, and the great reputation they have for their commitment to diversity and inclusion in the engineering and developer community."
That sense of community was echoed at the event Lauren attended in December, and has only been amplified since, as she's observed the company's response to the current crisis: "We're all remote and connecting through our screens, but we're all watching out for each other and supporting one another."
---
If New Relic's community sounds like one you'd like to join, be sure to check out their open roles here and leave your questions for Lauren in the comments!