GET EMAIL UPDATES FROM POWERTOFLY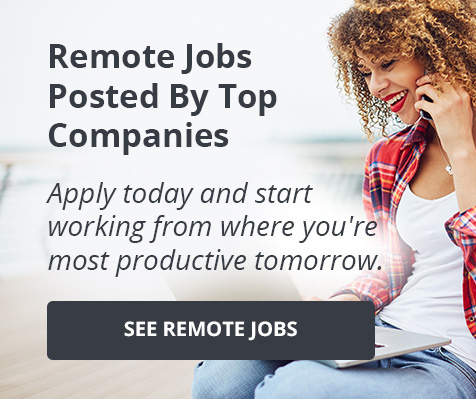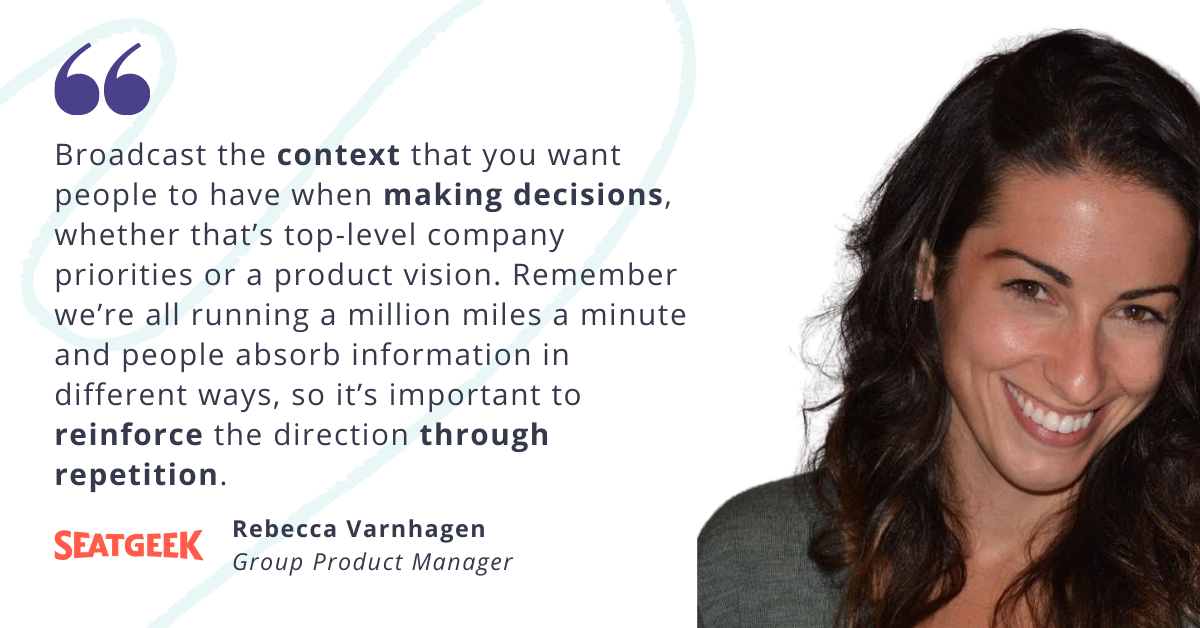 SeatGeek
SeatGeek's Rebecca Varnhagen on Her Top 8 Tips for New Managers in Product
Rebecca Varnhagen found a career in product management through a windy path.
There was her pre-med major, where she quickly realized she got "really queasy around medical stuff" and switched from biological engineering to operations research.
There was her engineering internship at a large tech company, where she was placed on a data-oriented team, felt lost in a sea of Computer Science majors, vowed that the "big fish, small pond" was the better model for her, and decided to look at smaller startup companies after graduation.
"I cared most about finding a role I could give my all and excel at, on a team I wanted to work with every day, and figured a startup would give me that opportunity."
Rebecca's transition to a smaller tech company started with a role in client solutions, which quickly grew into a product role.
When it came time to switch companies to pursue stronger growth opportunities, she took a role in product management at SeatGeek.
Now, five years later, Rebecca works as the ticketing platform's Group Product Manager. She's taken on people management and strategic product management responsibilities, and is confident she's found a company that will support and enable the next phase of her career growth.
We sat down with Rebecca to hear more about her career journey—especially about how she's found the transition from individual contributor to manager, and what advice she has for other professionals looking to do the same.
The Importance of Translation
Rebecca's first product-adjacent job was when she worked in client solutions. Her role was to understand how clients wanted to use her company's platform, then communicate that to the engineers who worked on it.
"It was part strategy, part technical, where I found myself having to translate between business and technical teams by connecting the business reasoning to the product change," she says. "Like I get that you want that button to be pink—but why?"
A major responsibility of hers was figuring out which changes could or should be "one-offs" and which should be built into the platform as a whole. Demonstrating her capability to make those types of decisions led to Rebeca getting an offer to join the product team, where she found natural affinities with her experience doing operations research as an undergrad.
"I've always loved solving problems," she says. "Switching over to the product side was about solving problems agnostic of any one of our clients, and thinking more broadly about the target market and the addressable client base."
Even now, problem solving is a key part of her job—and one of the skills she is excited to pass on to her direct reports and mentees.
Finding a New Problem Space
When it came time to leave her last company, Rebecca knew she wanted three things:
A new problem to solve and a new product she felt connected to
A larger product management and technology team, so she could learn from others and start teaching them, too
A collaborative, friendly culture
She was connected to a hiring manager at SeatGeek and immediately found all of those things.
"I had a connection with our product, which helps get people off their phones and couches, to experience the magic of live events with other people," she says. "And when I met the people at SeatGeek in interviews, I could tell that it would be really easy to work together, and that I could really learn and grow here."
So that's two of her three criteria met. But as she found out her first week on the job, she was bought in on the SeatGeek community, too.
Rebecca attended what was then the in-person Friday happy hour for the product team. Here's how she remembers it:
"My first time there, the room had people sitting on all of the chairs but also standing up against the walls. It was clear that this team used to be small enough to sit at a single table, yet it had grown to 'standing room' and I loved that. It still felt like everyone knew each other and actually wanted to stick around the office at 5 p.m. on a Friday to have a drink with their team. That was when I knew I could see myself there for a while."
Growing in Scope—And Learning Along the Way
After Rebecca's first few years on the job, she started thinking about how to grow her team to support the increasing scope of the product.
"I had to push myself to think about the longer term. Instead of just planning the next few sprints or the next quarter, how do I think about what I want this product to be in a few years and what kind of team I need to support that growth?" she says.
That was a useful skill to apply in the early days of the pandemic, when the future of a ticketing platform for in-person events was up in the air. Now that we're beginning to imagine a post-COVID—or a coexisting-alongside-COVID world, says Rebecca—those strategic decisions have become even more important.
"For instance, do we build an integration with health pass providers, so you could sign in and link your COVID test results to your profile? Or does that only make sense for the next six months and not long-term?" she asks.
While navigating those changes, Rebecca's team kept growing. She moved from the senior product manager level, where she was mentoring an associate PM (APM), to becoming that APM's official manager. When that went well, and the demands on her team increased, she added more people to the team, and now manages several APMs across her group.
And she's still learning how to do it well, Rebecca says.
"My biggest concern [when I became a manager] was that I would be bad at it, but then I realized a lot of the job is just genuinely caring about your direct reports' growth and development, and putting in the time to help them. Then you're doing everything that you can," she says.
8 Tips for New Managers
Once she overcame the fear of failure as a manager, says Rebecca, she got excited about learning new ways to grow in the position. And for anyone else who finds themselves eager, but unsure how to manage others effectively and with care, she has a few tips to share:
Management doesn't only happen in one-on-ones. "It's time spent outside of one-on-ones where you're thinking about how you can give them opportunities for growth—with guardrails, so that they're failing safely and not impacting the goals for your team—and when you're advocating for them, and making sure their work is well-recognized even when they are not in the room," she explains.
Always consider context. "Broadcast the context that you want people to have when making decisions, whether that's top-level company priorities or a product vision. Remember we're all running a million miles a minute and people absorb information in different ways, so it's important to reinforce the direction through repetition," she says.
Hiring is a complex problem. It's not just knowing when you need to hire someone, says Rebecca. Hiring well also requires team design thinking—identifying what the team needs, matching complementary skill sets, and managing different personalities.
First performance review cycle? Lean on what you learned doing peer reviews. "Recognizing the skillsets of others, what they're doing well and what they need to develop, is a critical skill as a manager," she says. "From day one, you're expected to be giving your direct reports feedback and coaching. Use the time before you hire your first team member to hone this skill through peer reviews."
Be patient! "Managing is an entirely different job, and you're doing it for the first time…while you're probably doing your old job, too!" says Rebecca. "You need to give yourself some time to get used to it, and then be good at it."
When managing your replacement, give them space. "They're not going to necessarily do things the way that you did. Focus on setting expectations for outcomes, then figuring out how that person likes to work and how you can coach them within their own working style," she explains.
If you tend to be hard on yourself, make sure you remember to celebrate your team's accomplishments. "It wasn't natural for me to celebrate my own contributions, so it didn't come naturally to recognize those of my direct reports. But it's incredibly important to do so," she says. "Positive reinforcement shows your team members they're valued and helps them recognize that their work is having an impact."
When managing PMs specifically, it's important to convey that they'll never check every box. "That's just not how product management works," says Rebecca. "You're never going to be great at everything. So you need to help your direct reports get to that realization themselves and hone their superpowers."
Ready to grow your career? Learn more about SeatGeek's open roles here.