GET EMAIL UPDATES FROM POWERTOFLY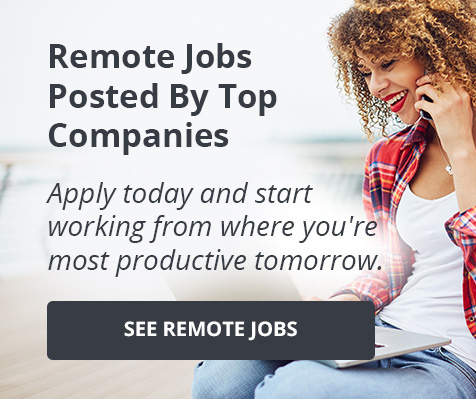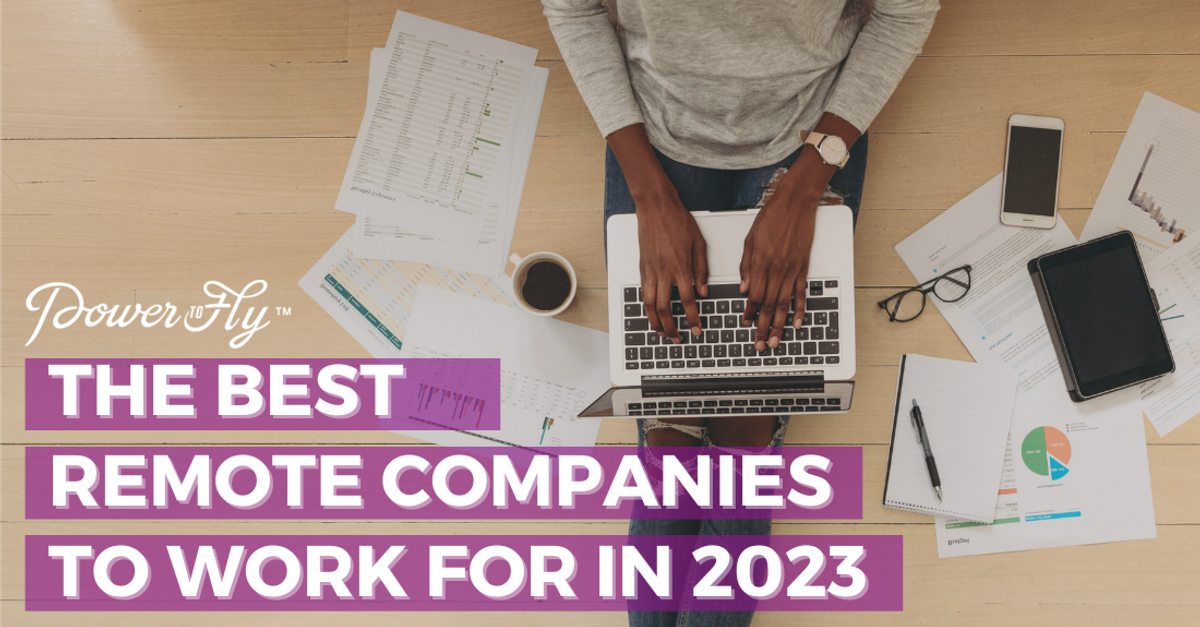 Remote and Flexible Work
The Best Remote Companies to Work for in 2023
Every year, PowerToFly creates a list of the best remote companies to work for.
For 2023, we prioritized selecting companies that are remote-friendly and have made long-term commitments to hiring and supporting employees who choose to work from home. We think they have the perks, values, and organizational framework to allow all employees to flourish in their careers, regardless of location.
So, what are the best companies to work for remotely?
Read on for our list of the top ten remote companies to work for in 2023. We've included a description of what they do and why we like them, and, of course, links to their open roles!
Announcing the 10 Best Remote Companies to Work for in 2023:
What they do: ScienceLogic is a leader in AIOps and hybrid-cloud IT management. Some of the largest global enterprises, federal agencies, and managed service providers trust ScienceLogic's modern platform.
Why we love them: They have a remote-first culture. ScienceLogic looks beyond people who have the resources to commute to an office. Instead, they focus on hiring the right talent. In the US, all positions have the option to be remote-first. ScienceLogic gives their employees control to choose what makes the most sense for them and their families.

Learn more: Check out ScienceLogic and explore their open roles.
What they do: Carbon Direct is a purpose-driven carbon management firm dedicated to making carbon science actionable with their end-to-end platform. Their mission is to enable organizations to reduce, remove, and utilize their emissions with carbon science.
Why we love them: We are particularly impressed by their mission: "To enable organizations to reduce, remove, and utilize their emissions with carbon science."
Carbon Direct offers a remote-friendly work culture and reimbursement for your work-from-home setup. Technology has made it possible to engage in productive work and cultivate a sense of community. This year, Carbon Direct is positioned to aid in climate action while continuing to build a diverse, global, remote-first team. They gather for company retreats from time to time, too!
Learn more: Check out Carbon Direct and explore their open roles.
What they do: Flywheel's team is distributed, with employees across the US and the intent to expand globally. They stay connected virtually via Slack and Google Teams, and employees based in Minneapolis can enjoy their newly renovated office space.
Why we love them: All company meetings are remote first, with hybrid options to support the comfort level of all employees. "No Flywheelio will be required to return to the office or attend an in-person meeting." Simply stated, we love this promise. Long live remote work opportunities with Flywheel!
Learn more: Check out Flywheel and explore their open roles.
What they do: Zapier is on a mission to make automation work for everyone. They know how to work smarter, not harder. The leader in no-code automation, Zapier allows you to automate workflows and move data across 5,000+ apps. They were also recognized by Forbes 100 as a top cloud company in 2022, and received a Most Loved Workplace Certification in 2022.
Why we love them: As a fully remote company with 700+ team members across 40+ states, 38 countries, and 18+ time zones, Zapier has adopted a culture of fully asynchronous work.
Learn more: Check out Zapier and explore their open roles.
What they do: Founded in 2013, Skedulo is headquartered in San Francisco with offices in Australia, Vietnam, and the United Kingdom. Skedulo empowers hundreds of organizations, including The American Red Cross, DHL, and Sunrun, to seamlessly schedule and service over 35 million appointments worldwide.
Why we love them: Skedulo's global teams are collaborative, ambitious, and innovative. They are all about flexibility and building working practices that suit new realities, responsibilities, and schedules. Fully inclusive, Skedulo offers hybrid and remote positions.
Learn more:
Check out
Skedulo
and
explore their open roles
What they do: ServiceNow serves over 7,400+ customers (approximately 80% of the Fortune 500), and they were on the 2021 list of FORTUNE World's Most Admired Companies®. They believe in the power of technology to reduce the complexity of our jobs. ServiceNow strives to make work work better for people with modern digital workflows.
Why we love them: ServiceNow understands that your best work happens when you live your best life and share your unique talents. They subscribe to a flexible, remote-first work culture that leads with trust. For some ServiceNow team members, home is the primary workplace. Others choose coworking spaces and make team-guided and individual-led decisions on how and when they use the workplace to collaborate.
Learn more: Check out ServiceNow and explore their open roles.
What they do: Yelp connects people with great local businesses and provides a one-stop local platform for consumers to discover local businesses of all sizes.
Why we love them: Yelp employees live, work, and play in five-star cities throughout the United States and Europe. If you apply for one of the hundreds of remote roles open at Yelp, you will have access to 5-star benefits. Plus, Yelp offers transgender benefits, adoption/daycare/baby-bonding leave, mental health and wellness perks, and a work-from-home reimbursement program.
Learn more: Check out Yelp and explore their open roles.
What they do: Zendesk builds software for better customer relationships, empowering organizations to improve customer engagement and better understand their customers.
Why we love them: Zendesk believes in a healthy work-life balance and proves it daily. They recently shifted to a digital-first approach. We love that they commit to reasonable work hours and promote R&R through "recharge Fridays," where team members take time off to reset independently or with friends and family.
Learn more: Check out Zendesk and explore their open roles.
What they do: GitHub is a place to share code with friends. Over 24 million people use GitHub and build amazing things together across 67 million repositories!
Why we love them: GitHub encourages "Hubbers" to work autonomously. Work/life balance is essential, which is why they offer flexible work schedules and unlimited PTO. GitHub believes that people should work wherever they're happiest. GitHub is a remote-first company, but they have offices throughout the US, Europe, and Asia.
GitHub believes you can do your best work wherever you are. You'll receive a stipend to outfit your home office and recurring reimbursements to refresh it if you work remotely!
Learn more: Check out GitHub and explore their open roles.
What they do: Workiva is innovative in everything they do. Today, people all over the world use their platform to seamlessly orchestrate data among their systems and applications for transparent and trusted reporting and compliance.
Why we love them: Workiva strives to create a workplace where everyone is comfortable bringing their best, authentic selves to work every day. And we think that is huge.
On day one, every full-time employee starts with stock options, vacation, and the opportunity to enroll in discounted stock purchase plans. In addition, Workiva offers 12 weeks of paid parental leave, support for health and wellness, a remote-first environment, and flexible work hours.
Workiva's strong culture of diversity and inclusion increases employee engagement and empowerment.
Learn more: Check out Workiva and explore their open roles.
What they do: Relativity creates intuitive software that helps law firms, government agencies, financial institutions, and other major corporations quickly find the truth in data.
Why we love them: With over 200 employees and more than 300,000 enabled users in 48+ countries it is clear that Relativity is making an impact. The Chicago Tribune has recognized Relativity as one of Chicago's Top Workplaces for 10 consecutive years and they continue to scale their team globally.
Learn more: Check out Relativity and explore their open roles.