GET EMAIL UPDATES FROM POWERTOFLY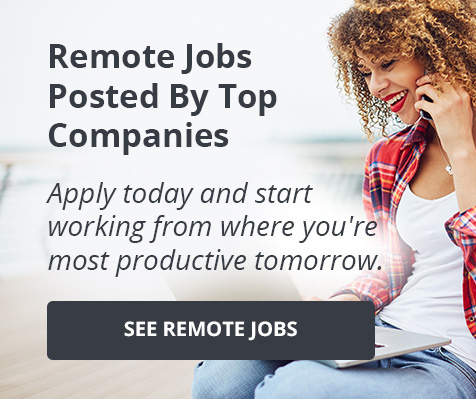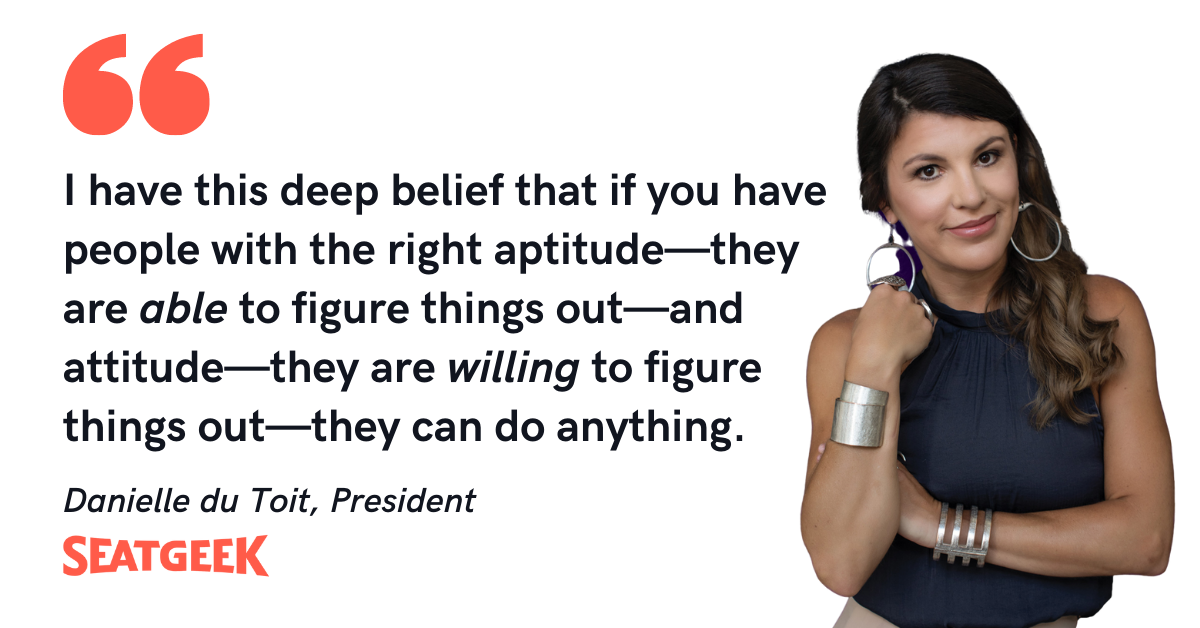 SeatGeek
Why SeatGeek President Danielle du Toit Believes Aptitude & Attitude Are More Important than Experience
Something happened to Danielle du Toit when she was 23 that changed the way she worked forever.
She was interviewing for a role as an IT director at a private school. They were looking for someone with 15 years of experience. Danielle had two, but she knew she could do the role.
"I went to see the recruitment agency and when reviewing my resume they remarked that I had 'exactly zero of the things [on the list] needed for the role'. They proceeded to explain that they needed someone who understood how to run a network, and I recall thinking the conversation was ridiculous," remembers Danielle.
"It created a mindset that has been pivotal in my life since then. It's how I hire. I have a deep belief that if you have people with the right aptitude—they are able to figure things out—and attitude—they are willing to figure things out—they can do anything," she explains.
If you had the chance to sit down with Danielle and experience her focused energy and her calm confidence, like we did, it wouldn't surprise you to know that she ended up getting that job.
(She found the head of the school and invited them for coffee; soon after, she was the school's new IT director, managing a team of seven people, some of them in their 50s.)
But since you didn't get a chance to meet Danielle face-to-face—or Zoom-to-Zoom, that is—we've gathered her story and her insight, organized around five of her other deeply-held beliefs that shape the culture she's building at SeatGeek.
Belief 1: The brain is a muscle
Danielle grew up in Zimbabwe and went to university in South Africa. From primary school lessons to college seminars, she had a contrarian attitude to traditional memorization-based learning.
For instance, she once got in trouble for her opinion about long division. She didn't believe in doing it by hand to more than two decimal points.
"What adult is going to sit and try to do long division in their head, versus just getting out their calculator? It made no sense to me," she says. "I also refused to learn anything by heart, and didn't believe in studying. I had this idea that my brain was not a storage device. It was a muscle."
Danielle saw university as another opportunity to be forced to memorize facts, and almost didn't go. "'I don't want to learn things, I want to do things,'" she remembers.
But she got a scholarship (so long as she'd agree to return back to Zimbabwe and teach after—more on that in a minute), so she went to university and studied computer science and physics.
Danielle did end up teaching for two years, though not in her home country, which was suffering from an inflationary crisis. It was the teaching job that prepared her for the IT director role she ended up talking her way into. And that same practice of putting herself up for jobs she wasn't 100% qualified for eventually took her from IT to marketing to sales, and from Cape Town to New York.
Now, Danielle is the Enterprise President of ticketing and live-events experience platform SeatGeek.
But she couldn't have predicted that.
Belief 2: Career ladders are "the worst idea ever"—it's all about "career adventures"
When career advisors asked a teenaged Danielle what she wanted to do for work, she says she'd answer with, "'I have no idea what I want to be when I grow up!'"
An aptitude test didn't help—it told her she was bright enough to do whatever she wanted.
But it did contribute to another one of her career beliefs: there's no such thing as a straightforward career ladder.
"There isn't even a career jungle gym," she explains. "Careers are an adventure: the process of getting closer and closer to what is most valuable to you, then using the clarity of that experience to make your next decision."
Danielle wouldn't have imagined that she'd be living in New York, working in the "high-paced, things-need-to-be-fixed environment" she loves, and constantly learning more about the ticketing industry as she seeks to lead the company out of COVID and into the new market share they gained by being customer-first during the last two years of uncertainty.
Belief 3: No one has all the answers
Danielle had no experience in ticketing before she joined SeatGeek, but that knowledge gap has proved to be an advantage. "Generally, I spend about two years at a company because I start to feel like I'm running out of things I can get excited about from a learning perspective," she says. "I'm three years in at SeatGeek and I'm nowhere close to that feeling."
Embracing a learner's mindset goes beyond making sure your job challenges you, notes Danielle. It's a vital way to stay confident, and it also leads to better problem-solving.
"We have imposter syndrome when we believe we have to have all of the answers and when we believe our value is attached to what we know. That's a problematic belief, because we will never have all of the answers," she says. "There will always be people who have more experience than us. What we do is bring our brains and our perspective, and that is 100% completely unique to you."
As a leader who manages multiple departments, teams, and people, Danielle is building a culture that deeply believes no one person has all the answers, including herself.
"It doesn't bother me if I don't know something. In fact, it can be a delightful place to be. I don't care if people challenge me—I joke with people that I'll fire them if they don't challenge me. I just can't relate to the mindset 'I'm a leader so I have all the answers,'" she says.
Belief 4: Truly honest feedback is a gift
Danielle's favorite part of her job is the opportunity to watch others grow and to help them along the way. She knows that it takes different people with different perspectives to find success.
But that being said, she also knows that she can help people along by giving them the feedback they need to reach the next level. Even if it's not fun to hear.
"I joke with my team that the real secret reason I go to work has nothing to do with work at all—it's because I'm passionate (perhaps a little obsessed) with advancing and supporting people's careers," she says. "The most beautiful things happen when you provide truly honest feedback."
Danielle thinks it's extra important that she, as a woman leader, makes sure her voice is heard in these ways. "A really important aspect of a leader is to have empathy. If you haven't experienced certain biases, how do you have empathy? It's possible, but more difficult," she notes.
Belief 5: Leadership isn't about control
Anyone looking to find their own path to leadership, says Danielle, should be starting today.
"Don't wait for a leadership title to think of yourself as a leader," she says. "The idea that a leader is somebody that gets to control things is not a healthy view. In my mind, a leader is someone who's able to paint a vision, to influence, inspire, and motivate someone. You don't have to wait for a leadership position to do any of those things."
If you're interested in doing that at SeatGeek, check out their open roles!