GET EMAIL UPDATES FROM POWERTOFLY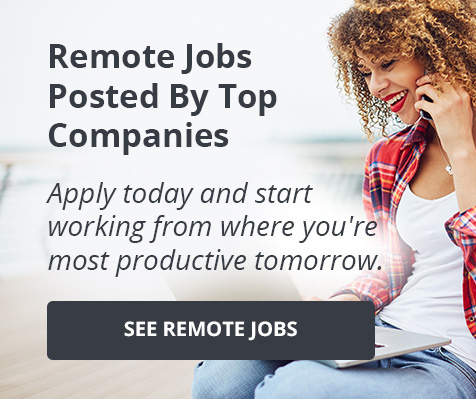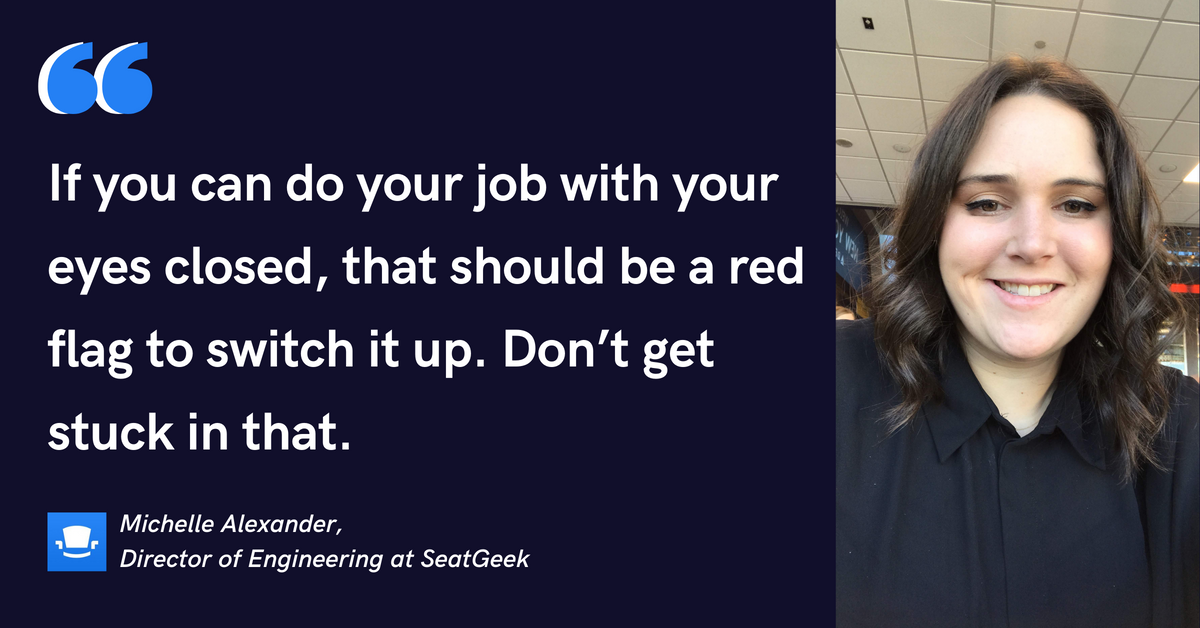 SeatGeek
How SeatGeek's Director of Engineering Michelle Alexander Hires Senior ICs (And How She Helps Them Grow)
Michelle Alexander didn't know if she'd like managing an intern.
This was years ago. She was working as an iOS engineer and was given the opportunity to work with her company's summer interns. She felt like her learning had slowed, and she figured that even if she didn't like the experience, she'd learn something through the process.
"I assumed, 'I like building products, I'm not going to be great at mentoring someone else, it's not my thing, I'm not going to find it enjoyable,'" reflects Michelle, who is now the Director of Engineering at live event ticketing platform SeatGeek (where she manages a whole lot of people beyond just interns—but more on that in a second).
She was wrong, though. Michelle quickly saw that managing interns wasn't like sitting in class frustrated with the peer who wasn't paying attention; it was a chance to create through others.
"It was really awesome, seeing things click for them. I got as much satisfaction from seeing her build out a feature and launch it and test it as if I was doing that myself," says Michelle.
That was the moment that Michelle decided to move from her role as an IC to become an engineering manager. A few years, company changes, and promotions down the line, she's firmly on the management side of things—but one of her favorite things to do is to work closely with senior engineering talent who don't want to make that switch.
We sat down to hear more about how she's approached her own growth path and how she helps senior ICs find fulfilling paths of their own. (She's also hiring a bunch of those, so read on for her interview tips, too!)
Making tangible impact, sometimes through others
Michelle's journey into engineering started on a not-uncommon path (for millennials, anyway): she moved from Neopets to Xanga to Myspace to a computer science minor in undergrad to a master's degree focused on computer vision.
She thought she wanted to do a PhD, but an advisor helped Michelle realize that she preferred building stuff to writing papers about it, so after she finished up her master's, she went into industry.
"Creative problem solving and learning have always been big drivers for me," says Michelle, who enjoyed her first few years in CS roles but soon found herself frustrated by feeling her learning slow down. That's when she took on the intern, mentioned above, and got involved with her company's Girls Who Code partnership.
"I learned that I really enjoy teaching people and helping people early on in their career," she says.
It was hard, at first, for Michelle to walk away from coding every day and the tangible accomplishments of building things, but she took on her first management role for full-time employees and quickly grew her team from three to 12 direct reports. As her scope expanded, and she got to start working on bigger projects to improve the system her team operated in and determine their future strategy, Michelle realized she'd found the right sweet spot for her preferred mix of hands-on problem solving and growth.
"Engineering management and people leadership is still solving problems, it's just more of an art than a science. But I'm finding that I get the same fulfillment through setting up people and making them effective, through thinking about what's the most important thing to work on, so I'm still motivated to continue and figure out and learn more," she says.
5 ways for ICs to keep learning and growing
Michelle also recognizes that not everyone enjoys management. Her biggest piece of advice for someone considering (or being asked to perform) a management role that doesn't excite them? "Don't do it!"
"Growing into people management is a career change, it's a different path," she says. "If you don't have an interest in management, there's no reason you should move into it—there are so many ways you can grow as an IC and have a lot of impact and influence."
Here's how Michelle coaches the senior ICs she works with on how to grow in ways that are right for them:
Keep an eye on how much of your work challenges you. "If you can do your job with your eyes closed, that should be a red flag to switch it up," says Michelle. "Don't get stuck in that."
Figure out what you want for your next adventure. Is it to learn how to work with others better? To shore up technical knowledge? To work on cross-functional projects? Identify what you're interested in—and then tell your manager! "The more information I have about how you want to be growing, the more I can use that as I play Tetris to align your goals with what we need to turn out for the company or the team," says Michelle.
Explore new areas. If you're interested in mentorship, getting interns is a great place to start. And as Michelle found the first time she was on the other side of the table during a one-on-one, leading others through their goals and problems can make you better at talking to your manager about yours. "It was this moment of, 'Oh, this is what I was doing to my manager!'" says Michelle of the karmic twist she experienced sitting across from a too-quiet mentee for the first time. If it's not mentorship that interests you, sign up to be the tech lead on a new project, or to switch domains (like going from an iOS project to a backend one) for a little while.
Determine what matters most to you. If you're considering a longer-term end state, what do you care about most? Is it a certain title? Salary? Or is it more about access? "Do you expect to get to make decisions you're not making today? Is there some forum you'd like to be in? What does that next hop mean?" asks Michelle. "You don't need to be a director to influence strategy." She suggests considering a whole range of non-management roles and progression paths: becoming a staff engineer or senior engineer, working across the company on strategic initiatives, or becoming a principal or an architect.
Ask questions! Whatever role you're in, whatever your seniority, you and others around you will be served if you're asking good questions, says Michelle. "I have this one engineer who is just brilliant at this—he doesn't come off looking like he doesn't understand, he comes off as moving the conversation forward, creating space for other people, and getting answers. It improves the understanding for your whole team," she explains.
3 things SeatGeek is looking for in engineering ICs
As the entertainment ticketing platform continues to grow, one of Michelle's major responsibilities as Director of Engineering is making sure that the company has the talent needed to push forward its strategic vision. Here's what she's looking for:
A depth of hard skills. This doesn't mean you need to know any certain language or platform, just that you know how to go deep. "It's more of, 'Do you have the engineering skillset?' You can learn the language here," says Michelle.
Experience thinking in bigger-picture ways. "Where I start seeing senior ICs differentiate themselves is by talking a lot more about system design as well as architecture," she says.
An interest in helping other people. This doesn't have to be in management roles—Michelle is looking for people who give back to their teams in general. "Maybe you're a mentor, someone who really enjoys helping others grow. Maybe you have a passion for how teams can operate most optimally, and you're going to want to help out with team rituals. Maybe you've built systems that scale and can collaborate with others around you to bring the next level of traffic to the site," she says.