GET EMAIL UPDATES FROM POWERTOFLY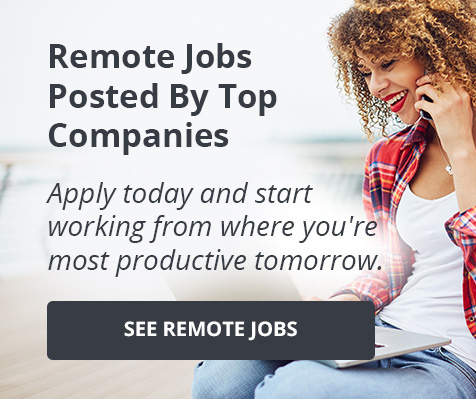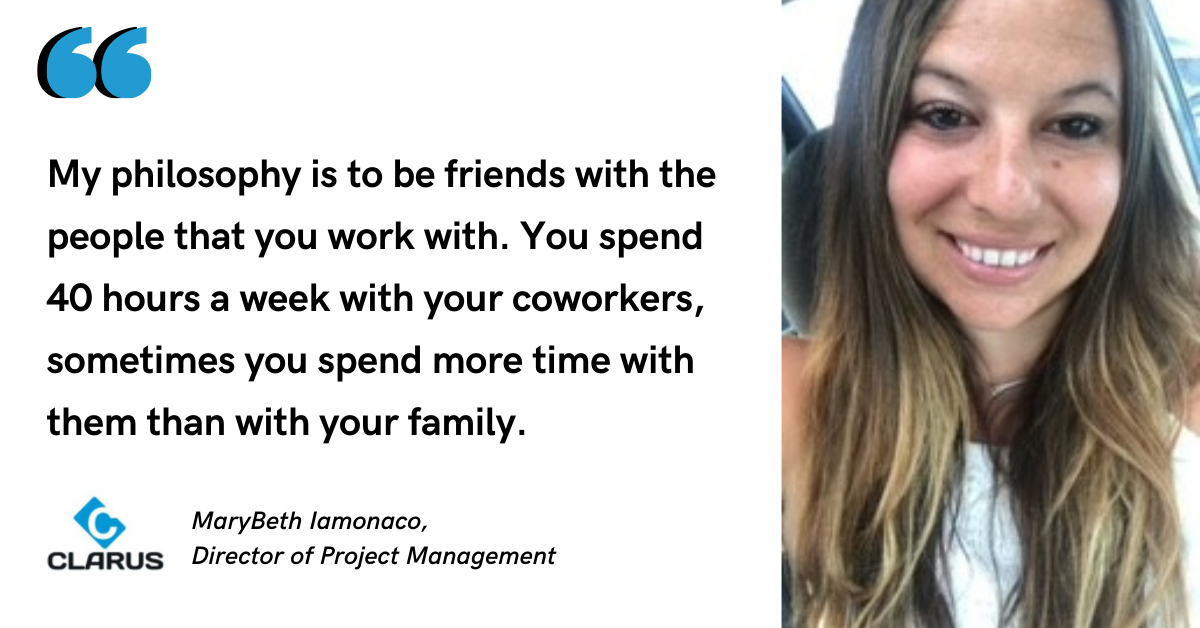 Clarus Commerce
How Clarus Commerce's MaryBeth Iamonaco Makes Work Feel Like Home
MaryBeth Iamonaco doesn't take family for granted.
"We're super close," explains MaryBeth. Which is what keeps them a 10-minute drive from each other in the beautiful state of Connecticut, where MaryBeth most feels at home. When she's not working, she enjoys spending quality time with her family, a close circle of friends of 30+ years, and her golden retriever, Rhody.
After the sudden passing of her father, she came to appreciate that family bond even more. "Unfortunately, you don't always realize the strength that you have within your family until something terrible happens," elaborates MaryBeth. "Thankfully [my family] had that bond to get through."
As Director of Project Management at Clarus Commerce, MaryBeth works hard to recreate that sense of unconditional support on her team by fostering an environment where team members are seen, encouraged, and challenged to grow. "There's nothing more important to me than my team feeling supported," she exclaims."Let's go back to making work feel like home!"
We sat down with MaryBeth to learn more about her leadership journey. Read on to hear her story, from how she started her 15 year trajectory at Clarus Commerce to her tips on how to foster an environment of belonging and support for your team.
Open-mindedness forges opportunities
Early on, MaryBeth knew she didn't want to be stuck with limited opportunities, so she decided to pursue her studies in a field that would keep her career options open: sociology. "I didn't want to be married to something that I didn't know would work out for me," she explains. "I believe whatever happens is meant to be."
After graduation, MaryBeth saw an ad for a job opening for Clarus Commerce on Craigslist and decided to apply. She folded up her resume, stuck it in her pocket, and set off to the Clarus office. "I was a firm believer in not overthinking, so I just walked into Clarus, unfolded my resume, and handed it to the hiring manager," she sheepishly reminisces. "They must have seen something in me because that was 15 years ago, and I'm still part of the Clarus family today."
MaryBeth started her career at the company as a Customer Service Representative. "I needed something to start paying my own bills," she explains. "A few years later, I moved into Operations and then was presented with this opportunity to create a project management office within Clarus, and it just made sense."
Now, MaryBeth leads and coordinates several teams as the Director of Project Management. "I was the second person on the team and now I have an entire team under me and, in some cases, they have a team under them," she explains. Her team works cross-functionally to set timelines, organize and assess processes, lead agile ceremonies, develop projects, and fight last minute fires.
Leadership Matters
MaryBeth credits her overall success to Clarus' leadership. "It's the skeleton of the company and why we're so successful," she says. "I was the 10th employee in this rickety old office and now we have thousands of square feet and 400 people. Things have definitely evolved and my success at Clarus was matched by the success of the company as a whole."
But the growth doesn't stop there. MaryBeth takes advantage of professional development opportunities whenever she can, and Clarus makes that easy. "Every year, Clarus grants each employee $1,000 for training and upskilling," she explains. "I've used it to take classes and learn about new technology within the PMO sector. More recently, my team's been focused on the SCRUM master training, as we have transitioned to agile development last year."
MaryBeth hopes to provide her team with the same support that she got from her leaders earlier on in her career, which is why she prioritizes continual learning and career pathing for her team. "I want them to feel like they are seen, encouraged, and challenged," elaborates MaryBeth. "I want them to feel at home, because they work with people that value their efforts, their interests, and their dreams."
How to make work feel like home
Along her 15 year-long career journey, MaryBeth has learned how to navigate career success, overcome challenges, and support her team along the way. Keep reading for four ways MaryBeth cultivates success for her team.
1. Build a solid team. "Get a team that you can jive with, not only professionally, but people you can go get a coffee with, too," MaryBeth advises. "My philosophy is to be friends with the people that you work with. You spend 40 hours a week with your coworkers, sometimes you spend more time with them than with your family. Just make sure that they're willing to work hard and that you actually take the time to get to know each other." MaryBeth chats with her team every day, and not only about work. Because Clarus has a hybrid work model, she's intentional about connecting her team and staying updated on what is going on in each other's lives.
2. Set clear expectations. "Project management is often looked at as the place to go when you have a problem and we're going to solve it for you," explains MaryBeth. "And we don't want to let people down." Which is why she prioritizes transparency and organization in her work by establishing clear expectations with her team members and other departments
3. Clear your inbox every day. "It sounds funny and it doesn't sound like it would be a big deal, but coming into work not knowing what to expect is hard," explains MaryBeth. "Having a clear inbox allows me to completely focus on the new set of challenges, the new set of successes, or whatever it may be that day.
4. Adjust your processes. "Love what you have put into place, because if you don't, you won't like coming to work every day," says MaryBeth. "So take the time to look back every so often and see what can be adjusted. That way you are motivated by your process and the kinds of things that help your team and company grow." MaryBeth constantly takes inventory on her team's process to see how it can improve. "Throughout the week I make mental notes of processes and team members' strong suits. I'm always thinking of ways to make things better."
Do you want to join the Clarus family? Click here to find out more about their work philosophy and open roles.