GET EMAIL UPDATES FROM POWERTOFLY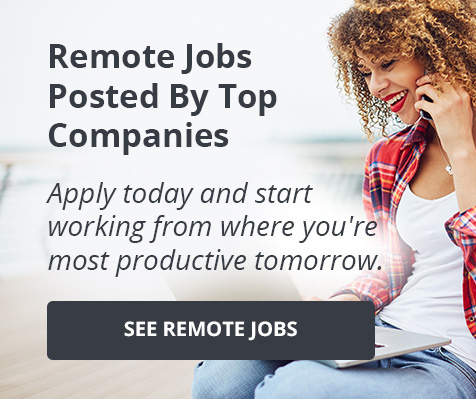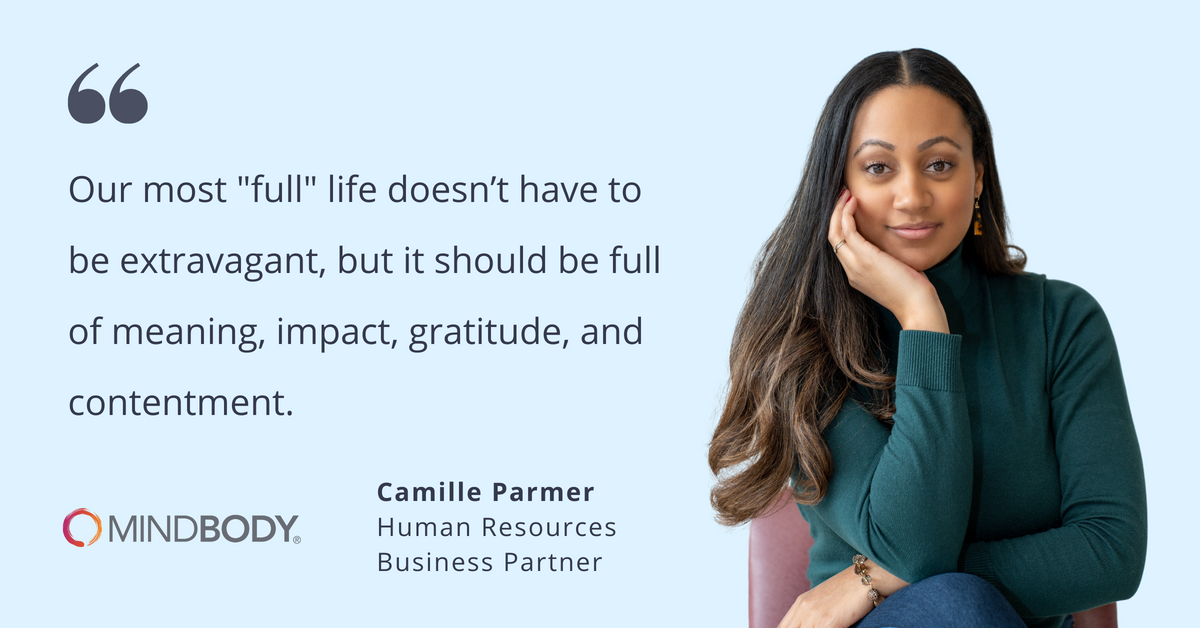 Upskilling and Development
How Prioritizing Wellness at Work (and Beyond) Can Help You Live Your Life to the Fullest
4 Tips From Mindbody's Camille Parmer
Camille Parmer is the kind of friend that encourages you to order a side of guacamole with your chips or extra bacon with your eggs.
"I want others to enjoy every experience to the fullest," Camille says, with a smile. "We're not here for a long time but a good time."
The same motto applies to her own life.
Camille strives for fulfillment in whatever she's doing, whether that's teaching a dance class, spending time with her family, or solving a problem as a human resources business partner at Mindbody, the world's leading wellness experience technology.
She'll be the first to admit that it's easier said than done, but she leans into one tool that lends a hand: her wellness.
"Making time for myself is one of the hardest things to do, but arguably one of the most important," she confirms. Prioritizing herself, for even just a few minutes a day, takes determination, but the reward — a meaningful life — is worth the effort.
We sat down with Camille to hear her best tips, tricks, and life advice on prioritizing wellness in order to lead a fulfilling life.
Helping Others Embrace Wellness
At just three years old, Camille became a competitive ballet dancer.
Her love of dance has continued into adulthood, and she now teaches ballet, contemporary, and jazz, even with the demands of a full-time job and 7-month-old son.
"Physical activity has always been a priority," Camille says, highlighting how movement brings her a sense of well-being. However, there's another layer to her love of teaching. As an instructor, Camille not only stays active for herself but enjoys supporting others' wellness goals.
"My love for striving to live a healthy life aligns with wanting others to do the same," she confirms.
It's this same mindset that led Camille to a career in human resources.
"I'd always considered returning to school to get a post graduate degree, and knowing I enjoyed helping people and working in consultation with leaders, a Masters in Human Resource Management seemed like a good fit," she shares.
The degree was a stepping stone to Camille's next role when she moved to the central coast of California, close to Mindbody's headquarters. As a lifelong athlete, Camille was already familiar with Mindbody's consumer app, but she started to gain an appreciation for the greater business — including their mission to create a wellness community for all.
"The stars aligned. I was looking for work in the HR field when Mindbody advertised that they had an open role, and the rest is history," Camille says, smiling.
On the Mindbody team, helping others embrace their wellness journey is easy. Camille finds that the challenge comes into play when making time for her own wellness. But even that challenge is surmountable thanks to her superpower: perseverance.
Power of Perseverance
"Perseverance has been an underlying theme throughout my personal and professional lives," starts Camille. As a woman in a male-dominated workforce, a Black woman in America, and a new mom juggling motherhood, Camille explains how this very trait enables her to push through adversity — and prioritize her well-being in the process.
Growing up on the plains of Canada in a close-knit predominantly white community, Camille was aware of her differences from an early age. "Even in dance, growing up I would have loved to see more ballerinas who looked like me, or had more diverse teachers in school, but that just was not the case," Camille shares.
This motivated Camille to work even harder toward building a strong educational foundation and career, setting an example for other underrepresented professionals in the process. While making great strides towards those goals, Camille took on the hardest job she's had to date: becoming a mother.
"Coupled with trying to be the best mom and spouse possible, I am trying to be the best employee and coworker. There are so many layers to break through," Camille says.
She wants to be present for her son and husband while also being proactive at work, taking on new projects, and being an ally for her colleagues.
"So, how do you accomplish all of this Monday to Friday?" Camille laughs. "For me, perseverance is about balancing all of these things and managing competing priorities. It's about doing as much as I can but not at the expense of another."
As she leans into perseverance, Camille also trusts the process. This brings her peace of mind, and ultimately, a sense of well-being.
"Moving to another country, changing career paths, becoming a wife and now a mother — all of this has tested my faith in my abilities and challenged me in ways I never expected. Nevertheless, I stay grounded knowing I will bloom where I am planted. I'm confident that all experiences, faceplants, and successes will contribute to my continued growth both personally and professionally," Camille shares.
Making Time for Herself
Through perseverance, Camille is able to prioritize an essential piece of the wellness puzzle: making time for herself every day.
"It can be as small as getting a fancy coffee or catching up with a friend on facetime for a few minutes," she shares.
Starting small is not only accessible, it's powerful.
"With a continuous to-do list of work and personal items, I can become overwhelmed with the weight of what I need to get done. But accomplishing small tasks here and there makes me feel good and get back on track," Camille shares. This might mean starting the dishwasher between meetings or even grabbing the mail on her way to refill her water bottle.
"Little things that change my scenery, even for a few minutes, help me refocus for the next set of meetings or tasks that need to get done."
And it certainly doesn't hurt that Camille works for a health and wellness platform. "Mindbody makes the effort to encourage wellness by continuing to improve our benefit offerings, scheduling no-meeting days, and encouraging employees to take time off as needed," Camille confirms. "If we intend to be the best technology in the wellness space, we need to walk the walk when it comes to these wellness activities."
4 Tips for Prioritizing Wellness at Work & in Life
"Our most 'full' life doesn't have to be extravagant, but it should be full of meaning, impact, gratitude, and contentment," Camille shares.
At the end of the day, wellness is what enables us to get there. With perseverance, we can prioritize ourselves and, ultimately, build our own version of a fulfilling life.
To support your wellness journey, Camille offers these four recommendations:
Take small steps, not giant leaps. "Keep it simple. Often when we make lofty goals and fall short, it can be discouraging. Instead of committing to a full workout each day and then missing the mark, start small. Gain momentum and get into a groove that keeps you happy," Camille says.
Stay organized. "I love taking a pen and paper, preferably in a nice notebook or fancy clipboard, and writing out my to-do list in order of priority. Seeing what I need to do on paper and crossing off each task or activity one at a time is so satisfying and brings me peace," she shares.
Choose positivity. "While not every day will be great, recognize that even the smallest of accomplishments can change your whole perspective," shares Camille. "This doesn't mean that you should ignore sadness or push aside frustration but, at the same time, you should find the good."
Don't forget about yourself. Camille reminds us, "You are a priority just like your children, partners, work-life, and all the rest. You cannot pour from an empty cup, so don't leave yourself empty! Do something small each day that helps you to be your best."
Mindbody is hiring!
Check out these openings
with a company committed to your wellness.