GET EMAIL UPDATES FROM POWERTOFLY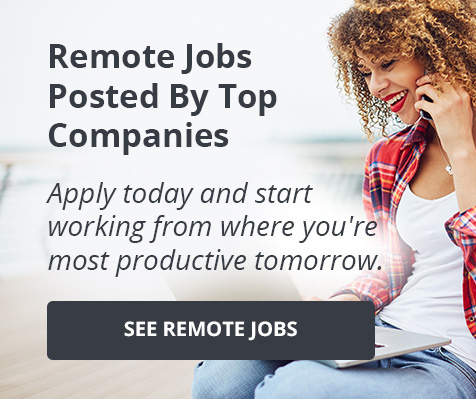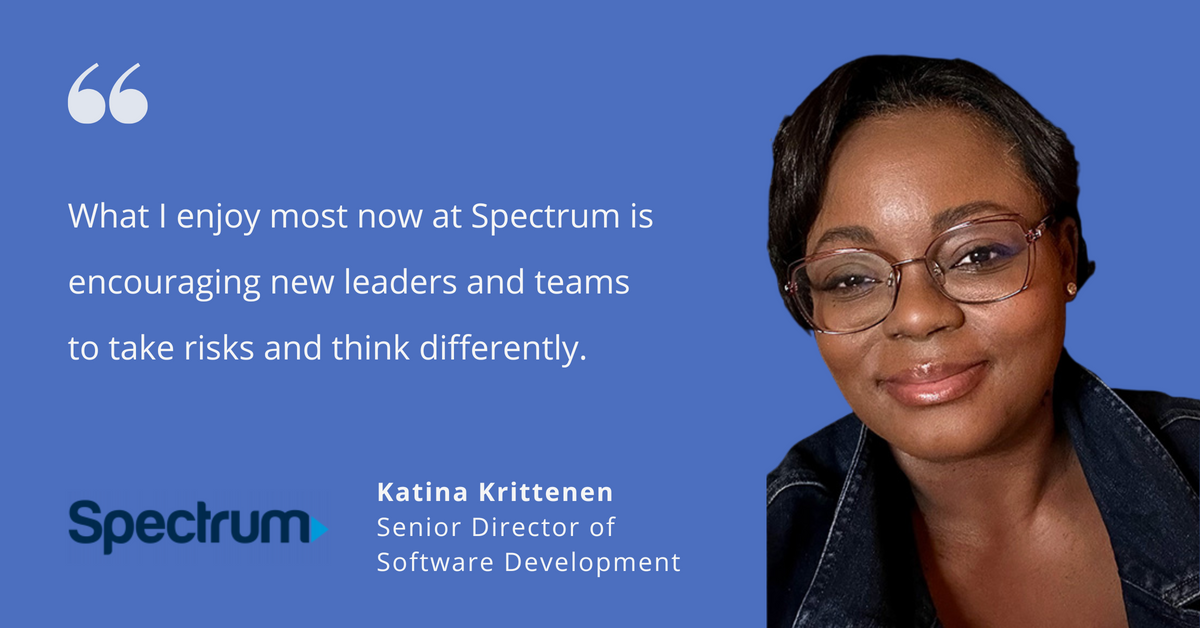 Upskilling and Development
Spectrum's Katina Krittenen on Intrapreneurship
5 Steps to Develop Your Leadership Mindset
Like the famed Starfleet engineers from one of her favorite shows, Star Trek, Katina Krittenen has always seen herself as a builder. As a child, she crafted projects with her friends, tended her garden, and even assembled her family's first computer.
"I have always enjoyed trying new things, taking risks, and thinking differently," Katina says. "I allow myself to dream and step outside of the box."
Now, as senior director of software development at Spectrum, a leading broadband connectivity company and cable operator serving 41 states, Katina brings that same innovative thinking to the way she builds and leads her team.
Her secret? Intrapreneurship. Whether she's fostering collaboration between teammates or solving complex problems, Katina uses entrepreneurial principles to innovate from within.
We sat down with Katina to learn more about what intrapreneurship means, how innovation can expand your mindset, and what it takes to solve a problem as an intrapreneur.
Thinking Outside the Box
Katina enjoys asking questions. Since early in her career, she's leaned into curiosity to find avenues for growth.
In her first telecom role, Katina pushed the boundaries of her job description. She was hired to review customer bills and to code billing accounts but became curious about how the billing system worked.
"I would ask questions on how a specific field worked, followed by more questions to understand why the system was needed," she says. "Not only did I carve out my niche as an expert user of the system, but I also became the go-to person for others needing help."
Katina was first exposed to entrepreneurship when she launched her own consultancy for billing system management. "I learned that running a business takes adaptability, discipline, risk, and ingenuity to succeed – and I made many mistakes," she says.
Those early lessons in taking risks and learning from her mistakes became the foundation of Katina's leadership mindset. When she joined Spectrum, she continued to push the boundaries of her role in order to learn new skills, such as software development, writing code and testing.
"I was thrilled to be a part of a team building new systems and learning something new so we could better serve our customers," Katina says of her decision to join Spectrum.
After moving into management, Katina was nominated by her team to join a new leadership development program. This is when Katina was introduced to the idea of intrapreneurship.
Katina's time at the Cable Center Intrapreneurship Academy helped synthesize her entrepreneurial spirit with the leadership qualities she'd already built. "To this day, I am very grateful to those Spectrum leaders who saw something in me and encouraged me to go for it," Katina says.
A Leadership Mindset Based on Intrapreneurship
Intrapreneurship is the process of creating new products and services within an existing organization. Like entrepreneurship, it requires innovation, creativity, and risk-taking.
Katina quickly realized that her natural curiosity and hands-on work ethic fit seamlessly with this leadership methodology.
"Going through the program called attention to traits and skills that were natural for me, yet I needed to exercise those skills differently in my role as a first-time director," Katina says. "I learned that creating ideas is not always linear, and influencing those around you to collaborate is critical."
Harnessing Creativity
As an intrapreneurial leader, Katina enjoys tapping into her creative side.
"Creating new ideas involves asking the 'what if?' questions. We must develop assumptions, test, pivot quickly, and execute on a vision that brings value to the company," she says.
Katina applies this outside-the-box thinking to all of her projects. "I am more fluid, adaptable, and calm in leading programs that require me to influence collaboration across teams and organizations with other leaders to bring even greater value to Spectrum's customers," she says.
Driving Innovation
Beyond developing unique solutions, Katina is motivated by her team's development and loves to help build the next generation of intrapreneurs.
"What I enjoy most now at Spectrum is encouraging new leaders and teams to take risks and think differently," she says. "I get a kick out of watching teams in the early phases of projects when you witness some level of chaos. They're trying to find the 'perfect' solution for the customer and pack in features for launch. I get to remind them that the solution needs to bring value, and we need to have a roadmap to get there."
How to Solve a Problem as an Intrapreneur
Katina didn't know what to expect on her first day at the Intrapreneurship Academy. She didn't see herself as an innovator, let alone understand how she could be an entrepreneur in her existing role. Fast forward a few years, and Katina is moving business initiatives from the ideation phase through development with newfound confidence — and a new mindset.
So, what's her strategy? We asked Katina to share how we can all implement an intrapreneur mindset when approaching problems. Here's what she said:
Visualize the problem. Help people see where the gaps are, think of solutions, and anticipate challenges. "I like to draw out the problem and ideate on possible solutions without getting into the details too soon," she says. "When you rush into developing an idea without allowing yourself or others to sit with the idea, you tend to get something you would eventually have to rework." She also advises getting creative over lunch. "It's best to feed your team," she says. And it helps to bring out their genius in a comfortable and collaborative space.
Socialize the idea. Now that you have ideas and potential solutions, let your team mull them over. "Allow others to give you challenging and constructive feedback on your ideas to help you create something new," says Katina.
Pivot. Don't be afraid to course-correct. "Learn to shift your perspective and change directions when you see the idea you're trying to implement is not going as planned," she says. "Staying the course because of a deadline is not valuable, especially when the solution brings no value and costs the business more to correct."
Implement. "Execute the plan and keep your foot on the gas, An idea brought to fruition is done with many and not alone," Katina says.
Celebrate. Katina finishes by sharing, "Celebrate your successes and acknowledge everyone who played a part in helping you bring the idea to reality."
Interested in growing your career with a company that values innovation? Spectrum is hiring!
This Employee Feature is sponsored by Spectrum.