GET EMAIL UPDATES FROM POWERTOFLY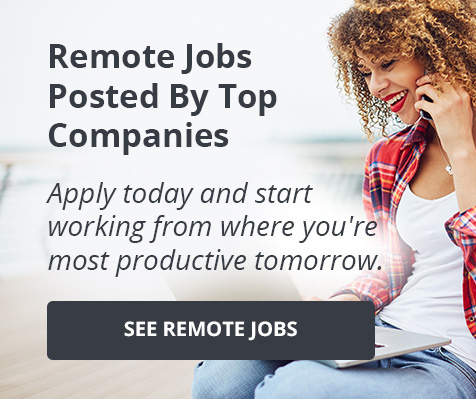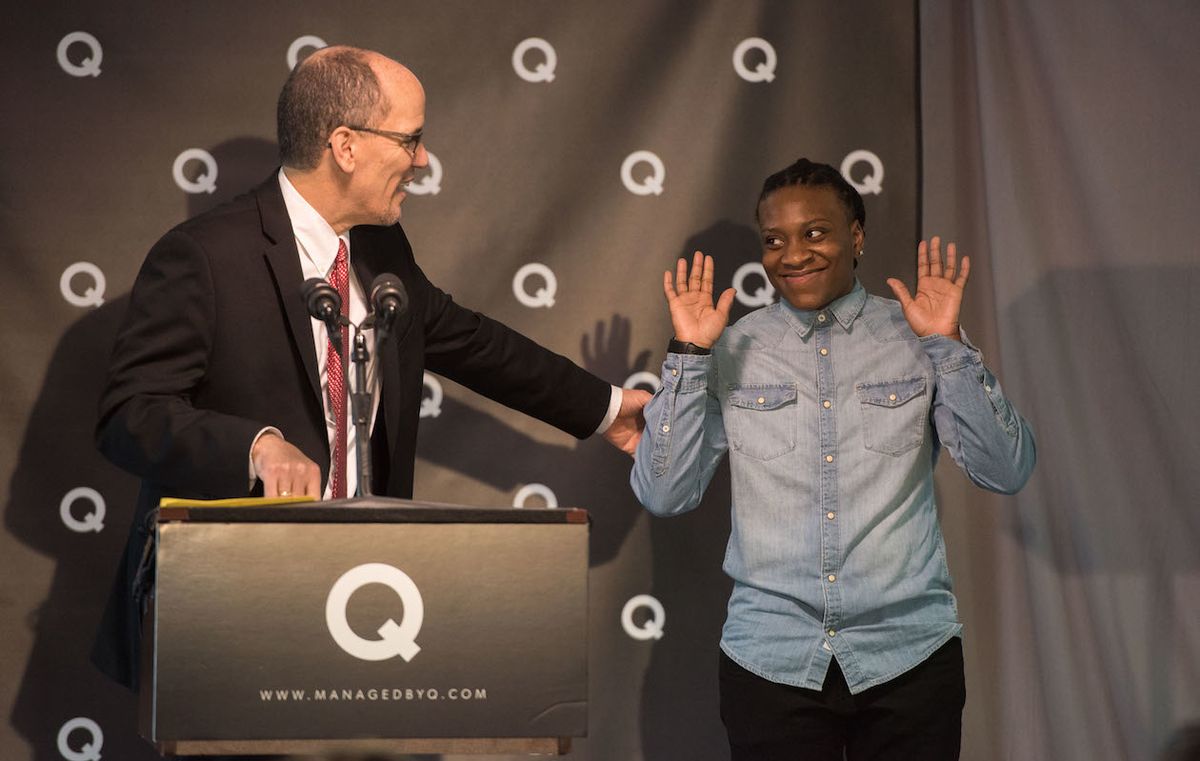 Managed By Q Inc
When Every Operator's an Owner - Managed By Q
Below is an article originally written by PowerToFly hiring partner Managed by Q and published on March 22, 2016. Go to Managed by Q's page on PowerToFly to learn more.
This past week, Q was excited to announce a big enhancement to our benefits program for every Operator. Starting this summer, all Operators at Q, whether you're cleaning offices in the field or building software at headquarters, will be eligible to earn stock in the company.

---
An added layer of excitement to this announcement was that U.S. Department of Labor Secretary Tom Perez joined our CEO and co-founder Dan Teran to unveil the program.
Secretary Perez has been a champion of creating good jobs in the U.S. and economic upward mobility for a class of American workers who traditionally have had none.
"There's a school of thought that says the only way we can grow this economy is through low wage, no benefit jobs. I categorically reject that," Perez said.
He shares Q's belief that a long-term investment in people is how you build a scalable business model.
He joined Q at our headquarters in New York for a roundtable discussion with a small group of Operators, followed by a press conference for the broader public announcement.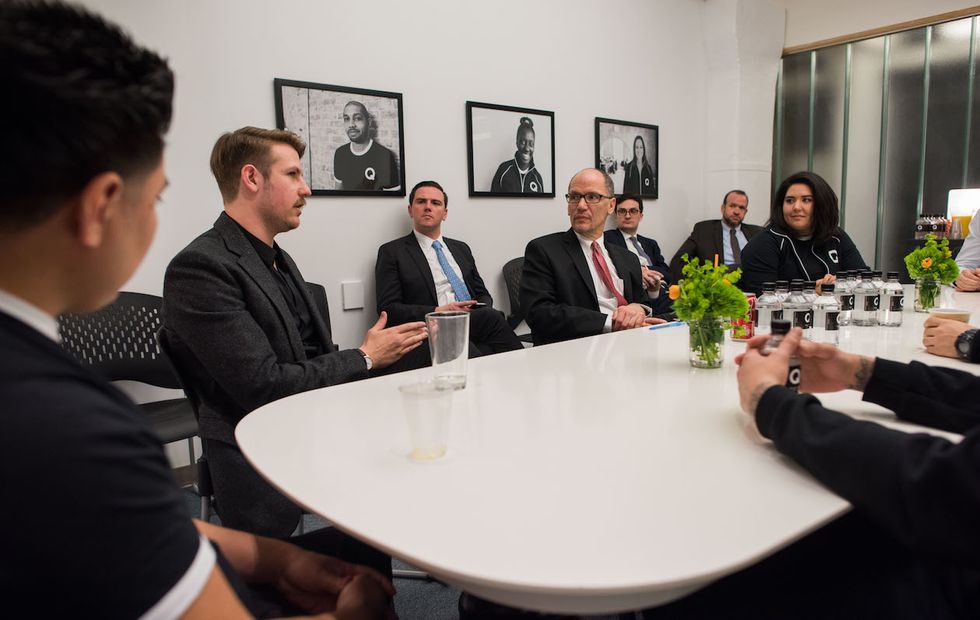 The roundtable brought together Operators from across Q's business. This included two of our mentors, a supervisor, a Q handyman, an engineer, and an operations associate who was an office manager prior to joining Q.

The group represented a broad swath of many different roles at Q and brought to light some diverse perspectives on what it means to work at Q.
Kicking off the roundtable, the Secretary asked each Operator what they liked most about working at Q. To most, it's the career opportunity and the Q family that keeps everyone going.
"It feels like a family business where everyone wants to help each other out," said Ty Lane, one of Q's cleaning Operators. Ty joined last fall and quickly rose through the ranks to become a mentor within three weeks of joining.
One of Q's supervisor's Jose Lara talked about the team that's always there to back you up.
"Even when you're working around the clock on a late-night shift, there's always someone there to pick up the phone," Lara said.
A common thread of the conversation centered on how Q has been intentional about building office culture.
One of Q's founding fathers and earliest engineers, Matt Briancon, reflected back on almost exactly a year ago to the day when the entire company sat down to draft up what we call the Q Code — the set of values that embody what it means to be Q.
At that time, Q was getting big and growing fast, and we wanted to be intentional about keeping the great culture we were forming. The entire team sat around a table to write down the five things each Operator liked best about Q. From there, the Code emerged.
The conversation then shifted to talk about the big update that brought everyone together: Q's new Operator Stock Option Plan.
Our co-founder and CEO Dan Teran spoke about how Q's leadership has been thoughtful about the policies we roll out because they ultimately impact people.
"We believe deeply that only through shared prosperity can we reach our fullest potential," Teran said.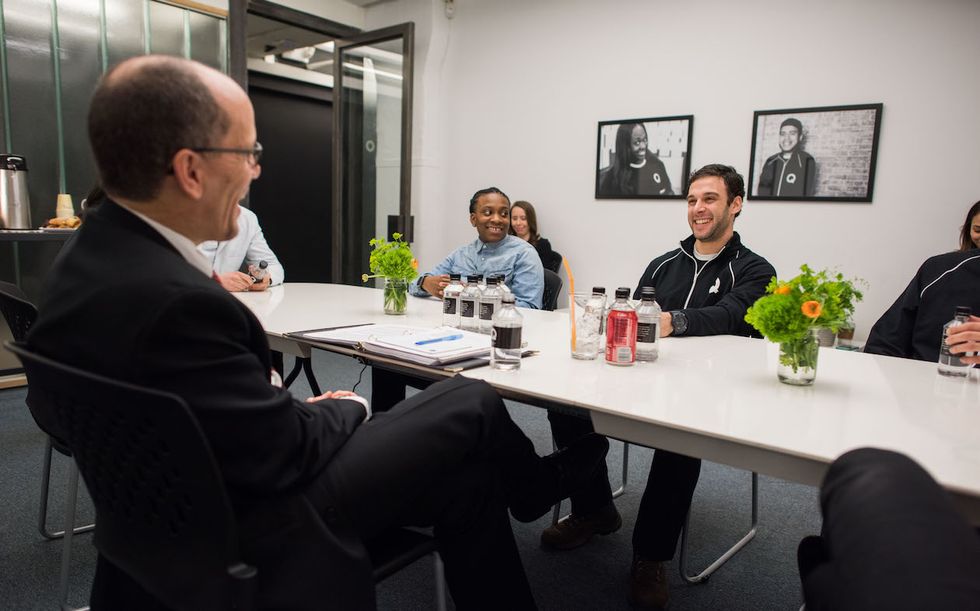 Secretary Perez joked that some may call Dan and his leadership team crazy for running a company as if it were a venture capital-funded fantasy. He then highlighted the other side of that argument, which is that research proves that long-term investment in your people is how you win.
"Low wages and no benefits is not the only option," Secretary Perez said. "When a workplace is centered around values and your employees have skin in the game, the company and employees win."
Coming back to culture, the Secretary was curious to learn more about what excites the team about working at Q.
From the engineering perspective, Briancon spoke about how he worked on other interesting projects before Q, but to him they lacked depth. When he first stumbled upon Q, it seemed that it was just a cleaning company — then he realized it was much more than what was on the surface.
Ty spoke about her bond with the customers in the office she manages.
"It's really special — I'm working at Q but working for them, too," she said.
The bond is so special they have her picture on the wall and frequently invite her to partake in their office Rock Band sessions.
Ty also elaborated on how Q has helped her grow in her career.
"Other jobs felt like high school — this job makes me feel like an adult. It's the best job I've ever had. People here want to grow," Lane said.
From the roundtable, we shifted upstairs to the future home of Q HQ (coming this fall!) for a press conference to publicly announce the new stock option program for our Operators.
With the backdrop of members of the press, the Department of Labor, folks across the tech community, and a cheering crowd of Operators in black Q shirts, Dan more formally announced the new program, alongside Secretary Perez and Ty.
"When we were just starting out a few years ago, we knew there had to be a better way. While technology was improving the lives of many, companies in our industry were increasingly viewing employees as a cost and not an asset. That view leads to bad jobs, stagnant wages, and an unmotivated workforce — it's bad for workers, bad for customers, and bad for business," he said.
That encouraged Teran to take a different path where instead of shirking responsibilities as an employer, Q chose to invest in our workforce.
Today Q's operators are W2 employees with above-market wages, Fortune 500-level benefits, a 401K, continuing education, career growth opportunities, and new programs and benefits rolled out quarterly informed by their needs.
"We've seen time and time again that when our Operators develop relationships with our clients, it drives value for the business," he said.
"We've proven you don't have to choose between a good business model and good jobs, it is a false choice, and we believe this is critical to our long-term success. We've built software to make the experience with Q more human, not less."
Q's strong belief in this simple formula is one of the driving factors behind our announcement to offer equity to every Operator across the company.
Over the next five years, Managed by Q will give 5% of the company to its Operators working in the field. The cleaners, handymen, assistants, and helpers that make Q the great company it is today.
"Real ownership in the company, for the people working tirelessly to make it a reality. Our mission at Q is to make the world work better, not just for our clients, but for everyone," Teran said.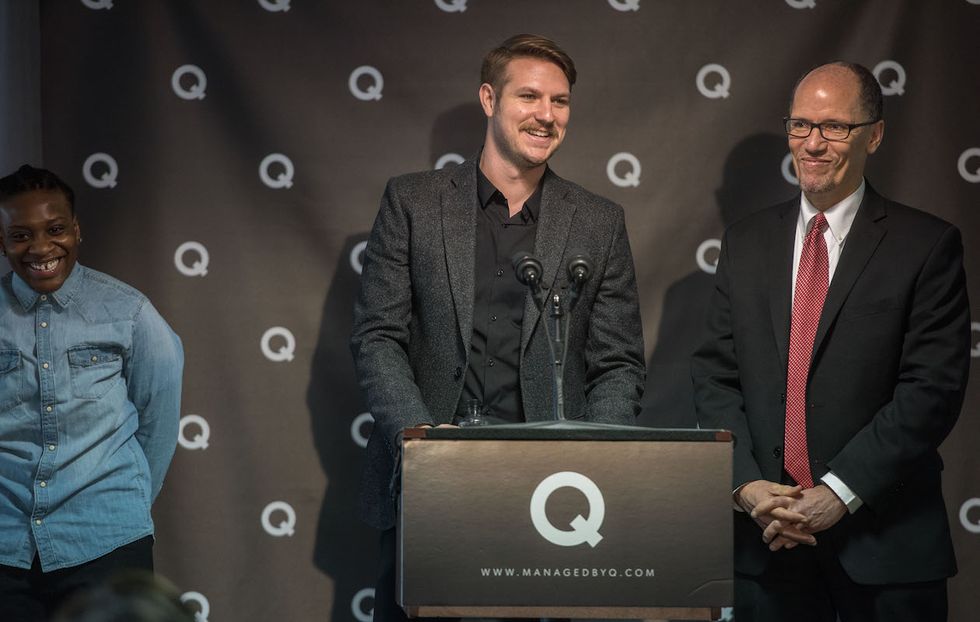 Starting July 1st, and every year thereafter, Q will offer stock options based on experience and skill set.
"Our hope…my hope, is after building a career with Q, our Operators from all walks of life will be able to use those stock options to put a down payment on a home, pay for a full college education or make another investment in their future, we have designed the program with this goal in mind," Teran said.
One of the strongest advocates for the conscious capitalism movement, Perez stressed that companies can do well — and do good.
"The high road is indeed the smart road — it's a loyalty promoter," he said.
"Q is showing the world that in the on-demand space, you can innovate and you can ensure that innovation is inclusive," Secretary Perez conveyed.
With this announcement, Q becomes the first in our field offering equity to all employees regardless of position, with one of the largest and most aggressive programs in the world.
Teran concluded with the following remarks:
"If you want to deliver the best service, then you need the best people doing the job…and to get the best people doing the job, you just need to be the best employer. So that is what we've set out to do," he said.
Our vision hasn't changed since our first deep clean two years ago — we're building an operating system for the built world, to run physical space with the reliability of software. The only way to fully maximize our potential is to invest in the beating heart of our business: our Operators.