This post was originally published on the Meta blog.Go to Meta's company page on PowerToFly to see their open positions and learn more.
Step into the virtual Afrofuturistic world created by Gabe Gault, and you'll see his rendering of Dr. Martin Luther King Jr. looming large over a sunset-lit scene from 1960s Memphis. This immersive experience features transformative Black figures set in a vivid environment that brings Black history alive.
Gault — the Metaverse Culture Series' first Artist and VR Creator in Residence — built "I Am A Man," an artistic interpretation that pays homage to Dr. King, Rosa Parks, the Tuskegee Airmen and more. People 18+ in the US and Canada can explore this VR experience in Horizon Worlds from February 22-28, between 8AM and 10PM PT.
To launch the Metaverse Culture Series, Meta brought together Gault and other prominent Black creators and media in Horizon Workrooms. This discussion, "Black Future," explored how the metaverse can become a space for Black culture and creativity to thrive, and included:
Ime Archibong, Head of New Product Experimentation at Meta
Jay Ellis, Actor (HBO's Insecure)
Gabe Gault, Artist & VR Creator, Muralist & 3D Sculptor
Danielle Young, Journalist & We the Culture Creator (Moderator)
Paris McCoy, Director of Photography, Creative Producer & Immersive Technologist
Rashaad Lambert, ESVP of Culture & Community at Forbes
Philip Lewis, Senior Front Page Editor at HuffPost
Vivian Ewalefo Johnson, Head of Cultural Moments & Product Equity Communications at Meta
Meet Artist and VR Creator Gabe Gault
Based in Los Angeles, Gault uses classical painting techniques with modern mediums. To him, the metaverse can be a living museum to showcase Black history without interference. Instead of simply viewing Black history through colorless photos, Gault created a scene loosely based in 1960s Memphis that memorialized the life and influence of Dr. Martin Luther King Jr. The world features protestors holding "I Am A Man" signs giving a nod to the sanitation strike, vintage storefronts and the Lorraine Motel. The virtual world also pays homage to Rosa Parks and the Tuskegee Airmen.
"You can go to a museum, you can see artifacts, you can see writings of old history, but it's one thing to see those visually, and I think it's another to kind of be in a 3D environment created around that," Gault said. "There's just a way to now create that kind of world and experience (in) a fun, interactive and educational way."
To visit the "I Am A Man" Horizon Worlds experience, check out our Oculus blog post for detailed instructions.
Bringing Black History to Life
Much like Gault's virtual slice of life in 1960s Memphis, actor Jay Ellis envisions a future where you can explore Black history with more nuance and context than a textbook can provide. Immersive experiences in the metaverse will provide a space for Black artists to showcase Black history on their terms, without gatekeeping or bias.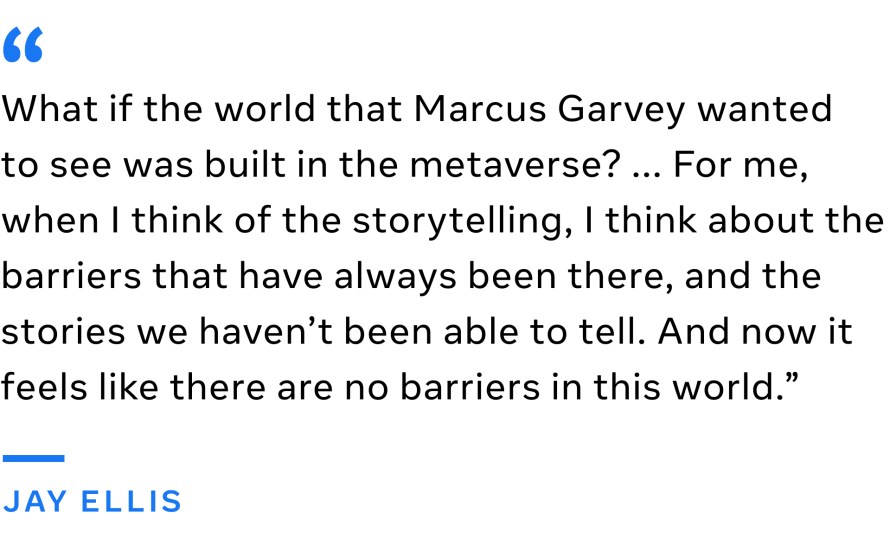 As Ime Archibong, Meta's Head of New Product Experimentation emphasized, these are still the very early days of creating for the metaverse. The biggest hurdles involve making the technology accessible to everyone and building a more equitable metaverse.
"The real power of tech is not in the tech itself," Archibong said. "It's in the peoples' hands who are touching it and making it."
Stay tuned for more Metaverse Culture Series experiences rolling out during cultural moments throughout the year. These will showcase how we're building towards a more equitable future of technology, and supporting the diverse creators pioneering in this space. Next month, we'll connect with women leading the way in VR today for International Womens' Day, and later explore Ramadan, Earth Day, Pride and more.
Get email updates from PowerToFly