GET EMAIL UPDATES FROM POWERTOFLY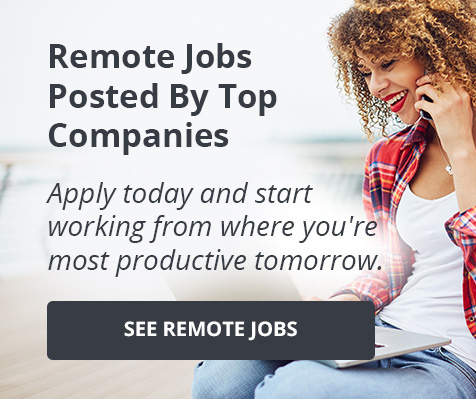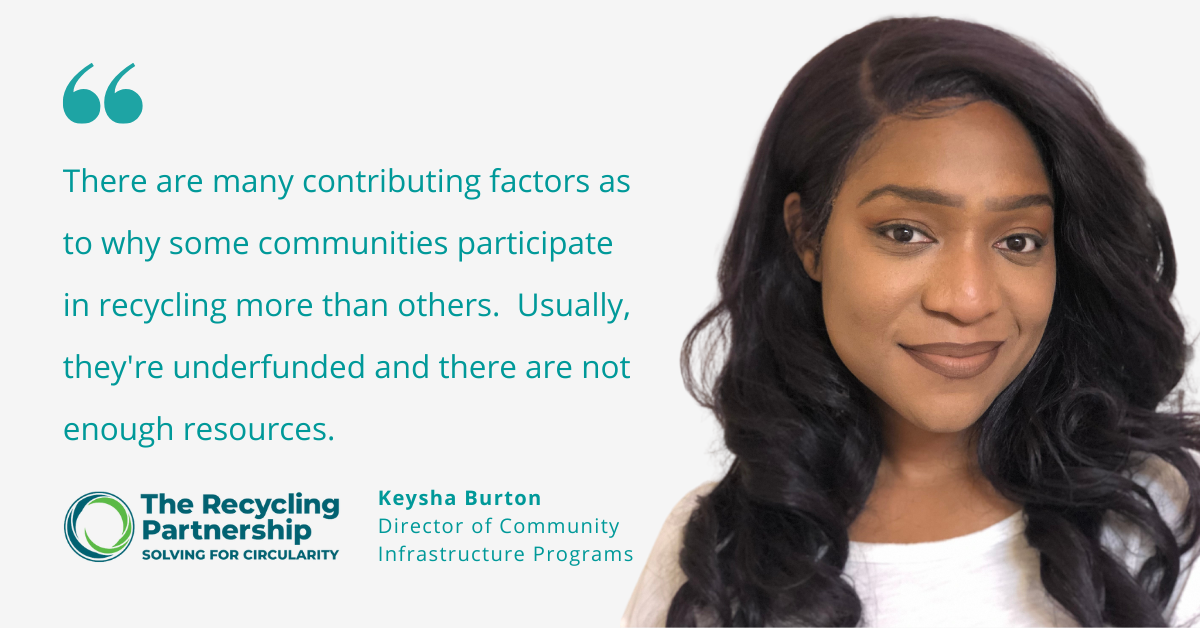 Personal Narratives
The Fight for Environmental Justice
Keysha Burton on Her Work with The Recycling Partnership
The Recycling Partnership's Keysha Burton has harnessed recycling as a weapon in the fight against environmental injustice within marginalized communities.
"There are many contributing factors as to why some communities participate in recycling more than others," she explains. "It's up to community partners and people working in this field to provide the services and education. We can't assume that people aren't participating because they don't want to recycle. Usually, programs are underfunded, and and there are not enough resources."
Additionally, working in recycling has unintentionally transformed her way of life.
"One day I started looking around and realized I gave up eating meat and dairy," she says. "I shop locally and sustainably; even the makeup I use is cruelty-free or vegan."
We sat down with Keysha to learn more about her work with The Recycling Partnership and how they're engaging communities in environmental sustainability. She has advice for those motivated on how to join the cause.
Stepping Into the World of Recycling
While studying Communications and Mass Journalism in college, Keysha started working for a municipal recycling services division.
"I was a recycling assistant in Broward County, Florida," she shares. "The position consisted of going to schools and teaching children about recycling."
Keysha loved working with kids and was a great public speaker, so she excelled at the job. Yet over time, she started to notice something that was impacting her work — an education gap between younger and older generations.
"Particularly in a multi-generational household, their grandparents aren't aware that there are recycling and waste diversion services of any kind that is accessible to them," she points out. "And this causes a disparity."
Keysha's observations left her uneasy, so she decided to take action.
"After I started seeing these inequalities, I wanted to do something about it," she explains. "I started engrossing myself and learning more about what recycling programs we had available in different communities. Then, I would specifically go and educate the communities that were most economically disadvantaged."
Recycling Accessibility for All
Keysha describes recycling as the "lowest hanging fruit," meaning it's one of the simplest ways to engage communities in environmental conservation. However, there is a discrepancy in how different recycling programs are executed.
"You can't say it's low hanging, but then you make it inconvenient," she highlights. "It has to be convenient, accessible, and consistent."
How organizations view different neighborhoods can contribute to a program's inconsistency and inaccessibility.
"Some organizations don't educate in economically-challenged communities because they're looking at the bottom line," she explains. "They're not deploying the resources to educate those communities."
Keysha believes that organizations must create opportunities and spaces where all community members want to know how to participate.
"We have to make sure that the community knows about the services, along with how and when they can use it," she emphasizes.
Landing Her Dream Role at The Recycling Partnership
The Recycling Partnership is an action-focused and mission-driven non-governmental organization (NGO) committed to advancing a circular economy by building a better recycling system.
And Keysha has been a long-time supporter.
"I knew about The Recycling Partnership when they were originally called The Curbside Value Partnership," she says. "They were providing real solutions to operational issues by discussing challenges and trying to help build out a plan to overcome those challenges."
Impressed by their methods, Keysha knew she had to become part of the team. She recalls thinking, "This is the dream team. If I ever had the opportunity to join, that would be the crux of my career."
Lucky for her, there was an open position, and in 2019, she secured her dream job. Since then, she has become the Director of Community Infrastructure Programs.
"I absolutely love where I work," she says."I support infrastructure programs by helping communities go from bin or bag-based, or even no collection programs, to having them and then also deploying education around that."
Fighting Environmental Injustices
Together with The Recycling Partnership, Keysha is making impactful changes within various communities.
"We focus on equitable access to recycling, which means everyone in your community gets access to it," she says. "The other part is making sure that we're developing communication, education, and content that speaks to the community."
In addition to environmental issues, they also promote diversity and inclusion.
"Because we target communities that are being overlooked or underserved, we build those things into our grant writing," she explains. "We work actively with the community as engaged partners to help them succeed. And if things don't work out as planned, The Partnership is ready to learn from that experience and do better."
4 Tips for Joining the Fight for Environmental Justice
Keysha encourages anyone wanting to join the cause to get started by checking out the easily digestible content on The Recycling Partnership's website.
She says, "We have a ton of resources such as grant programs for people working within the industry. We also want to help you if you are a resident and you just want to learn about recycling in general."
Keysha also offers the following advice:
Be open to learning and changing. "Be open to change because the world and society change around us, and we should change with it. I'm 20 years in and I feel like I don't know everything," she admits. "I'm learning something new every day."
Don't fear failure. "Be afraid of not being able to get back up and try again. Be afraid of not evolving. Because doing what's right is hard."
Carve your own path. "If you're in the public sector, things are not as malleable, and it could feel like you're pushing against the current. But you are capable, and you're strong enough. Keep trying to move against those currents."
Partner with people. "Collaborate and don't get bogged down into a silo. Hearing other opinions and ideas is important for supporting growth."

If you're interested in getting involved in the fight against environmental injustice, you can learn more about The Recycling Partnership here.