GET EMAIL UPDATES FROM POWERTOFLY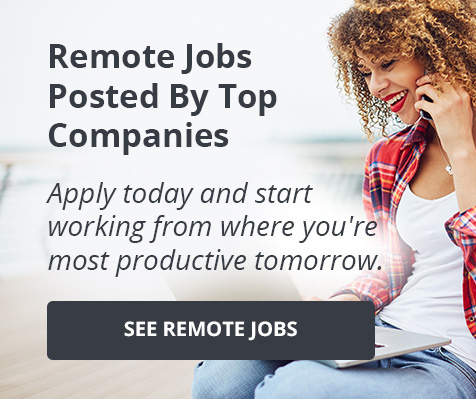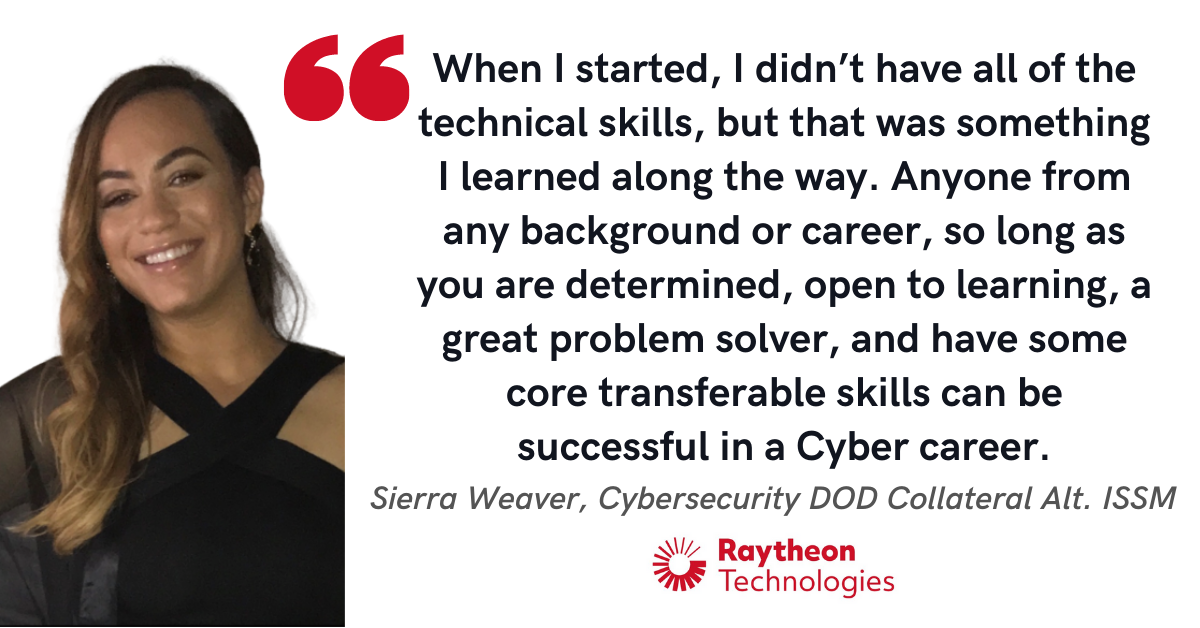 Raytheon Technologies
The 3 Transferable Skills that Helped Raytheon Technologies' Sierra Weaver Pivot From Communications to Cybersecurity
As a Cybersecurity DOD Collateral Alt. Information Systems Security Manager (ISSM), it's easy for Sierra to lose track of time at work because she loves learning, and her field is constantly refreshing itself with new tools, technology, and processes to stay up-to-date on.
Sierra Weaver's boss at Raytheon Technologies keeps a good eye on the entire team to ensure no one is overworking themselves.
"He'll jokingly say, 'I've seen you online at this hour!' and consistently reminds me of work-life balance," she says. "He's very supportive—we honestly have an amazing team."
But ask her five years ago whether she thought she'd be in cybersecurity, and you would have gotten a resounding "no."
Sierra planned to work in broadcast journalism, but after being exposed to cybersecurity while working in a contract position at a different aerospace company, she realized she wanted to transition into that industry.
"When I started, I didn't have all of the technical skills, but that was something I learned along the way. Anyone from any background or career, so long as you are determined, open to learning, a great problem solver, and have some core transferable skills can be successful in a Cyber career," she says.
We sat down with Sierra to learn more about what exactly those skills were, how she uses them on a daily basis, and what the future of cybersecurity looks like from her perspective.
Core Skill: Determination
Sierra studied communication and Pan-African studies at Cal State while working full-time—and she credits a lot of her success in cybersecurity to her ability to work hard.
Even her first experience with the industry required determination. As a contractor, she was involved with different departments and processes, from purchasing to contracting to licensing.
"With all of the hats I wore, I was doing quite a bit, but cybersecurity is what interested me the most," she says. After getting hired at Raytheon, Sierra applied her work ethic to deepening her expertise in the field through certifications, including the Security Plus certification.
"As long as you are willing and open to the training process, I feel like anyone can make the pivot, just by being determined," she says.
Core Skill: Communication
Though she loves her job, Sierra is a lot more than just her work. For one thing, she's one of 15 siblings. Growing up in LA with that many family members, Sierra learned how to communicate with different kinds of people with various backgrounds, needs, and styles of interaction.
"With cyber, you're communicating and collaborating with many stakeholders most of your all day," she says, citing everyone from the IT department to program managers, and our customers.
Sierra calls her Raytheon coworkers her work family, and says that at the end of the day, "we all get along so well, communicate effectively with one another, and ultimately they help make work so much more worthwhile."
"We spend so much time at our jobs. You always want to be in an environment you feel comfortable in, one you can flourish in. I'm lucky in the sense that the folks I work with are extremely supportive. I can leverage their knowledge. I can lean on them if I need anything. And I'm just so appreciative of that. That's what keeps me at Raytheon Technologies," she says.
Core Skill: Problem-Solving
Sierra's team ensures that Raytheon's clients, particularly those with classified contracts, have their systems set up in a way that ensures no classified information is compromised. They work with the Defensive Counterintelligence Security Agency to keep things up to snuff, which includes maintaining the systems for the life of the technology.
It requires a nimble approach to problem-solving—and a hands-on one, too.
Even though she's now a manager of a team of six, Sierra still does some of that work herself.
"I want my team to know that anything that I ask them to do, I'm willing to do," she says, referencing site visits and tough systems. "I want to give my team the tools to be able to fish on their own, and to feel comfortable and confident, but I also want to be just hands-on enough for them to know that if they need my support, I'm there and available to help them."
Building the Next Wave of Women in Cybersecurity
When Sierra looks around her industry, she doesn't see many people who look like her.
"I would love to see more women within cybersecurity. And I am absolutely doing my best and doing my part to encourage women, and women of color as well, to join cybersecurity," she says. "For us to continue to be successful, we need diversity on all fronts."
Part of Sierra doing her best is sharing her story, like she's done with us here. Another part of it is offering herself up as a resource for women looking to break into the field.
"I hear from folks that they look at job requisites for cybersecurity, or research all of what the field entails, and get intimidated and discouraged because they feel like they have to have all these certifications or several years of experience just to get their foot in the door at a company like Raytheon Technologies. But honestly, we truly need individuals who are passionate about cybersecurity and willing to learn; you don't need to be a technical expert to get started," Sierra says.

And if you want to work at Raytheon with Sierra, check out their open roles! Sierra says that she hires for "passion, not technical skills," so if you're interested, make sure to apply!