GET EMAIL UPDATES FROM POWERTOFLY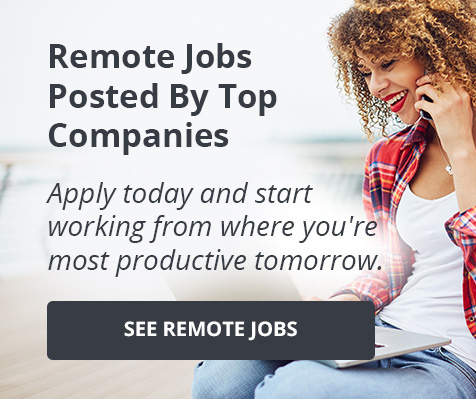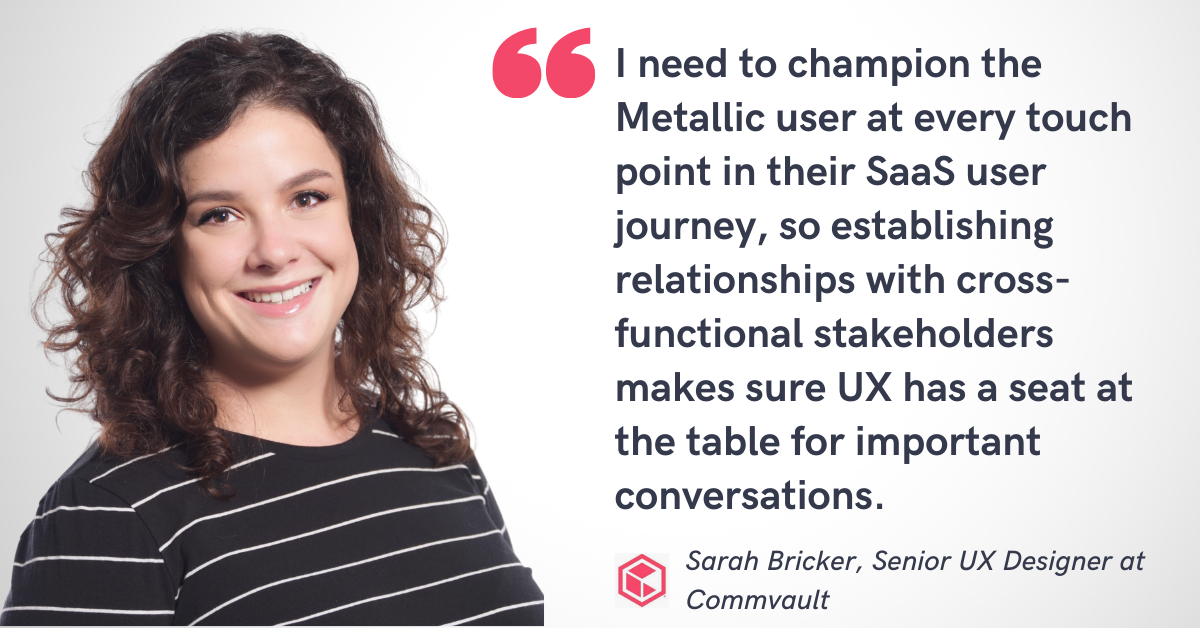 Commvault
4 Common Misconceptions About UX and 5 Ways You Can Keep It Top of Mind at Your Organization
Insight from Commvault's Sarah Bricker
What do pastry chefs and UX designers have in common? A lot, if you ask Commvault's Sarah Bricker.
The Senior UX Designer has been working on research-based design projects for the smart data management platform for the past two years, but before she transitioned into the field, she was turning out beautiful desserts as a pastry chef.
"There was a science to it, and I liked blending that with creativity and working with my hands. I'm very right brain/left brain, and it's set me up for success as a UX designer," explains Sarah.
It's not just the processes that overlap. (Though kitchens and companies certainly do share a focus on efficiency and speed.) It's the overarching goal, notes Sarah, adding that good dessert can delight someone the same way that good UX can. "Dessert brings a smile to people's faces; it's used to celebrate things. I do get joy from making people happy. And when I heard that UX was this practical application of that science, I knew it was for me," says Sarah.
We sat down with Sarah to hear more about her career path, what she's working on now as part of the cross-functional team behind Commvault's first SaaS product, Metallic, and how she shares the goals behind UX to people less familiar with the field.
Building a Foundation
Sarah transitioned from pastry to UX after talking to a family friend who was in the field.
"She was explaining to me that UX is all about empathy, about understanding who the user is, about design that's based in research," remembers Sarah. "It's not this open-ended, 'How do you create something?' I'm someone who likes to have a box around that creativity, I like to have those constraints; that's where I work best. And I can't stand inefficient systems," says Sarah.
It sounded like something that was custom-made for her, so Sarah made her way into UX via General Assembly's 10-week course, then joined GA as an instructional associate for that same program. "I learned more teaching than I did as a student, which I think is common," says Sarah, who still considers the instructors she worked with there as her mentors in the field.
She learned not just how to apply UX skills and methodologies, but also about what kinds of teams she would thrive in. "I learned how I'd want to be treated as a coworker, as a colleague, and how I'd want to treat anyone on my team as a manager: like an equal, and that their opinion is valued, and giving them ownership of what they're doing," she explains.
When she joined Commvault, it wasn't because enterprise software and data backup and recovery was inherently appealing to her.
But when she learned more about the team she'd be working on—the team that would launch the company's first SaaS offering, made up of 25 people across engineering, marketing, business operations, and sales—she was sold.
"I would learn so much in the role; I'd have exposure to so much—how exciting of a learning opportunity would that be?" asks Sarah.
UX's Role in a Cross-Functional Team: Four Common Misconceptions
When Sarah joined Commvault, she was Metallic's first dedicated UX designer.
"That's the blessing and curse of an organization being new to UX: we can learn together," says Sarah, who quickly realized that she needed to clarify what she was there to do.
There are a few misconceptions about UX designers, says Sarah, all of which she came across in her early days building out the function for Commvault:
"UX is here to make things pretty." Not quite, says Sarah. "It's so much more than that! It's research-based design, so yes, there's that tactical application of improving the usability of the experience, but UX is also a strategy and a process," she says.
"The 'user' in UX is always the end user." Nope. "Just as important as your external users and your end users are your internal users—your stakeholders whose buy-in you need to make positive changes internally," explains Sarah. Because of that aspect, she sometimes calls UX a "public relations role," where she has to be easy to collaborate with and work with so that she can have the access she needs to help make better products that work for more people.
"UX slows things down." This isn't quite true, says Sarah. "I ask the questions that yes, might end up in more work, but we're making sure all stakeholders feel heard and that we're solving the right problems," she says. That means that the final result is more likely to be one that everyone is in sync on, actually saving time in the long run.
"Engineers and UX don't mix." There's a conception that engineers and UX designers don't speak the same language, explains Sarah. But she's built a great relationship with the manager of frontend development, for instance, and the two of them have learned to speak each other's languages so that each can understand each other's processes and work together.
5 Tips for Keeping UX Top of Mind at Your Organization
Over the years, Sarah has developed her own toolkit for making the relationships she needs to do her work. Here's what's worked for her:
Get buy-in early. Commvault's product team has quadrupled since Sarah has been there, and whenever she gets an email about a new hire, Sarah reaches out and sets up time with them. "I need to champion the Metallic user at every touch point in their SaaS user journey, so establishing relationships with cross-functional stakeholders makes sure UX has a seat at the table for important conversations," she says.
Know your product roadmap. There are countless places in the business where user experience could improve, says Sarah. To prioritize her work, she maps it to business objectives for each quarter. "I have open conversations with my managers and other PMs about where UX needs to make an impact," she says.
Say yes often. To make sure UX is top of mind for all the different teams Sarah works with, she tries to be as accommodating as possible to all the different places they may need her help. That can mean helping the marketing team with email design, looking over sales' messaging, or working with the head of support to come up with a creative title for an internal newsletter. (All of those really happened, and all in the last month!)
Standardize what you can. To make sure she's maintaining as well as improving UX, Sarah has been working to create standard processes and templates for things like wire framing. "By streamlining the UX team's workflows, we can ensure consistency in our designs and save time to accomplish more," she says.
Learn to compromise. "Sometimes I have to say, 'Ok, we have this targeted launch date. Am I 100% happy with the experience? No. Does it work? Yes,'" says Sarah. "And then it's advocating for that promised phase two, to making it better later on."
Creating Delightful Experiences
When she was a UX instructor, one of the things Sarah would always tell her students is that they didn't have to be subject matter experts in the space for which they are designing. They just had to trust the UX process, build connections, and ask good questions.
Two years into her career at Commvault, Sarah is doing just that, bringing a curious, relationships-focused approach to Metallic, the product she works on, as well as to the whole team.
Sometimes, that friendly extroversion ends up becoming a part of team lore, like when Sarah created Talli the unicorn, a character played by Sarah's Senior Manager of Business Systems for a conference as a way to promote their product Metallic, and later kept her alive via digital assets and videos shared during the pandemic. Sarah even produced a 30-second spot explaining what Talli was up to during lockdown, from walking on the beach to painting and reading.
"At the end of the day," says Sarah, "it's all about bringing people joy."
If you'd like to spread joy alongside Sarah at Commvault, check out their open roles!
Related Articles Around the Web