GET EMAIL UPDATES FROM POWERTOFLY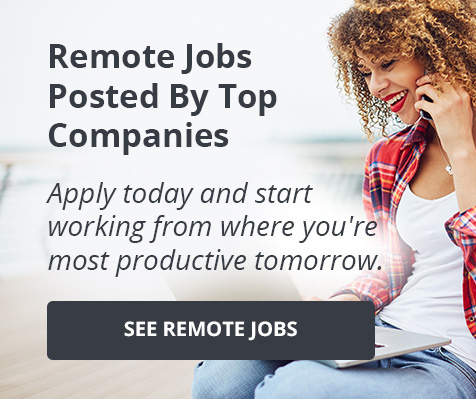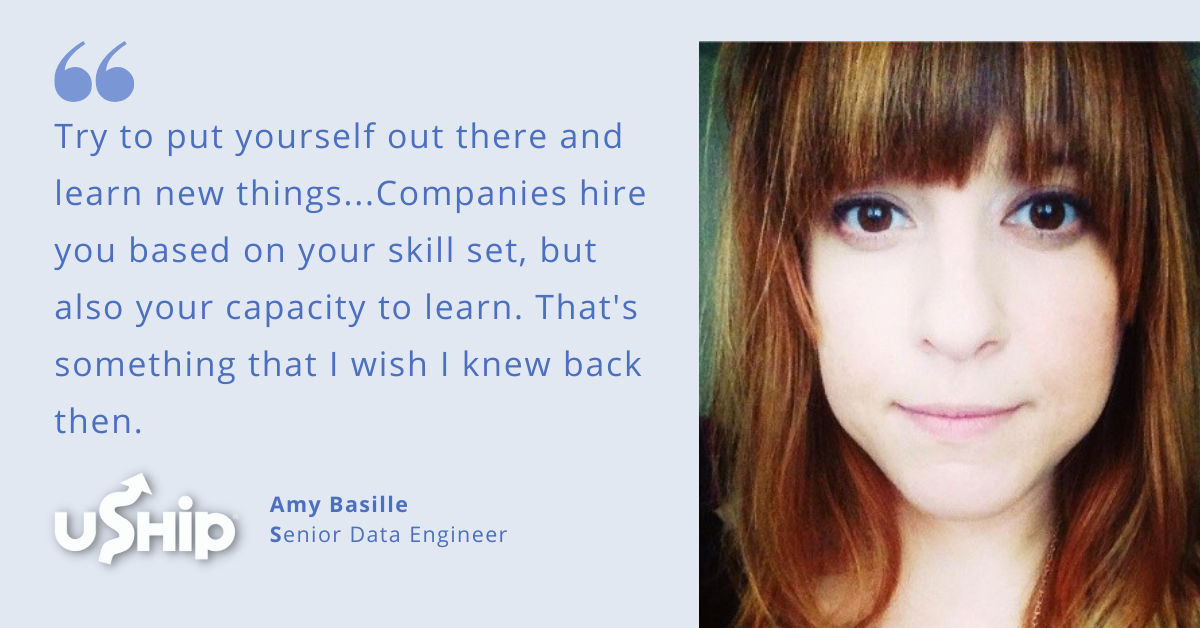 uShip, Inc.
From Customer Service to Data Engineering: uShip's Amy Basile on How to Make a Successful Transition Into Tech
Amy Basile is all about taking on new challenges.
Most recently, she's been reteaching herself how to roller skate."I used to do roller derby back in 2008. So it's basically like I'm learning it all over again," she shares with a smile. "It's fun, but I feel like it hurt a lot less to fall when I was in my twenties than it does now."
Learning new skills is something that has supported Amy in her professional life and has helped her grow from a career in retail to a Senior Data Engineer at uShip. We sat down with her to discuss how she made the transition into tech with a non-technical background and her tips to others looking to do the same.
Learning Soft Skills in Retail
In highschool, Amy's dream career was in the culinary field. "I was enrolled in a culinary program offered at my school, I really loved baking. I wanted to become a pastry chef after I graduated, maybe opening my own bakery at some point," she elaborates. But she wasn't fully certain that this was the professional route she wanted to take. "Choosing a career seemed like a massive life decision, and I was open to exploring my options," Amy says. "Growing up, I knew people who were certain of the career they wanted to pursue, or at least had an idea in mind. I admired their ability to figure it out before going to college, because I really had no clear idea of what I aspired to do."
With the loving guidance of her parents, Amy decided to explore her options by pursuing a college degree, although she wasn't sure that was the path she was meant to go down. "They encouraged me to pursue a degree in business administration, and I knew that wasn't for me," she says. After taking many introductory courses, she opted to study sociology instead thinking she would attend graduate school to become a Social Worker or Counselor. "I wanted to save up money before applying to graduate school, but little did I know that I would be graduating right at the start of the recession, so graduate school was put on the back burner."
Fortunately, throughout college, she worked at Urban Outfitters and was able to maintain her position in retail management, which offered her stability and helped her strengthen her customer service and management skills. "Coming from retail management, people don't understand all of the different hats that you wear and the amount of hard work that goes into managing day to day operations," Amy explains.
She was acquiring soft skills that would be helpful for her future career — and she didn't even know it. After 7 years at the store, she decided it was time for a change.
Finding Her Way to uShip
As Amy contemplated different career options outside of retail, she unexpectedly met a uShip employee while ringing them up at Urban Outfitters. "It was the middle of the day and I noticed the customer was wearing a uShip shirt, and I asked her how her day was going." Amy explains. The customer responded " I just came from Habitat for Humanity. My company encourages us to do community service during work hours."
Amy was astonished. "I thought it was amazing that they encouraged their employees to volunteer and give back to the community," she explains. It was at that moment Amy decided she wanted to work for uShip. "I set my sights on obtaining a job with uShip, I was pretty determined," Amy admits. "I kept my eyes open for a position, one where my skills would translate. I applied. I had two interviews and they hired me."
Upskilling with from Customer Service
When Amy first started at uShip as a customer service rep, she used the soft skills she acquired in retail — such as communication and empathy — to successfully navigate the role. When she started to pivot into more technical roles, she found that navigation to be more difficult. "I didn't come from a [tech] background. The most I'd used a computer was for social media, spreadsheets, and some Word documents," she confesses.
Up for the challenge, she eased into the billing and payments team. "I became a billing specialist, and that's where I started to develop some of the skills that eventually got me into engineering." After gaining confidence with data entry and other technical aspects of the role, she pivoted into a more technical position working with SQL Server. "It was hard to imagine myself learning new technology," Amy admits " I didn't even know what SQL server was, but I was open to it. I enjoy learning new things."
Taking on new challenges was made easier by the support and encouragement from the uShip team. "I had a mentor. He had a lot of patience and taught me a lot about the syntax and how to optimize my queries." Amy explains. "I was very fortunate that my managers encouraged my growth and advocated for me."
Just when she thought she was done, a new opportunity presented itself. "The head of QA reached out to me and asked me if I wanted to interview," she shares. And in true Amy fashion, she agreed and, shortly after, started her first engineering role. "It was so overwhelming, interesting, and fun," Amy elaborates. "You're constantly learning, everything is constantly changing, but you need to kind of figure it out as you go."
Amy was able to use her past experience to help her excel in this new role. "There were specific issues that would come up requiring database updates, since I was familiar with the data, I started fixing any of these issues when they would arise," she shares. She was able to advance her skills and create solutions, and others took notice.
"The data architect at the time asked if I had any interest in becoming a database administrator" Amy explains. Although she had never considered a position like that, she decided to accept the challenge. "I moved onto the team and worked my way up to the role of database developer"
She spent time working alongside the data architect, taking on different roles until they eventually built a team where she is now a senior data engineer. Now in this leadership role, Amy credits her success to her mentors and a combination of soft and hard skills.
Hard and Soft Skills that Lead to Success
Many of Amy's soft skills from retail transferred over to her work with uShip — one of the most important being interpersonal communication. "It's being able to approach people with empathy and compassion," she shares. Along with being open to giving and receiving constructive feedback, communication skills are important as a leader. "When you're talking to a developer, and saying that something is broken, You have to be kind yet candid," Amy explains.
Along with being able to effectively communicate, a skill that Amy learned through experience was resilience."In any technical role, failure is pretty common, I break things more often than I'd like to admit." advises Amy. "It's important to learn from those mistakes and grow from them. When you fall, you've got to get back up."
In addition to these soft skills, some hard skills can come in handy. Over the years, Amy has developed some hard skills that have led to her success, such as "SQL, database administration, data engineering programs, Snowflake, and a bit of Python."
Advice for Those Looking to Pivot into Tech
Pivoting into a new field can be overwhelming, but rewarding. For those looking to make an unconventional career move, Amy offers the following advice.
Don't downplay your skills. "I would always downplay my skills," Amy confesses. "I was scared that my retail management experience wouldn't equate to something people would take seriously." Instead, look at the value your unique set of skills can bring to a particular job role.
Have tenacity. Sometimes landing a job takes time and persistence. Amy advises you to remember that "not getting a call or an email back isn't always a setback. Keep pushing through."
Be willing to learn new things. "Try to put yourself out there and learn new things," Amy encourages. "Companies hire you based on your skill set, but also your capacity to learn, that's something that I wish I knew back then."
If you're looking to jumpstart your professional development like Amy, check out the opening positions at uShip.