GET EMAIL UPDATES FROM POWERTOFLY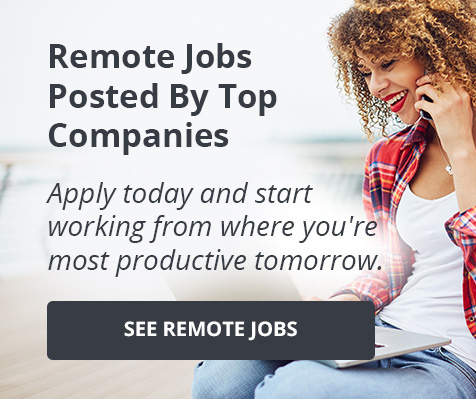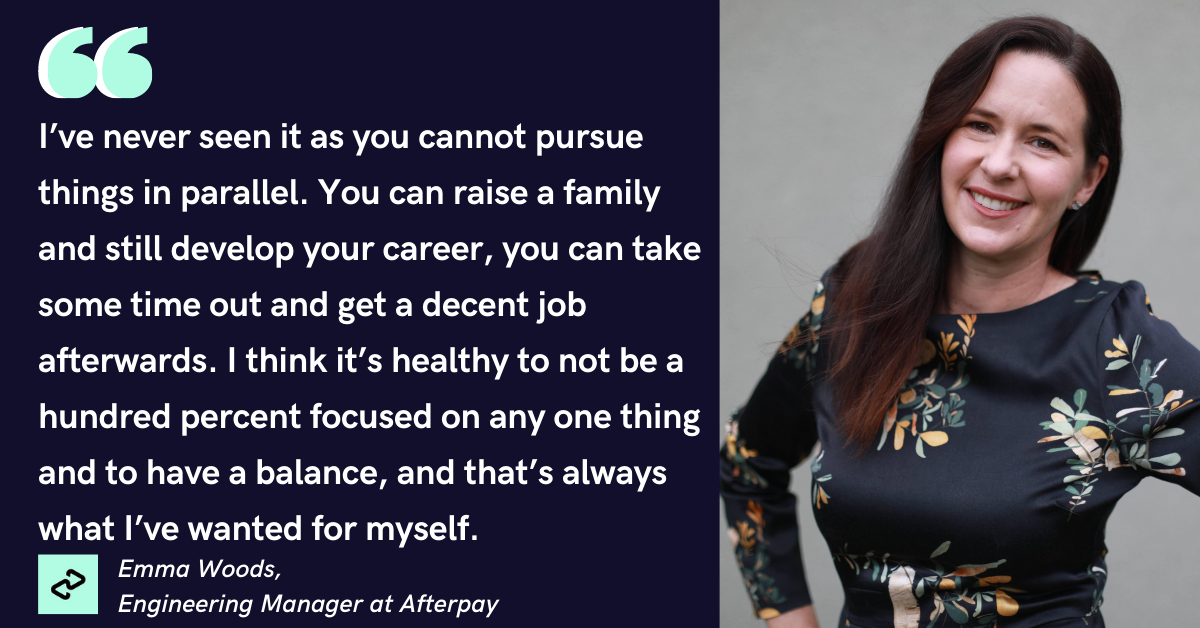 Afterpay
How Afterpay's Emma Woods Seeks Out Growth for Herself and Her Team
When Emma Woods decided to take her children out of school for six months and homeschool them while traveling around Australia in a caravan, it wasn't the first time she found a way to balance personal and professional growth. It was just a more extreme version of the types of choices she had been making throughout her career.
Emma started her career in the world of telecommunications, moving from IC to team manager, then to contract positions when she had her children and needed flexible scheduling. Now in her current role as an Engineering Manager at payment platform Afterpay, Emma continues to find ways to manage her personal and professional growth, and her family's well-being.
---
Along with a successful career in engineering management, she's backpacked Europe, spent two months in Southeast Asia, done a post-grad degree in IT, and had three children.
Now, as a manager of a team of platform engineers at Afterpay, Emma helps her team work through their own unique sets of goals. We Zoomed into the Melbourne Afterpay Hub to hear more about how she accomplishes that, and how she stays focused on growth for herself and her team while working at the fast-growing BNPL fintech.
Defining what's important
Taking that six-month holiday was a calculated risk. While it meant Emma would be out of the job market and would have to find something new when she came back, it also would allow Emma impossible-to-replace quality time with her family. "You only have those opportunities when your kids are young," she says. "I've got teenage kids now, and they would not be interested in living in a caravan with their parents for six months!"
At the end of the day, Emma knew it was an opportunity she couldn't pass up—and that solid career opportunities would likely still be there for her upon her return. "I've never seen it as you cannot pursue things in parallel," she explains. "You can raise a family and still develop your career, you can take some time out and get a decent job afterwards. I think it's healthy to not be a hundred percent focused on any one thing and to have a balance, and that's always what I've wanted for myself. I make decisions around what's important to me at the time."
Having both a career and a family life has always been important to Emma. Even when she went down to two days a week at work, she was still happy to have it as part of her week: "By the time I'd paid for all the childcare, it wasn't even really worth it—but for me, it was, because I was keeping an interest in my career, keeping current in terms of what I was working on," she says.
To set herself up for a solid transition back into work after the caravan trip, Emma decided to document her experience traveling with her family and homeschooling her children, creating a website that highlighted their adventure and showcased some of her technical skills.
It also helped that she'd just finished a 12-month contract role at Afterpay before leaving, and had a strong relationship with her manager. When she came back, he offered her a role. "I was really interested in a leadership role in engineering management, and that opportunity had come up, so it was perfect," she explains.
Now, she works four days a week, leaving her an extra day to manage her family. "It lets me spend some time with them, but also not feel that I'm missing out on moving forward with my career," says Emma. "I have been lucky that Afterpay supports me working a four day week."
Four ways a manager can support their team's growth
Emma's career at Afterpay started when the company was gearing up to launch in the UK and the U.S., and ever since then, it's been a period of serious growth and momentum. Now, as an engineering manager, her favorite part of her job is the people she works with. "It's really satisfying to work with a team of really smart people to solve problems," she explains.
Here are some of the tips she has for how to set your team up for success:
Back your team. "That's the most important thing I do in a day," explains Emma. "I see it as championing their projects, promoting their work, and raising the visibility of the projects they're working on, using my networks at the company to get that stakeholder buy-in."
Evolve the way you communicate. Afterpay's workforce is expanding quickly, which means the practices that worked well when there were dozens of engineers don't necessarily work well with hundreds. Emma is careful about when she uses showcases, virtual or face-to-face meetings, and asynchronous communication to keep her team informed, motivated, and connected to their stakeholders.
Focus on your core customer. As a manager, Emma's core customer base is her engineers—and their customers are the internal product engineers that build features on the platform that her engineers provide. Keeping those customers front and center helps when it comes to prioritizing growth goals. "You can't please everybody," says Emma. "You've got to learn how to prioritize, and that will mean sometimes saying no."
Work to reduce silos. Emma is always looking for opportunities to combine succession planning with personal growth goals. When she sees that one person is siloed with a particular type of work, she makes sure to spread assignments of that type around to deepen her bench of talent and to keep each individual's plate of projects interesting and diverse.
3 tips for pursuing your own growth as an individual
Maybe you're not a manager of people. You still have your own career and personal goals to take charge of, though. Emma recommends:
Set big goals. "Apply for jobs that you might think you're not a hundred percent qualified for," says Emma. "And when you get them, work hard. The networks I've established through my jobs have really helped me to keep growing my career."
Stay competitive in what interests you. Emma went back to school when she realized she wanted to work in technology and needed a different background to support it. "I made a whole lot of new contacts from that," she reflects.
Put your personal goals at the same level as your career goals. If Emma was laser-focused on her next promotion, she might've never taken that caravan trip—and she would have regretted it. "I've never been afraid of taking time out," she says. You can have that fear of missing out, that everybody else is building their careers. But when the trip was over, I was really excited to be heading back to work."
If Afterpay's supportive work-life balance sounds appealing, check out their open roles!